For World Gin Day, I thought I would highlight some of the unique and amazing Gin brands Canada has to offer. We have so many different styles, infusions made available, but when it comes to a classic London Dry style, Collective Arts is my go-to.
If you've been following Liquid Culture for some time, you know my love and appreciation for Collective Arts. I was first exposed to them when I was working in the restaurant industry and at that time, they were only selling beer and it was an easy sell. Their stuff was and STILL is fantastic. I love that they are constantly supporting artists from Canada and around the world, and they help build awareness of other amazing breweries at their annual beerfest! They are such a great team to work with, and I'm honoured to feature them today.
Most of the cocktails I made for World Gin Day were riffs on classics, highlighting some of the GREAT gin cocktails out there. With Collective Arts, I decided to do a cocktail that I've never posted on my website, and that's a Clover Club. Here's the thing about the Clover Club though…there's about 1000 million editions. Okay, I may have exaggerated, but you get the idea. The premise of most of the versions out there is that it includes Gin, Raspberries, typically egg whites and sugar. So a Raspberry Gin sour in essence.
I tweeked it to my preference, and I was REALLY happy with the result. Plus it's the easiest cocktail to whip up. Note: If you don't have Cocchi Americano, that's okay (well it's not, but I won't fault you if it's not in your local liquor store), I would substitute it with a Dry Vermouth or Lillet Blanc could do the trick. Just add a dash of Angostura Bitters for depth which that should be available at most grocery stores. Thirsty yet? I know I am, so let's get to that recipe.
Curious what other World Gin Day Canadian Cocktail recipes were created? Head over to the link here!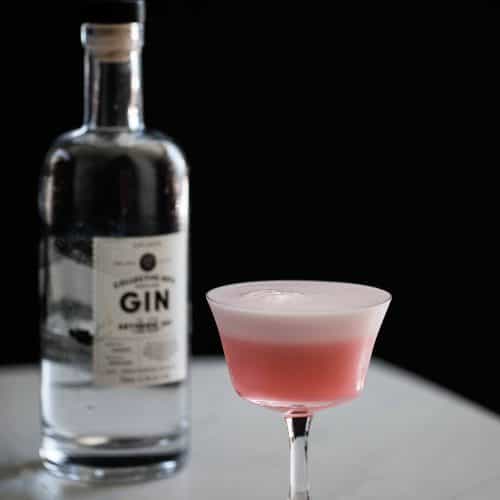 Clover Club LC Edition
See how I shake up the classic Clover Club Martini in this delicious Gin Raspberry Sour made with Collective Arts
– Difficulty: Intermediate
Ingredients
5

Raspberries

1.25

oz

Collective Arts Artisanal Gin

0.75

oz

Cocchi Americano

1

oz

Freshly Squeezed Lemon Juice

½

oz

Rich Simple Syrup

2:1 ratio

1

Egg White
Instructions
In a shaker, add all the ingredients and give this a vigorous DRY SHAKE (without ice).

Add ice to the shaker and shake once more until cold to the touch.

Strain into coupe glass.