With today being World Gin Day, I wanted to highlight some of the best Gin Canada has to offer and Empress Gin is definitely iconic for so many reasons. Today's recipe is a delicious tea spritz, perfect for summer and easy to whip up the Jasmine and Lavender Syrup included in this cocktail. Want to find the recipe? Make sure to scroll down below.
Some of you MAY remember a delicious gin called Victoria Gin. Little did I know, but Empress Gin is a collaboration with Victoria Gin and the infamous Fairmont Empress Hotel in Victoria, B.C. What makes it so unique? While using traditional botanicals for your classic gin, they also add the signature blend of black tea served at the Empress Hotel with butterfly pea blossom, giving it it's natural colour hue.
It's also safe to say that it's the most Instagram Gin out there. It draws all the attention at a party as it changes colour depending on the acidic mixed with the gin. I'm ashamed that I haven't done enough cocktails with this great Canadian brand, which is why I wanted to highlight Empress and some of my other favourites out there!
As I mentioned above, this is an EASY spritz to put together, with the syrup taking NO TIME and you'll likely have these ingredients already in your home. If you want to find the Lavender Jasmine Tea Syrup recipe, make sure to follow the link attached.
Here for the recipe? Well make sure to check it out below!
Curious what other World Gin Day Canadian Cocktail recipes were created? Head over to the link here!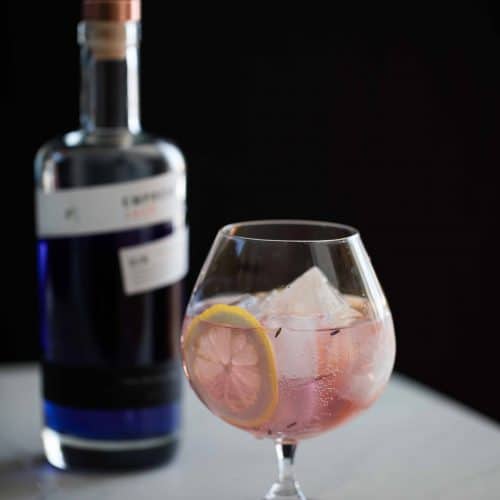 Summer Jasmine Gin Spritz
This refreshing tea spritz is perfect for your next day out on the patio, mixing Lavender, Jasmine, Citrus and Empress Gin
– Difficulty: Easy
Ingredients
2

parts Empress Gin

1

part Lavender Jasmine Tea Syrup

3

parts Sparkling Wine

2

Lemon Wheels
Instructions
Fill your wine glass with ice. Add your lemon wheels. Add Empress Gin, Syrup and top with sparkling wine.
Recipe Notes
Measures used here was 1.5 oz Gin, 0.75 oz syrup and 2.5 oz Sparkling Wine. Be mindful of the volume of your glass when measuring in parts.