Giving mama what she wants for Mother's Day, with this refreshing cocktail shaken with Vodka, Cucumber, Basil and Elderflower Liqueur. Using ingredients you can easily find at home, shake this up for any special Brunch occasion. As seen on CTV's The Social. Want to see how it's made? Make sure to follow the link here for details!
Before I dive into the recipe, I did want to share a note about the products I used, in particularly the vodka. There's a few reasons I love shaking up a cocktail with Prairie Vodka, and let me tell you why:
Everything is crafted with a mission in mind; doing right by the land. They produce, distill and create everything with the planet, farmers and end consumers in mind. That's why they are a member of the Organic Trade Association, and so much more.
Launched in 2020, Prairie Organic Spirits started the Spirit of Change Fund, to help fund the next generation of Canadian Organic Farmers. 1% of sales is donated, with a mission to help make a better future for the land and farmers. In addition, they support the Canadian Organic Growers association by offering training and resources to raise awareness of the organic industry and to establish sustainable practices.
Offering up spirits that are Gluten Free, Free of chemicals and GMO's.
Almost every process of the manufacturing is calculated and measured so that little to no waste exists, from reusing leftover grain for animal feed and so much more.
I've worked with Prairie Organic Vodka in the past and their initiatives to Do Right in our community is some of the best I've seen from brands. It speaks volumes to me when brands are genuinely looking to help the community, which is why I'll always support them. Especially during a time where everything in life feels uncertain right now.
In terms of the Elderflower Liqueur, make sure to use what you have! St Germain is the most commonly found (if not, only) brand here in Ontario, but it doesn't mean it's the only one available worldwide. You could even pick up some Elderflower Syrups (so Non-alcoholic) at shops like Cocktail Emporium! They're a great substitute if you can't find St Germain or an elderflower liqueur in your liquor store.
---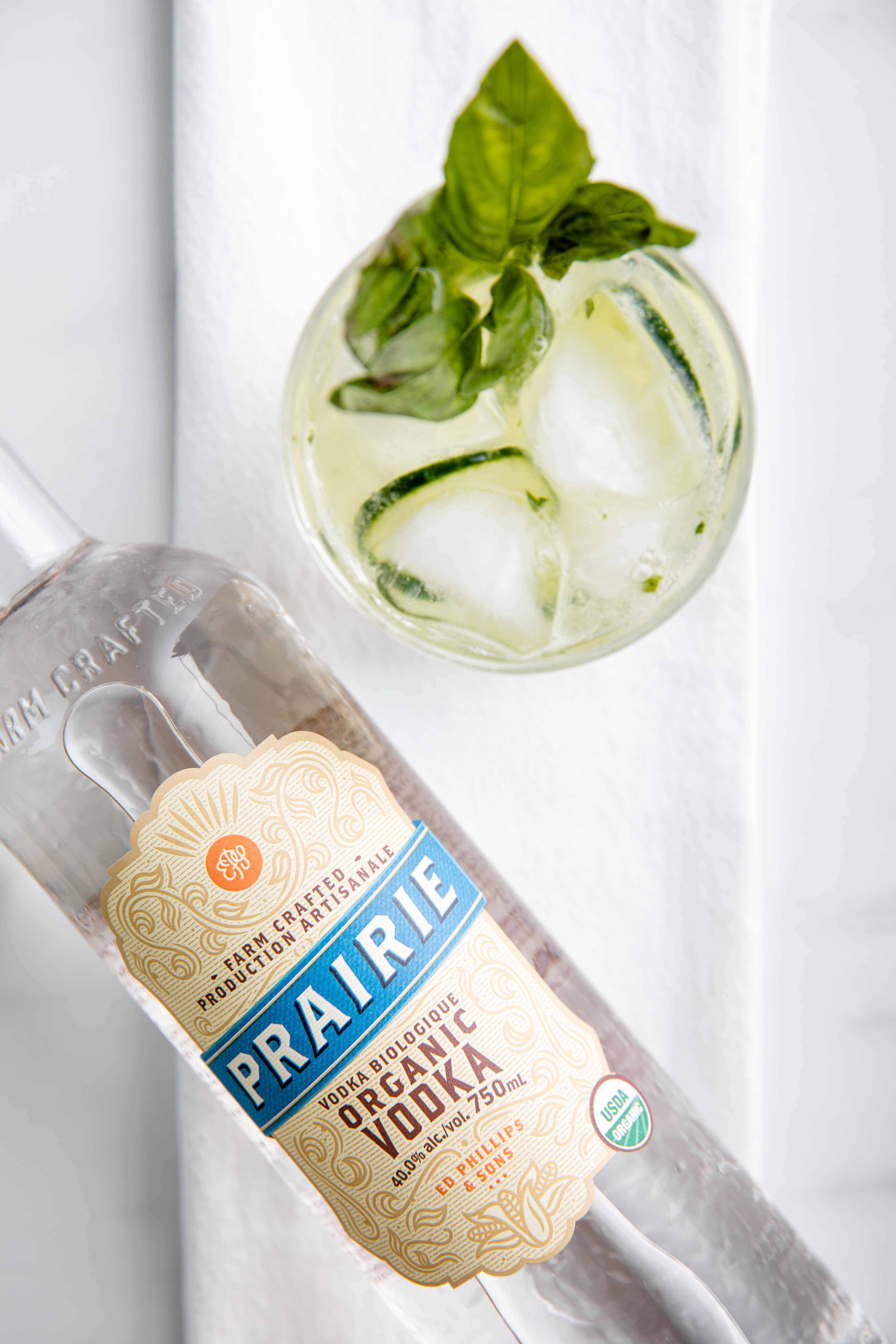 Cucumber Basil Smash
Shake up this refreshing imbibe for your next brunch! Using ingredients you already have at home.
– Difficulty: Easy
Ingredients
1.25

oz

Vodka

Prairie Organic Vodka Used Here

1/4

oz

Elderflower Liqueur

St Germaine Used Here

3/4

oz

Lime Juice

1/3

oz

Simple Syrup

6

Cucumber Slices

2

Sprigs Basil

1/2

oz

Soda
Instructions
In a Collins glass, layer ice and 3 cucumber slices.

Grab a shaker and muddle the rest of the cucumber slices and 1 sprig of Basil.

Add the rest of the ingredients (except soda), fill with ice and give this a vigorous shake.

Strain over prepped glass and top with soda. Garnish with Basil Sprig.
Recipe Notes
For the Simple Syrup ratio, use 1 cup boiled water to 1 cup granulated sugar.