And we've got ourselves another Halloween Inspired Cocktail here on Liquid Culture! Now for those who love a bramble, or tequila or delicious, refreshing cocktails, you've come to the right place. We're putting together Blackberries with some Creme de Cassis, Jalapeno & Grapefruit Soda for this refreshing Halloween Tequila Cocktail. Ready to start shaking?
Jump to Recipe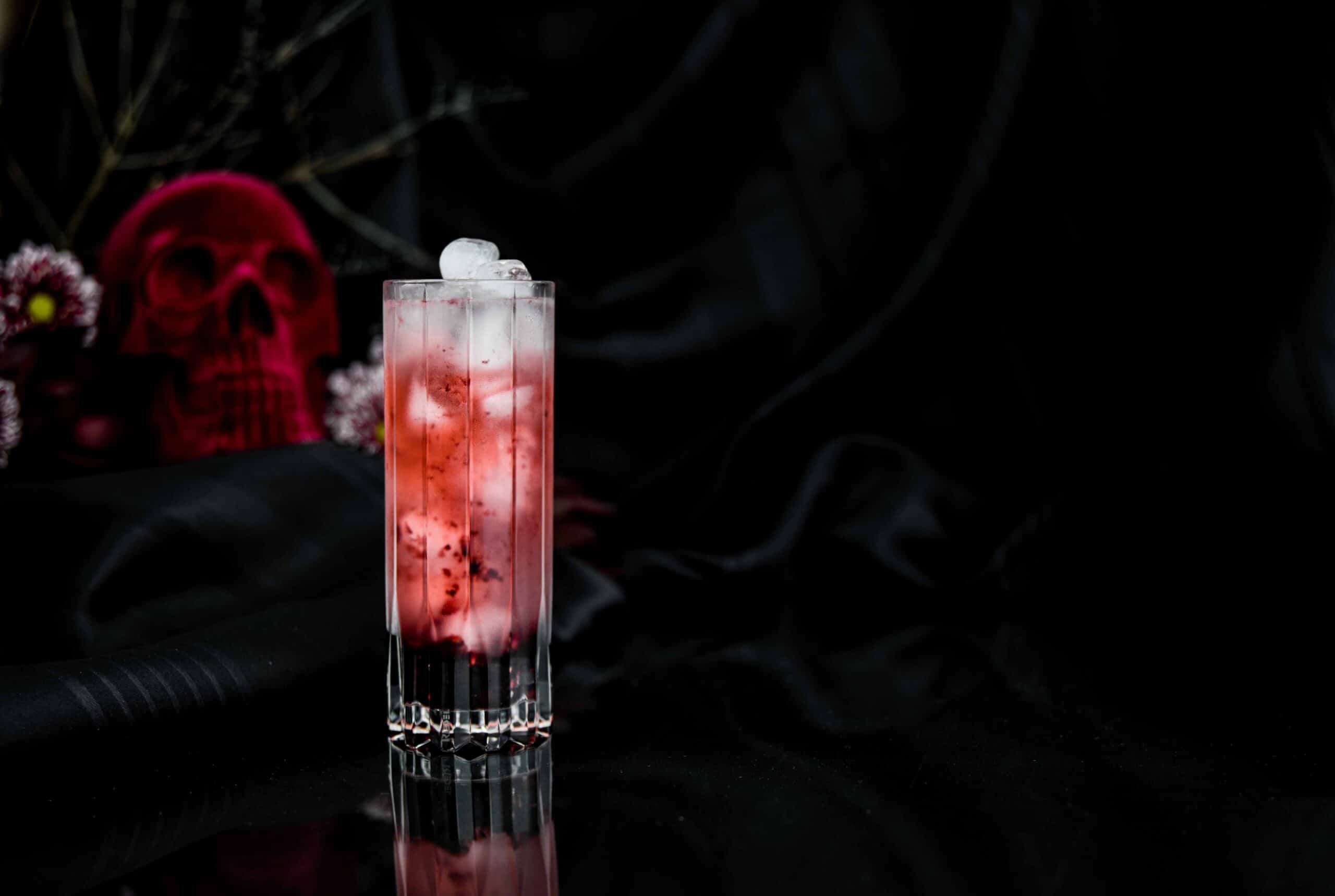 Using Agave for this Halloween Tequila Cocktail
This recipe doesn't ask for a lot of complications. Many of the ingredients are accessible, and if you have a shaker or a mason jar, you can create one delicious Halloween cocktail at home. Now this is very similar to a Bramble, which is typically made with Gin. The thing is, the structure of this cocktail allows you to work with a number of different spirits if you wanted. Tequila, Agave, Sotol, Rhum Agricole, Cachaca, Shochu and Vodka are just some examples where you can switch the traditional Gin in this cocktail. My piece of advice, stick to the clear, bright spirits for this one. It will help the other flavours shine as well.
Adjusting the recipe to YOU
I think it's important to talk about building a cocktail that's perfect to your palate! So with that said, when building this Halloween Tequila Cocktail, here are some things to be mindful of:
Jalapeno *OPTIONAL – Don't like spice? That's okay, remove it! Also be mindful of the seeds. If there's a lot of seeds, I would adjust it so it's a bit less. The last thing you want is a delicious cocktail that you can't taste due to the heat.
Creme de Cassis – I love a good Creme de Cassis. A little goes a long way, and I simply added a dash as a nice sweetener component. I use a dash and it goes a long way. If you don't have Creme de Cassis, chambord can help, or even the cherry liquid that's in your brandied cherries (luxardo cherries). I love adding some of that liquid in cocktails. It goes a long way.
Because I'm using Grapefruit Soda in this Halloween Tequila Cocktail, I decided to use Grapefruit Juice! But if you want to substitute to lemon for more bite, you definitely can!
Choosing your Grapefruit Soda – I'm a massive fan of Jamaica's Ting. Lately, I've been gravitating towards the Sparkling Grapefruit from Fever-Tree, which is wonderful. But why did I go with Tings instead? I didn't want to affect the colour, plus I find Ting's to be a touch brighter.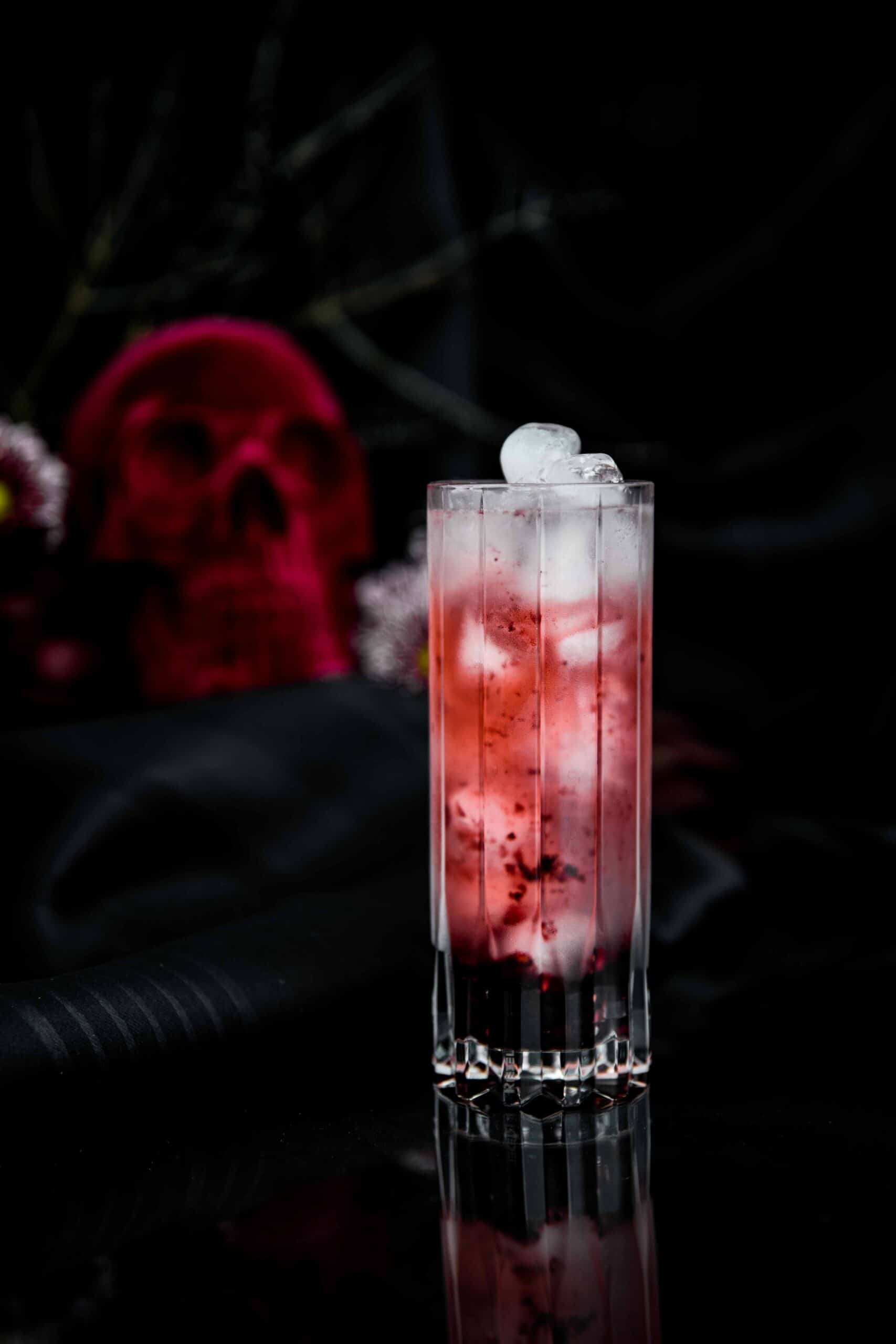 And that's it folks! Curious how this Halloween Tequila Cocktail is made? Make sure to head on below for all the details!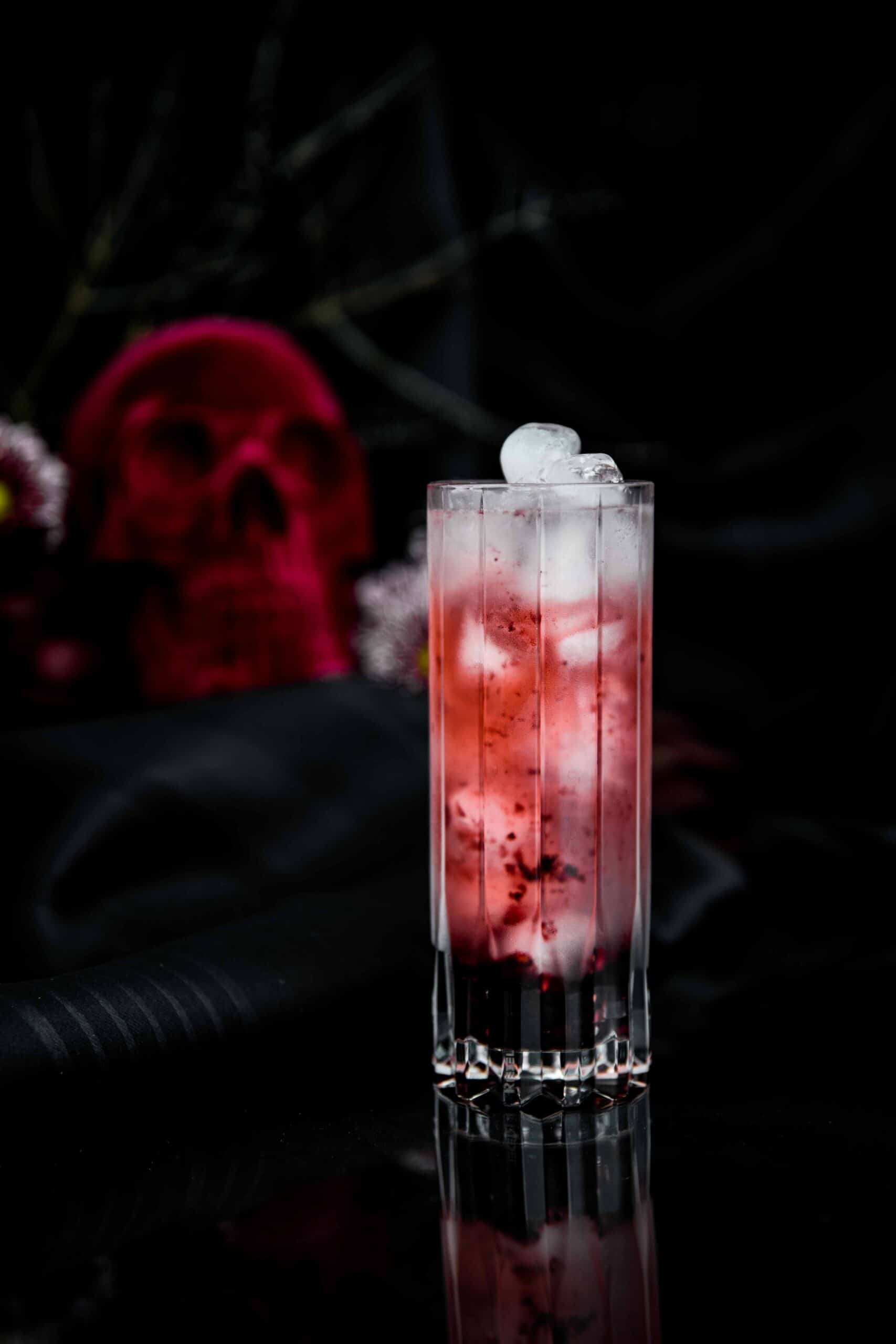 Draco Agave
We've got a Tequila inspired Halloween Cocktail that resembles a Bramble in the most stunning way. Made with ingredients, easy to whip up at home!
– Difficulty: Intermediate
Ingredients
1.5

oz

Tequila Blanco

El Tequileno Platinum Used Here

0.75

oz

Grapefruit Juice

0.75

oz

Simple Syrup

1

oz

Grapefruit Soda

Ting used here

1/3

oz

Creme de Cassis

3

thin slices

Jalapeno

most of seeds removed

3

Blackberries
Instructions
Muddle your Blackberries into your collins glass and top with ice.

Grab a shaker and muddle Jalapeno and add the rest of the ingredients (except Grapefruit Soda). Give this a short shake with ice and strain over your prepped collins glass.

Top with Grapefruit Soda and stir!
Looking for more Halloween Inspired Cocktails? Lucky for you, Liquid Culture is packed with ideas that you can find HERE!