Calling all my Vodka fans out there, because we've got a delicious Halloween Inspired Cocktail using the one and only Blackhound Vodka! Now why is Blackhound Vodka perfect for Halloween? Well you've got a vodka that is exceptionally smooth and with a dark black colour. So this is NOT a cocktail that is using activated charcoal, instead it's made easy with this vodka. I've shaken this up with some Fireball to create a Halloween Cranberry Vodka Sour that I'm sure you'll love. Curious how it's made? Check out the recipe below.
Jump to Recipe
Working with Blackhound Vodka
So I did a bit of digging when it came to the colour of the Blackhound Vodka, and this product surprised me. It's made with natural ingredients such as fulvic minerals and humic acid, which gives it its natural hue. And ultimately this is what makes the cocktail your perfect Halloween sip. That's why it would be different to replace this experience if you didn't have this particular vodka in hand. 
If you've done everything you can to find this product but can't seem to dig it up, then my alternative would be to use your favourite vodka and adding a dash of activated charcoal for the colour. I'm not sure how it will affect the taste, or if you'll get something as dark as what's pictured, but it will help tremendously. For added effect, I would sprinkle some of that Activated Charcoal into your Simple Syrup to make sure more of that colour comes through.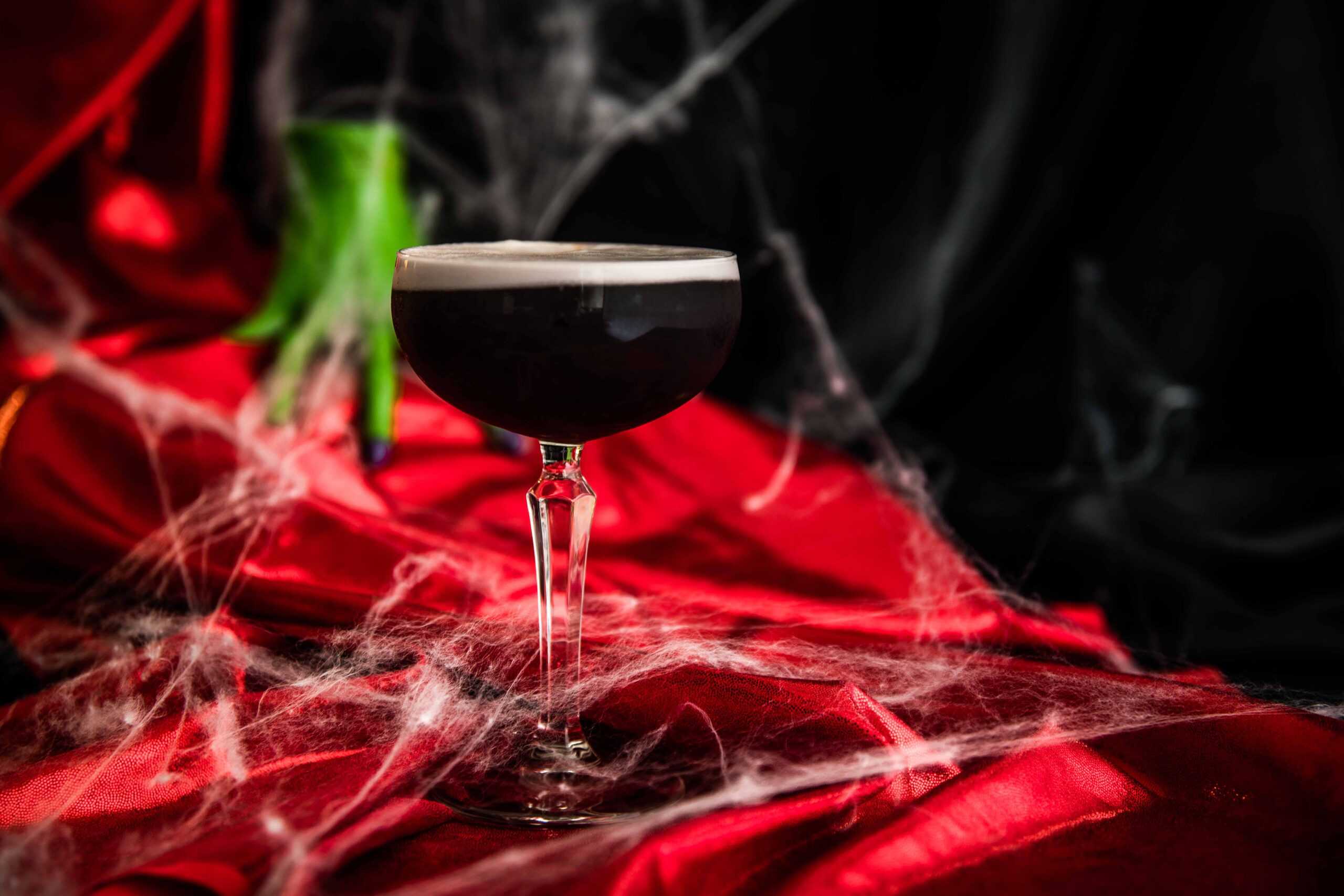 Building your Halloween Cranberry Vodka Sour
The rest of the cocktail is actually fairly simple, but you do need a strong arm. Anytime a sour is involved, I love using egg whites. That also means my arm is going to get a work out. It calls for the recipe to be shaken twice and believe me, it is worth every shake! If you want a luxurious foam on top, you have to double shake. 
If egg whites isn't your thing, that's okay! For my vegans / vegetarians out there, aquafaba (leftover chickpea water) is a great substitute for egg whites. And no, your cocktail won't taste like a falafel. There are also foamer products out there, sold closely to the bitter aisles of your cocktail specialty store, but I've never been the biggest fan of them. The taste is affected and I don't love the texture. Of course, you can completely remove that component from the cocktail, but it's like removing the foamy top of a latte. Who wants to do that?!
Choosing your Sour / Citrus
Cranberry is the star ingredient in this Halloween Cranberry Vodka Sour, and I'm going to be picky about this, GRAB THE 100% juice. We're not talking Cranberry Splash or those blends. I want that tart, acidic juice so I'm getting all the natural cranberry flavour that I love. If for some reason you can't find this at your grocery store, just be mindful that the recipe calls for Simple Syrup so I would adjust that accordingly.
Oh, and the last bit of this Halloween Sour. The Fireball! I like to introduce a little bit of bite and heat every once and a while, and Fireball does that for me. That heat of cinnamon works perfectly with the cranberry flavours, egg whites and of course Vodka. Don't have fireball? Well, just omit it. Maybe introduce heat in a new way, such as muddling Jalapeno slices, etc. Just ensure you don't include too many seeds. And add a dash of cinnamon bitters if you have it in your home bar.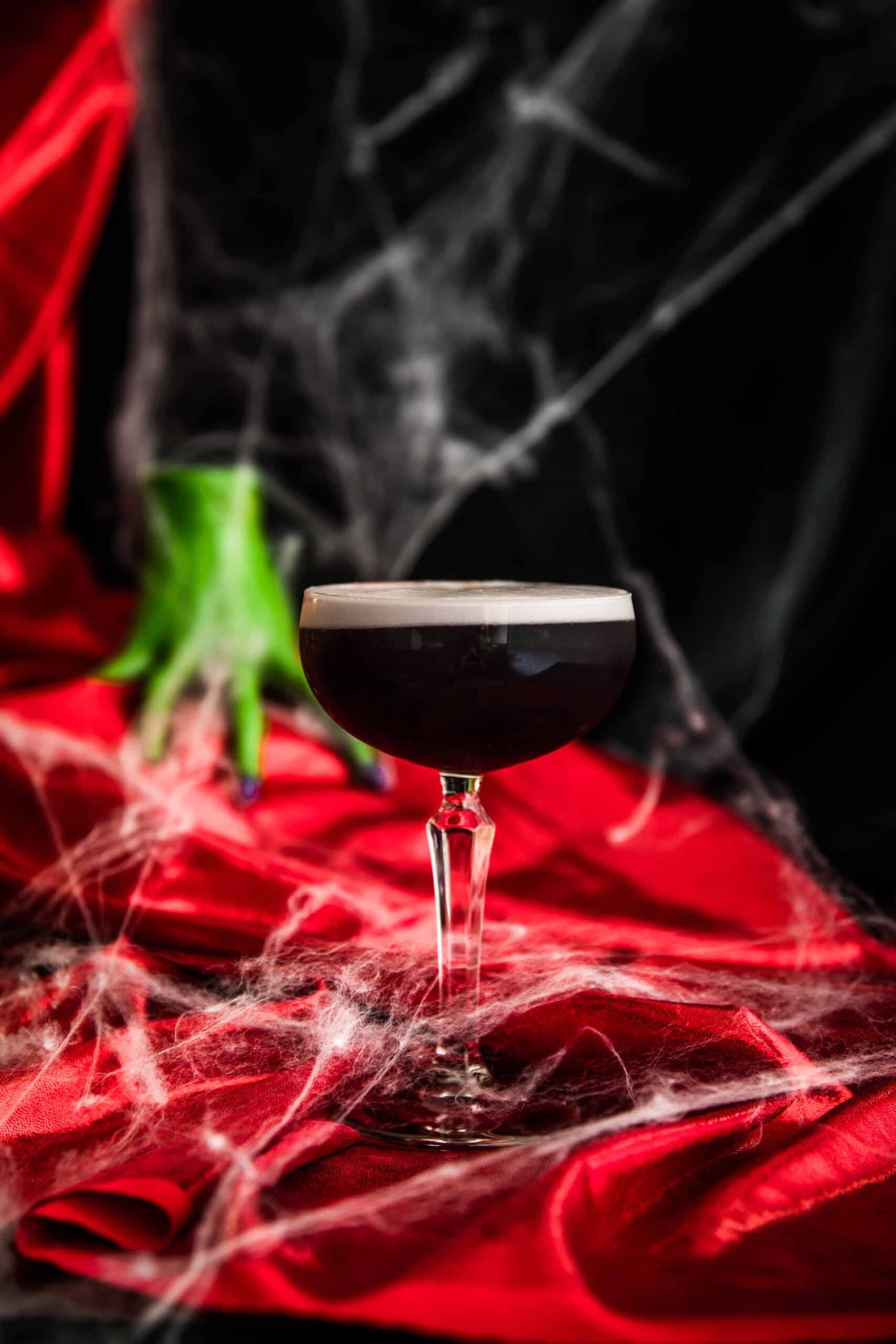 Halloween Cranberry Vodka Sour
Shake up this delicious Vodka and Cranberry Sour, made perfect for Halloween thanks to Blackhound Vodka.
– Difficulty: Intermediate
Ingredients
1.5

oz

Blackhound Vodka

1.5

oz

Cranberry Juice (Fresh

not the Cranberry "splash"

0.5

oz

Fireball

1

oz

Simple Syrup

1

Egg White

2

dashes of Angostura Bitters
Instructions
In a shaker, add all your ingredients and give this a vigorous dry shake (without ice for approximately 40 seconds).

Add ice to your shaker and shake vigorously once more.

Strain into your favourite coupe glass.
Want to find more Halloween Inspired Cocktails? Click HERE for all the Ghoulish creations made perfect for the season!