You want to know why Halloween is one of my favourite seasons? That's because I feel the most freedom when it comes to Halloween inspired Photography! Yes, I know. I'm all about celebrating the cocktails, which believe me, they're tasty! But a chance to bring out of the moody shots, always gets me pumped to share delicious Halloween Inspired Beverages with the community. This time around, I'm creating a sophisticated Gin cocktail that combines a bit of Amara Blood Orange Amaro, Scotch and Apple Cider. This is one Halloween Cocktail that won't want to miss out on this season!
Jump to Recipe
Building this Gin & Scotch Halloween Cocktail
The combination of spirits in this cocktail may seem a touch odd. But history shows us in the Paper Plane and a traditional Fog Cutter that layering different spirits can lend to some delicious surprises. It's best to say that this Halloween Cocktail was somewhat inspired by the Paper Plane, but it goes much further than that. Apple Cider plays a key role, and instead of traditional Amaro, I bring out a Blood Orange Amaro substitute called Amara. Combined that with a bit of Scotch and citrus, THIS HALLOWEEN COCKTAIL IS OUTSTANDING!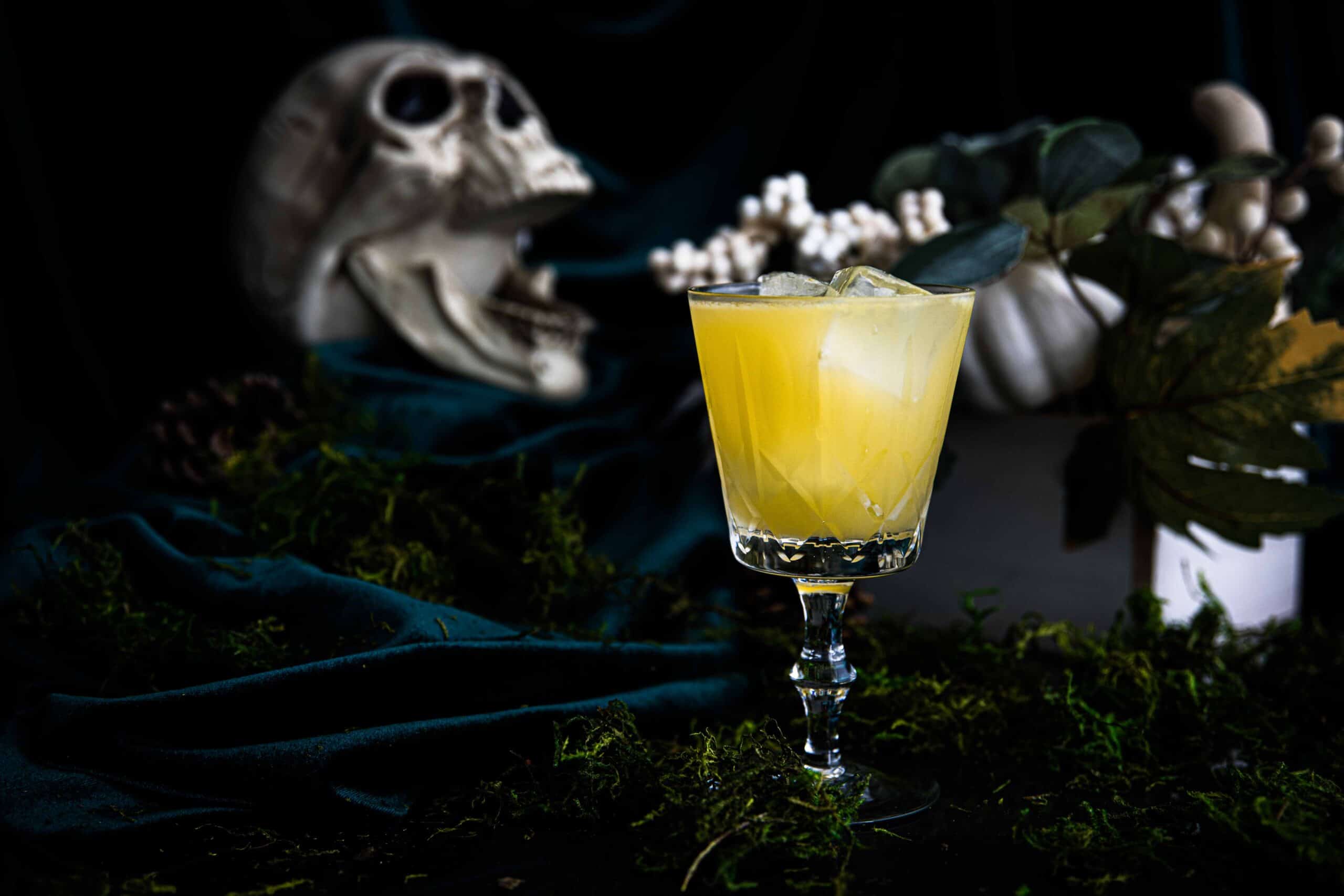 Substituting Your Cocktail Ingredients
Now it's easy to substitute the Gin and Scotch with items you have at home, but stick to a GIN and SCOTCH. Don't try to substitute bourbon or rye, you'll get something completely different. Also stay away from infused flavours of Gin unless it compliments the flavours in this Halloween Cocktail.
The Amara is one that is hard to substitute. It's so unique, with this blood orange infusion, and I promise it won't be a bottle that's impossible to get rid of. I've used it a ton in cocktails, just simply click on this link HERE for some of my inspiration. If for some reason you can't find Amara at your local liquor store, what I'd do instead is substitute Amaro and squeeze some fresh Blood Orange Juice. You will have a different cocktail, but it will be fairly close. I would substitute the Orange Juice in this cocktail completely with Blood Orange Juice instead.
For the Apple Cider, I typically stay away from the "Mulled" recipes, as I have less control of the cocktail. Each brand is different and the spices they use might not work with the flavours or clash. That's why I recommend picking up just simple fresh-pressed Apple Cider. If you have a choice of Honey Crisp, DO IT! It's my favourite style of Apple. And that's it folks! Ready to shake up this Gin & Scotch Halloween Cocktail?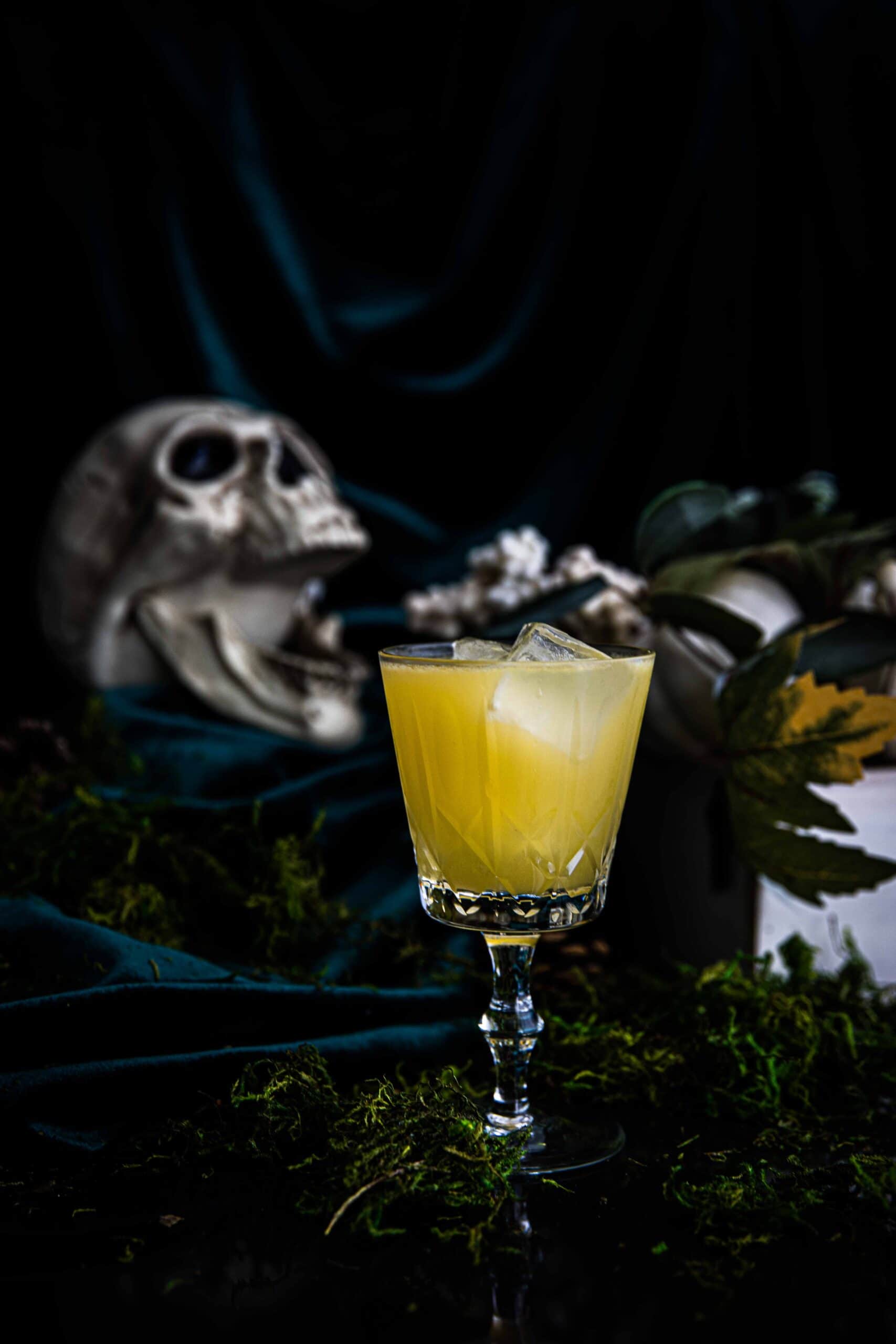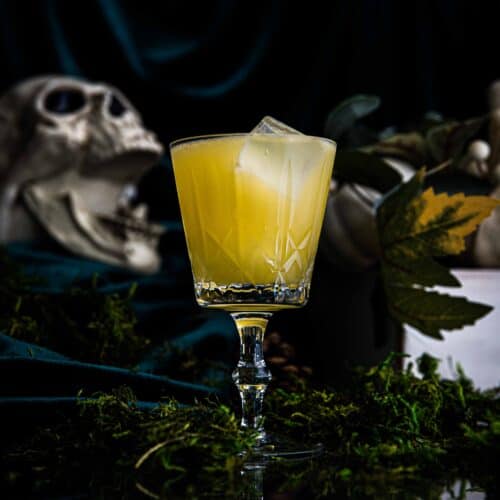 Halloween Burns
A rare combination of Gin, Scotch and Amaro in this outstanding Apple Cider, Spiced creation. Perfect to show off your mixology skills for Halloween Festivities.
– Difficulty: Intermediate
Ingredients
1.5

oz

Gin

London Dry Used Here

0.5

oz

Amara

0.5

oz

Scotch

Recommend Glenmorangie 10 yr or Glenfiddich 12

0.75

oz

Orange Juice

1.25

oz

Apple Cider

0.5

oz

Simple Syrup

*Optional – Depends on how sweet your Apple Cider is
Instructions
Add all your ingredients into a shaker filled with ice. Give this a vigorous shake.

Strain over fresh ice and garnish with optional Apple Fan
For more Halloween inspired Cocktails, make sure to click HERE for all the spooktacular creations!