We've got a special Drink Segment with the ladies on CTV's The Social, where we're building more sophisticated Alcohol-Free Cocktails! We will be exploring some of the new products available in the market, because believe me, there's a ton. If you're here, you're probably wondering how to make that delicious Fall Sangria I made and where you can find the products. Well this Alcohol-Free Fall Sangria is just what you need this season and the recipe is coming up!
If you'd like to watch this cocktail stirred up on camera, make sure to check out the link HERE as we build it on CTV's The Social.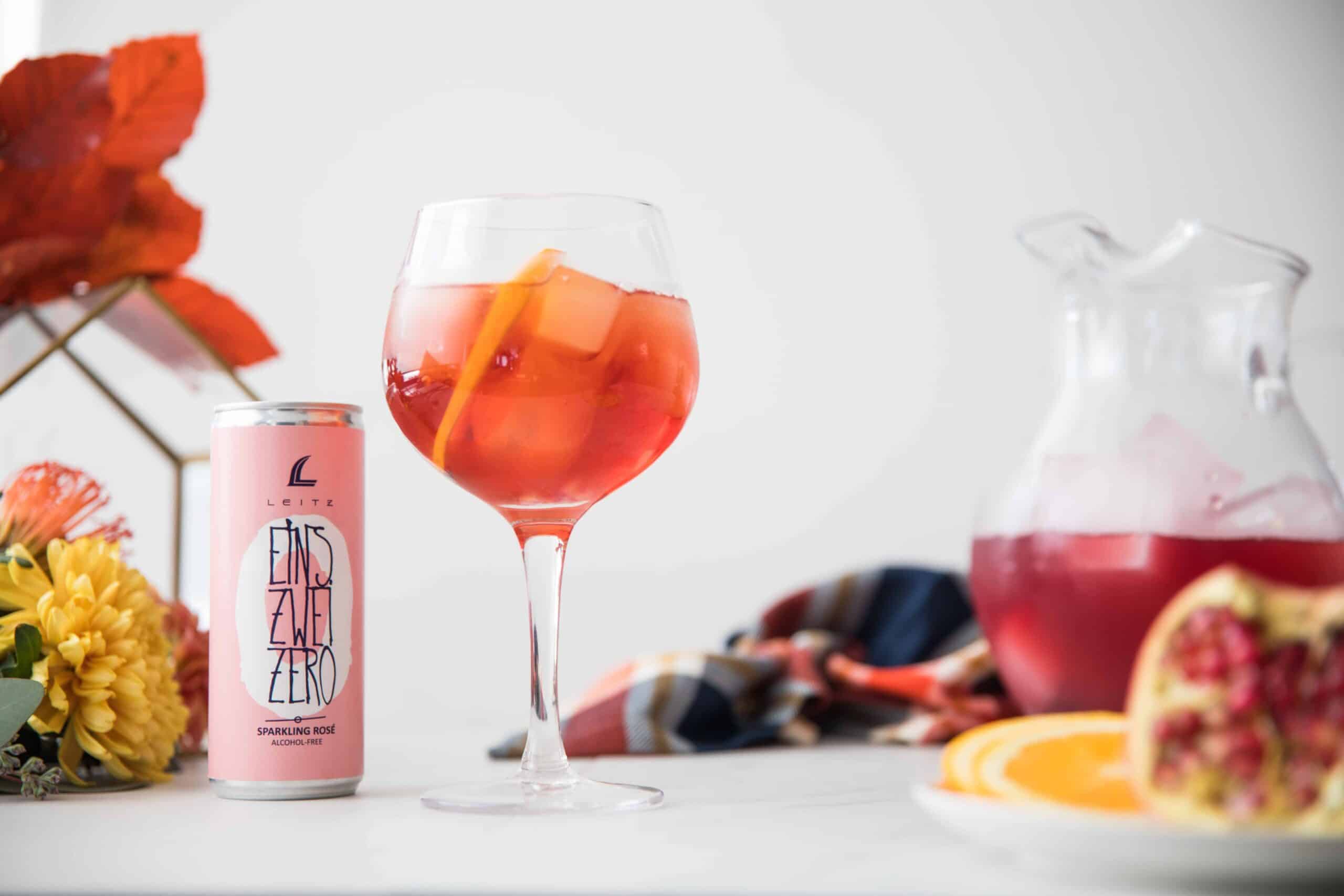 Building your Alcohol-Free Fall Sangria
I know it's not typical to use a Sparkling Wine for a Sangria, but I gotta then ask "Why not"? I love when my Sangria's have a bit of a sparkling component, and usually I add Soda, Gingerale or Tonic. This time around, I decided to use a Sparkling Rose Wine that I fell in love with recently. Once I had the wine figured out, it was all about pairing the right ingredients to represent Fall.
For this Alcohol-Free Fall Sangria, I knew I wanted Pomegranate to the mix. I also added White Cranberry Juice because it would be nice and neutral, and a great way to lengthen the drink. Note, I could have lengthened this Alcohol-Free Fall Sangria in so many ways, but I wanted to keep this SUPER SIMPLE. Then we have the tea component, which plays a big role! It has those tannins you typically find in wine, so I just had to make sure I found a flavour that would pair well with pomegranate juice. With this Sangria, I made it with Chai Tea, but you could also pick up a Nutty Flavoured tea (with lots of Almonds) or Earl Grey! You want something spiced, but not too overpowering like most oolongs.
If you'd like to find the Eins Zwei Zero Sparklin Rose and more of their line up, make sure to head over to VINELAND ESTATE online. There you can shop nationwide to grab some of their delicious offerings!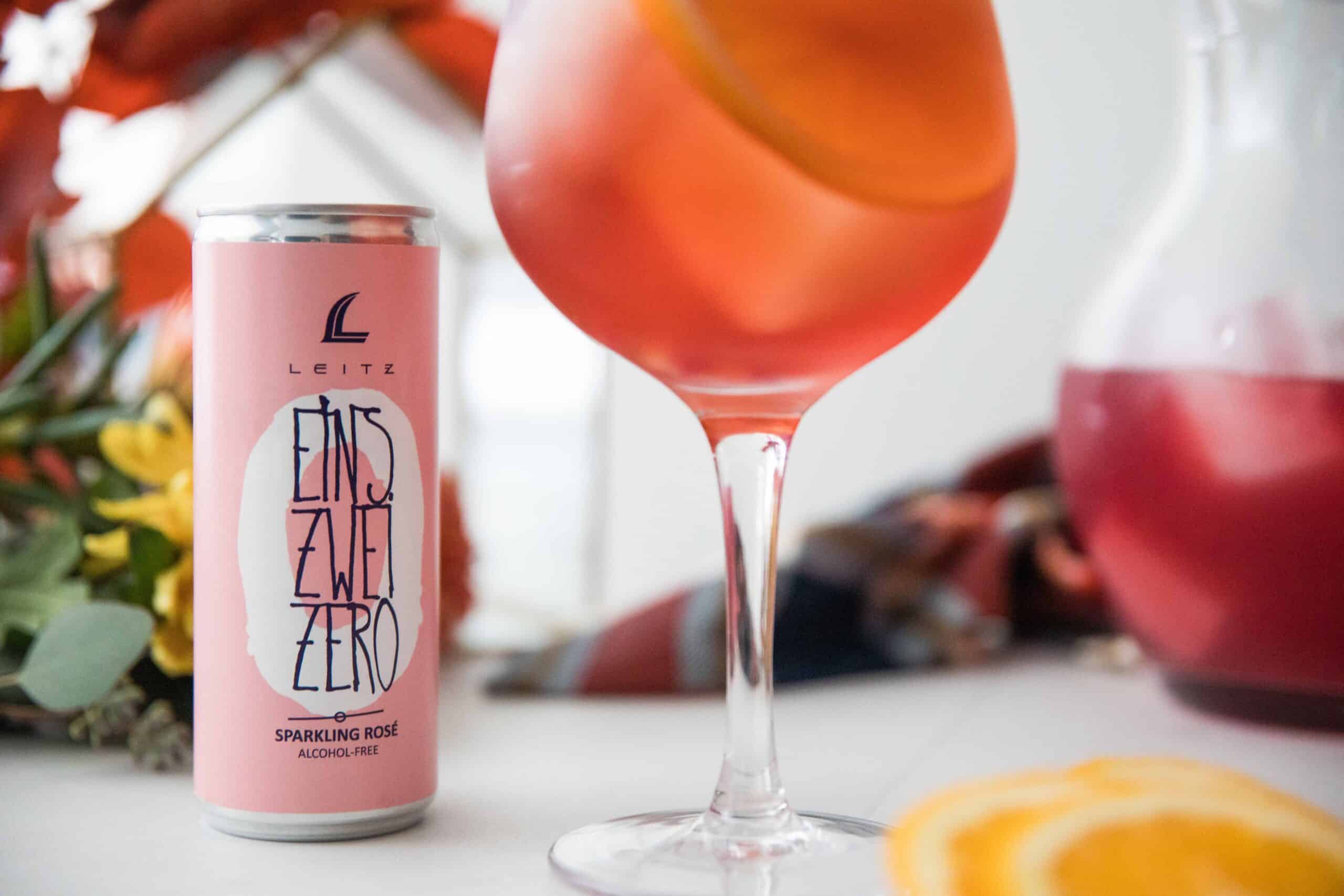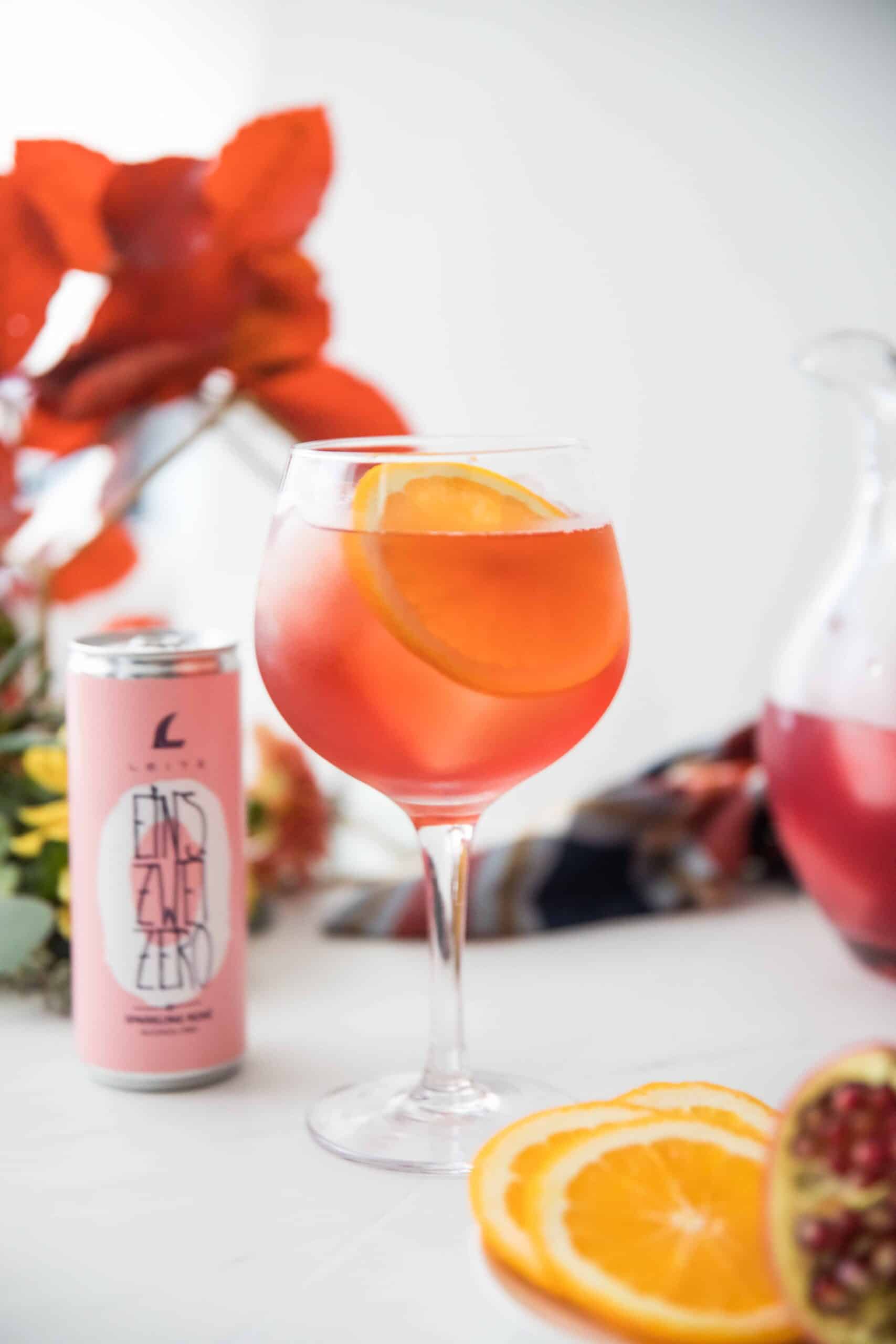 Fizzy Fall 0-gria
Ingredients
Single Serving
½

oz

Pomegranate Juice

1

oz

White Cranberry Juice

2

oz

Chai Tea

sweetened

4

oz

Eins Zwei Sparkling Rose

Garnish with Orange Wheel and small spoon of Pomegranate
Pitcher
3

oz

Pomegranate Juice

6

oz

White Cranberry Juice

12

oz

Chai Tea

Sweetened

24

oz

Eins Zwei Sparkling Rose

3 cans or Grab a full bottle online!
Instructions
Fill your Wine Glass with Ice and 1 orange wheel.

Add all your ingredients, saving the Sparkling Rose for last.

Give this a stir, top with pomegranates and enjoy!

To make 2 cups of the Tea, combine 1 tea bag of Chai Tea, 1/8 cup of Honey and 2 cups of Boiled Water. Stir and let this steep for 5 minutes before straining.
Looking for more Alcohol-Free solutions? We've got a library of recipes that offer Lower in Alcohol and Alcohol-Free cocktails.