We're shaking things up for the Holiday with this delicious Gin and Amaretto Holiday Sour made with my friends Collective Arts. This local distillery and brewer has long been a fan of mine and I'm using one of their special Gin infusions combining Orange, Cacao and Coffee. With the slight dash of Amaretto to the mix, this cocktail is a winner any day of the year, but I love the spices of this Gin that really pull all the notes together. Want to learn how it's made? Check out the recipe below!
Jump to Recipe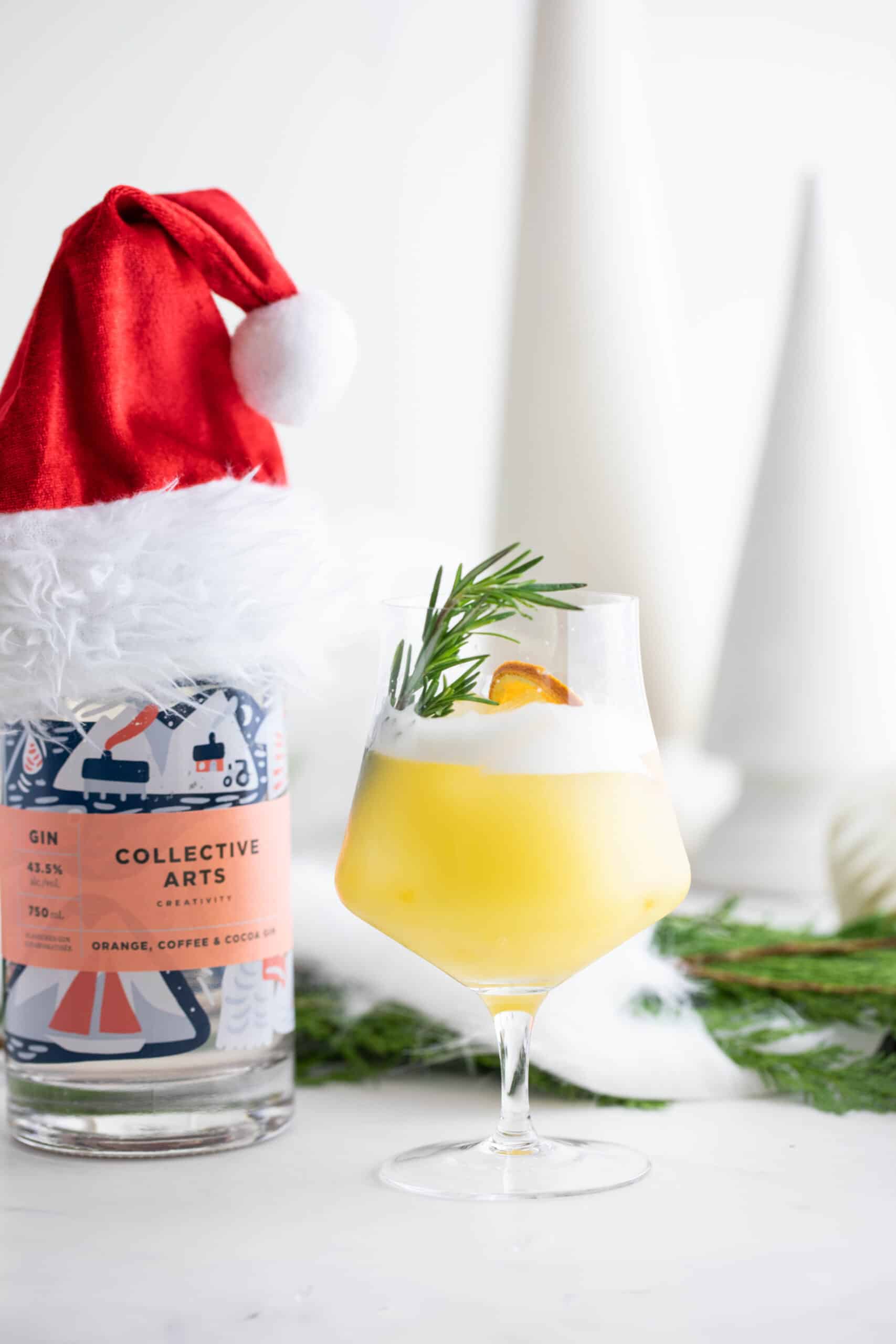 Choosing your Gin for this Gin and Amaretto Holiday Sour
With my partnership with Collective Arts, I've been blessed to work through their entire lineup of spirits. I gotta say though, this infusion is actually one of my favourites. The Orange, Cacao and Coffee comes through in such a subtle way. Plus, it thankfully leans into the flavours of the holiday that I love.
With that said, I don't like to limit anyone on here, especially if this bottle isn't accessible to you. For one, you can go with a Classic Dry Gin and add in a couple dashes of Cacao and Coffee bitters. There's also a ton of distilleries out there that may have one or more of the flavour combination infused. So take a look through your local joints to see how you can substitute. Note that Collective Arts does have product available for Delivery across Ontario and Canada!
Building the rest of your Holiday Gin Sour
For the Amaretto, I used whats available here in Ontario which is the Disaronno! I actually love using Disaronno in cocktails, even just a splash goes a long way to add in that subtle nuttiness to a cocktail. Freshly Squeezed Orange Juice goes a VERY long way here so please, squeeze here if you can. Lastly, we have the component of the Egg Whites, which I know can throw people off at times. Using Egg Whites is safe, and there's a ton of research online to know if your Egg Whites are safe for shaking in cocktails. But for my Vegans or Vegetarians not wanting eggs in their cocktails, that's okay! You can always use Aquafaba (chickpea water) instead, or miracle foamers in bottles (although they are not my favourite of these options).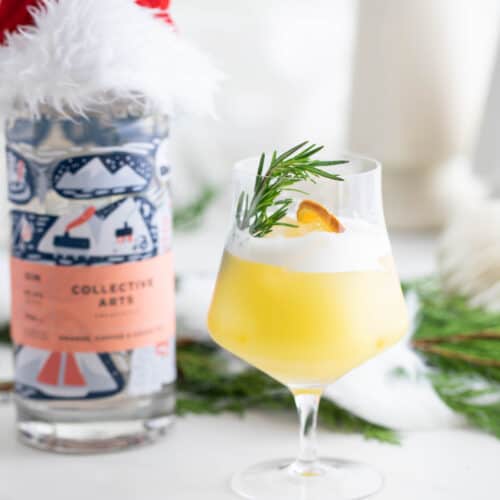 Gin and Amaretto Holiday Sour
Shaking up a delicious Gin and Amaretto Sour that's perfect for the holidays, using Collective Art's Orange, Coffee and Cacao Gin!
– Difficulty: Intermediate
Ingredients
1.5

oz

Collective Art's Orange, Coffee and Cacao Gin

0.5

oz

Amaretto Liqueur

1.5

oz

Freshly Squeezed Orange Juice

0.75

oz

Simple Syrup (1:1)

1

Egg White

2

sprigs

Rosemary

One for Garnish
Instructions
In one of your shaker containers, break your egg and pour in your egg white (I recommend keeping it separate to ensure egg yolk doesn't accidentally break through)

With the other side of your shaker, add the rest of your ingredients and one sprig of rosemary (stem removed).

Combine the two and shake well without ice.

Add ice to your shaker and shake well again.

Double Strain to avoid Rosemary bits coming through. Garnish with Rosemary Sprig and optional Dehydrated Orange Wheel.
Want to see more delicious cocktails made with Collective Arts? Check out the link attached!