I always like to make sure we have some SOPHISTICATED options when it comes to Alcohol Free Beverages. I absolutely fell in love with this Alcohol Free Holiday Punch, and I'm sure you will too. It's an easy combination of Christmas Spiced Tea, Lemon, Orange and Rosemary. Plus you can easily adapt this to your preference or mix with a spirit!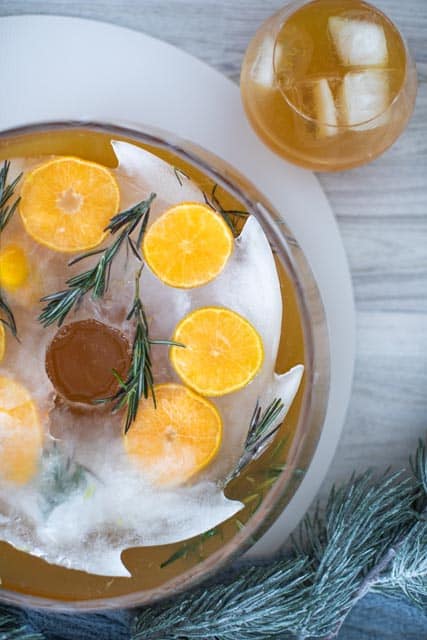 Choosing Your Tea for this Alcohol Free Holiday Punch
You may have caught in my other posts how much I love infusing Tea flavours for the Holidays. There is something so warming, plus the spices can really lend to the experience. Now if you're like me, I'm a sucker for Tea's that I love with the added Holiday flavours. Take for example the Taylor's Tea Brand which is what I used here. I saw they had a Christmas Spiced Tea and I just had to grab it. Thing is, it will sit in the cabinet for a while before it's all done. So this is a GREAT way to use up those tea bags and creating something absolutely delicious.
You can be flexible to what ever brand you have. The one thing I would probably avoid is too much peppermint. I don't think it lends as well to the flavours of this Alcohol Free Holiday Punch.
To Alcohol or Not to Alcohol
Now for those thinking they absolutely love the flavours and would like to mix with a spirit, DO IT! You have a ton of options, but my first go-to was to mix this with a bourbon. The one thing I'll mention when it comes to mixing with spirits, is that sometimes you have to slightly adjust the sugar and add a pinch more to balance everything out. But I'll leave this one up to you!
You could also do a clean Gin, or Vodka, or Single Malt Whiskey would work WONDERS here!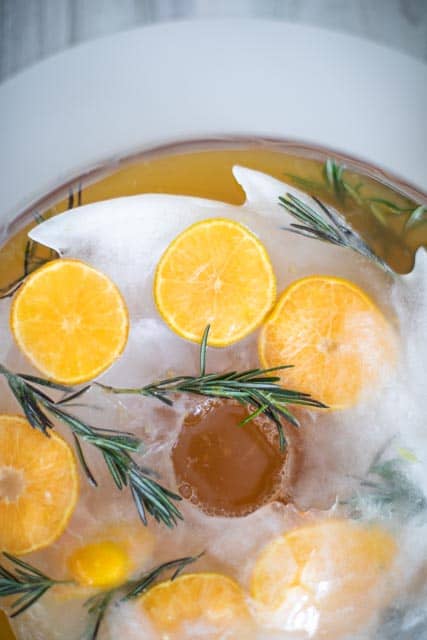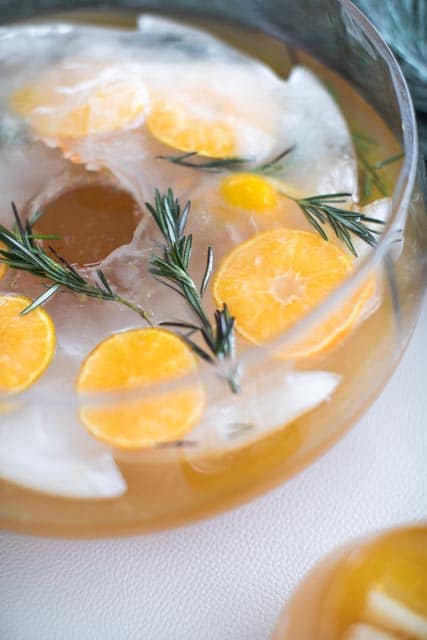 A delicious Holiday Spiced Tea Punch made with Orange, Lemon, Rosemary and Tonic Water!
– Difficulty: Easy
Ingredients
3

cups

Steeped Christmas Spiced Tea

Taylor's used here

1/2

cup

Freshly Squeezed Orange Juice

1/4

cup

Lemon Juice

1/4

cup

Granulated Sugar

3

sprigs

Rosemary

1

cup

Tonic Water
Instructions
Boil your water to steep the Tea (I used 2 bags for 3 cups), and ensure to mix in the granulated sugar so it dissolves well.

Add the Rosemary and the rest of the ingredients. Stir and let it come to room temperature.

Pour into your bowl with large block of ice. For individual servings, ensure there is ice and optional rosemary sprig.