It's another #NoDrinksWasted entry today and this one actually came at me as a challenge. Not that the concept of Gin Sours are complicated, but I didn't actually have the Crab Apple Liqueur on hand. But I kept thinking that this is probably what people feel all the time. When I list off ingredients and they need to adjust to what they have on hand. Hence why I'm doing things a bit different, but you'll love what this Gin Apple Sour cocktail. It's just easy to love and sip.
Jump to Recipe
What's #NoDrinksWasted?
After a fun year of #DrinkYourGram on my social platforms, I wanted to create cocktails with you in mind. Many of you likely have random bottles or ingredients around the house that you don't want to go to waste, so why not use them in a cocktail? 
This time around, I had someone reach out about a Crab Apple Liqueur they have at home. I'm going to assume this is some special bottle from a distillery they love. It's not a flavour you see often, but seeing as I'm sure this is an issue in many cases where you don't have a particular product, I'm going to show you how to adjust it!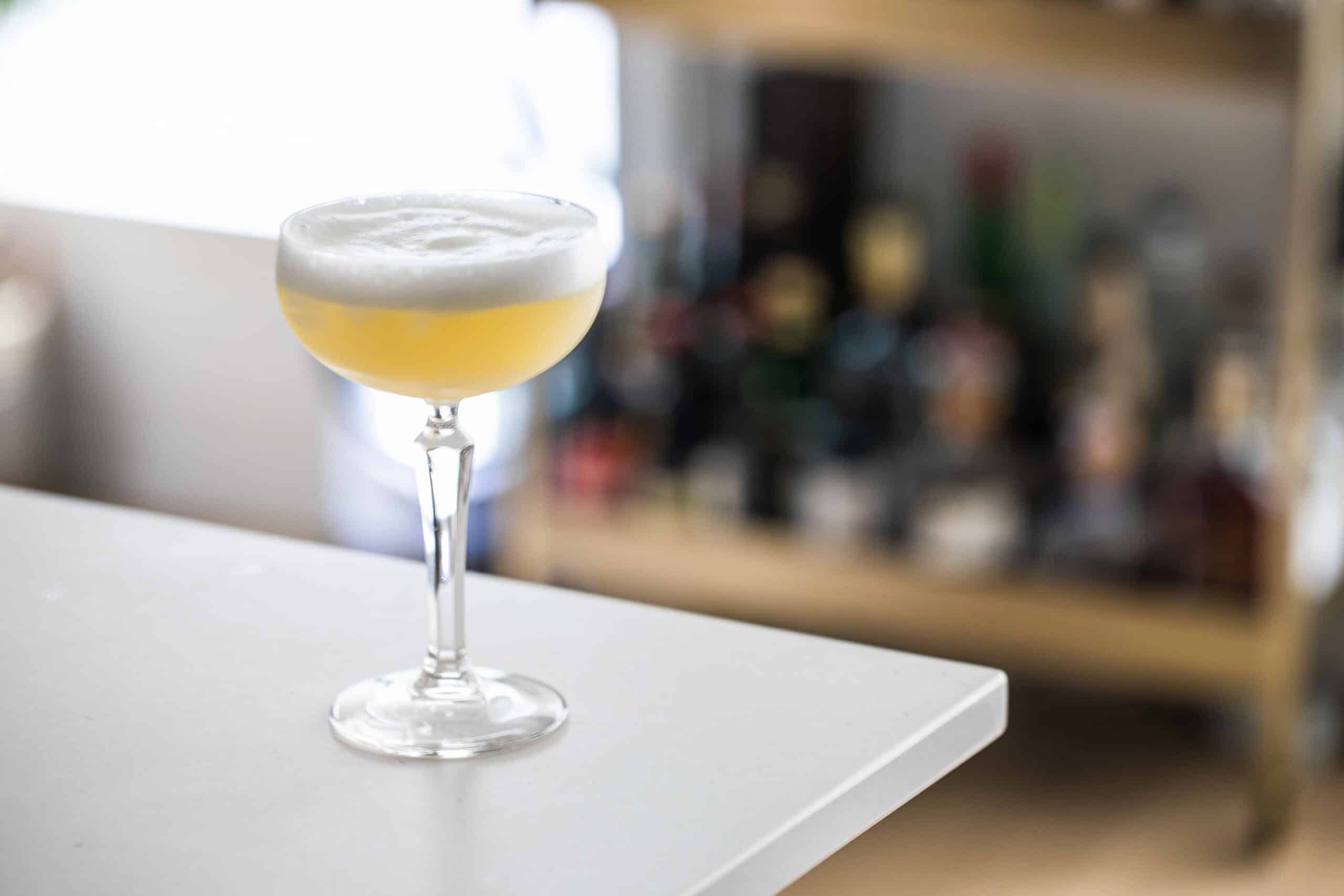 Building your Gin Apple Sour Cocktail
Let's think about the main structure here. With any sour you're going to have 4 components. You'll need a Base Spirit like a Gin, a sour component, sugar and of course the signature egg whites (Note the egg whites can be omitted or there are vegan options!). Think of it as a Margarita. It's fairly simple and it can be customized to you.
Now with the member asking for a cocktail made with Crab Apple Liqueur, there's a few factors that will determine just how much Crab Apple Liqueur I'll put into a cocktail.
Crab Apple is typically Tart. So exactly how tart is it? This will determine how much citrus is involved.
Since it's a liqueur, that will predominantly be the sweetener component. But SOMETIMES the sweetness can be cloying, almost have that artificial taste to it. If so, I will sometimes put less of the liqueur and add a dash of organic sugar. This could be a Simple Syrup, Brown Sugar Syrup, or in this case honey since I know Honey and Apple go so well.
Is the Crab Apple flavour predominant? Does it need a complimenting splash of Fresh Press Apple Cider to help tie in all the flavours together.
The key point here is that DON'T BE AFRAID TO EXPERIMENT and TASTE products before hand. Now because I didn't use Crab Apple Liqueur, I didn't create one with it, but I wanted to make sure my member had an idea of what to shake up at home. So here's a quick recipe for you:
1.5 oz Gin, 3/4 oz Crab Apple Liqueur, 1 oz Freshly squeezed Lemon, 1/2 oz Honey Syrup (1 part honey to 1 part water) and 1 egg white. Shake all of these ingredients VIGOROUSLY without ice. Then add ice into your shaker and shake once more. Strain into coupe and enjoy!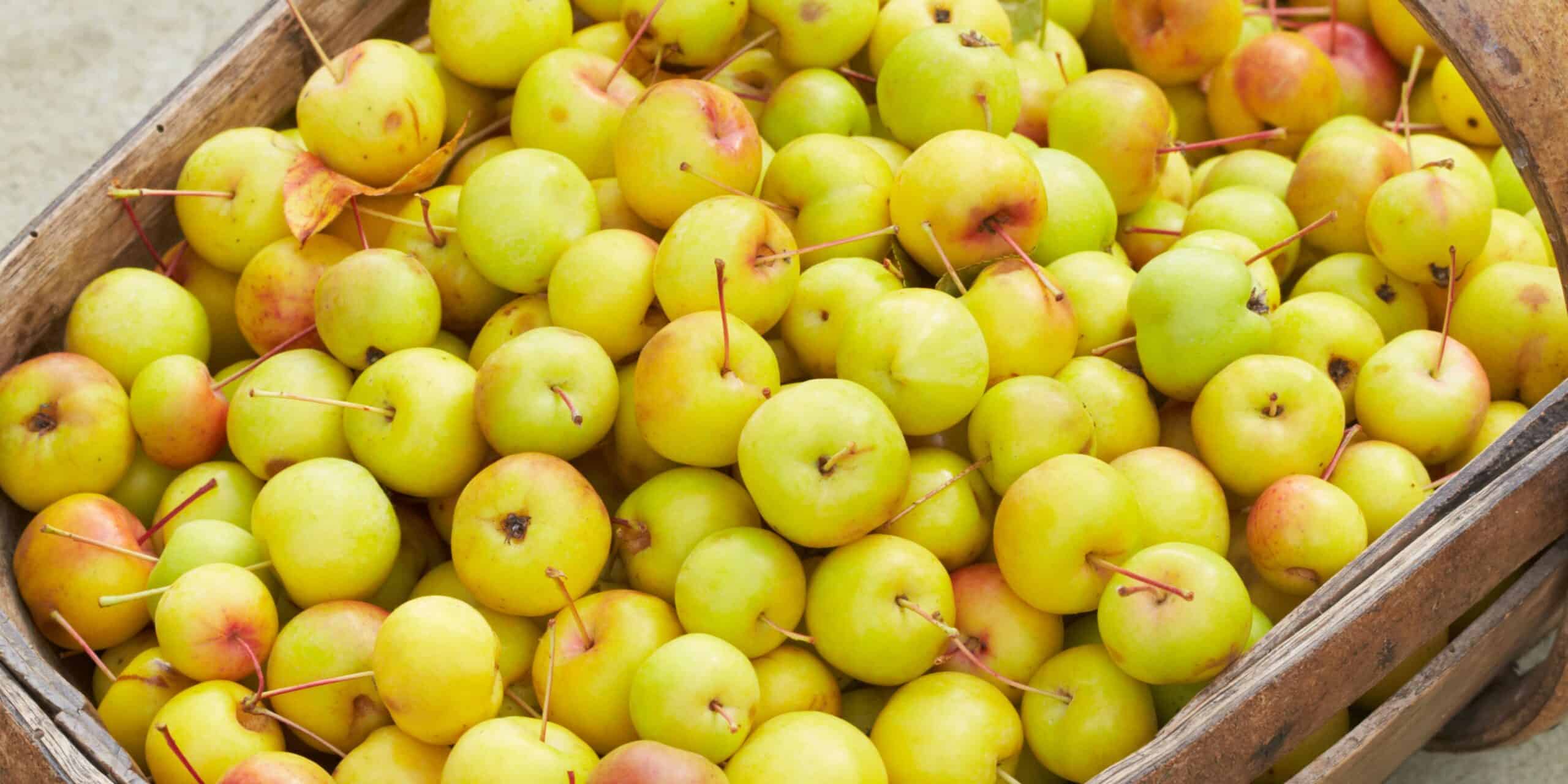 Don't have Crab Apple Liqueur? Here's how you can adjust!
The recipe I'm featuring doesn't actually have the Crab Apple because again, it really depends on the product you have on hand. But I leave an example of a recipe up top.
In this case since I didn't have the liqueur for this Gin Apple Sour, I decided to build something around products I do have. For one, I had some lovely Calvados around. I also wanted to bring out more of that Apple flavour so I had some Fresh Pressed Apple Cider available. Now I find Cider to be very different from Apple Juice, so please be mindful of those differences.
You can even have some fun with bitters. What are some spices or flavours you love with Apple? For me, Cardamom screams out at me, or Ginger or Cinnamon! Having those bitters around or infusing it in your syrup would help dress this up even more!
And that's it! I hope all this knowledge helps you build an Gin Apple Sour that's perfect and balanced for you!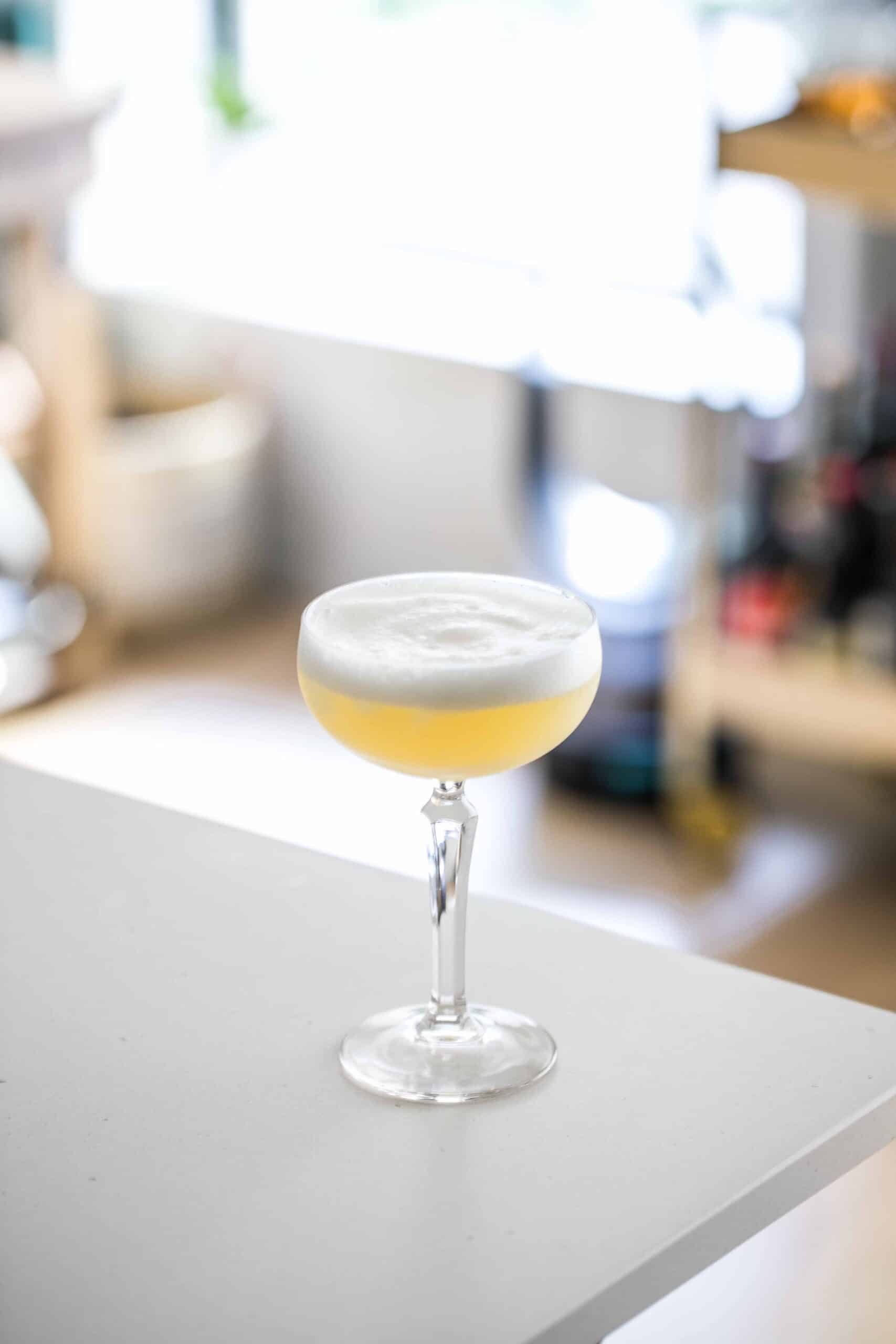 Gin Apple Sour
A sophisticated Apple Sour that combines Calvados, Gin with citrus and honey for your hearts delight!
– Difficulty: Intermediate
Ingredients
1.25

oz

Gin

Went with a London Dry Here

0.75

oz

Calvados

0.75

oz

Freshly Squeezed Lemon Juice

0.5

oz

Fresh Pressed Apple Cider

0.75

oz

Honey Syrup

1:1

1

Egg White
Instructions
In a shaker, add all your ingredients and give this a vigorous dry shake (approximately 30 seconds).

Add ice into your shaker and shake once more to chill the cocktail.

Strain into your chilled coupe glass.
Want to find more #NoDrinksWasted inspiration? Make sure to follow the link attached for more!