Summer time it is easy to gravitate to the wines, wine spritzers and so much deliciousness. This time around, I paired up with Henry of Pelham, a local Niagara winery with some of my favourite products from their line up. I create a Bright, Watermelon Rosé Cocktail mixed with their iconic Cuvée Catherine Rosé Brut. And with Riesling's being my favourite from the Ontario region, we use their 2019 Riesling for a delicious SMOKY, Wine Cobbler. You'll want in on ALL of this, because there's no time like the present to enjoy the last few weeks of summer!
Summer with Catherine with Henry of Pelham's (HoP) Cuvée Catherine Rosé Brut
What I loved about working with the team this Summer was the fact that they gave me full reign to choose any one of their products to mix with. Lately, "Carte Blanche" is not a thing when working with Agencies and Brands, so I always appreciate these collaborations.
Immediately I knew I had to have the Cuvée Catherine Rosé to the mix. This was the STANDARD Rosé by the glass at the restaurant I used to work at. It's an INCREDIBLE product on its own. Believe me, it doesn't need me to make it even better because it already is. So why not create a great sparkling cocktail instead? Why yes PLEASE!
This Sparkling Rose Cocktail is everything you want in a pink, watermelon and aperitivo inspired bubbly cocktail. Plus it's simple to make. Don't believe me? Check out the recipe below!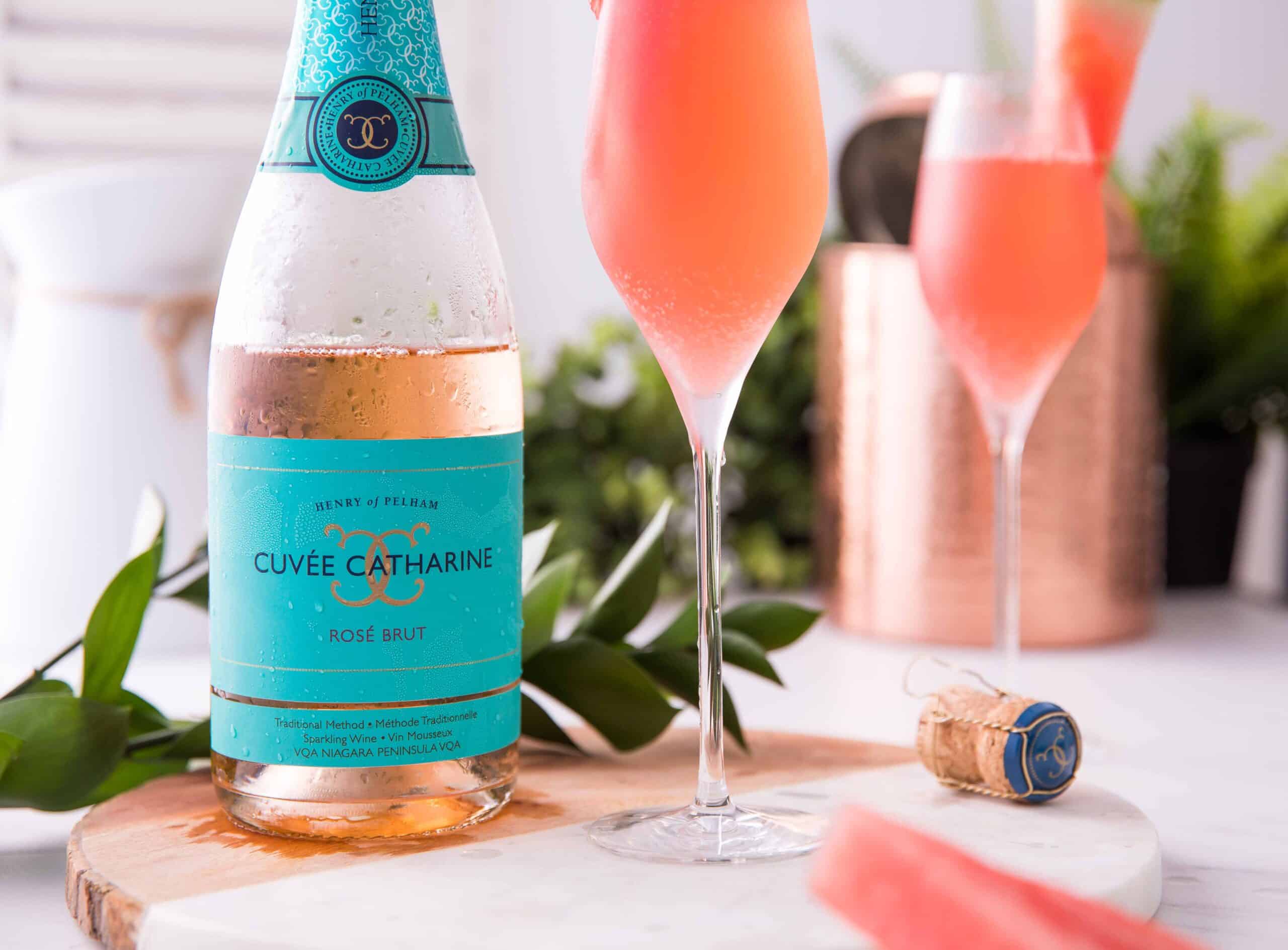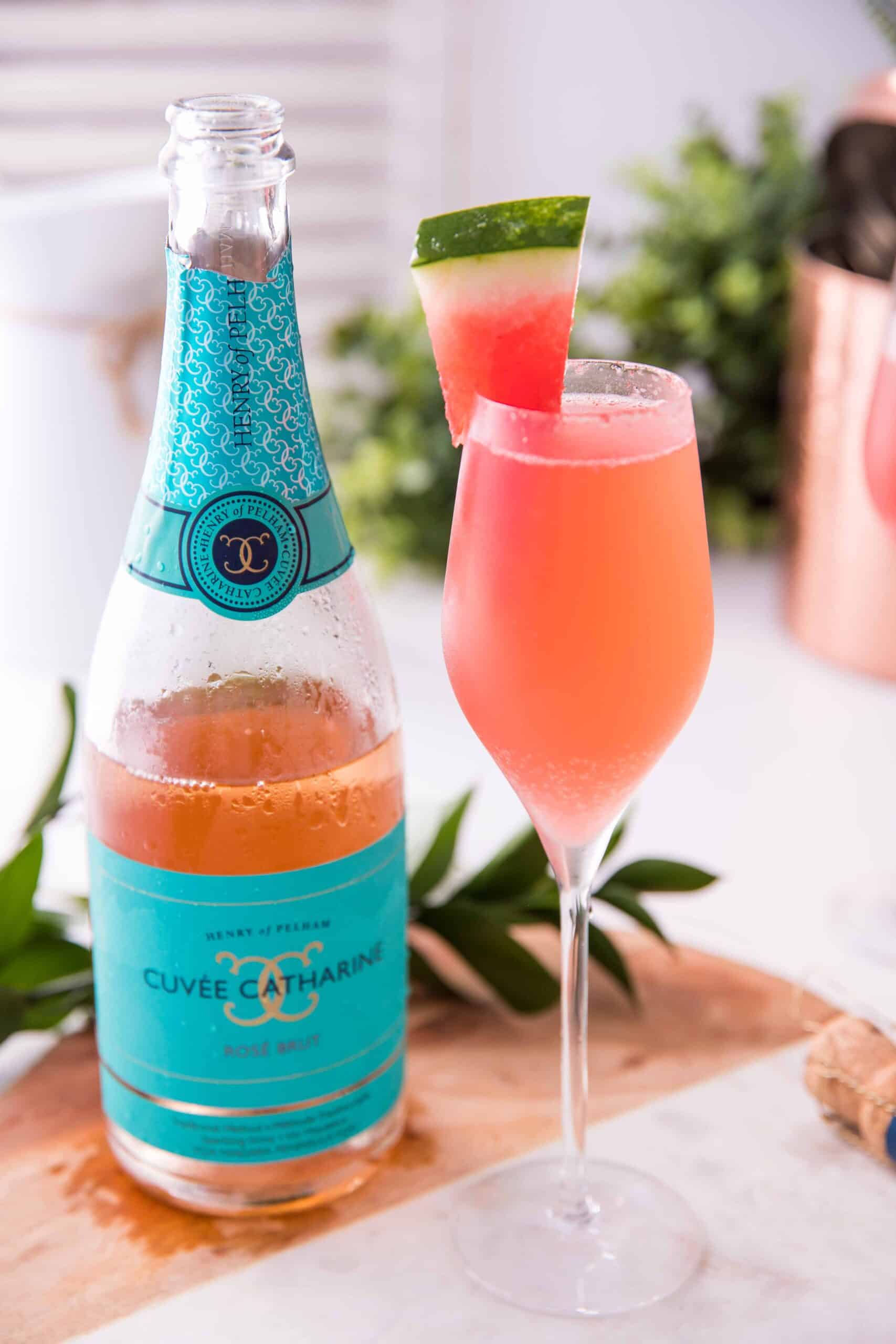 Summer with Catherine
She's a bright, bubbly delight, needing the pink cocktail that compliments her personality. Catherine is what you need this summer.
– Difficulty: Easy
Ingredients
1

oz

Rose Aperitivo

such as Cocchi Rosa or Aperol

½

oz

Honey Syrup

½

oz

Lemon Juice

2

cubes Watermelon

3

oz

Henry of Pelham's Cuvee Catherine Rose
Instructions
In a shaker, muddle your small watermelon cubes, and add in your Rose Aperitivo, Honey Syrup and fresh lemon. Add ice into your shaker and shake well.

Double Strain into flute glass and top with Cuvée Catherine Rosé.

To make the Honey Syrup, simply mix 1 part boiled water with 1 part honey.
Tropical Riesling Cobbler with HoP's Riesling
If there's one thing you need to know about Ontario wines is that…we produce some of the best Rieslings in the world, HANDS DOWN! You want to fight me on that? I can showcase a library of wineries that produce an incredible New World Style Riesling that is bright, acidic and perfect for summer.
That's why it seemed natural for me to gravitate towards a Riesling, and it's been a long time since I featured a Cobbler. Now if you're unfamiliar with what a Cobbler is, don't worry, I find it's new for a ton of people. Typically its a ton of fruit, over crushed ice mixed with traditionally Sherry. It's actually insanely delicious when done right.
This time around, I add in a bit of Mezcal to the mix, because I'm finding that EVERYONE is asking for more Mezcal cocktails which I'm here for. The slight hint of smoke from the Mezcal Koch, with the tropical notes of the Riesling, is the main reason I knew this would work. I kept it SUPER simple in terms of ingredients, but the most important thing I have to stress is the use of Ice. Go for something smaller in cubes, or cracked ice. It's not necessarily CRUSHED ICE which is typically in Sherry Cobblers, but I didn't want the cocktail to dilute as quickly. Hence the result here. Getting thirsty? I know I am! Make sure to check out this Tropical Smoke Riesling Cobbler recipe below!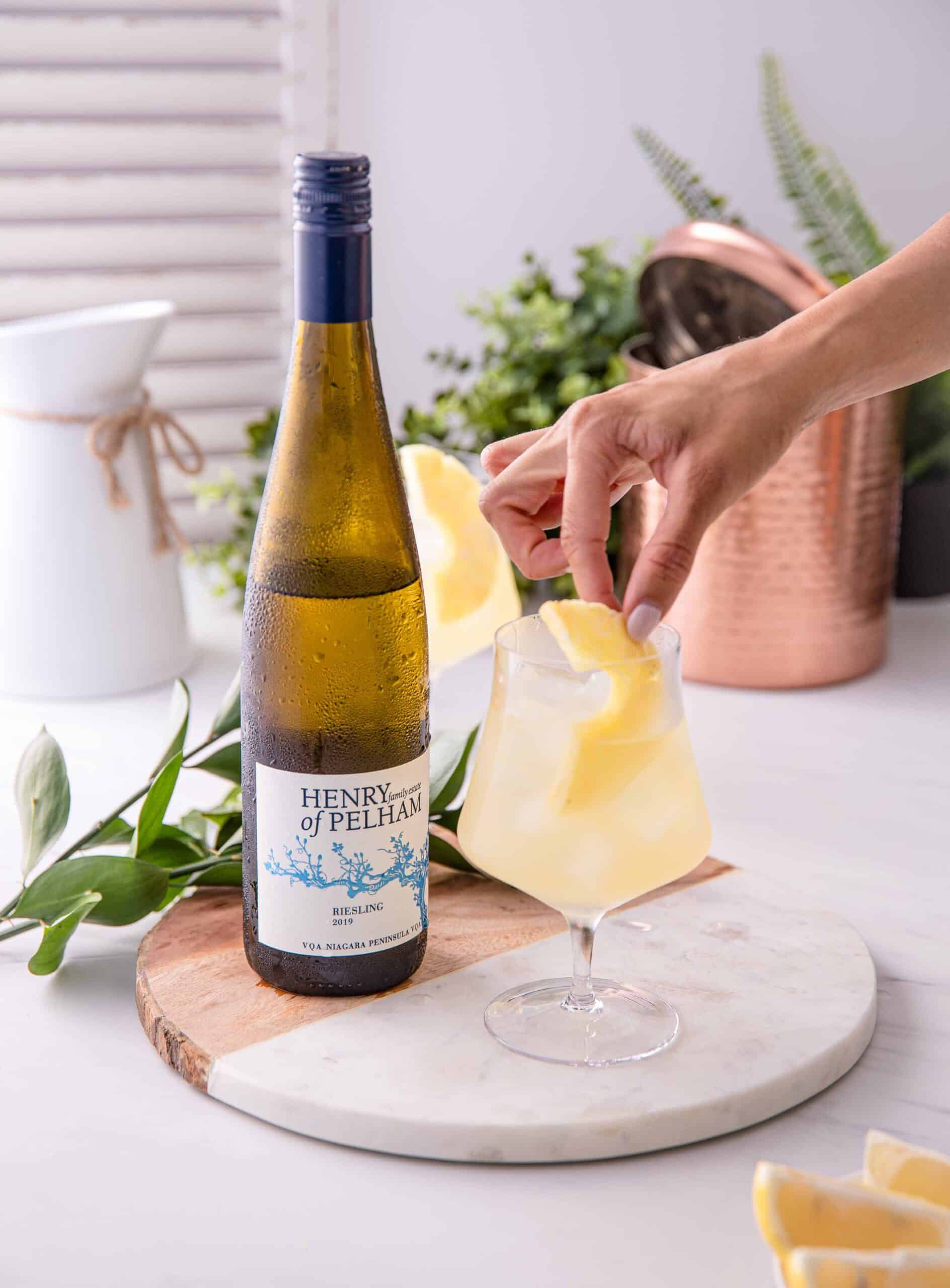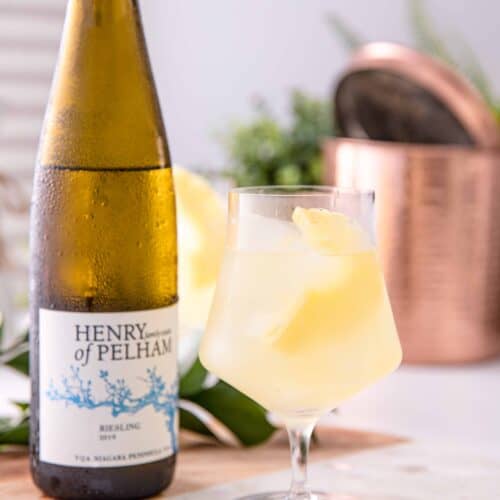 Tropical Riesling Cobbler
The classic wine cobbler gets a touch of smokyMezcal, fresh pineapple and delicious Riesling.
Difficulty: Easy
Ingredients
3

oz

Henry of Pelham Riesling

1

oz

Honey Syrup

2/3

oz

Pineapple Juice

1/3

oz

Mezcal

½

oz

Lemon Juice
Instructions
In a shaker, add all your ingredients, add a handful of ice and give this a quick shake.

Strain over cracked Ice (smaller cubes) and garnish with pineapple wedge.

To make the Honey Syrup, stir 1 part boiled water with 1 part honey.
Check out my collab earlier this year with the Henry of Pelham team as I whipped up some unique Iced Wine Cocktails, and no it's not just an Ice Wine Martini!