We've got another #NoDrinksWasted feature and today we are using the notorious Elderflower Liqueur! This is a staple to my bar, and we're using it in this delicious Strawberry Gin cocktail I like to call the Strawberry Elderflower Collins. The Tom Collins gets a refresh with this Summer sip that's easy to build at home!
Jump to Recipe
What's #NoDrinksWasted?
After a fun year of #DrinkYourGram on my social platforms, I wanted to create cocktails with you in mind. Many of you likely have random bottles or ingredients around the house that you don't want to go to waste, so why not use them in a cocktail?
This time around I had a member ask for something made with Elderflower Liqueur, and I gotta tell you, I get it. Elderflower liqueur is without a doubt a staple in my home. But the thing is, it will likely sit on my bar for a long time. You don't need much for it to go a long way, and if you over do it with St Germain, it will have this cloying taste that I can't stand (Note: We've only ever had access to St Germain at the LCBO for an elderflower liqueur. This is NOT all liquor stores).
So you have to know when to balance it all out, and that's why you'll see that I'll sometimes mix this liqueur with other sugars. That includes simple syrup as I try to bring balance to the whole cocktail, which is REALLY important.
Building your Strawberry Elderflower Collins
I wanted to build a cocktail that I haven't done in a while. Something that isn't my go-to, and a Tom Collins came to mind! Not that this cocktail isn't DELICIOUS, but it's one I've upgraded from a long time ago. The thing is, a Tom Collins, when it's done right can be so refreshing! So I was excited when the concept of a Strawberry Elderflower Collins came to mind.
Gin is still the star here, and I used Sipsmith Gin because I wanted a Full Bodied Gin to work with. Of course, if there's a Gin you love and you have in the house, use that, but really try to gravitate towards those juniper heavy Gins. I added fresh strawberries, made a quick Green Tea syrup to compliment the flavours, and topped it up with soda. This is bright, and a DELICIOUS floral cocktail that you'll love all summer long! Ready to start mixing?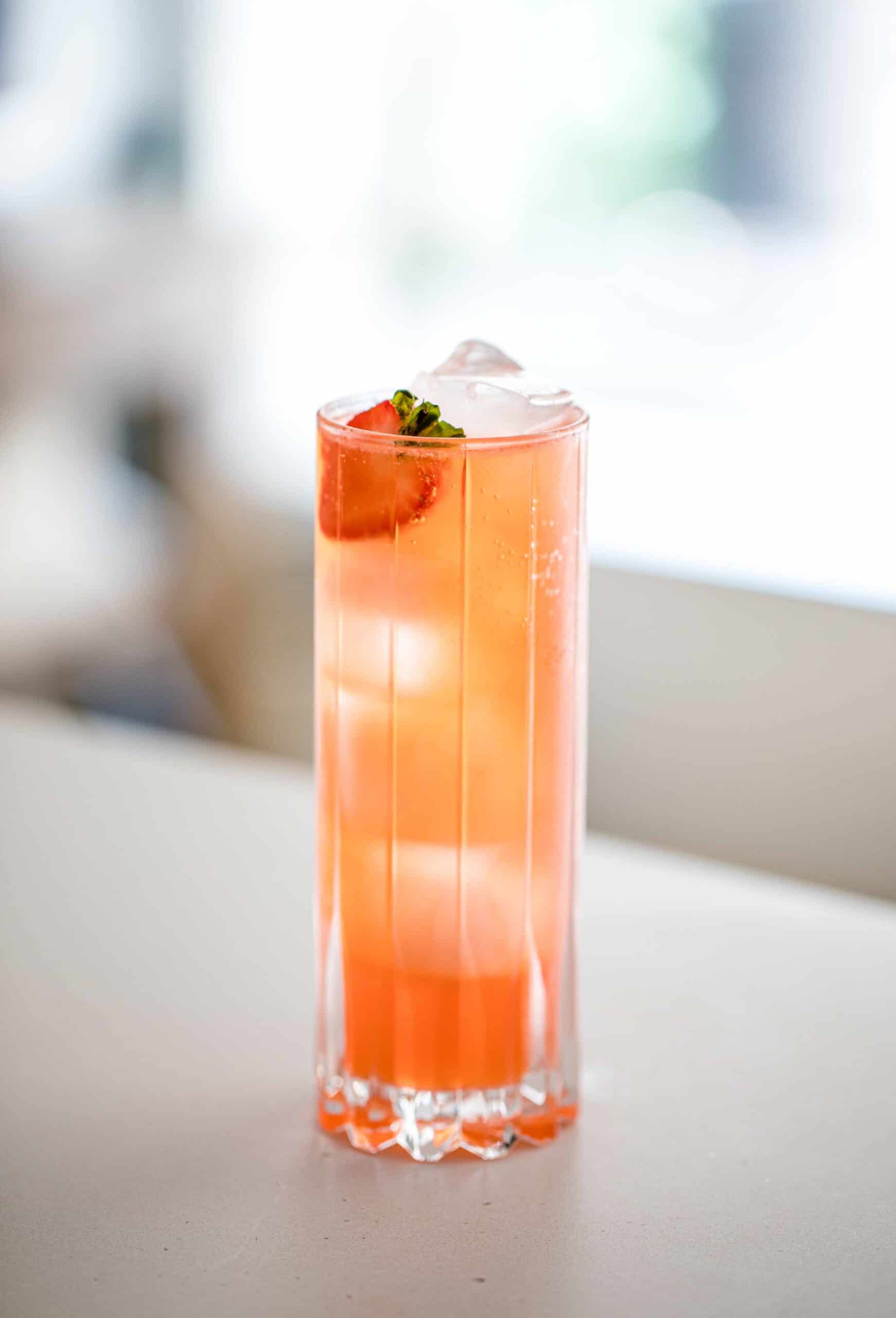 Strawberry Elderflower Collins
Gin, Strawberries and Elderflower play the lead role in this delicious Gin Tom Collins.
– Difficulty: Intermediate
Ingredients
1.5

oz

Full-Bodied Gin

Like a Sipsmith or going with a Plymouth style Gin

3

Strawberries

Halved and leave 1 half for Garnish

1

oz

Lime Juice

1/3

oz

St Germain Elderflower Liqueur

1/2

oz

Green Tea Syrup

*see below for details

1.5

oz

Soda
Instructions
In a shaker, muddle your strawberries and add all your ingredients except Soda.

Fill your shaker with ice and give this a good shake.

Double strain over fresh ice into a Collins Glass.

Top with Soda. Garnish with remaining Strawberry.
Recipe Notes
To make the Green Tea Syrup, combine 1 cup of boiled water, with 1 cup granulated sugar and one tea bag. Stir until sugar dissolves (you may do this on the stove if you prefer) and let the tea steep for 5 minutes before straining.
Don't want to make a tea syrup? That's okay, create Simple Syrup instead or use another herbal, delicate tea to compliment the flavours in this cocktail!
Looking for more Elderflower Cocktails? Head over to this link here for inspo!