This turned out to be my favourite creation on the line up, considering I was never a big fan of Green Chartreuse. I know I have already grown to love and appreciate this spirit, but I loved it even more in this simple and amazing imbibe! Crushed ice is an essential for this cocktail, which is very easy to buy, or make at home! Now I used honey to keep this simple, but if you have simple syrup lying around or don't mind muddling some sugar cubes with mint, then you can easily switch out the honey so it's easier to incorporate. Chartreuse and Pineapple has never tasted this good! For this and more recipes from the 3 Series Rainbow collection, follow the link attached.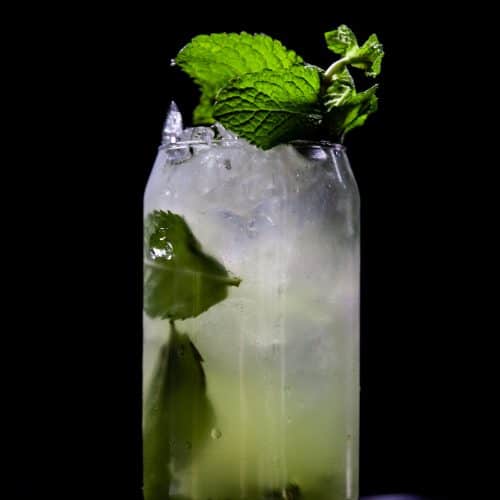 Chartreuse and Pineapple Swizzle
A simple and easy combination of green chartreuse and pineapple for a refreshing cocktail!
Difficulty: Easy
Ingredients
2

oz

Green Chartreuse

4

oz

Pineapple Juice

8

Mint Leaves

1/2

oz

Honey
Instructions
Grab the Tossware 12 oz Can and pour Chartreuse, Pineapple, Honey and Mint and give this a stir so it's well combined and dissolved in the liquid solution.

Add crushed ice to the very top and stir.
Recipe Notes
If you don't have the Tossware 12 oz Can, a julep/tin can would suffice. Exclusively for my Liquid Culture Community, Tossware is offering a 15% off discount for a 12 pack and/or 48 pack of their 12 oz Can Design. Purchase through the Tossware website and enter code CLASSIC.