With Winter now in full swing, I am in complete lock down and hibernation mode. Well, I could also blame the amount of hours I'm currently juggling at work, but whenever I do get some quality time with Netflix and the couch, you can BET I'll be sipping on this delicious latte right here! It's a combination of dried Hibiscus Rose Tea leaves, Earl Grey, Cinnamon, Clove, a touch of Lemon zest and some of Canada's finest Ungava Gin. 
If you didn't know this already, I am a HUGE fan of London Fogs. They've been my go-to drink since I knew I wasn't going to join the Pumpkin Spiced Latte gang. Espresso tends to give me serious shakes, so I avoid it when I can, even though I love its flavour. So to get my latte fix, I've always leaned towards tea flavours. I've even created my own Cold and Hot version of London Fogs over a year ago on the site, which you can find the link attached! Today I'm featuring something a bit different, highlighting a unique Canadian Gin that I think you'll love, in the most delicious imbibe.
You may not recognize the name 'Ungava Gin', you may have seen in against a gin lineup for its very vibrant yellow hue. It stands out, and for the longest time I'll admit, I never really gave this gin a chance. I think I was on a Botanist and Hendricks high that kept me from exploring my options. Again this was BEFORE LC (BLC) and I've learned and CONTINUE to learn a lot since then. Ungava gin uses rare botanicals found in the arctic regions of Canada, including the Wild Rose Hips which contribute to its vibrant colour. It's floral, bright and crisp, with a medium-bodied hold and a spicy finish. For those looking for a truly unique local gin, look no further.
---
---
Now on to the recipe. It took a bit of experimenting to get this latte right, but it got the stamp of approval from none other than my mom. There are FEW palates I trust in the world, and my mom is at the top of the list. She's the reason I have a passion for combining and creating flavours, so I dedicate this latte to her. Now you're probably thinking that some curdling went down, and it did while I tried to play around what methods best worked. If you don't want a DROP of curdling than filtering through a coffee filter is the only way to go, but I came up with an easier way to combine these flavours. So without further ado, I bring you the recipe!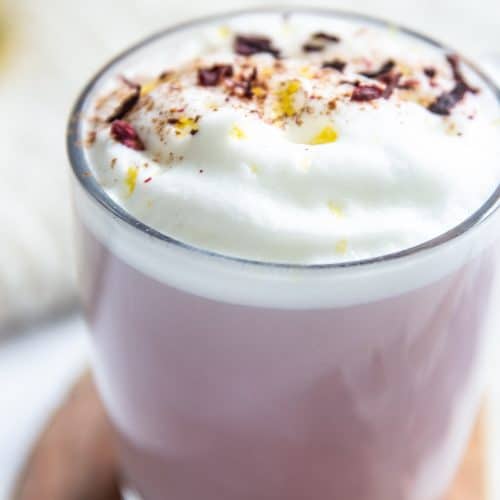 Hibiscus Rose and Gin Earl Grey Latte
A boozy tea latte that will get you all cozied up on the couch and ready for winter! Combining Ungava gin with hibiscus rose petals, earl grey, cinnamon, citrus and gin, you will love this new imbibe.
Difficulty: Intermediate
Ingredients
1

cup

Water

1

cup

Milk

2%

50

mL

Granulated Sugar

1

Cinnamon Stick

2

Cloves

30

mL

Dried Hibiscus Flower

2

Bags Earl Grey Tea - David's Tea

¼

Lemon Zested

2

oz

Ungava Gin
Instructions
Boil water and combine hibiscus, and let this steep for 3 minutes. Add gin at 3 minute mark.

While this steeps, heat up the milk in a small saucepan. Bring to a light simmer and toss in the earl grey tea, sugar, cinnamon and cloves for approximately 3 minutes. Stir once.

Grab your coffee mug, and fill almost half way with milk, then pour in the hibiscus gin mixture (straining out cinnamon and cloves). Zest lemon on top of foam or in the mixture lightly, with some cinnamon powder.
Recipe Notes
Makes 2 cups of Latte - 1:4 ratio - 1 part Gin - 4 parts Milk