There are some cocktails that just hit home. They feed the soul, they get you rejuvenated and excited to create again. This cocktail is just that for me, and I'm here to tell you why.
I feel for my Rum enthusiasts in the city, because Ontario can be somewhat limiting when it comes to premium, well-crafted Rum. For example, think of Rhum Agricole. This is a spirit that's widely accepted around the world, but the levels of ethyl that's naturally produced, exceed the levels that the LCBO deem to be 'safe'. I'm not going to bash our controlled liquor system, because they do anything and everything they can to provide high quality spirits to the community. It's just very difficult for the adventurous part of me that loves to experiment and try new things! Hopefully things move forward and we can have a taste of this at home.
So I dug around for products, and I found a lightly aged blended rum that I LOVE. It's called Cana Brava, a Rum distilled the same way as the Cubans do, but in Panama. For my Ontario crowd, this is only available through private consignment (#Sorry), but for those of you that see this all the time, well you have a winner when it comes to a great valued product. This ended up being the perfectly spiced (naturally) and balanced rum for today's Negroni cocktail!
---
---
Probably my favourite component to this Negroni is the Dry vermouth infusion. This infusion combines coconut, dried thai mango slices and lime leaves, and takes about 12 hours to allow the coconut to shine through. I went with Dolin's Dry Vermouth, because you rueally can't go wrong with this easy, great valued brand! If you want to find the recipe for this infusion, make sure to follow the link here.
Lastly, we need the bitter liqueur component, and since I was going for a white Negroni style, I had to grab a bottle of Suze! Again, we have a bottle that can be difficult to get your hands on in Ontario, but if you contact the lovely team at Corby's, they'll be able to provide the goods! Suze is a bottle you definitely need on your shelf, especially if you're a fan of Negronis. It's the classic and ideal substitute for Campari when you're looking to do a white variation of the cocktail. I can't believe how long it has taken me to mix with this bottle, but it's definitely going to be a bottle that's replenished on a constant.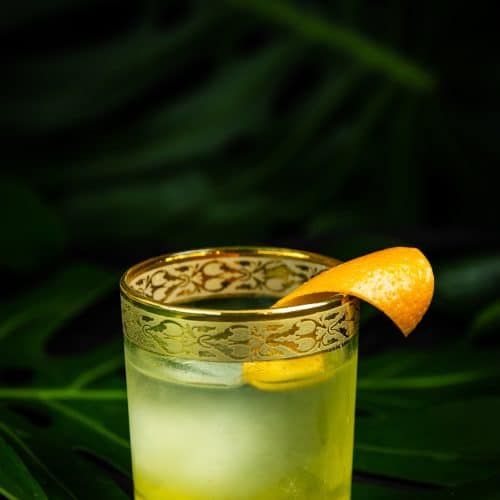 Coconut Mango Rum Negroni
A delicious, tropical Rum Negroni you an enjoy all year round!
– Difficulty: Intermediate
Ingredients
1.25

oz

Cana Brava Rum

3/4

oz

Suze

1

oz

Coconut and Mango Infused Dry Vermouth

1

Orange Peel
Instructions
Grab a mixing glass and fill 2/3 with ice. Add your spirits and stir until well chilled (at least 30 seconds)

Strain over 1 large ice cube and garnish with orange peel.
Recipe Notes
For the infused vermouth, you can grab the recipe for it here.