THIS. This my friends is what it's all about. I probably went back and forth with this recipe so many times, until I figured out a way that kept this boozy, filled to the brim with ice without it melting all over the place with a flavour I love. This unique Negroni Pink Lemonade Slushie came together thanks to Bangarang's new Pink Lemonade. It gave me a chance to get creative in the kitchen, while serving up a cocktail I love. Curious what it's about? Head down below for details.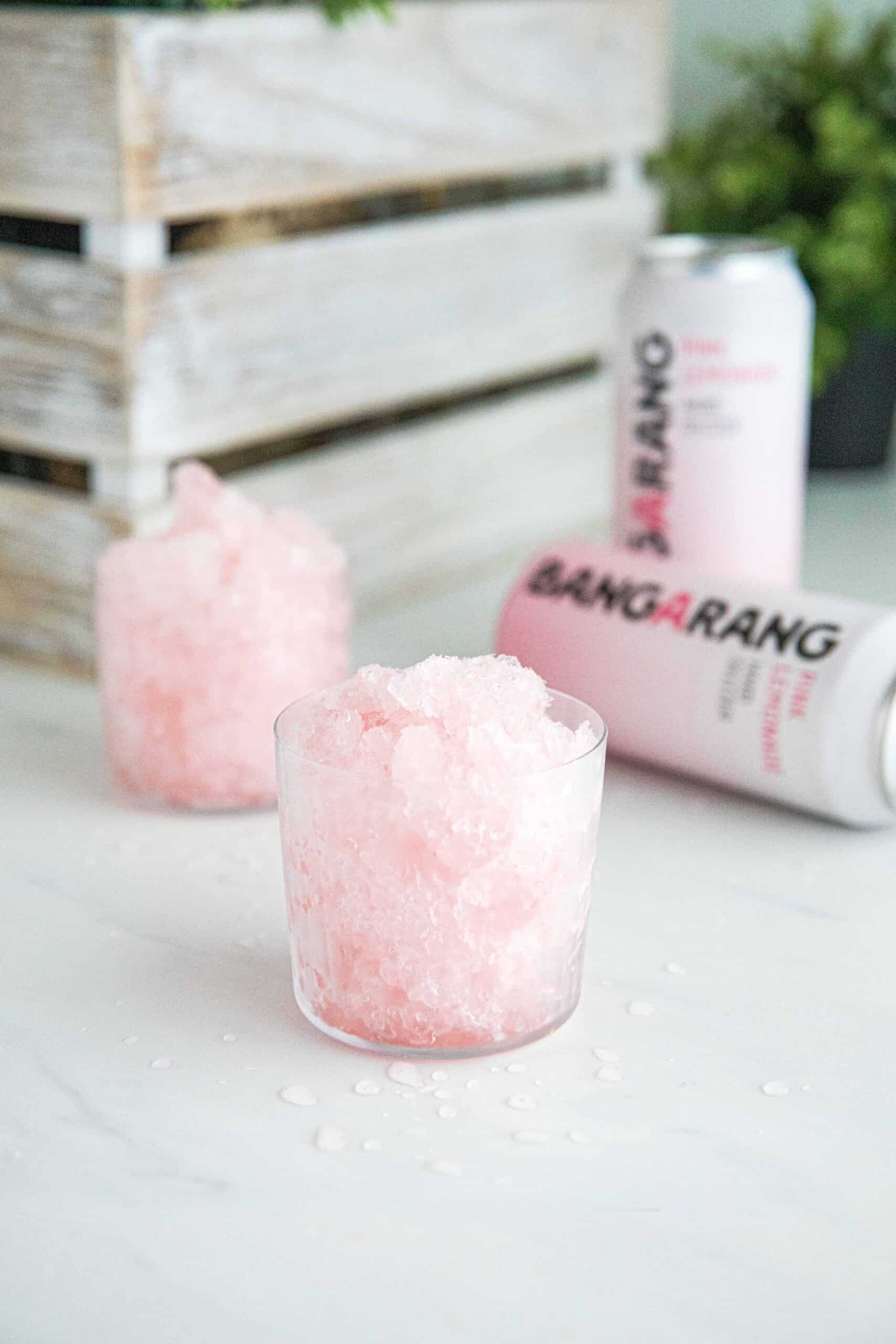 Solving the Slushie Component
So many Boozy Seltzer or Slushie recipes are lying to you. Those images of what looks like a well frozen cocktail has been altered in some way, BECAUSE NO MATTER WHAT, when I blended the cocktail it would be half watery with the rest floating on top. One way to combat that was putting less liquid (aka the booze) and more ice. But this would just lead to a creation that was completely watered down. You can't taste any of the unique spirits involved, and for me that's boring.
UNTIL, I fell upon a recipe that almost does a Granita technique. What I loved is that I could use the whole can of Bangarang, added enough spirit to make me happy of its presence, and kept things actually frozen! Once I had this technique and simply poured the Vermouth on top for this Slushie, everything came together! Next time around, I think I'll use Cocchi's Rosa, but having wanted to stay true to the components of a Negroni I stuck with vermouth. Do whatever your heart desires at this point.
Building your Negroni Pink Lemonade Slushie
I don't think I've mentioned it yet, but I'll mention it now. THIS IS SO EASY TO MAKE! I'm not kidding. Pour your liquids into a wide base (I used a simple food container) and every 45 minutes – 1 hr or so, fork through the mixture until it's completely solid. I actually forgot about it after the first hour and forked through the liquid 3 hours later and it was perfect. Once it reaches the texture you want, cover the container, and make your cocktails whenever you're ready. That's it. It just calls for time and a freezer, but no fancy techniques are involved with this Negroni Pink Lemonade Slushie.
Choosing Your Cocktail
Now I replicated a Negroni here, but in truth there's a lot I could have done. Maybe a fun Rum and Coconut Pink Lemonade Slushie, or almost building a component of a spritz. The important thing is keeping the liquid still fairly low in alcohol to allow it to freeze. Anything over 10% in volume would be an issue, and you'd have to add more water in the mix to ensure freezing. That's why low in alcohol solutions are great here. So bring out the Sherries, bring out the vermouths, or lillets or aperitivos, OR EVEN SAKE!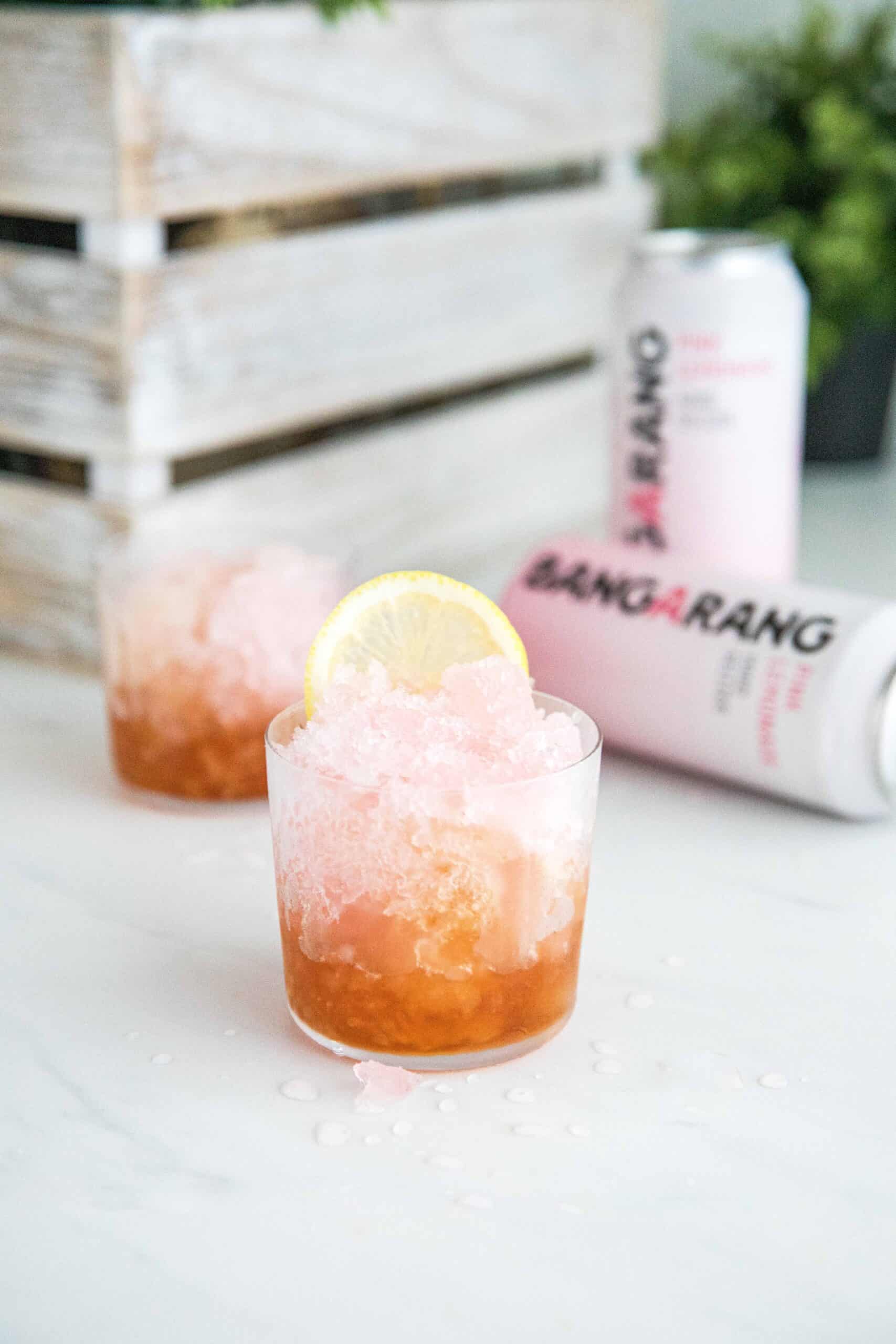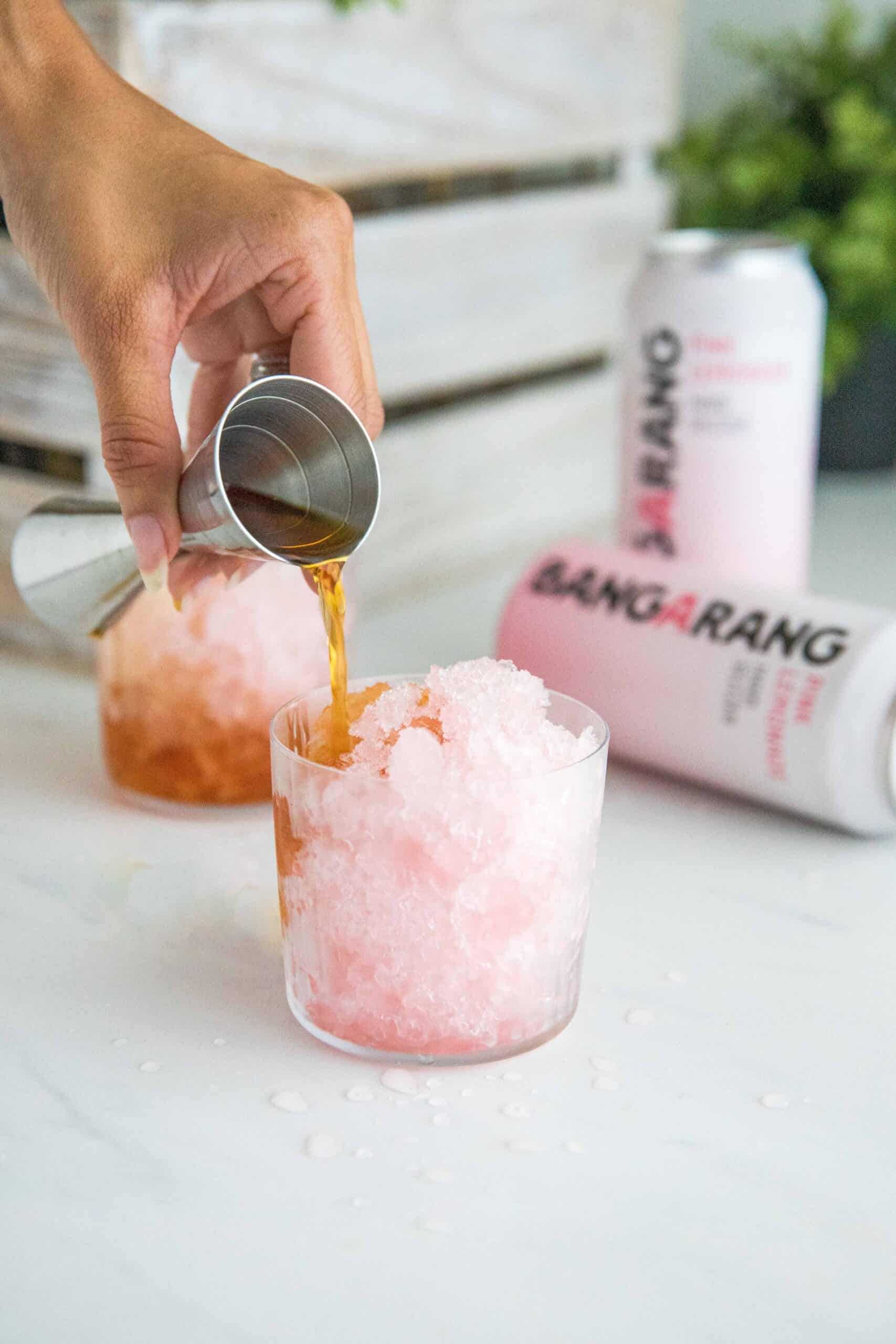 Negroni Pink Lemonade Slushie
Using Bangarang's Pink Lemonade, we make this refreshing summer Negroni Treat you will love!
– Difficulty: Easy
Ingredients
1.5

oz

Gin

London Dry Preferred

1.5

oz

Campari

3

oz

Simple Syrup

1:1 sugar to water

0.5

oz

Lemon Juice

1

can

Bangarang Pink Lemonade

1.5

oz

Vermouth or Rose Aperitivo

Poured on top.
Instructions
In a wide food container, pour all of your ingredients except vermouth. Give this a stir and leave uncovered in your freezer.

Every 45 minutes – 1 hr, check on the mixture if ice is forming. If it has, use a fork to break it apart to slowly start forming the granita / slushie ice component. Do this every hr until it completely freezes over (approximately 4 hrs).

Once complete, cover and leave in freezer until ready to use.

To pour into individual glasses, add a full glass of slushie mix and pour 1.5 oz of Vermouth or a Rose Aperitivo on top. Enjoy!
For more Boozy Summer Dessert creations, follow along our journey of #IceCreamSundazeee.