We've got another #NoDrinksWasted entry and I have to say, I immediately jumped on this ingredient because I was stuck with it as well! This time around, I'm featuring Canned Pineapples in this easy Pineapple Avocado Mezcal Smoothie. Can a smoothie do without the Mezcal? Of course. But it's just so delicious with it.
What's #NoDrinksWasted?
After a fun year of #DrinkYourGram on my social platforms, I wanted to create cocktails with you in mind. Many of you likely have random bottles or ingredients around the house that you don't want to go to waste, so why not use them in a cocktail? For today's creation, @timbitt reached out saying she had some Canned Pineapple she wanted to get rid of. The thing is, so did I which is a rarity. Now don't ask me why I wanted to bring out the blender for this one, but I did, and felt like I was living my all-inclusive life fantasy with this creation. It's DELICIOUS and one not to be missed.
Choosing your Base Spirit
The thing with this Mezcal Smoothie is that you really can use whatever spirit you want. Whether it's a lightly aged rum, Tequila, Vodka, Cachaca or Pisco, you can't really go wrong. That's how I typically feel when I have a stellar juice mix, because it's easy to add on a clear spirit and boom you've got a cocktail.
I recommend leaning towards the clear spirits over anything else to really let the ingredients in the smoothie shine (or juice mix, whatever you create). Seeing as I was incorporating the Avocado, lime and agave syrup, it only seemed fitting that I'd used Mezcal! I love that a little Mezcal can go such a long way but still compliment the tropical flavours going on in this smoothie.
Mixing with Canned Pineapple for this Pineapple Avocado Mezcal Smoothie
Again, it's a rarity that I bring out a blender whenever I make cocktails. In my head I think, oh this can't be sophisticated, oh this isn't what the professionals do. But here's the thing. In Peru, every AMAZING Pisco Sour made (and we're talking Michelin Restaurants too) used a blender. So point number 1 that it's not just for your all-inclusive resorts. I have brought out the blender a couple other times this year and AGAIN, pleasantly surprised. You can't use it in all occasions, but with canned Pineapples, and a really sad looking Avocado that was about to get overripe, I thought why not.
So thank you @timbitt for making me bring out a tool that I often ignore for my home bar. Because this was a great alcohol and non alcoholic solution that I'd be happy to whip up again!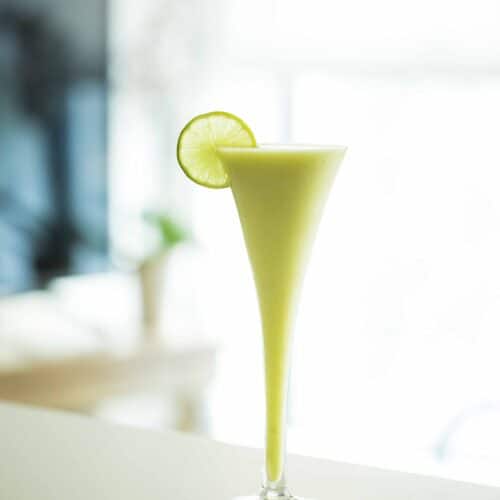 Pineapple Avocado Mezcal Smoothie
Grab your blenders and fresh produce, because this is an easy one to throw together to make an alcoholic or alcohol free variation!
– Difficulty: Easy
Ingredients
3

oz

Mezcal

1/2

Canned Pineapple

1

Avocado

3

oz

Agave Syrup

1.5

oz

Lime Juice

1

oz

Grapefruit Juice

2

pinches of Salt

6

cubes

Ice Cube
Instructions
In a blender, add all your ingredients and use the Frozen Drink setting.

Pour into your glass and enjoy!
Looking for more #NoDrinksWasted creations? You'll likely find a friend that mentioned the ingredient you requested as well. Check out the entries here!