It's World Chartreuse Day, and it happens to land on my favourite day of the week! So if you haven't already guessed, this cocktail recipe will feature some hump day peaches and Chartreuse!
My love for Chartreuse is very new. Just like Fernet, I pushed it off to the side, assuming it was overly bitter and herbaceous. We all know what happens when we ASSUME…So I'm glad I stepped out of my bubble and finally got around to experimenting with the liqueur myself. Guys…I get it. I completely understand why this herbaceous, spicy and vegetal liqueur is an ESSENTIAL to a bar. For one, it's a liqueur that isn't overly sweet and cloying. Unlike St. Germaine and Creme de Violette, where it needs to be carefully measured, Chartreuse is much more forgiving. In addition, you also have 2 different styles of Chartreuse to choose from. So if you are new to this liqueur, pick up the YELLOW bottle. It's the Mild and Sweet Younger sister to the Big and Bold Green Chartreuse.
So for this special day, I wanted to create something that everyone can enjoy, and what better way than pairing this liqueur with Gin. I decided to go with a delicate Gin, since we were using the milder of the Chartreuse flavours, so I didn't want it to get masked by a strong Genever Gin. I reached for my bottle of Botanist Gin and it turned out to be the perfect pairing. With that, I muddled some fresh peaches, incorporated freshly squeezed lemon and a Chamomile Syrup. The combination speaks for itself, so I'll just hurry to the recipe so you can start SHAKING! Cheers.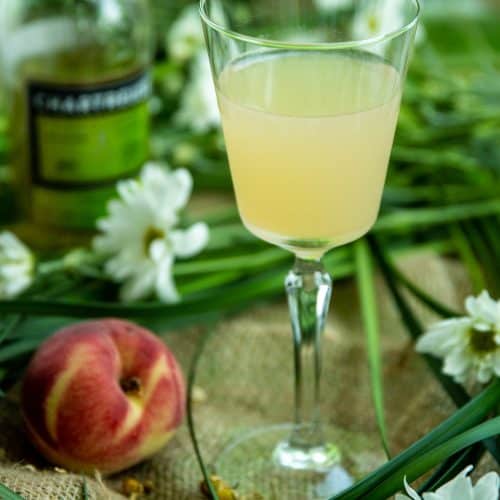 Chamomelia
Created in honour of World Chartreuse Day, this cocktail combines Gin, Yellow Chartreuse, Chamomile and Fresh Lemon for a bright, fresh flavour.
Difficulty: Intermediate
Ingredients
1.5

oz

Botanist Gin

1/2

oz

Yellow Chartreuse

2/3

oz

Chamomile Syrup

3/4

oz

Fresh Lemon

1

White Flesh Peach
Instructions
In a shaker, muddle a small White Flesh Peach (preferably ripened)

Add all the other ingredients. Fill with ice and shake VIGOROUSLY (until the shaker is cold to the touch).

Double Strain into a Nick and Nora Glass or Coupe.
Recipe Notes
For details on the Chamomile Syrup, follow here!