Another Video, Another Great Collective Arts Gin creation. This time around, I'm using their Plum and Blackthorn infused Gin for this refreshing Grapefruit, Cinnamon and Plum imbibe. It has a nice mix of cool and warming flavours that I love to balance out in a cocktail. So let's dive straight into the components of this drink!
Seeing as I wanted this infusion to be the star of the drink, I had the Plum flavour dictate the direction of the cocktail. Knowing how much I love citrus and warming spices together, and how well they would match, the rest of the cocktail was fairly easy to construct. Because this is the thing, I really am trying to offer up more simple, easy recipes on here so you don't feel intimidated throughout your home bartending journey. This cocktail is just that, simple, with maybe a new concept you're unfamiliar with, which I'll explain here.
What's Dry Vermouth?
So one of the reasons I love working with Vermouth, is because it's one of those bottles that always seem to hang out on peoples bars, but never moves. I have a few issues with that.
Vermouth should be stored in the fridge – Think about it. When you open a bottle of wine, it starts to oxidize and you have a short window to drink the wine before it tastes like vinegar. One way to help make it last longer is by storing in the fridge. Now what you may not know is that Vermouth is a Fortified Wine, key word being WINE. So think of all your vermouths in this light, and be mindful that it needs some love and attention, more so than most bottles on your bar.
Vermouth only lasts about 30 days – It can obviously last longer than 30 days, but you are definitely getting a different flavour profile. So with that short lifespan, you have to start getting creative with vermouth in cocktails. Lucky for you, there's a ton of recipes, including low ABV options available on Liquid Culture that you can find here!
Dry Vermouth isn't just for your Martini – I would say that a large majority of those new to the cocktail scene, assume that you only use dry vermouth in a classic martini. The thing is, typical recipes only call for 1/4 oz or even just a mist of it. That means you need to drink a lot of martinis to get through that bottle in 30 days, and I'm not here trying to encourage irresponsible drinking. So with that said, I love to mix it in so many ways. I have a TON of recipes on here using dry vermouth as the star ingredient, or to split the base of the cocktail. Simple put in the search "vermouth" or follow the tag below. But since you're here, let me tell you why I used it in this cocktail.
The other reason I love to use Vermouth is to help lengthen a cocktail, add a touch of complexity, WITHOUT making it extremely boozy. This is your perfect drink for those wanting to have a cocktail, but nothing too strong or spirit forward. I'll mix it with vodka, and in this case I add a dash to this gin. Especially with the spice notes going on, I knew it would lend well and bring out those flavours.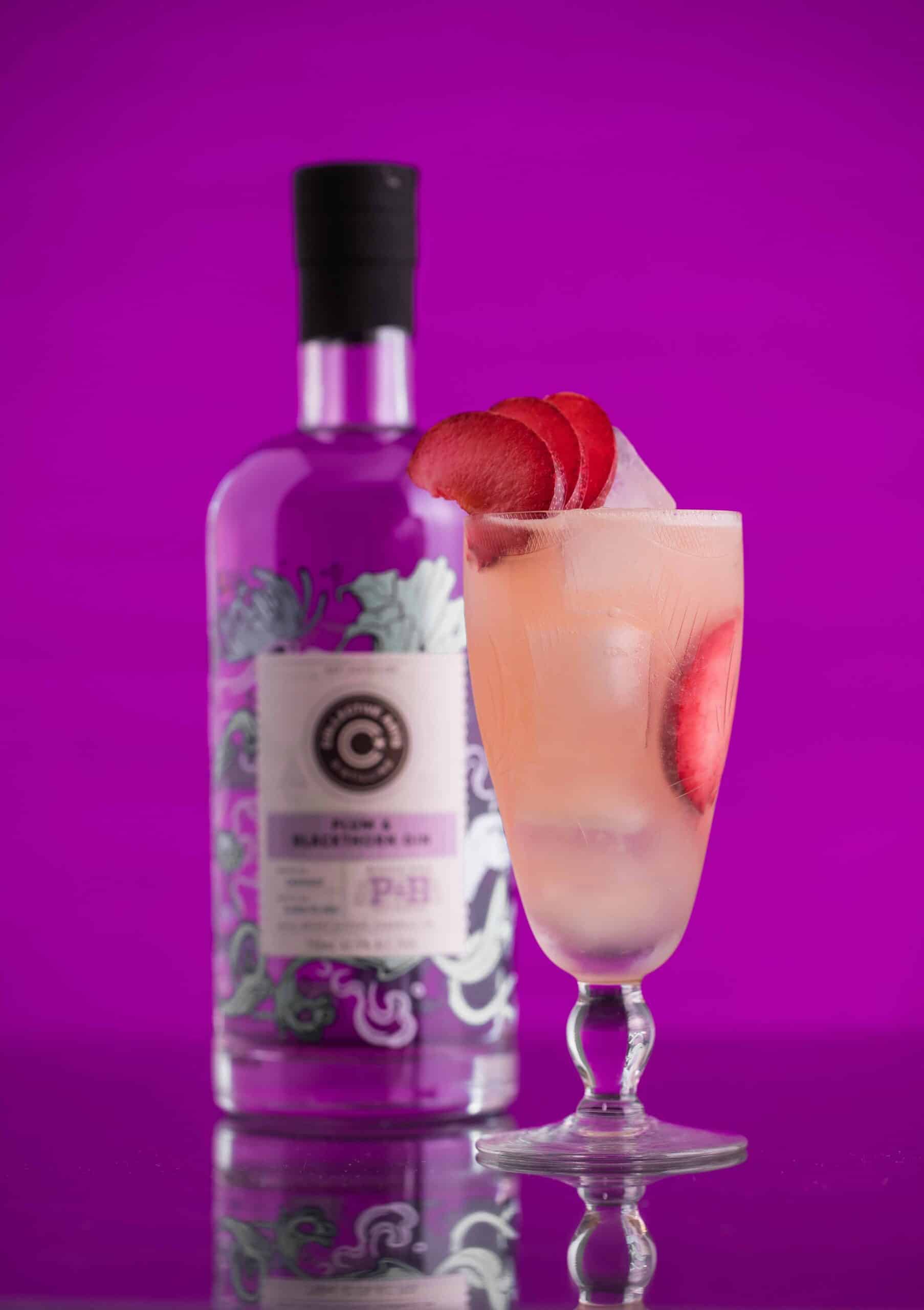 Grapefruit and Cinnamon
Plum is tart enough as it is, so I decided to go with a softer citrus for this cocktail to make sure that this flavour came through. Knowing how well citrus and cinnamon go together, I thought why not combine the two! For the cinnamon flavour, I used some cinnamon flavoured bitters I have at home. I always like having spices like this on hand for my bitters collection, because I know it's not an easy flavour to extract if I simply threw in a cinnamon stick. And wanting to avoid you making any complicated syrups, I went with this route.
Don't have Cinnamon bitters, or can't find it around? Infuse Cinnamon into your honey and create a syrup out of it. I would say put 1 cup honey with 1 cup boiled water, let it simmer and add your cinnamon stick for 3 minutes then remove from the stove. Let it sit in the bath until it reaches room temperature before straining.
Grapefruit Soda
I can't tell you how much I love Grapefruit Ting. It's my favourite Grapefruit Soda coming from Jamaica and a must on my pantry. I've always found it in our grocery stores here, but San Pellegrino has a tasty one as well. TRY to find a soda that's Grapefruit flavoured, or use some other citrus soda if you can't find grapefruit around. Just avoid something with a ton of sugar, or CREATE your own soda at home. I'm in love with the Sparkel machine I have at home and HIGHLY recommend this purchase.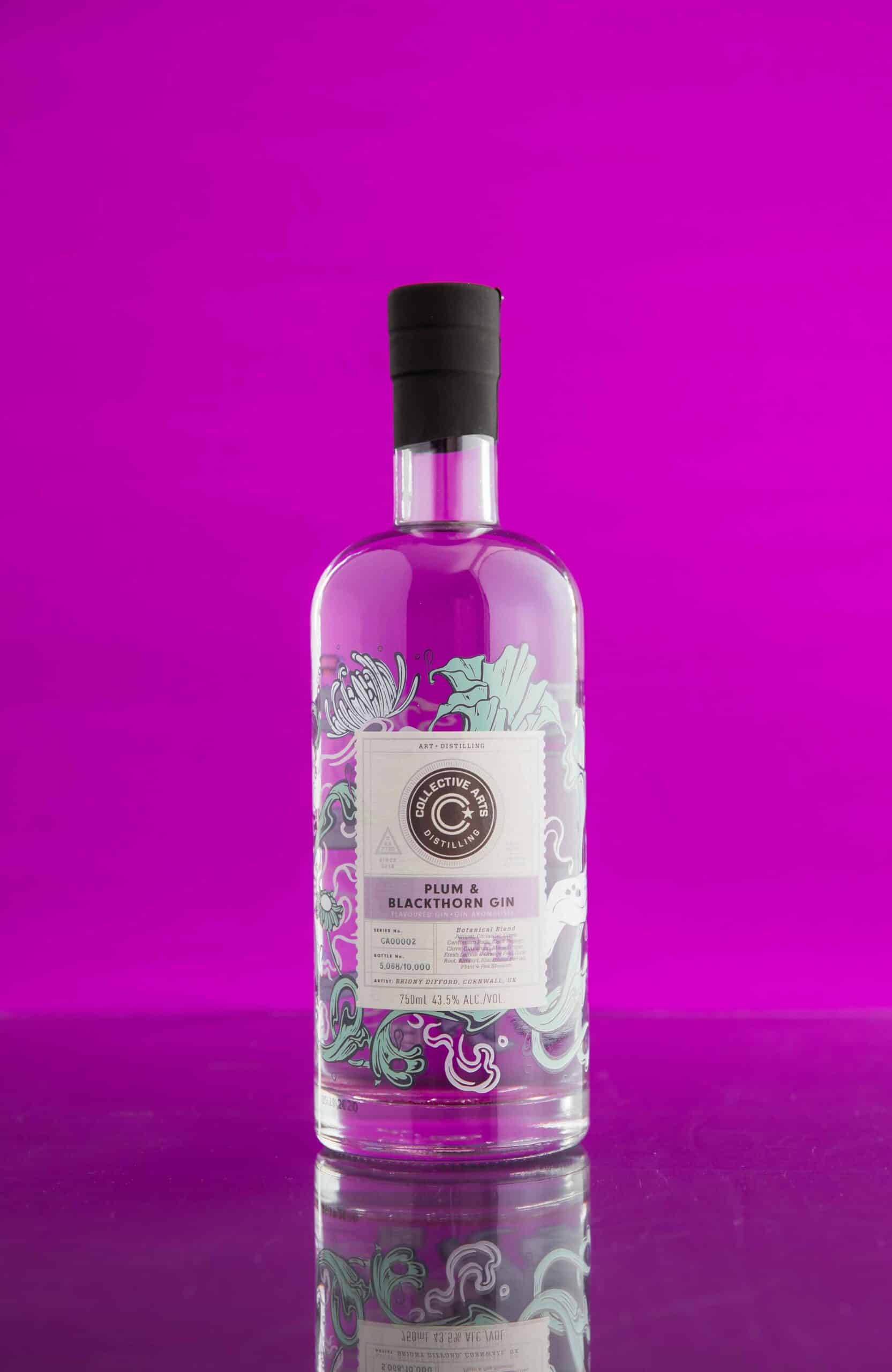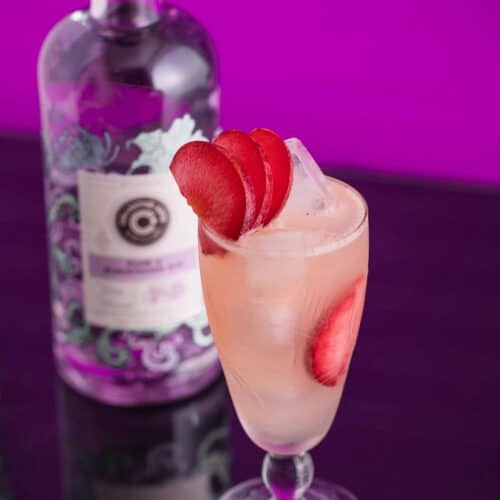 Plum Me A River
Using Collective Art's Plum andBlackthorn infused Gin, we're creating a refreshing plum imbibe combining vermouth, grapefruit, warming cinnamon flavours and the star PLUM.
– Difficulty: Intermediate
Ingredients
1

oz

Collective Art's Plum and Blackthorn Infused Gin

0.5

oz

Dry Vermouth

1

oz

Grapefruit Juice

1/3

oz

Honey

2

dashes Cinnamon Bitters

0.5

oz

Grapefruit Soda
Instructions
Add all your ingredients to an empty shaker (except soda).

Shake and strain over fresh ice into glassware. Top with Grapefruit Soda.

Garnish with Plum slices