Sometimes the most challenging part about setting up a cocktail for a group of people is that everyone has different tastes and preferences. I can't tell you how many times I have been asked to create a cocktail for a function, they tell me they like everything, and once all the work is done…they drop the bomb that they hate cucumber (just an example).
Being specific to your needs and preferences is key to not pissing off your bartender, and in this case, the host of the party. So I decided I wanted to make the Halloween Cocktails approachable for large groups and aren't "intimidating" for those who don't normally venture in the cocktail world. Everyone should know what a Tom Collins is and spicing it up with some pumpkin flavour makes you look super creative as a host, without scaring some of the newbies to the cocktail scene. Just like the Pumpkin lattes that come out at Starbucks, you about to drop a bomb on these basics. Did I mention that it's refreshing AND delicious?!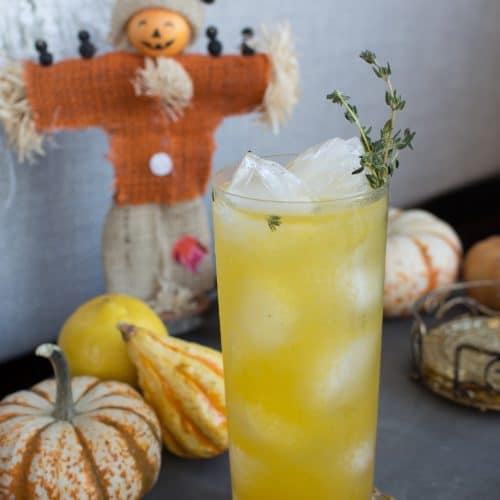 Pumpkin Collins
A refreshing yet spooky take on an all-time classic
Difficulty: Intermediate
Ingredients
1.5

oz

Gin

London Dry Gin preferred

1

oz

Thyme Simple Syrup

1

oz

Pumpkin Puree

1/3

oz

Lemon Juice

Freshly Squeezed (approx. 1 quarter lemon)

3

oz

Club Soda
Instructions
Pour all ingredients except Club soda into a shaker and shake

Strain over fresh ice into a Collins glass
Recipe Notes
For a quicker, less messy way of creating this cocktail, is by combining everything into a Collins glass prior to the addition of ice. Make sure that the puree is well combined, otherwise everything will just be left on the bottom of the glass. Although this is the easier method, shaking and straining the ingredients make for a better incorporated, tastier product.
Want to know how I made the Thyme Syrup or Pumpkin Puree? Just find it in the link attached!