It's the first official week of Fall!!! I don't think I've ever been this excited for Fall, and it may or may not have to do with the fact that I need to start wearing some loose clothes again (or hit a gym). I'm (semi) kidding. I also look forward to what Fall has to offer in terms of produce. I've really learned to love and appreciate the art of preserving, and that's what this season is all about, and the obvious pumpkin spice craze. So what better way to welcome the new season with the 'limited edition' Pumpkin Spiced Latte…but SPIKED!
Yes, I went there. For all my basic B's lining up at their corner Starbucks, I've got you an adult version to get you even more excited for the season. Now to be honest, I had never tasted a pumpkin spiced latte from Starbucks until a few days ago (#shame). So I popped into my neighbouring Starbucks to see what the fuss was about, a) for research purposes and b) to fill that void in my life. Now that it's over and I can finally join that boat wagon, I wanted to create something that my people can easily make at home.
I must admit, I did not like the pumpkin puree that I came up with, so I won't be providing you with a recipe until I'm completely happy with the turn out. Until then, seek out your favourite pumpkin jam, puree or syrup. Because of this, you must be mindful of how much additional sugars you put into your typical coffee because depending on what pumpkin flavour you use will make or break this beverage. I created my own homemade blend with very little sugar, which is typically how I'd like to keep it. But everyone has their preference in coffee and tastes, so this is completely up to you and VERY important to monitor the sugar levels throughout the process.
I've given you the recipes in parts to make it easier. Every mug is different, so I'm not here to discriminate any sizes! Just make sure to pick up Canada's Spicebox Whisky. There's a reason I love this product. It's not my go to in Old Fashioneds or Manhattans, but its heavy spice pairs so well in baking, desserts and SO MUCH MORE! Don't be surprised if this pops up everywhere during Fall, so just make sure you're adding this to your bar this season!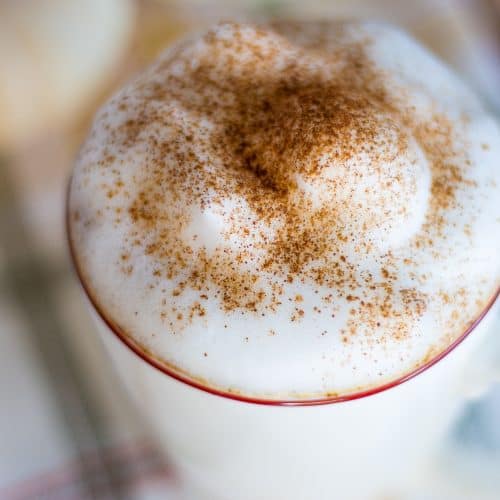 Pumpkin Spiked Latte
Bring on the fall season with the adult version of a Pumpkin Spiced Latte. You won't regret it.
Difficulty: Easy
Ingredients
1

part

Spicebox Whisky

3

parts

Warmed Milk with Cinnamon and Clove

1

part

Espresso

1

part

Pumpkin Puree

May vary

Desired Sugar

Brown sugar best here
Instructions
Create 1 shot of espresso. While this is happening, in a small saucepan combine pumpkin puree, milk, 1 cinnamon stick, 2 cloves and your preferred amount of sugar. Let this come to a gentle simmer before adding whiskey.

Take from stove and pour into mug with espresso. Dress the top with foam and a bit of cinnamon powder or a pumpkin powder mix if you have!