Today we're celebrating National Vodka Day with this very unique cocktail recipe. It's mixed up with Belvedere Vodka, Sloe Gin, Verjus, Bitters and some of Ontario's finest Blue Grapes (Coronation grape).
This is the thing about Vodka, I never get very excited to work with it. I know it's a terrible attitude to have, but because its profile is easily masked, I've moved on to other spirits where its character will shine. Think of it like this, it's that first spirit you learn about because it's neutral, forgiving and chill. But as you start to add to your bar game, you start to realize, "oh man, I'm digging juniper now" or "tequila is becoming my jam". There's nothing WRONG with vodka, but when mixing up a cocktail, it's not as "thrilling" for me. 
My attitude did however change, and that was thanks to an OG I worked with at Canoe. He split the base of the cocktail with equal parts dry vermouth and vodka. THIS is the perfect base for those hesitant to try something other than vodka, but don't want the typical cosmo or vodka soda.
With that said, and a ton of DELICIOUS fall flavours, I mixed up a Vodka cocktail for National Vodka day with Belvedere Vodka, Sloe Gin, Verjus, Bitters and soda. Oh and the obvious sweet grapes featured here. I'm going to be honest, I can't remember the name of the variety *heartbreak emoji*. I picked it up at the market because it looked so tempting. But I did a bit of research, and I'm going to ASSUME it is the Ontario Blue Grape (a.k.a. Coronation Grape). It has a fairly thick skin, while being extremely tart yet sweet at the same time. It compliments the sloe gin perfectly, which is why I tied in this flavour.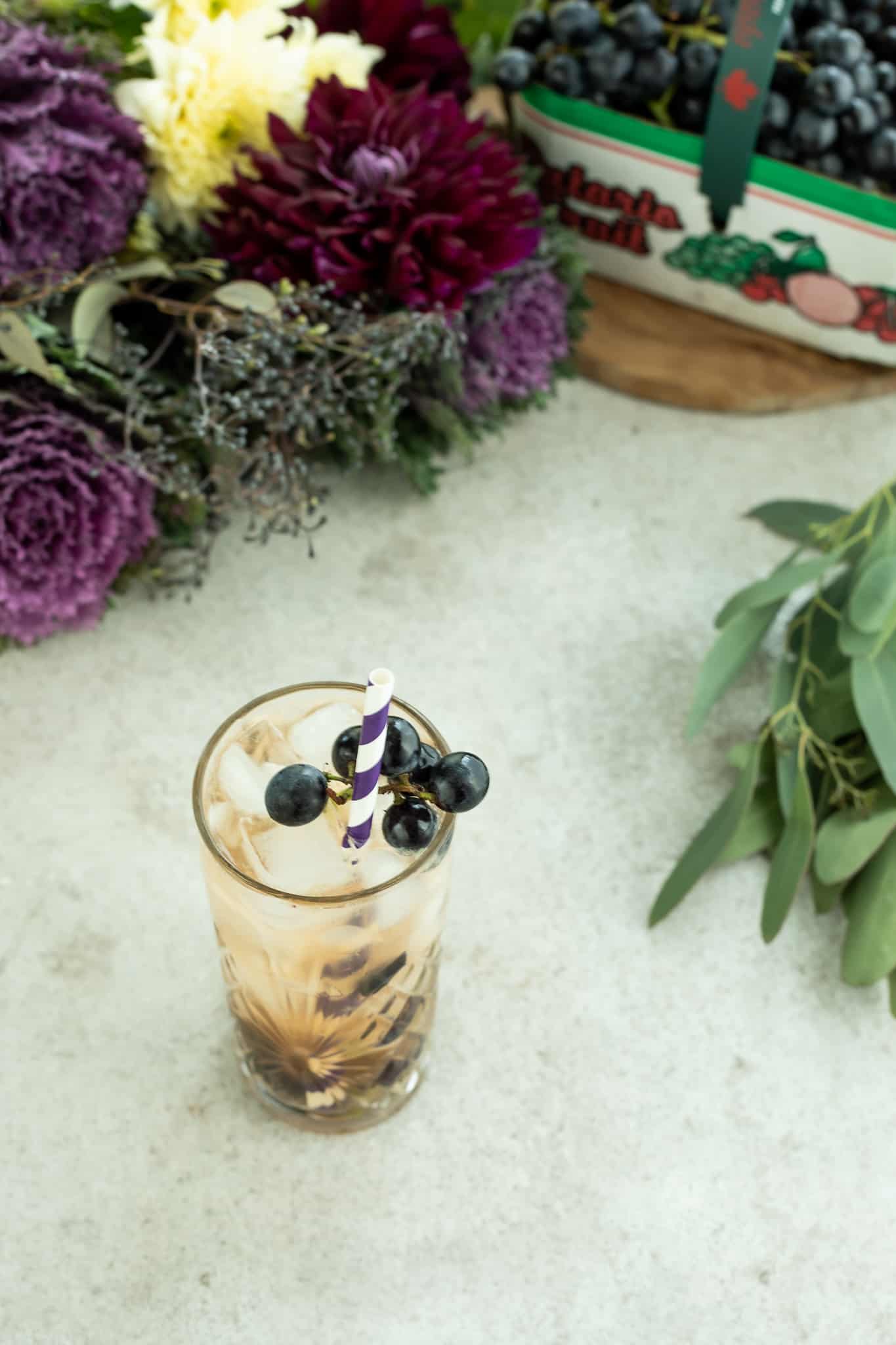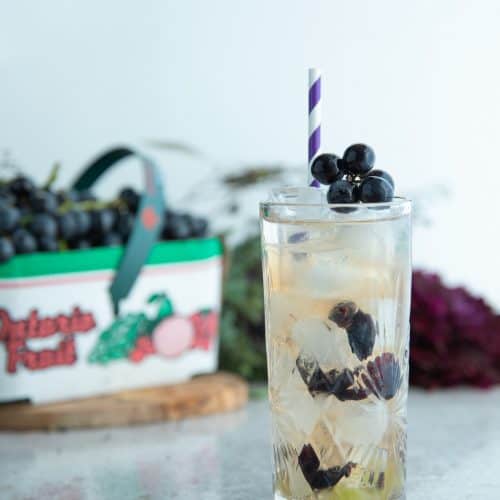 Sloe Grape Run
A delicious and unique Vodka recipe combining Sloe Gin, Verjus and Coronation grapes.
– Difficulty: Easy
Ingredients
1.5

oz

Vodka

Belvedere Vodka used here

1/3

oz

Sloe Gin

Haymans

1/2

oz

Verjus

Featherstone Winery used here

1/3

oz

Simple Syrup

(1:1)

2

dashes

Angostura Bitters

1

oz

Club Soda

5

Coronation Grapes
Instructions
In a shaker, add all your ingredients except soda. Fill shaker 1/2 with ice and give it a quick shake.

Dump all contents into collins glass, (add ice if needed – make sure it goes to the top), and top with soda.