Friends, I'm really excited. Today we get to dive through a machine I LOVE and I'll be showing you three unique recipes (alcoholic and Alcohol-Free, yay) that you can easily make this holiday season that centres around Ginger. More so than cranberry, or peppermint, Ginger is my definite flavour of choice when it comes to the holidays and it's one of those flavours that can easily pair with anything. I'll be breaking down all the recipes, the unique pairings and of course spill all the T when it comes to the Spärkel machine.
But First, Spärkel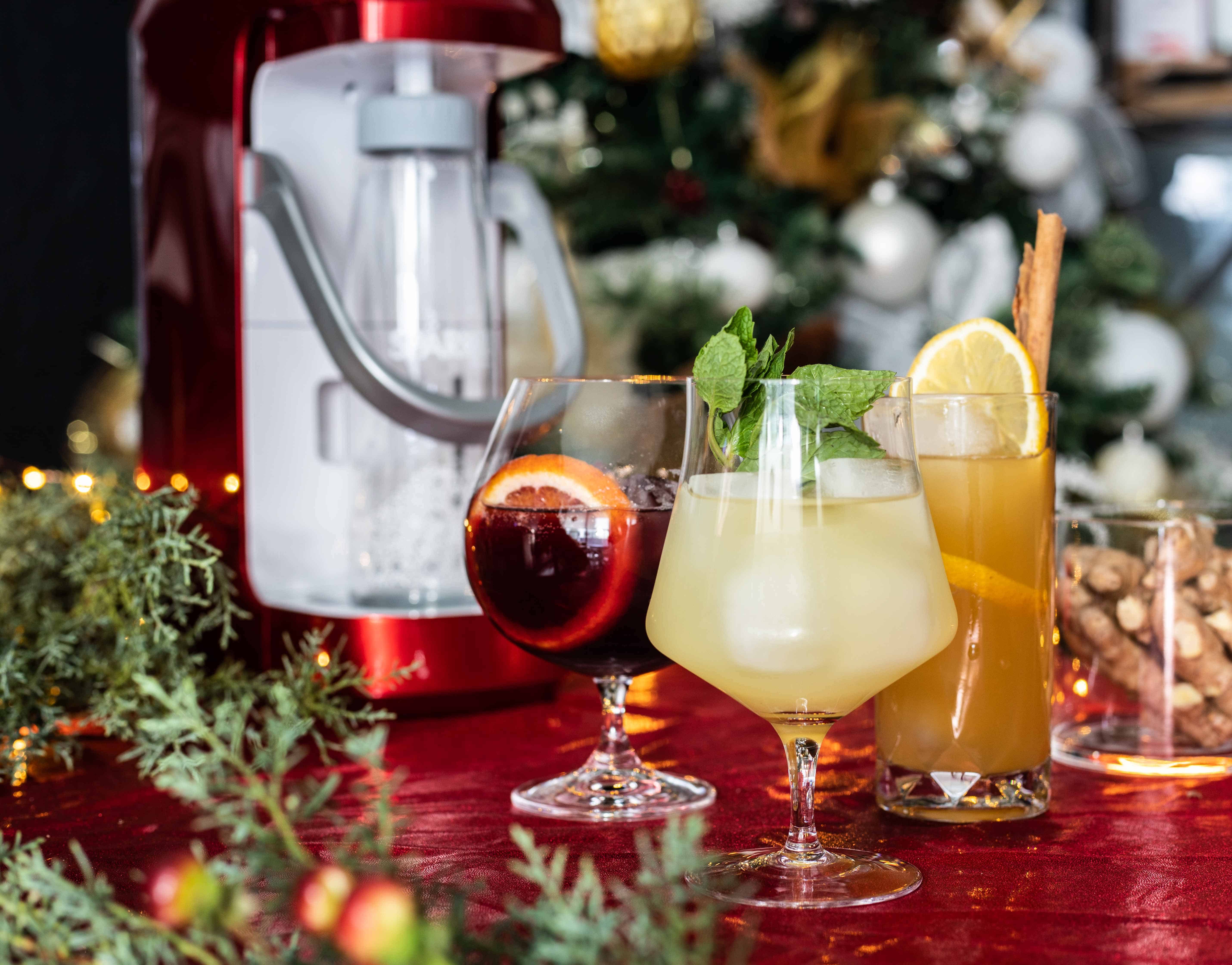 First and foremost, let's dive into the Spärkel machine and what it's all about. I immediately fell in love with the concept of this brand for one very big reason. Creative freedom. I am such an advocate when it comes to using real ingredients in your cocktails, minimizing the artificial flavours and choosing quality spirits (which doesn't mean expensive!). That's probably a big reason why I never cared to pick up a soda system for our home. I don't drink a ton of carbonated water to begin with, and the "flavour" essence oil that's typically offered to infuse is just not my cup of tea.
So when I heard I could infuse my water or drink with real fruits and herbs while carbonating…this seemed like a no brainer. I'll admit that there is that added step of adding fresh ingredients, but the creative cook and bartender in me doesn't mind at all, because the end result is 1000000% better!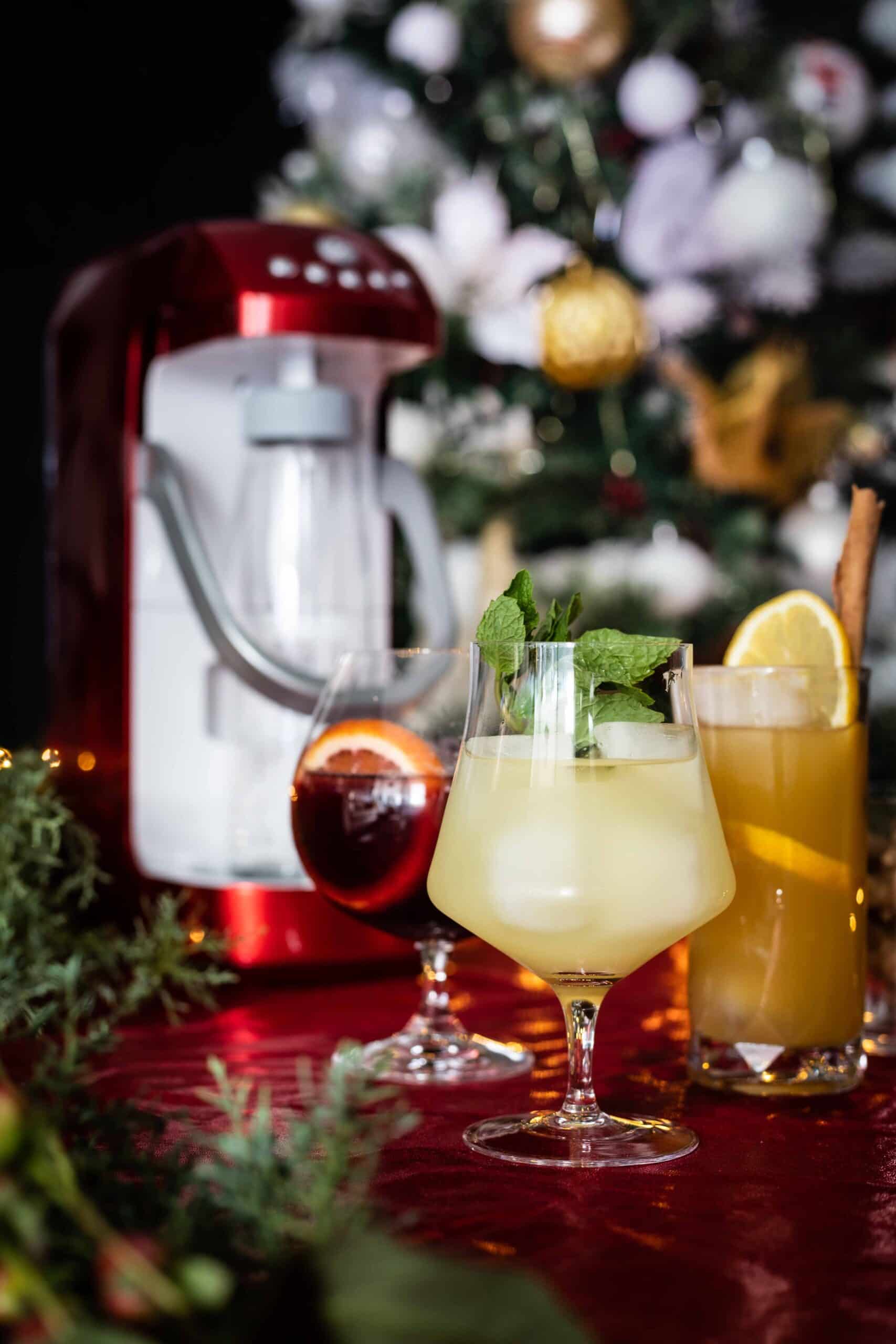 Where Can I Find Me a Spärkel Machine?
If you haven't jumped on the online shopping game, where have you been shopping during COVID? In all honesty, there's so many ways you can find and purchase this machine. Head over to www.sparkel.com or Amazon.
Now that you know the machine, let's get shaking with the cocktails and drinks. What exactly have I created today? As I mentioned, Ginger is the heart and soul of this holiday inspiration, and I've used it in a number of unique ways and methods. First, we have Savoury and Spice Whisky Lemonade that's brightened up with Ginger, Cinnamon and Saffron! Next, I create the ultimate Sparkling Sangria made with Apple, Ginger and fresh Peppermint. Last, but certainly not least, I celebrate the holiday flavours with an Alcohol Free Spritz that combines Cranberries, Blood Orange and Ginger for a sophisticated imbibe. Curious how these cocktails are made? Head down below for details!
Spice and Savoury Whiskey Lemonade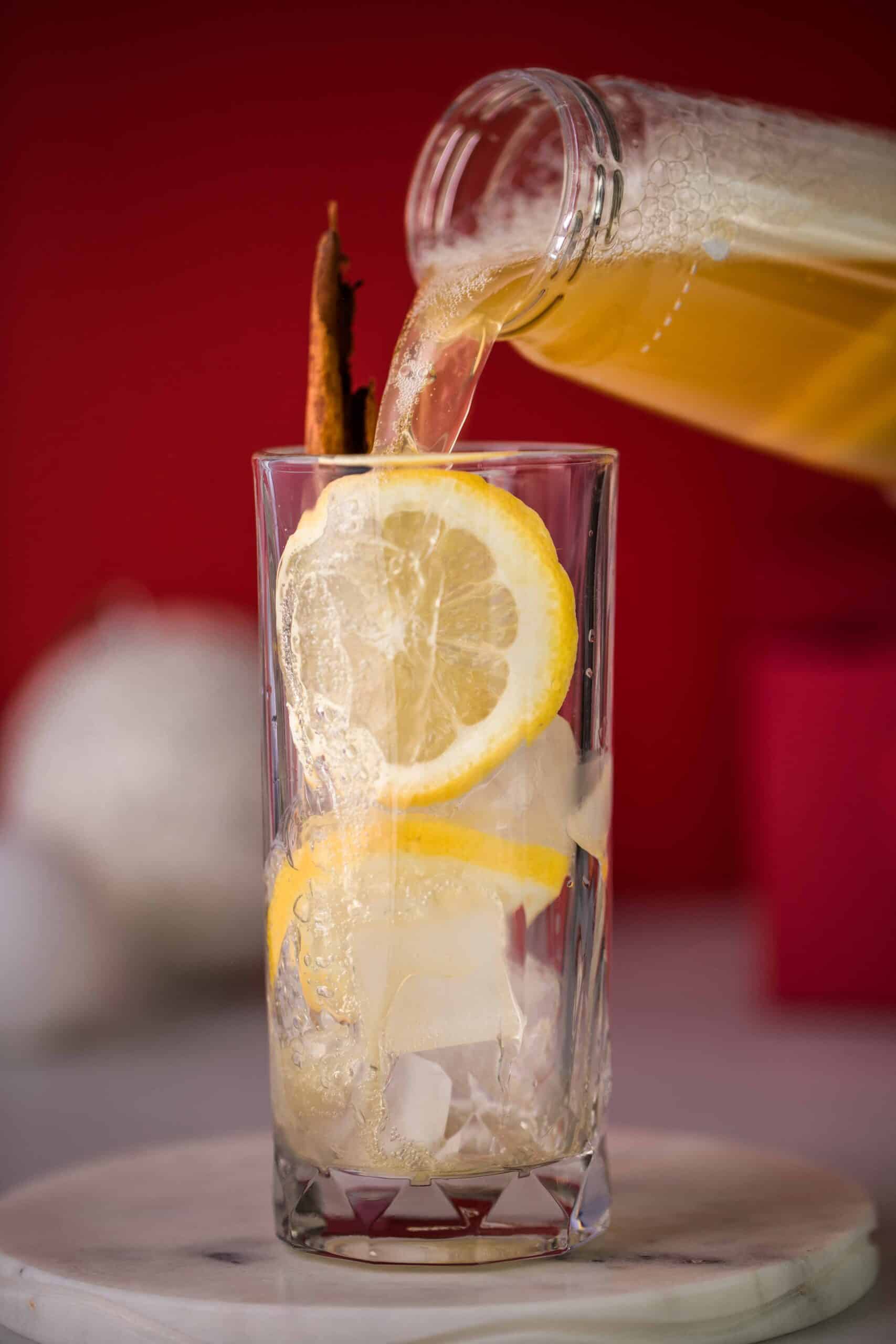 Before I dive into the cocktail, I will mention brief notes about how you can adapt this at home with ingredients you already have, and why I chose certain products etc.
Whiskey and Lemonade go together like Peanut Butter and Jam. And much like lemon, Ginger is always such a complimentary flavour when paired with a citrus. Seeing as we have a citrus and heat component, we need to balance off this drink with some sweetness. If I can use Honey over granulated sugar, I always will, and seeing as Honey, Lemon and Ginger combine so well together, it's exactly what I used for this cocktail. Now the unique twist to this classic combo of flavours is actually Saffron! If you know me well, you know how much I love to cook and experiment with new spices. Knowing how well Lemon and Saffron go together, I knew it would bring a body and weight to this cocktail to take it to the next level.
Listen, I completely understand if Saffron isn't around the house or you don't have the budget for it. This cocktail WILL be delicious without it, but for that extra umph and surprising your quarantine bae, add a pinch of this to the bottle (in a cheesecloth or disposable tea bag) and it will go a long way! With that said, this recipe calls for fresh slices of Ginger. You want to completely avoid grating ginger as it can clog up the machine, so keep the slices TALL yet thin. We want to expose as much surface area of the ginger to slightly infuse, without it causing any trouble to your Spärkel machine.
When choosing the whiskey, you do have options. I like something with a bit of body to it and spice, hence why I went with an Irish Whiskey here. You could also go for a tasty Straight Rye Whiskey or an entry level Single Malt Scotch. The thing is, use what you like. If you live and breathe Bourbons, then I'm sure you'll love it paired with that as well. Even a neutral spirit such as Vodka would work well. I would just avoid the
gin as I don't think the juniper will lend well to this already powerful palate.
Lastly, why carbonate this whole thing? It keeps things super bright and fresh, which is great when working with a spirit such as whiskey that adds a bit of body to what's typically viewed as a weighted spirit. Plus, I find it keeps it more approachable for crowds and this is definitely a more "crowd pleasing" creation, especially if you have someone who don't love the taste of Whiskey! Let them try this and see if their mind has changed.
Savoury and Spice Whisky Lemonade
A bright and refreshing Lemonade made with Whisky as a base, Lemon and of course Ginger! Uses fresh ginger slices, saffron and cinnamon in a tea bag to allow a delicate, yet impactful flavour to the cocktail.
– Difficulty: Intermediate
Servings
3
approx. servings
Ingredients
6

oz

Irish Whiskey

Bushmills used here

6

dashes Cinnamon Bitters

1.5

oz

Lemon Juice

1/3

cup

Honey Syrup

1:1*

1

cup

Water

4

Lemon Wheels

8

thinly sliced ginger slices

½

pinch

Saffron

1

Cinnamon Sticks

1

handful of ice cubes
Instructions
In an empty teabag, add your ginger slices and saffron.

Add teabag to your Spärkel bottle, 4 lemon wheels, and a handful of ice cubes.

Add the rest of the ingredients (break cinnamon stick in half). Close lid. Place Spärkel bottle to the machine, and set the machine to level 3.

Pour cocktail over fresh ice and stir with additional cinnamon stick.
Recipe Notes
*To make the Honey Syrup, it's very simple. Simply combine 1 part boiled water with 1 part honey. Stir well until dissolved. Let it cool to room temperature before use.
Sparkling Apple & Ginger Sangria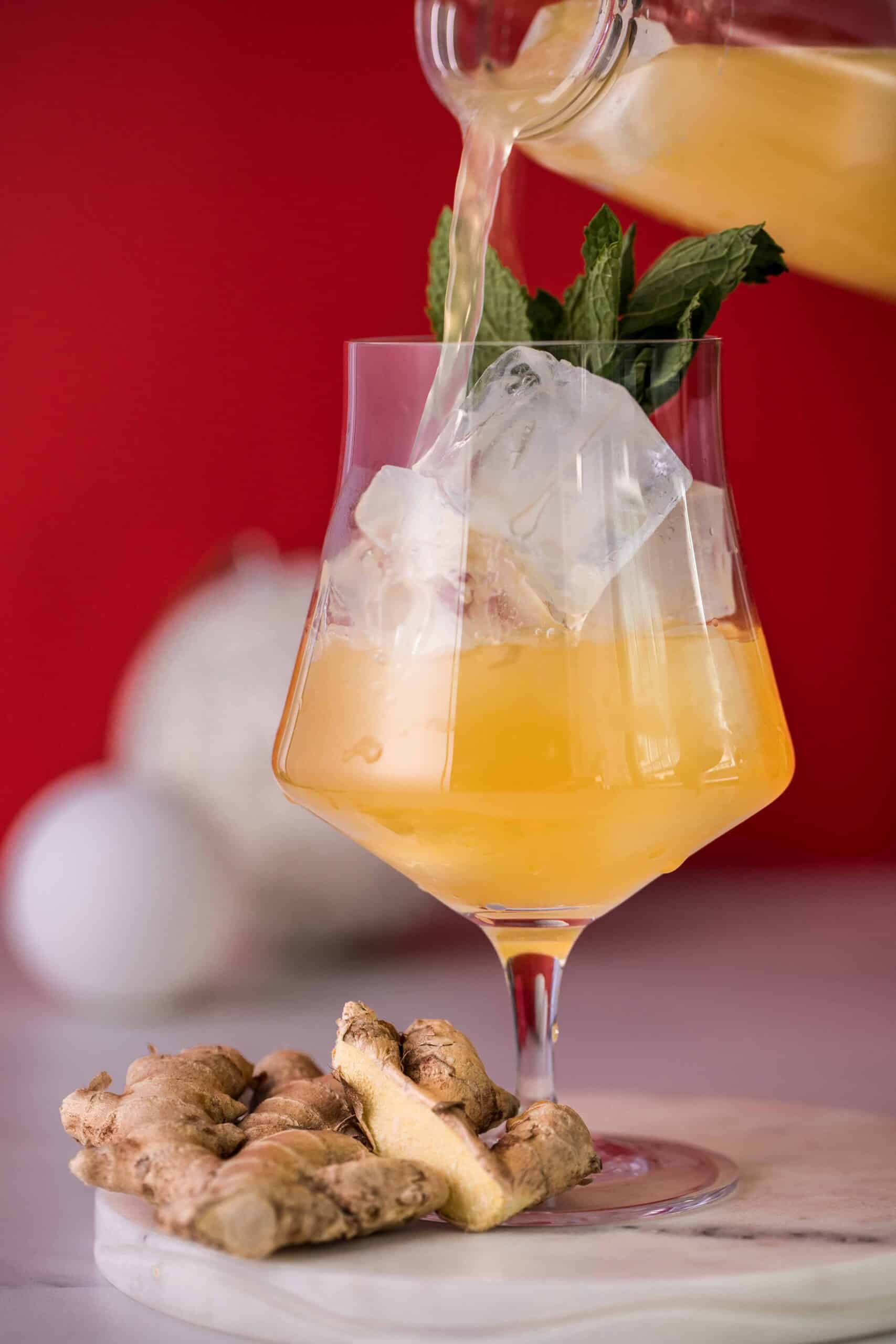 How I haven't created something like this before is beyond me! Whether you love sparkling wine or Sangria or just delicious, refreshing Wine Based cocktails, this recipe is right up your alley and perfect for the holidays. To me, it feels as if I'm infusing a wine to make the ultimate flavoured Sparkling Wine, and with the best flavours the season has to offer.
The flavour combo I was going for here was inspired by Apples and Ginger. It's another classic pairing with its sweet and citrus component, complimented with the heat of Ginger. With Apple Cider all over the place, I decided to pick some up at a local orchard and mix it with a crisp Sauvignon Blanc, Ginger Beer and Grand Marnier. Don't have a Sauvignon Blanc? I would go for a bright, lighter style wine such as a Pinot Grigio or Pinot Gris. You could even add a few lemon zests to the mix if you'd like
some more citrus to come through. I typically pick up Sauvignon Blancs from New Zealand, but Ontario has some incredible varietals, as well as Chile!
An important thing to note when working with the Spärkel machine is that your fluid items are chilled. This keeps the Sparkling Sangria from foaming up too much, plus it holds the carbonation better! I'd also recommend making a couple of these and leaving it in your fridge. Keeping it as chilled as possible, plus that extra time to infuse, will only lead to a better beverage.
This Sparkling Sangria is incredibly easy to make and made even brighter with Peppermint, which for the holiday season is a must! See below for details: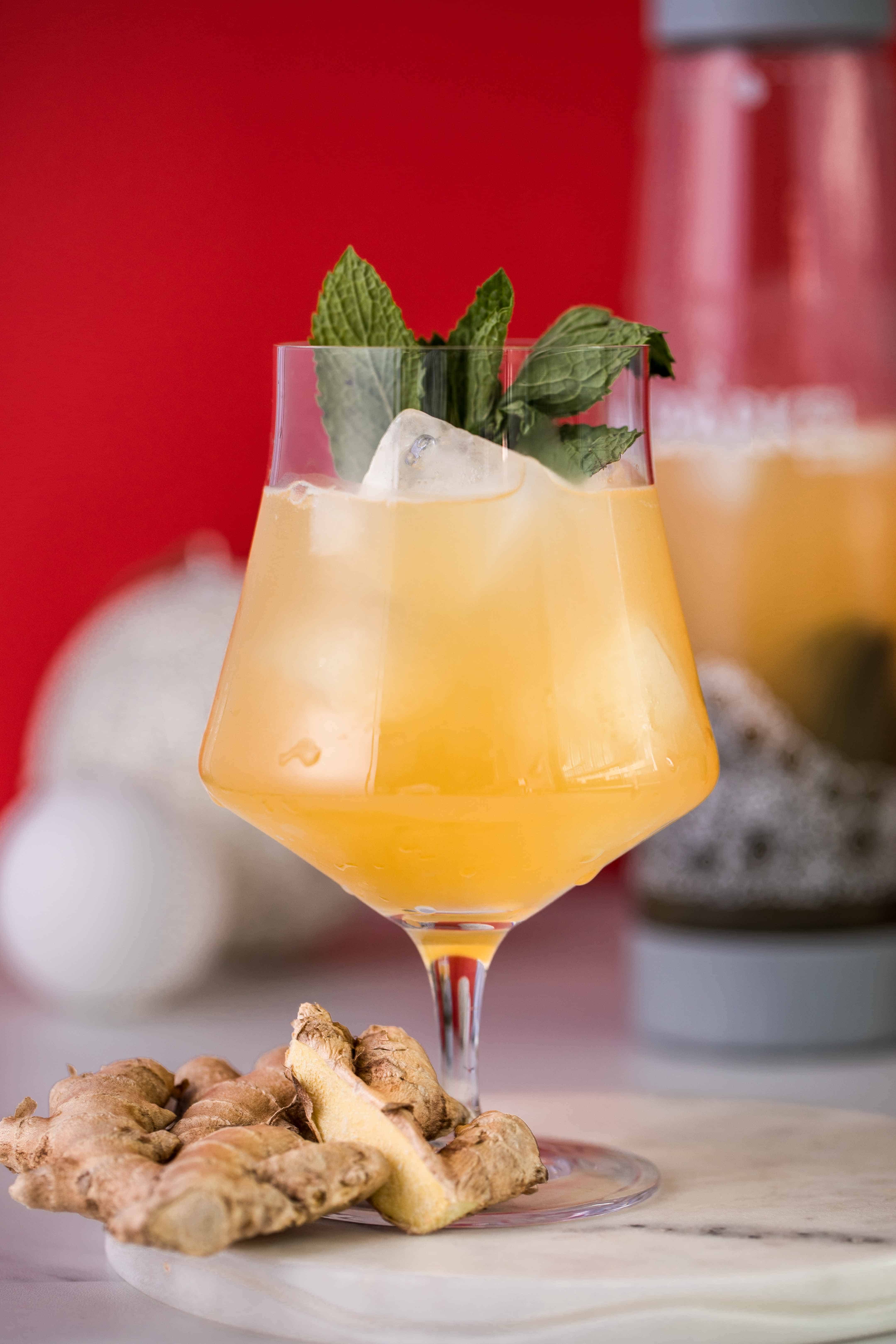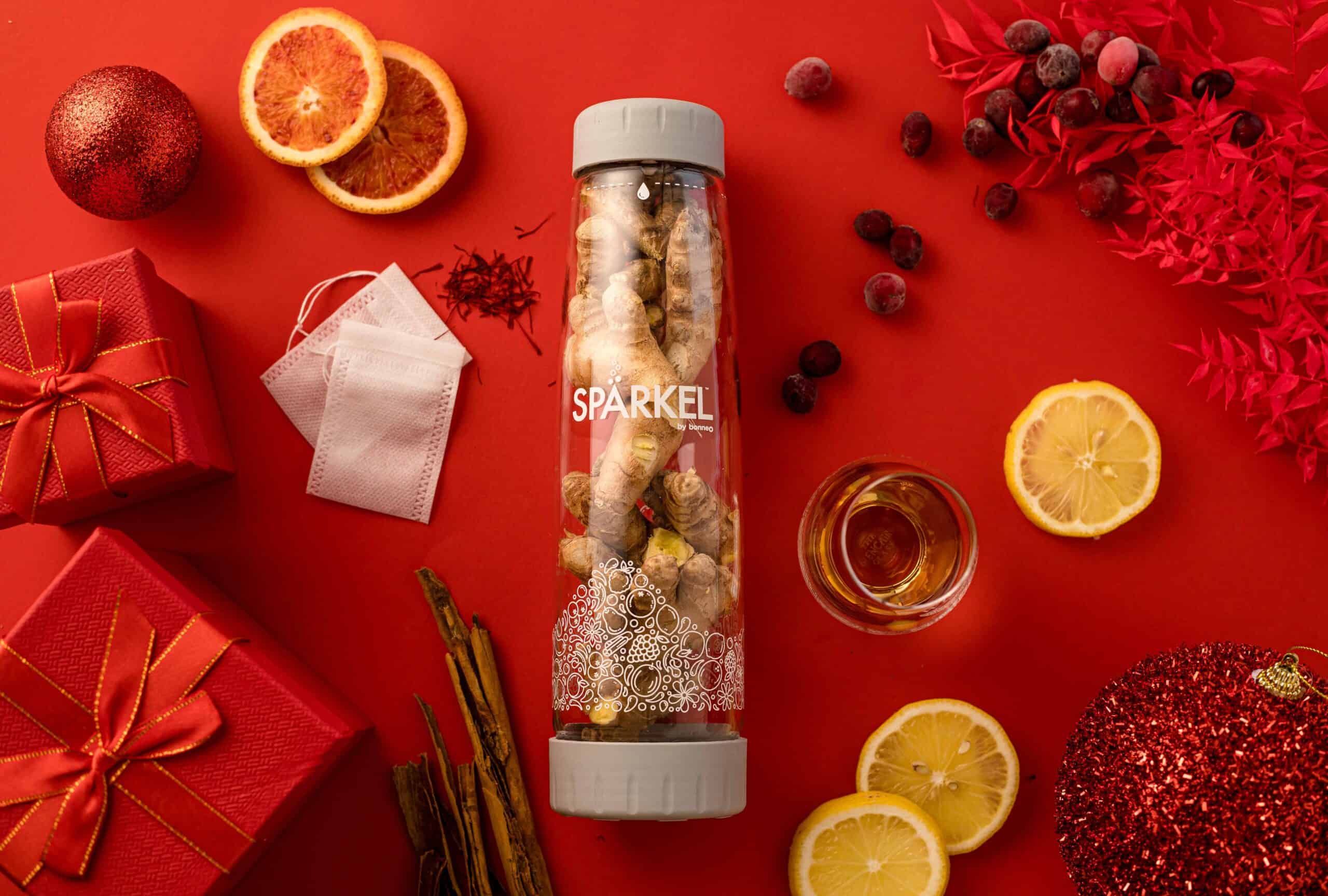 Sparkling Apple and Ginger Sangria
If you love sparkling wine cocktail, this is the ultimate sip! Think about the ultimate sparkling wine, infused with all the holiday flavours you love, including Ginger, Apple and Peppermint!
– Difficulty: Easy
Servings
3
approx servings
Ingredients
1.5

cups

Sauvignon Blanc

½

cup

Apple Cider

½

oz

Ginger Beer

¼

cup

Grand Marnier

8

Mint Leaves

6

Ginger Slices

1

handful of ice cubes
Instructions
Lightly press the mint with your hand to release its aromas and place inside your cleaned Spärkel Bottle.

Add the ginger, ice and the rest of the fluid ingredients.

Close lid. Place Spärkel bottle to the machine, and set the machine to level 4.

Fill your glass with ice before adding your cocktail. Top with Mint Sprig.
Holiday Ginger Non Alcoholic Spritz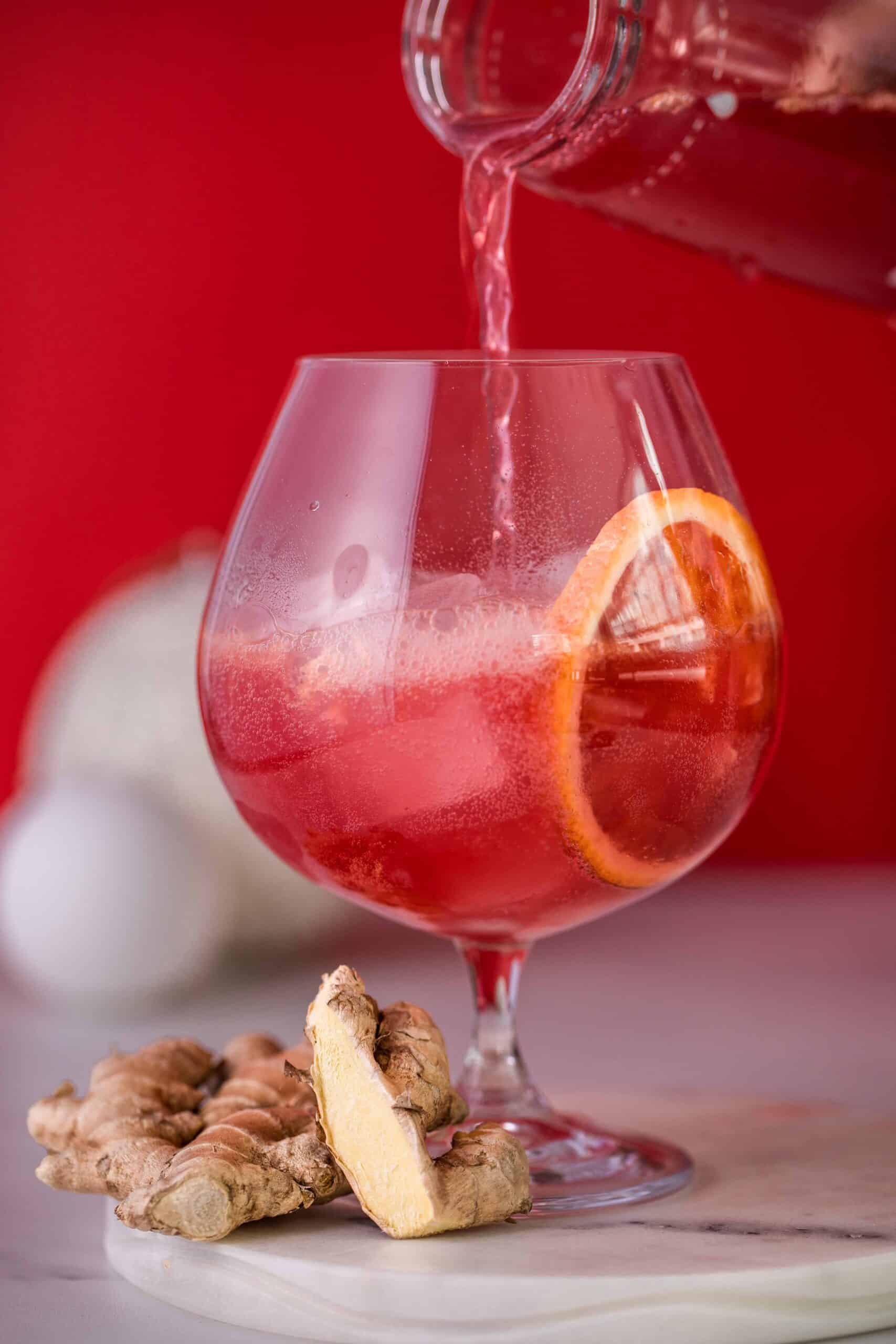 Not every spritz is alcoholic. What Spritz translates to is a bubbly beverage, which thanks to Spärkel, does the job right here. I went completely traditional in holiday flavours, mixing Cranberry Juice, freshly squeezed Blood Orange juice and Ginger beer. Let's dive into the WHY.
As soon as Winter and Blood Oranges hit the market, I go crazy for it. It has these bitter attributes that I prefer over regular orange juice, and the colours are so rich and dark that looks great for the gram. Seeing as ginger works so well with citrus, I knew the mix of Cranberry juice and Blood Orange would be the perfect mix.
When choosing your Cranberry juice, try to get that pure 100% juice. The "cranberry cocktail" you often find just has more sugar than I care to enjoy. This beverage is very citrus forward, and I do recommend a dash of sugar or honey if you prefer. Or simply lower the amount of cranberry juice and add a bit more blood orange to the mix. For this Alcohol Free imbibe, I pour in ginger beer and YES, even though it's carbonated, it CAN still be used when mixed in the Spärkel machine. Just ensure all your items have been left in the fridge to chill before placing into your Spärkel machine.
Now just because this recipe is Alcohol Free, doesn't mean you can't add a spirit or two! With all these loud flavours from the ginger, blood orange and cranberry, you need a spirit that can handle its weight. I'd go with a nice aged Rum, Jamaican rum or even Rhum Agricole. Vodka could be a nice muted palate for this juice blend, or mixing this sparkling juice with Brandy or Mezcal! I encourage you to experiment a little bit. Have a small taste here and there and tell me some of your favourite pairings!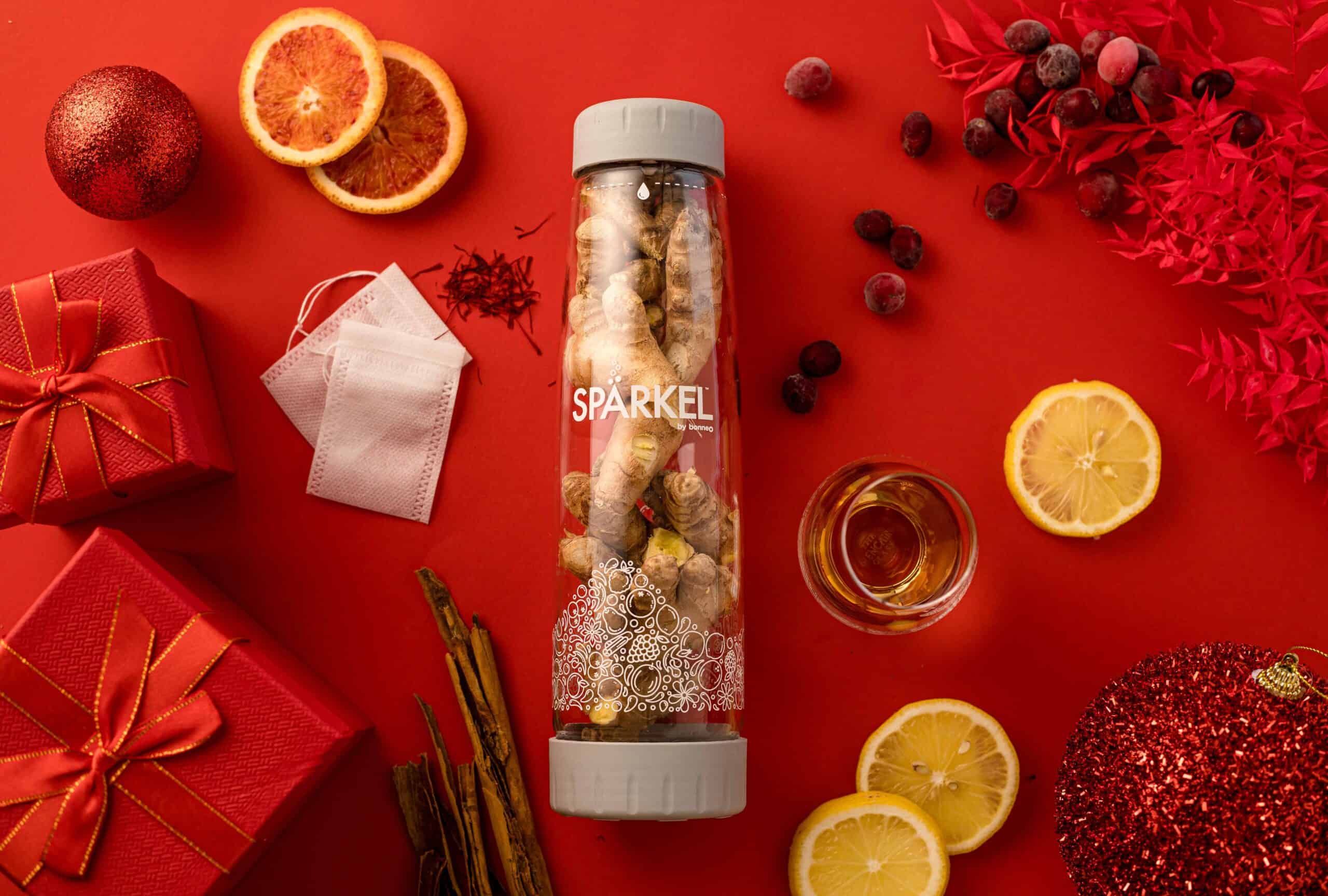 Holiday Ginger Non Alcoholic Spritz
Celebrate the flavours of the holidays with this refreshing and easy sparkling beverage that's Non Alcoholic! Combining Cranberries, Blood Orange and Ginger.
– Difficulty: Easy
Servings
3
approx. servings
Ingredients
1

cup

Cranberry Juice

preferably 100% cranberry

1/3

cup

Blood Orange Juice

½

cup

Ginger Beer

¾

cup

Water

Optional Rosemary Sprigs for garnish.
Instructions
Add all your ingredients into your Spärkel Bottle.

Close lid and place Spärkel bottle to the machine, and set the machine to level 4.

Fill your glass with ice and top with spritz. Garnish with optional Rosemary sprig.
Well, that's it folks. I hope you had as much fun as I did experimenting with Ginger recipes and this incredible Spärkel machine. For more inspo and questions, do not hesitate to reach out to me, or head over to sparkel.com for more details. Cheers and Happy Holidays!