It's imbibes like these that make you wonder just how FAR you can go in the Spirit Free category. With #DryJanuary here, I wanted to make sure I dedicated the Liquid Culture space to having more creative and easy Alcohol Free beverages. Because no matter WHAT reason you have for choosing to drink less, you shouldn't have to feel stuck or inspired. This is THAT and so much more. I made my first batch of "campari", hence the "bitter" in the title, with a Bubble Gum stock recipe I found in Alinea's Zero Cocktail book. I am in LOVE and I'm sure you will love this too.
But first, let's talk ZERO
I have to give a big shout out to The Alinea Group for putting together another insanely creative cocktail book. It has EVERYTHING, from how to make a full back bar, the obviously artistic and creative recipes, plus versions of the classics that are completely alcohol free. So many things stood out, but for some reason when I read their bubble gum cocktail, it got me ALL SORTS of intrigued. I decided to pair this sweet component with the bitter make-shift "campari".
I didn't follow the recipe EXACTLY as stated for the Campari in the Zero book as I couldn't find Gentian Root anywhere (and in a lockdown, I don't particularly want to be searching). I will however share my modifications but most importantly, BUY THIS BOOK. You will not regret it, especially for my hospitality folks looking for a challenge.
Bubble Gum Syrup
Something you'll find with a lot of the recipes in the Zero cocktail book is the use of sous vide. I never would have thought of it, but it makes all the sense in the world for cocktails, because you'll get the volume, plus the maximum flavour impact. The ratio they go with here is 1 part bubble gum to 4 parts water. This is then vacuum sealed and put in a sous vide for 4 hours.
Living in a condo means the space can be a bit limiting, so NO, I don't have a sous vide machine. Instead, I put it in a heavy duty ziplock, same portions, in a large pot of boiled water simmering for four hours (as recommended by the book). Ensure the bag doesn't touch the bottom of the pot to avoid the plastic from melting.  I will make note that I had to ever so often fill up the pot with water since a lot of it would evaporate.
I chose the bubble gum flavour merely because I knew I NEVER would have worked with it otherwise. I was intrigued and that's what made me want to build from this flavour to create a julep!
NOTE: This will be the ONLY recipe I share from the Zero cocktail book, because if you're truly interested, I would say you HAVE to buy this book.
Why Campari?
Bitter and Sweet is an obvious flavour combo powerhouse. Now the thing is, the recipe shared in the Zero cocktail book used up some ingredients that I genuinely couldn't find, and I even went to the St Lawrence Market here in Toronto. So I improvised and created something my own which I will be sharing here.
Of course, you could always use real campari for this recipe to make a Low ABV cocktail as well. Whatever direction you choose, I'm sure you'll love and I want to hear your thoughts.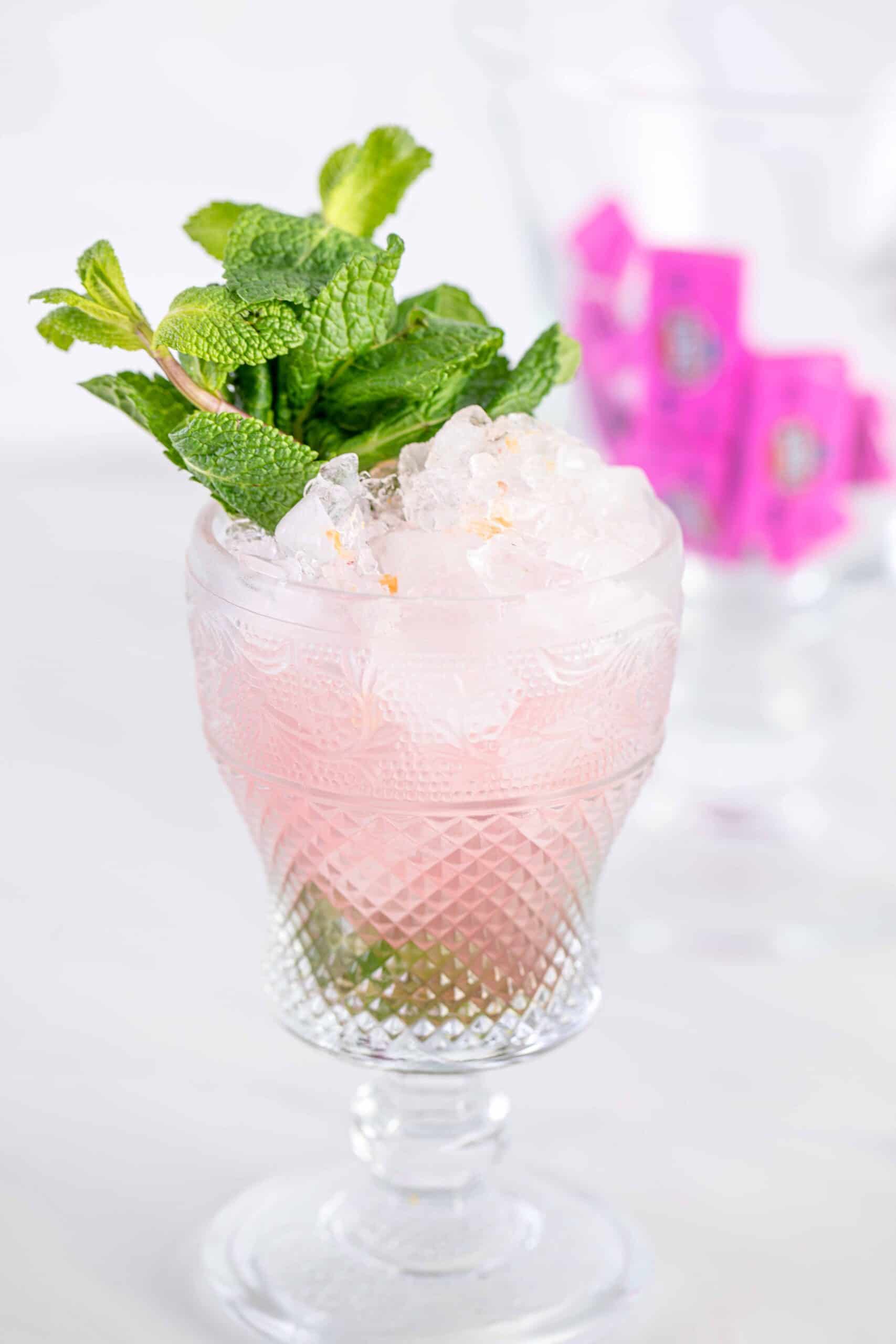 Alcohol Free Bitter Aperitif
Looking for some alcohol free staples to have behind your bar? Here's my version of what would be considered the Campari to your home bar.
– Difficulty: Easy
Ingredients
3

cups

Water

400

g

Granulated Sugar

1

Grapefruit

Coarsely Chopped (including peel)

1

Orange

Coarsely Chopped (including peel)

1/3

cup

Gentiane Liqueur

Gentian Root liqueur by Chartreuse

1/2

tbsp

Pink Peppercorn

lightly pressed

3

Star Anise

1

Cinnamon Stick

3

Whole Cloves

1/3

Licorice Root

1/4

tsp

Red Food Colouring

Optional*
Instructions
In a medium pot, add all your ingredients. Bring it to a boil and then cover and allow to simmer for 1 hour.

Turn off the heat and let this cool completely before straining.

Strain through a fine mesh strainer, discarding solids and reserve in the fridge. Can last up to 1 month.
Recipe Notes
Note that I used the Gentian Liqueur because I couldn't find Gentian Root ANYWHERE. It adds that bitter quality that is so much of the identity to Campari. I knew with it reduced down and simmering for an hour, the alcohol would be removed.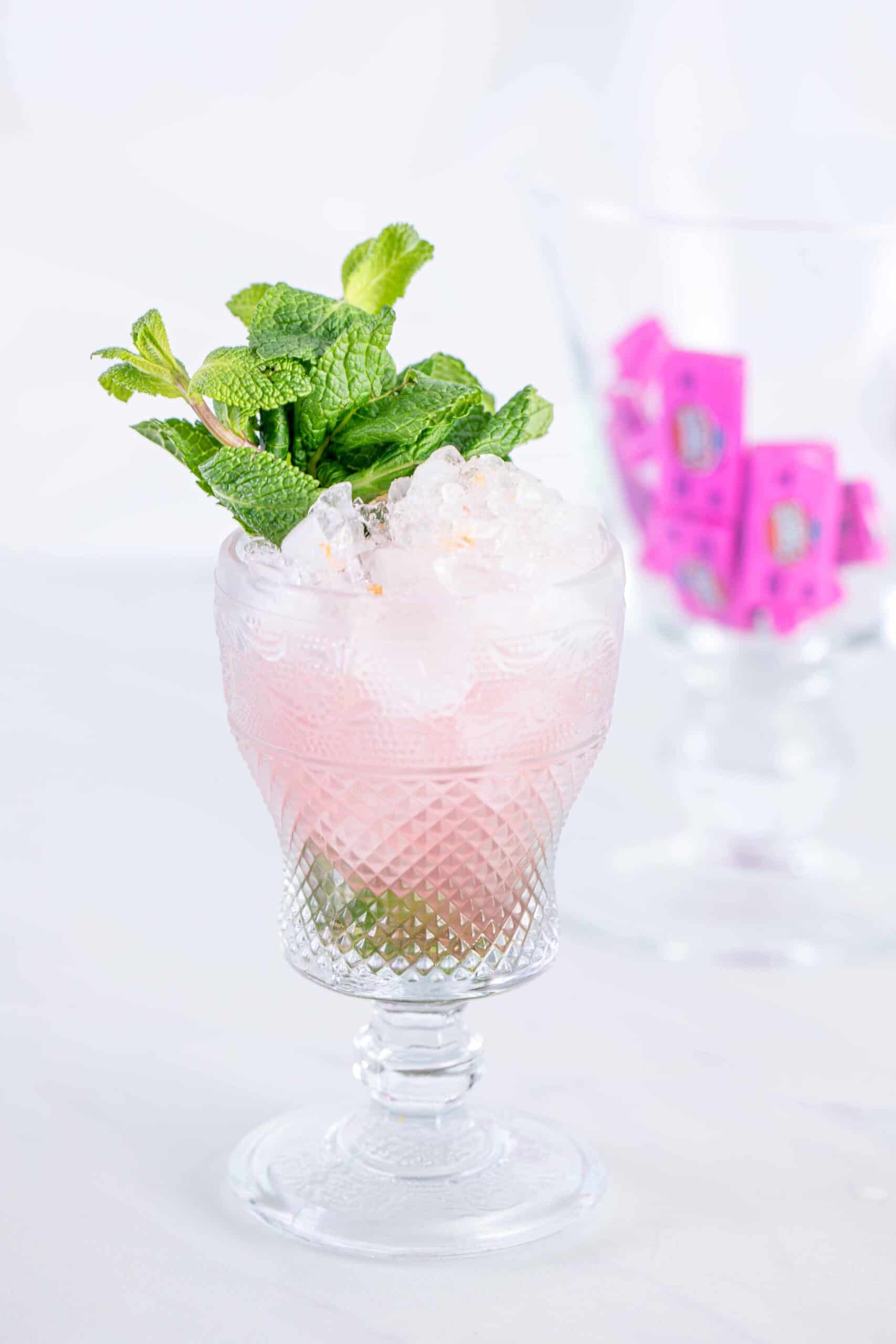 Building a Julep
The concept of a Julep is fairly simple. You need sugar, mint, crushed ice (SUPER IMPORTANT) and spirit. This humble base calls for many ways it can be adapted, which is exactly what I did. Sugar is covered by the bubblegum stock component, the spirit is the campari (although "lower" in ABV), I added the mint to keep it bright and I threw in some fresh lime to marry all the flavours.
As mentioned, the crushed ice is VERY important to this cocktail, but then again, if you're putting in the time to put together the bubble gum syrup and bitter fake campari together, I'm sure you'll have time for crushed ice. Having a julep party for 2? You can also purchase ice from your local markets. I tend to always call my friends at Toronto Ice Man for my ice needs and I am never disappointed.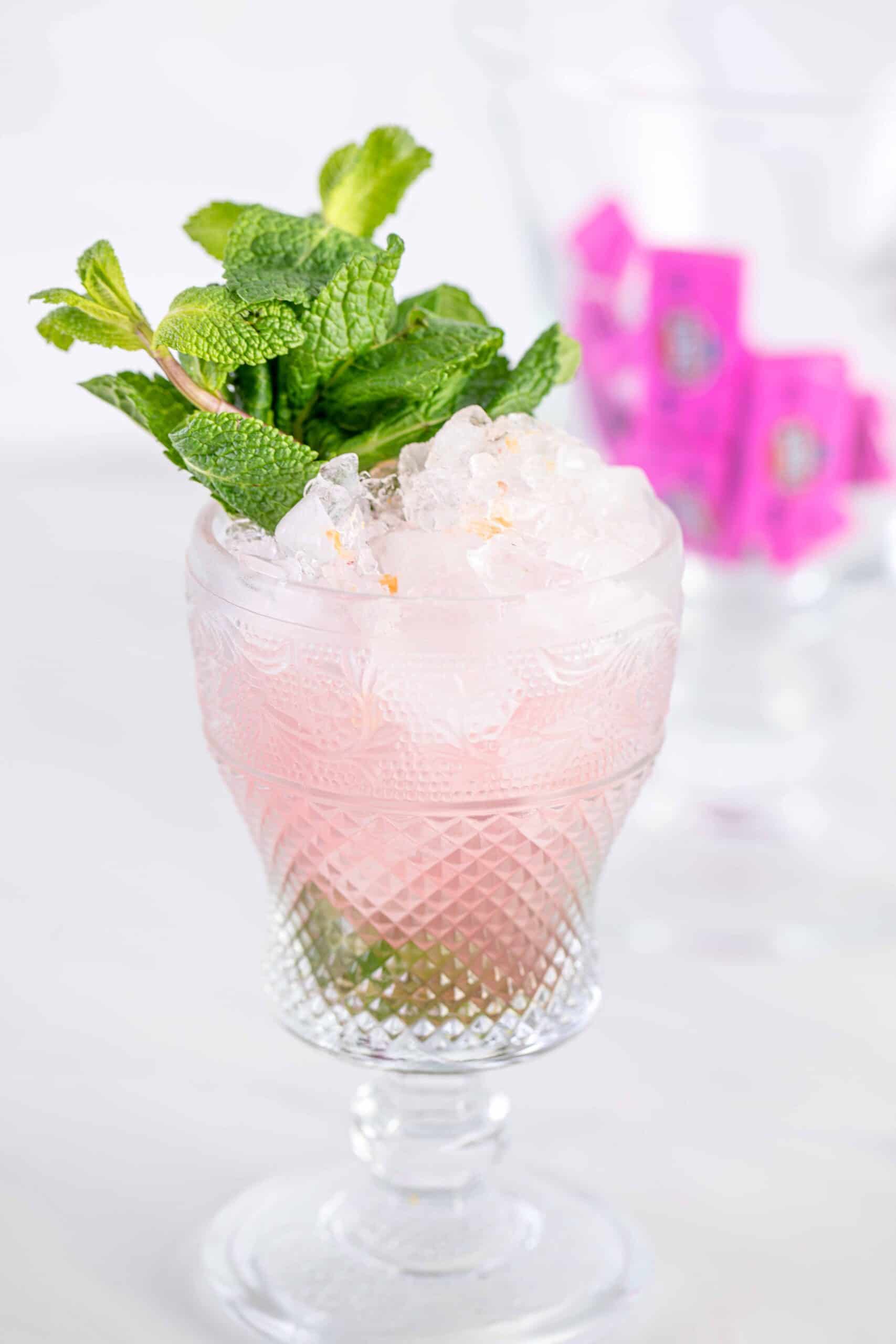 Alcohol Free Bitter Bubble Bum Julep
We're combining Bubble Gum and my alcohol free "Campari" in this refreshing bitter, sweet Julep. Yes, it's alcohol free. Yes, it's delicious. Yes, you'll think you're drinking a cocktail!
– Difficulty: Intermediate
Ingredients
3

sprigs

Mint

3/4

oz

Alcohol Free Bitter Aperitif

3/4

oz

Bubble Gum Stock

1/2

oz

Freshly Squeezed Lime
Instructions
In a Julep tin or tempered glass, muddle 1 sprig of mint.

Add the rest of your ingredients into the glass and top 3/4 of the way with crushed ice. Give this a swizzle or simply stir to combine.

Top up with a dollop of crushed ice and remaining mint sprigs.