As I dive into the new year, I'm trying to experiment with cocktails I rarely mix. I have my go-to classics, but I wanted to put a bit more effort into the styles I don't always gravitate to. The reason I'm a big advocate for this, is the fact that you'll never know what you can discover! In an effort to make a cocktail with a WHOLE egg, I fell in love with this creation here. This Pear Whisky Flip uses Yukon, Canada's Two Brewer's Single Malt Whisky Classic Expression. Mixed with a delicious combination of pear, sherry, cinnamon, spices, this cocktail is just a dream to shake up.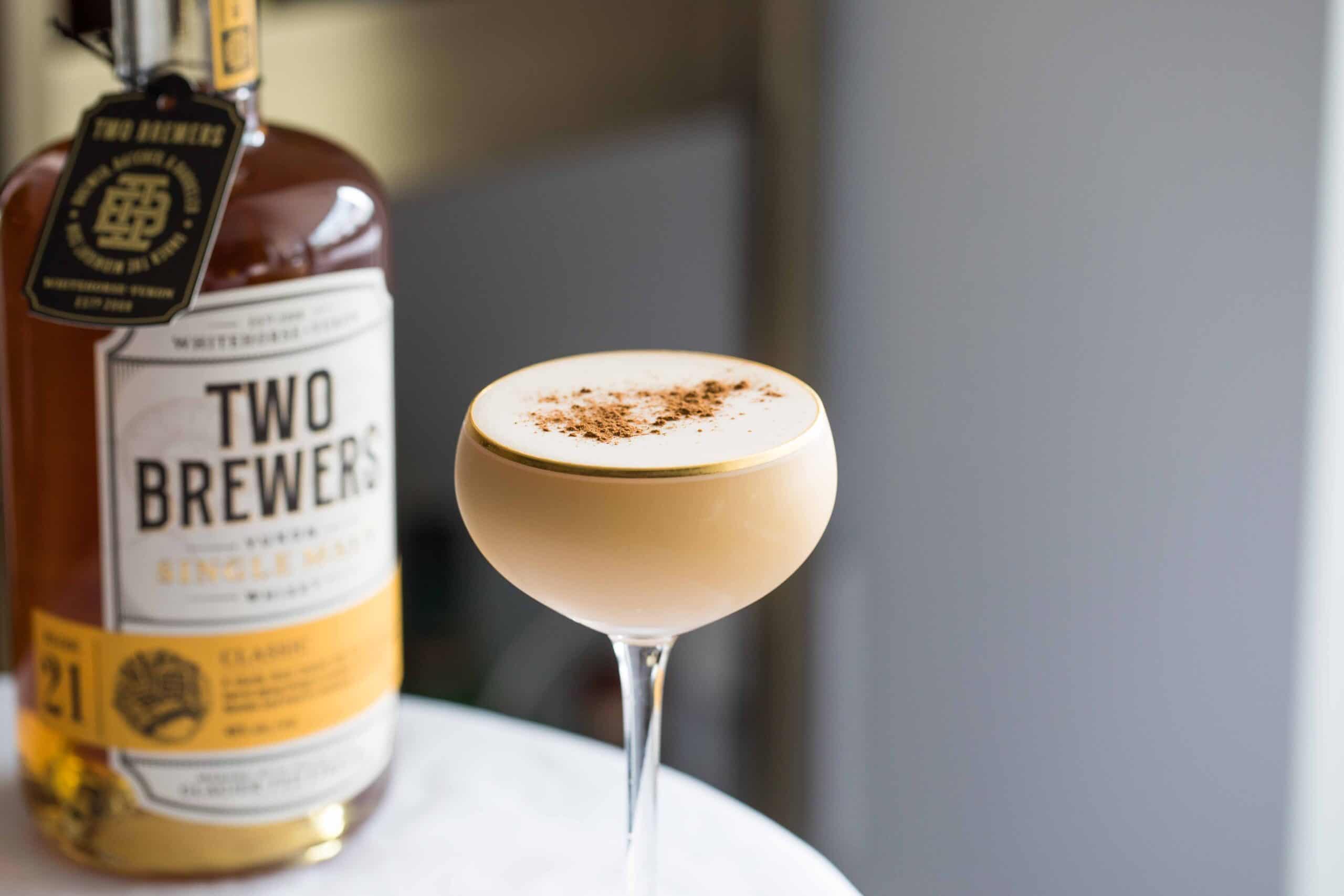 Choosing A Whisky for your Whisky Flip
There's a ton of directions you could go with when choosing a whisky for this Whisky Flip cocktail. But I love pushing those to experiment with single malts in cocktails. They have a place in cocktails, as they offer a ton of weight and body that's hard to come by. Glenmorangie, Glenfiddich 12 yr, Singleton's, even a few Irish Whiskey's would lend well here. There's a handful of Bourbons that could work as well, but make sure it has the higher alcohol strength.
The thing is though, I'm having a major sweet spot for Two Brewer's lately. For one, it's a Canadian Whisky produced out of Yukon which is very rare to see. Plus the product itself, is fantastic! I haven't found a distillate I did not like, which has me very excited to see what comes next. You may have caught my Peated Elf on the Shelf cocktail earlier in December, but for a remix to a classic, I really wanted to use their 21 expression.
Now by 21, don't confuse that with years. They produce Single Malts in numbered expressions because they really wanted to avoid being forced to use artificial flavourings and colourings. Since they produce in such small batches, it's hard to establish a long term, consistent flavour without being forced to use flavourings. So they let the grains, barrels and water take complete reigns and it allows for more creativity without compromise. They always intended to keep Two Brewers limited, which is why it's not the easiest to find, but worth all the hype.
Balancing Egg and Cream
Cream and eggs are already a deterrent for most people, and I'll admit, it took some time for me to get on the cream and egg train. But if you've had whiskey sours with egg whites or a Ramos Gin Fizz, you'll know how crucial they can be for cocktails in the right balance.
Using a whole egg in cocktails is not a new concept. Think of Coquitos, eggnogs for the holiday, and Whisky Flips which have been traditional mixed for centuries, YES, centuries. So if a White Russian is your jam, or you love a good eggnog cocktail, than I GUARANTEE you'll love this Whisky Flip. Of course, when mixing with eggs, please be mindful of the hazards involved. That includes using eggs that is well before its due date and pasteurized eggs tends to be a safe bet. To find out more, check out this read by Difford's Guide.
Why Sherry?
Many times you'll see Sherry in the mix when it comes to Whiskey Flips. It adds a layer of complexity to the cocktail, funk and acidity. The sherry I chose IS a dulce sherry, but that doesn't mean it's all sweetness. Think of a Sweet Vermouth, although it's "sweet" you can still taste the bitterness and some of the Spanish or Italian expressions have that hint of citrus peel that I love. I'm a BIG fan of Lustau, and that's what I used here with their Capataz Andres expression.
This would be hard to substitute if you asked me. Just don't go with a Fino, as that will be too dry of a sherry for this mix, instead pick up a Amontillado and add a touch more of the Orgeat syrup to balance.
Ready to make this cocktail? Head down below for details!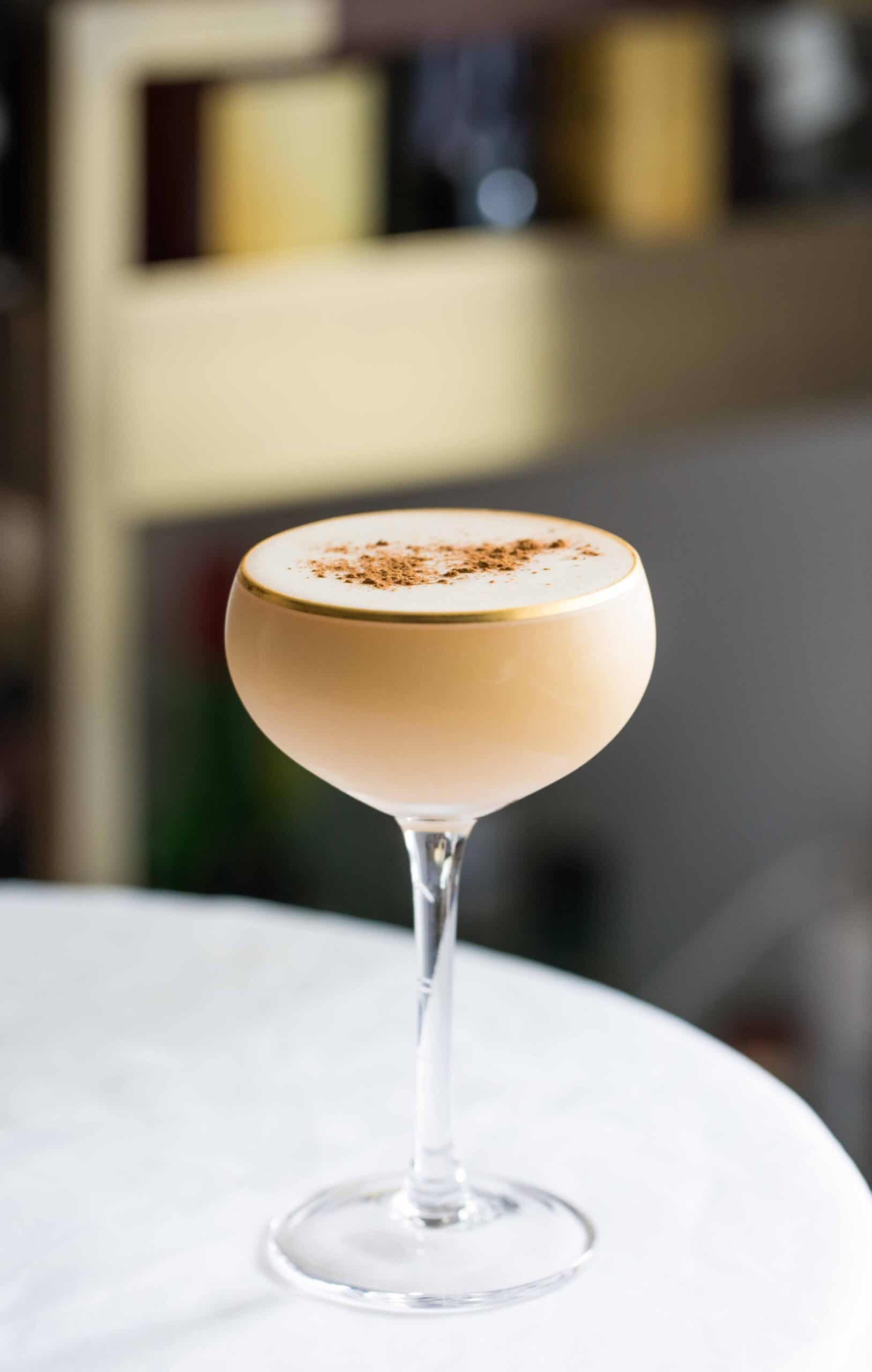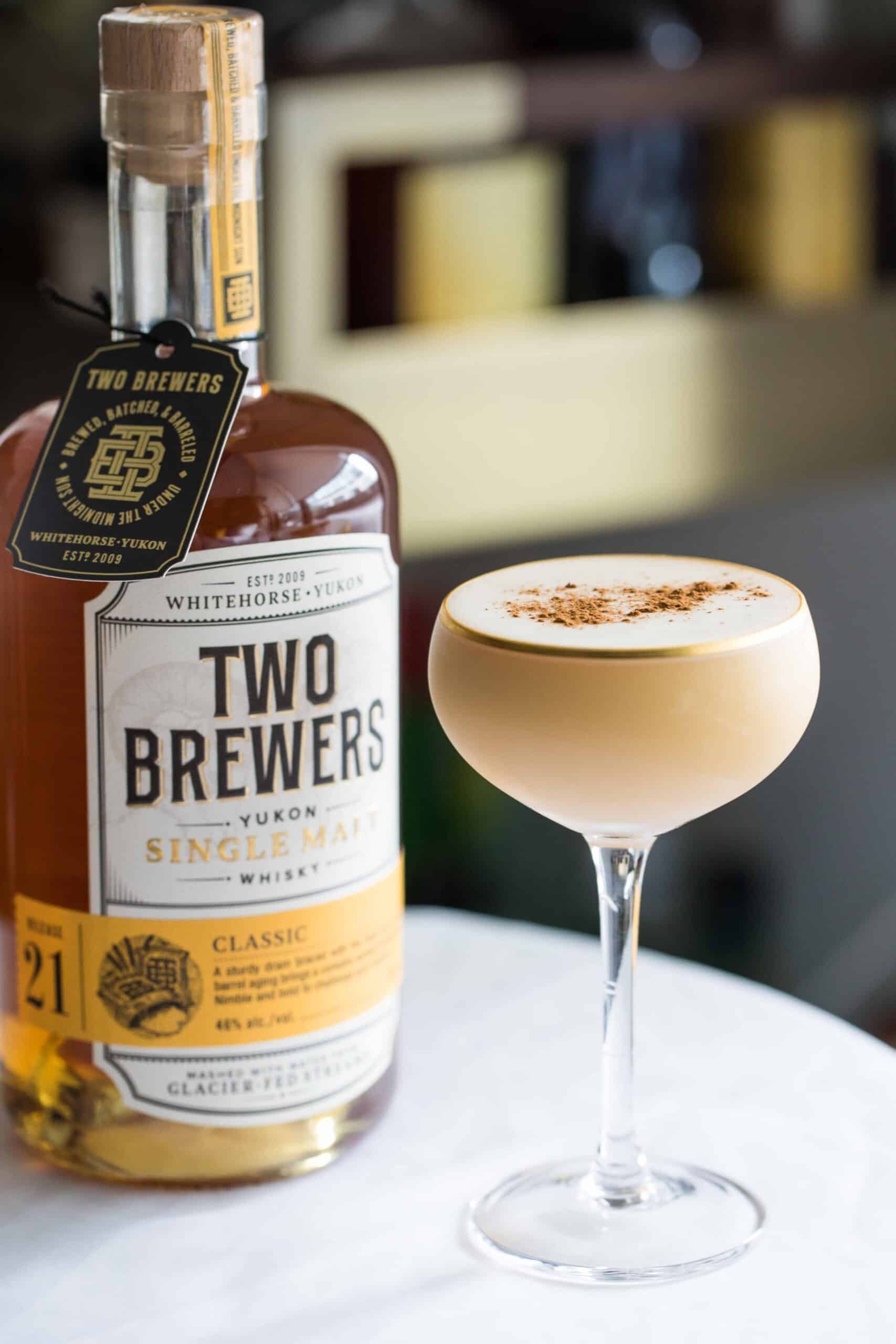 Winter Pear Flip
A warming cocktail perfect for Winter that uses a whole egg! Combining Canada's very own Two Brewer's Classic Single Malt Whisky, Dulce Sherry, pear juice and cream.
– Difficulty: Intermediate
Ingredients
2

oz

Two Brewers Single Malt Whisky

Classic Expression (21)

1

whole egg

½

oz

Heavy Cream

½

oz

Pear Juice

1

dash Angostura Bitters

¾

oz

Dulce Sherry

(Lustau Capataz Andres)

1

dash of Orgeat Syrup

1

pinch

Cinnamon Powder

for garnish
Instructions
Chill coupe glass by putting into the freezer.

Add all your ingredients into a shaker without ice. Give this a vigorous shake.

Add ice to the shaker and give it one more vigorous shake.

Take coupe out of the freezer and strain.