Today's post comes at a great honour. As I continue to push my love for Liquid Culture, I find myself working with more and more clients that I never could've imagined. This particular campaign got me very excited because I got to meet some INCREDIBLE Ontarians. Not only that, I created unique cocktails inspired by them and I couldn't be more proud of the final results. Today we will be exploring the different Notable Ontarians paving the way in their industry. PLUS we will be featuring NEW products available at the LCBO now and matched with some of the latest trends as set out by LCBO.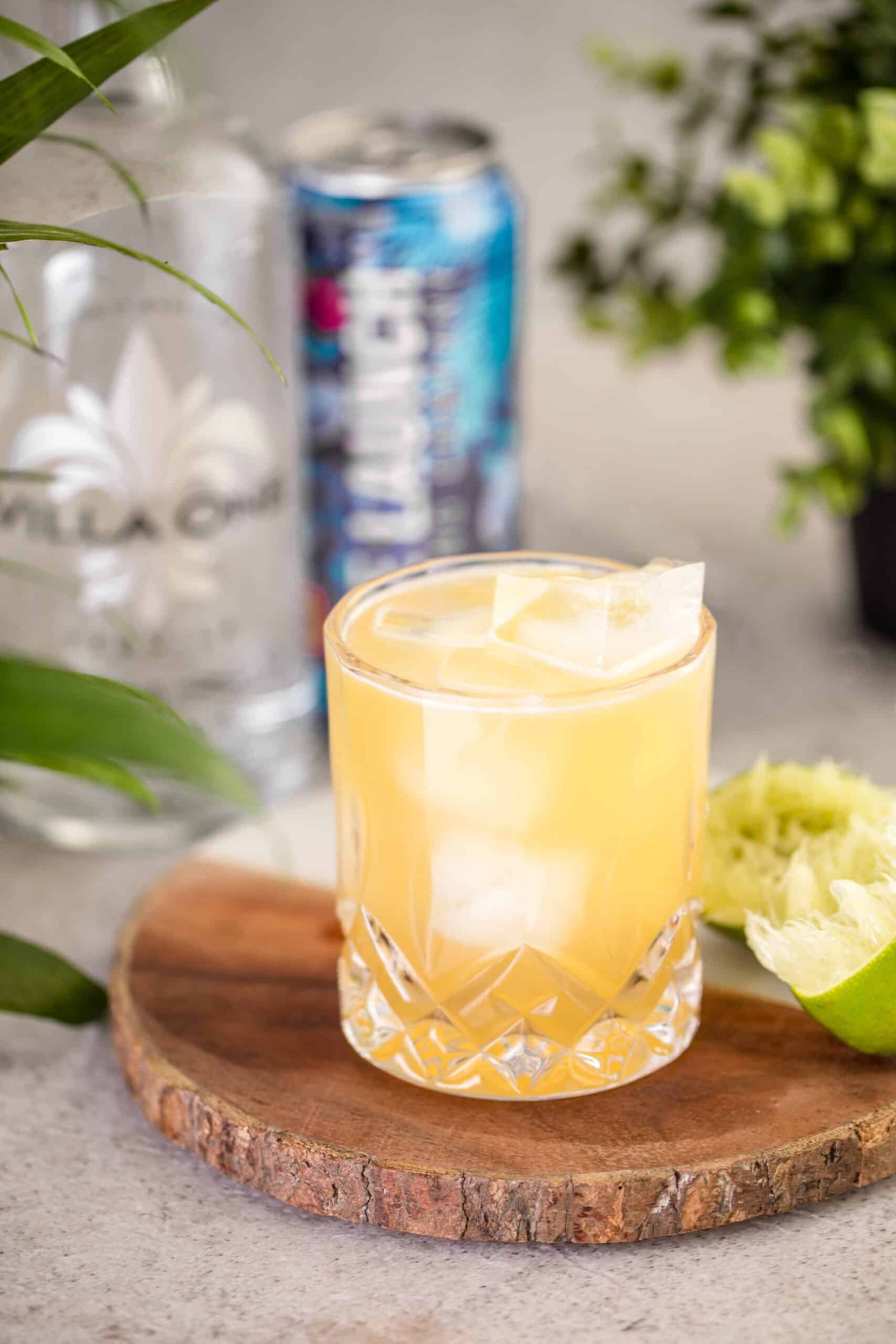 Lesley Hampton and her Passionfruit Beer Sour Cocktail
Before interviewing my Notable Ontarians, I made sure that I did some quick research on their brand and mission. When it came to Lesley, I was drawn by her eye for design and how it embodied her indigenous heritage. I fell in love with her work, and if you want to check it out, make sure to check out her Instagram page as well as all the accolades under her belt!
It was clear that she had a love for Tequila, just like myself! But I didn't want to do the typical Margarita she was used too. I wanted to spice things up, and that's where the concept of the Sour Beer (hint hint, we've got a cocktail trend here!) and cocktails came together as one. I love mixing Cocktails with an element of Beer. It doesn't happen to often in the industry and I find myself constantly exploring it.
This is WITHOUT A DOUBT my favourite Beer cocktail I've created in a while. It's full of passionfruit, fresh lime, agave, the newest addition to the LCBO Villa One Blanco Tequila plus some local Sidelaunch Passionfruit Sour Beer. You don't even have to be a beer drinker to love this cocktail. Curious how it's made?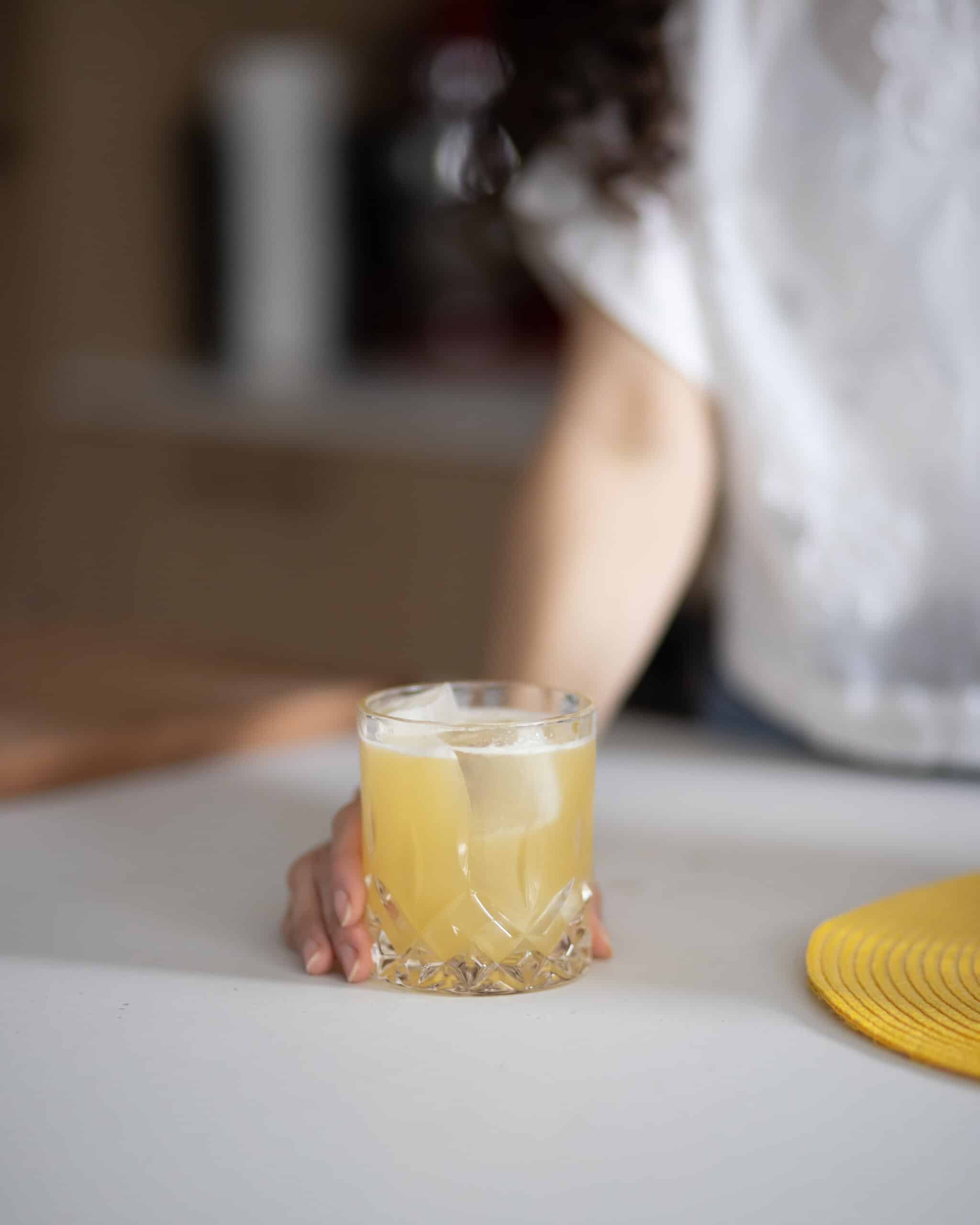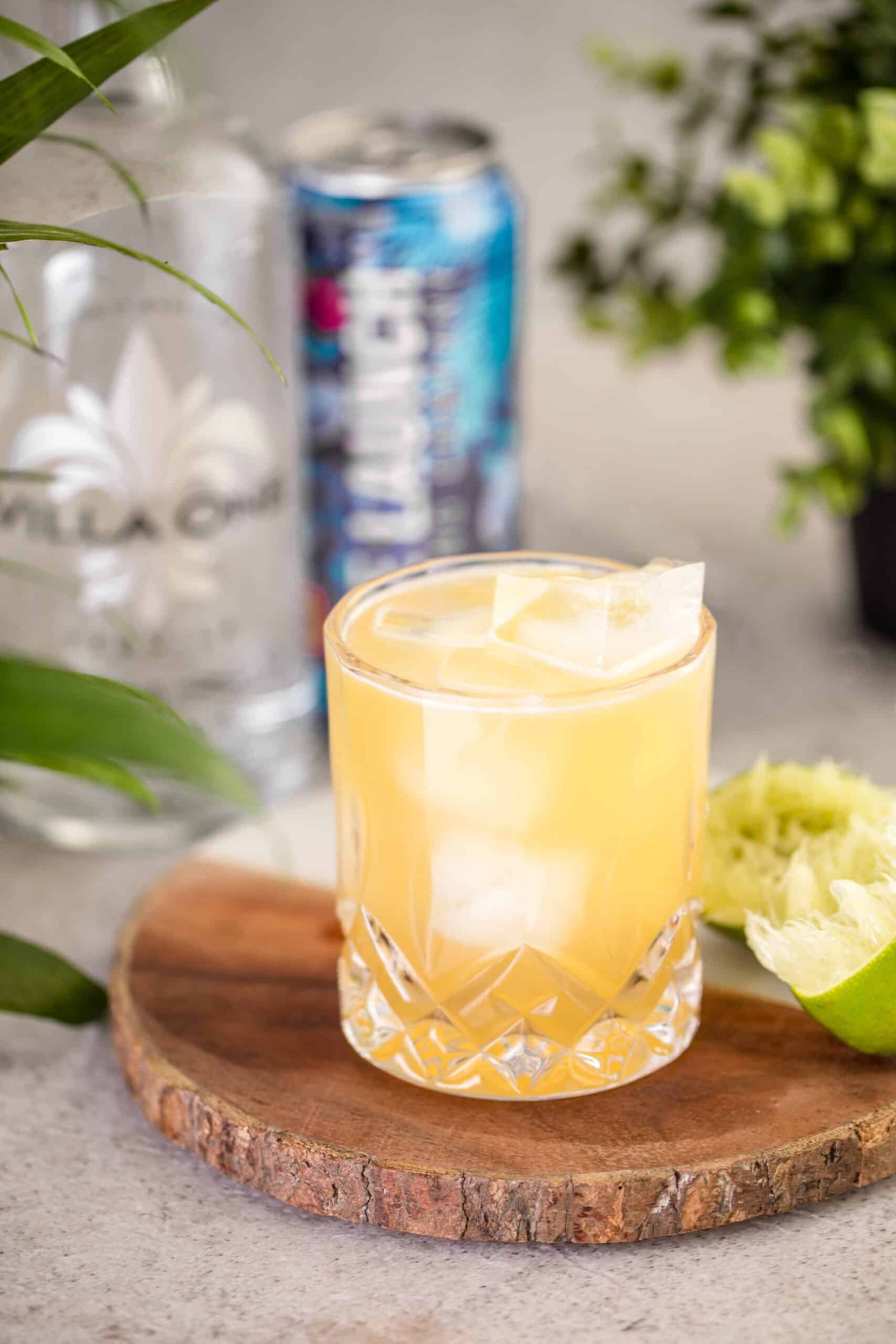 Passionfruit Tequila Beer Sour
With the backbone of a Margarita, we're building a refreshing Passionfruit cocktail made with Tequila, fresh juice and Sidelaunch Passionfruit Sour Beer.
– Difficulty: Intermediate
Ingredients
1.25

oz

Villa One Tequila Blanco

0.75

oz

Passionfruit Juice

0.75

oz

Lime Juice

1

oz

Agave Syrup

0.5

oz

Sidelaunch Passionate Sour Beer
Instructions
In a shaker, add all your ingredients, except sour beer, fill with ice and shake.

Strain over fresh ice and top with Sour Beer.
Recipe Notes
I kept the salt out of this riff, but you are more than welcome to add a rim of Pink Salt on the side for this delicious cocktail!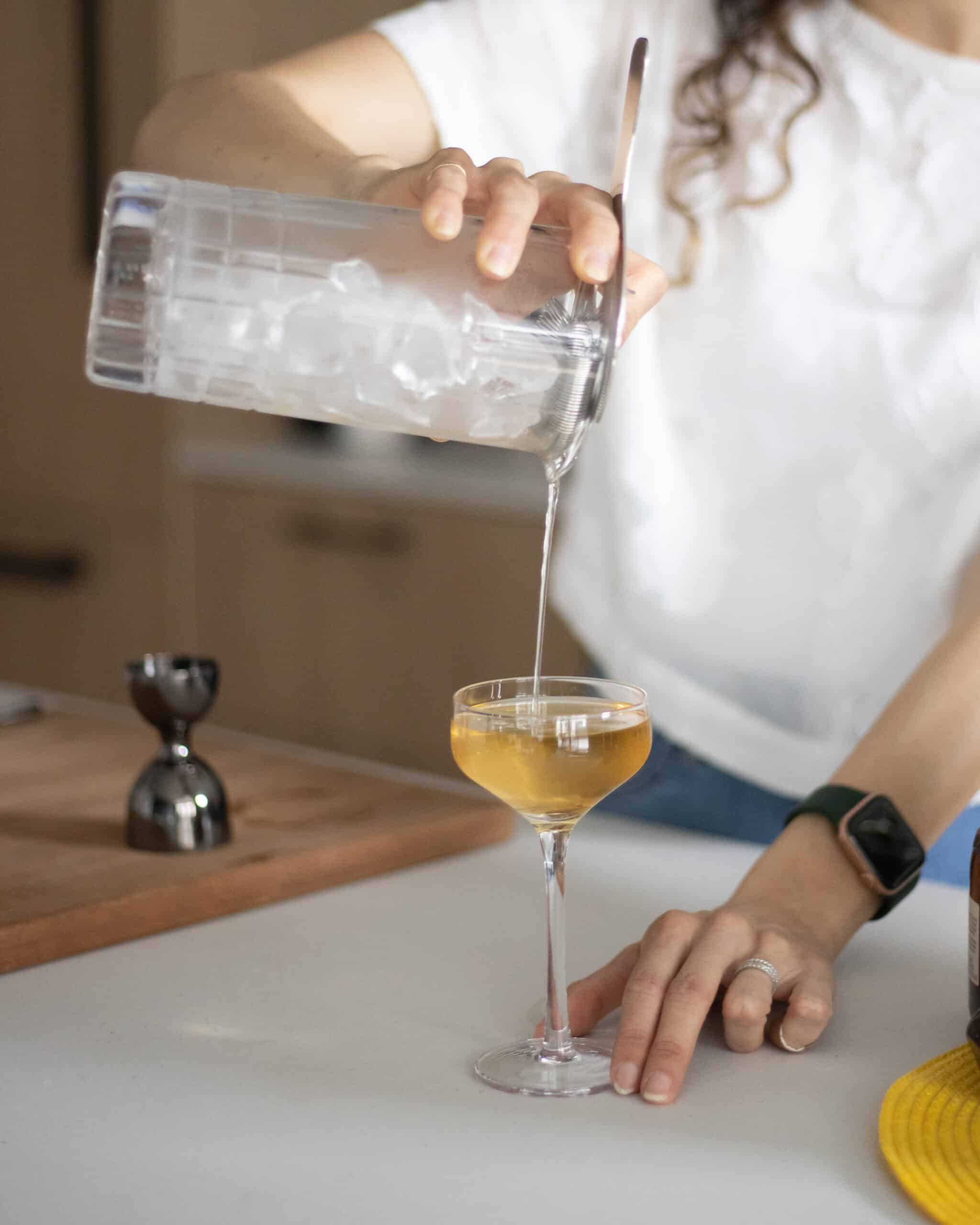 Getting to know Rafael and stirring up something delicious
Meet Rafael, a chef from Mexico that's doing incredible things in Oakville. I've been lucky enough to dine at this restaurant, and the artistry behind their work is magical. Knowing this, I knew I wanted to be elaborate with the garnish, and serve up something he'd love!
Rafael was easy to chat with because we had a love for spirit forward beverages. Having started my career in the hospitality industry, we could speak a language that hospitality folks can understand. He also loved his spirit forward cocktails, which is very much my style! Not only that, I was able to tie in an element of one of his iconic dishes. This dish included a Duck on a Mole Sauce, with Winter Squashes and Celeriac.
Of all the cocktails we talked about, he didn't mention the classic Martinez! So I decided to create a riff (or how the LCBO calls a Savvy Swap) that stirs Hendrick's Gin, Vermouth, Sherry with Mole Bitters! Ready to start stirring?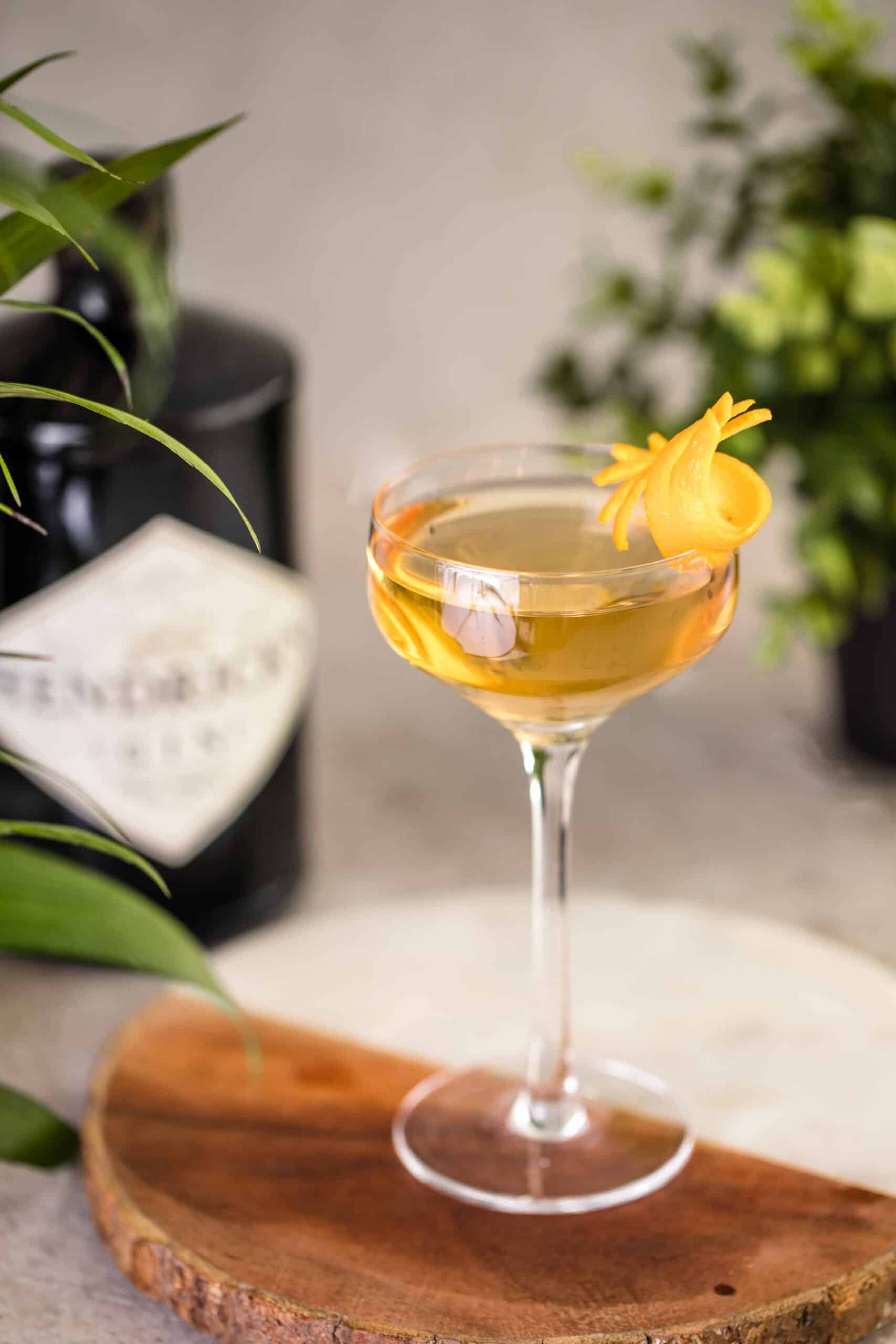 Mole Martinez
We have a Savvy Swap on the classic Martinez cocktail, inspired by Chef Rafael.
– Difficulty: Intermediate
Ingredients
1

oz

Hendrick's Lunar Gin

1/3

oz

Dry Vermouth

Dolin's Dry Vermouth used here

1/3

oz

Amontillado Sherry

Lustau used here

¼

oz

Orange Liqueur

A small bar spoons worth – Grand Marnier used here

2

dashes Mole Bitters

1

Orange Peel

For Garnish
Instructions
In a mixing glass, fill with ice and add all your ingredients. Stir Well.

Strain into your favourite Coupe Glass and garnish with Orange Peel
Bold and Beautiful like Catherine and this Smoky Guava Cocktail
Catherine was a true gem to talk to. Her energy is so vibrant and I know we could've talked for hours. With her design inspired by her Ghanian routes, she wants to bring Modern design for modern women that still love some colour!
After talking for a bit, I knew the direction with the cocktail would have to include some rum! Plus the colour and flavour would have to be as bold as her. If you've been following Liquid Culture for some time, you know my love for sours. I decided to combine the newest addition to the LCBO, Havana Club's Cuban Smoky Rum, with Guava Juice, lime, some raspberries, mint and egg whites for that beautiful foam top.
Now if you're against Egg Whites, you do have options! Aquafaba is a great vegan alternative that uses Chickpea water instead of egg whites but will still give you that dramatic top. They also have miracle foamers in bitter bottles that could work as well! Please don't feel shy about that foam top. Think of it like the top of a latte. It adds a certain texture and mouthfeel that changes the whole cocktail! Want to learn how to shake Catherine's Smoky Guava sour? Check out the recipe next!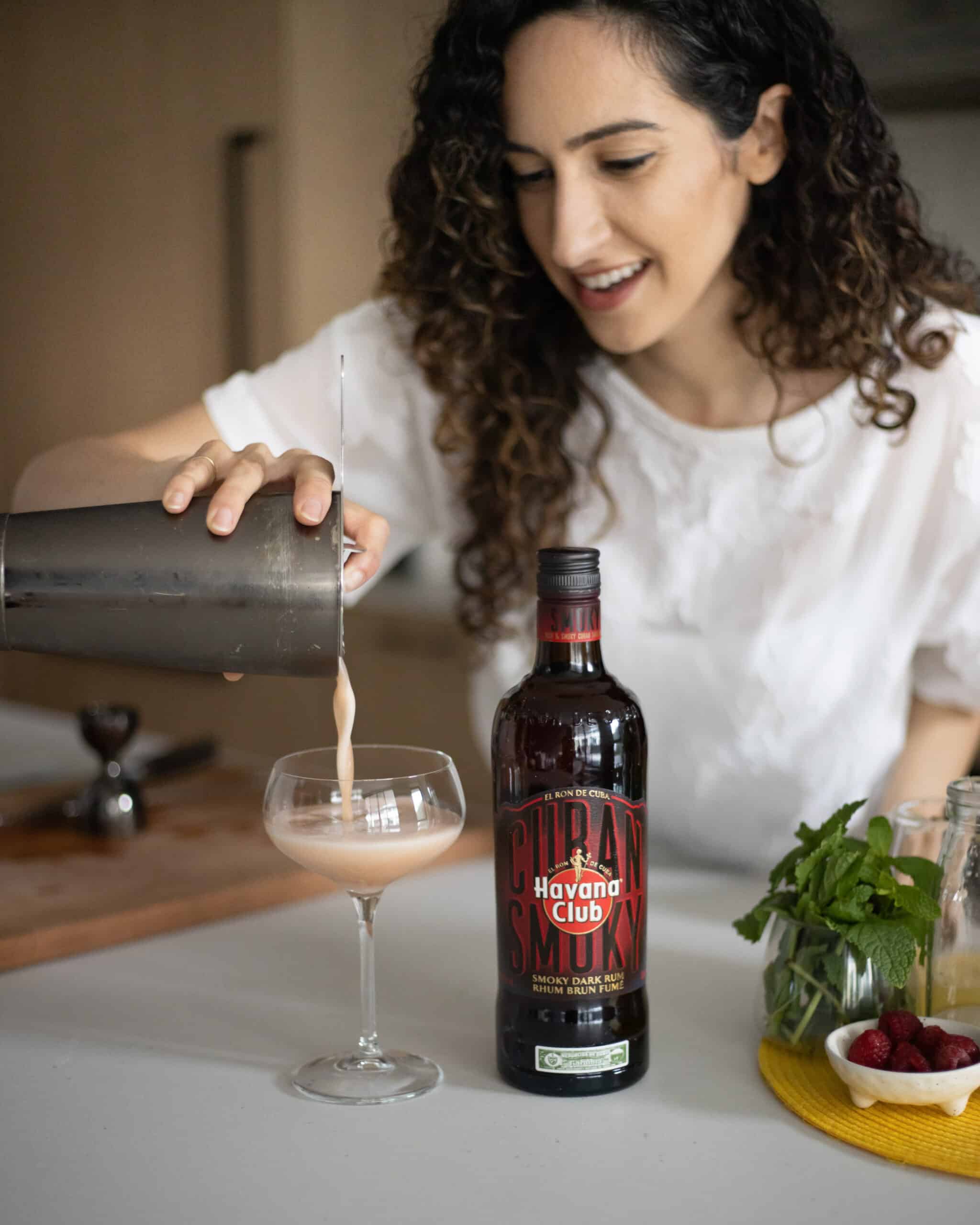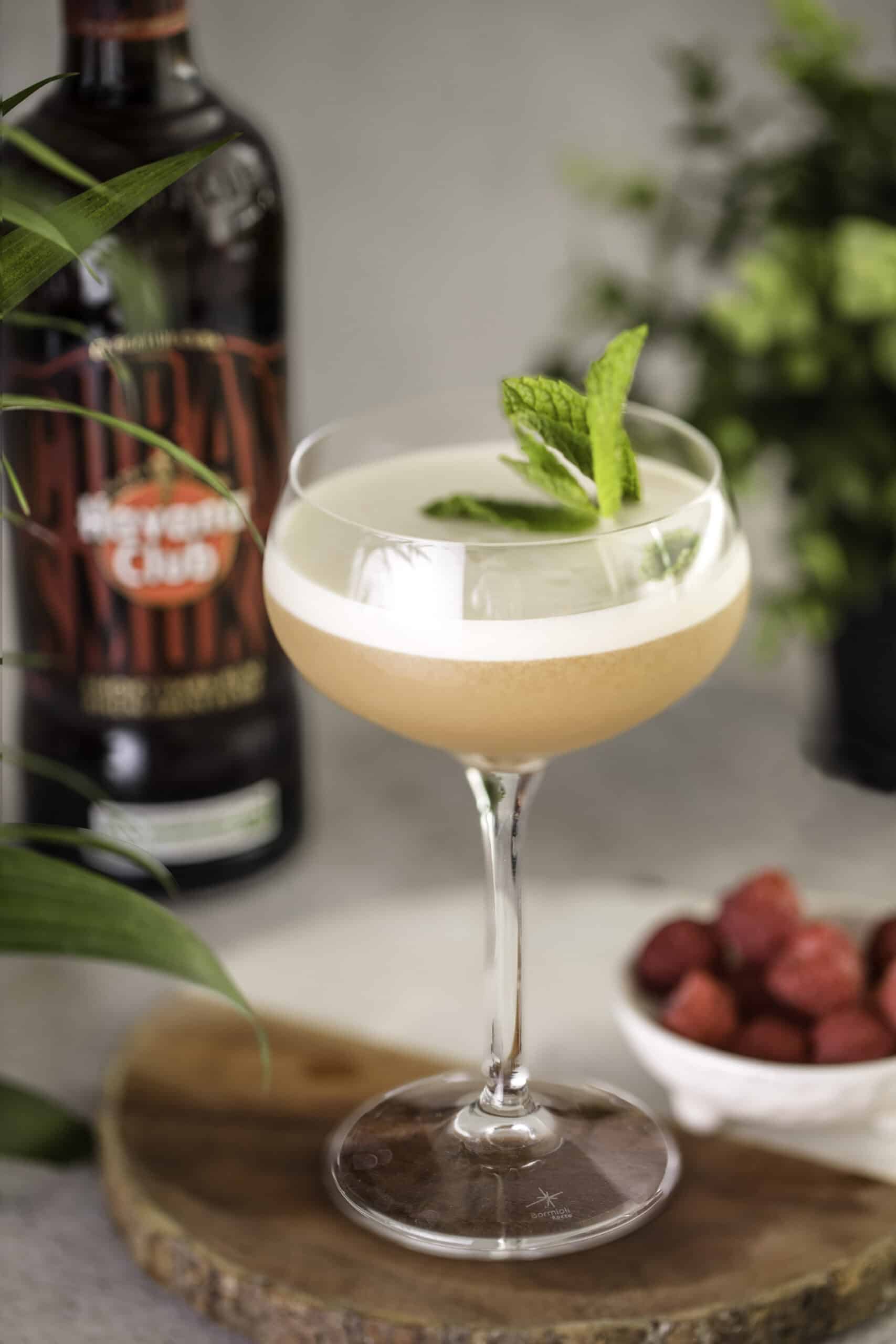 Smoky Havana Guava Sour
We've got a delicious Guava and Rum sour to get you ready for Spring and Summer on the patio this season!
– Difficulty: Intermediate
Ingredients
1.5

oz

Havana Club's Cuban Smoky Rum

1

oz

Guava Juice

2/3

oz

Lime Juice

2/3

oz

Demerara Syrup

3

Raspberries

1

Egg White

1

sprig

Mint
Instructions
In a shaker, add all your ingredients except Mint. DO NOT ADD ICE. You will be Dry shaking first vigorously for approximately 30-40 seconds.

Open up your shaker and add ice to chill your cocktail. Shake once more vigorously until the shaker is too cold to handle.

Strain into your coupe glass and garnish with Mint Sprig.
Recipe Notes
It's easy to make Demerara Syrup at home! All you need is 1 part Demerara Sugar with 1 part boiled water. Combine the two and stir until combined. That's it!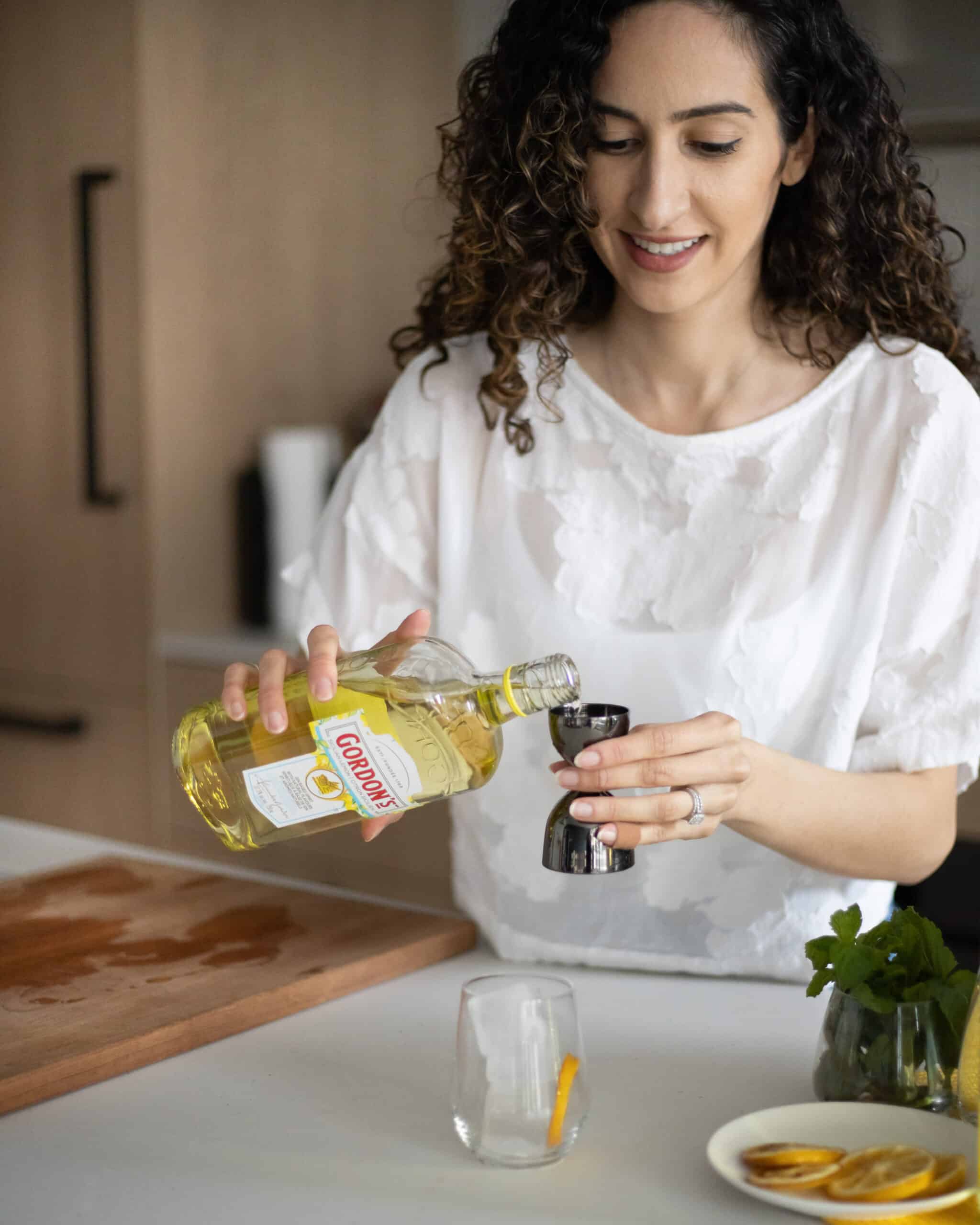 Celebrating Kirk and the Spritz Culture!
Chatting with Kirk was a true pleasure! Hearing about his 15 years experience in Milan while having an appreciation for wine, I knew IMMEDIATELY what type of cocktail I wanted to create for him. You know my love for a good Spritz, and this is no exception. My mom actually tasted this cocktail and this may have been one of her absolute favourites. It's a simple combination of Gordon's new Sicilian Lemon Gin, a local Ontario Sparkling Wine with a touch of Simple Syrup and soda!
The concept of a Spritz is very simple. Typically you have 1 part an aperitivo or liqueur with 3 parts sparkling wine and soda. I switched things around to build a spritz with Gordon's Gin in mind, plus we have a citrus twist with some bruleed lemon wheels! Plus no fancy equipment is required here. You just need ice and preferably a sunny day and patio close by!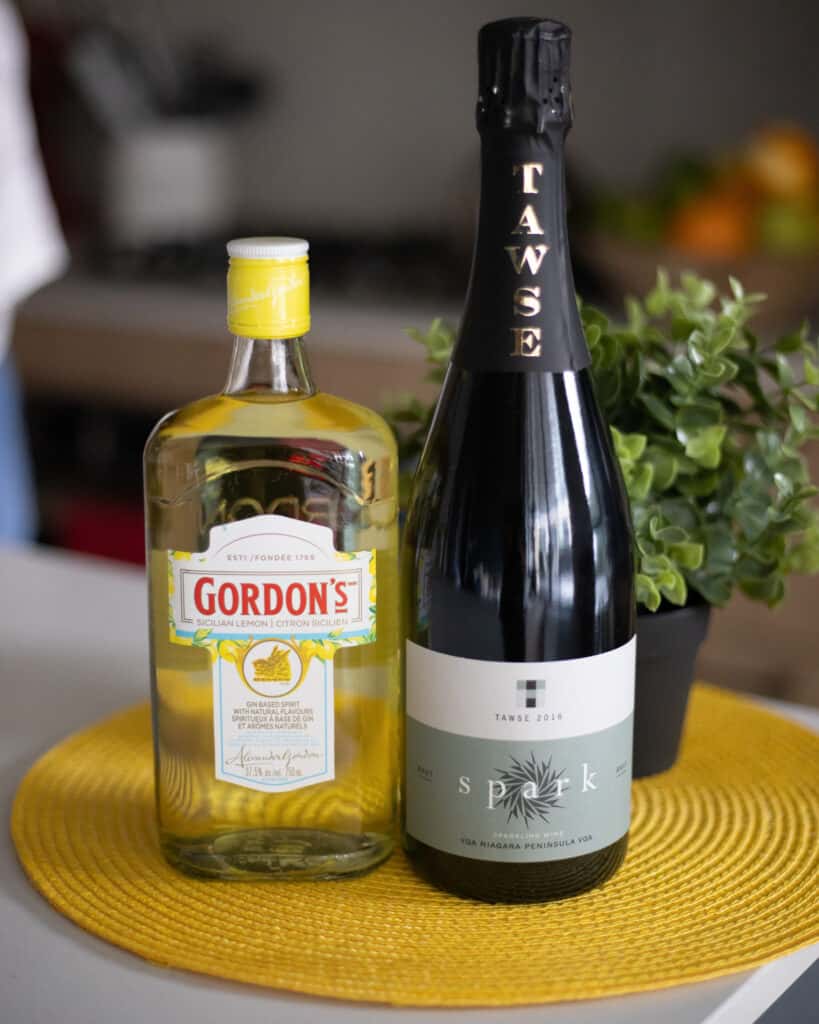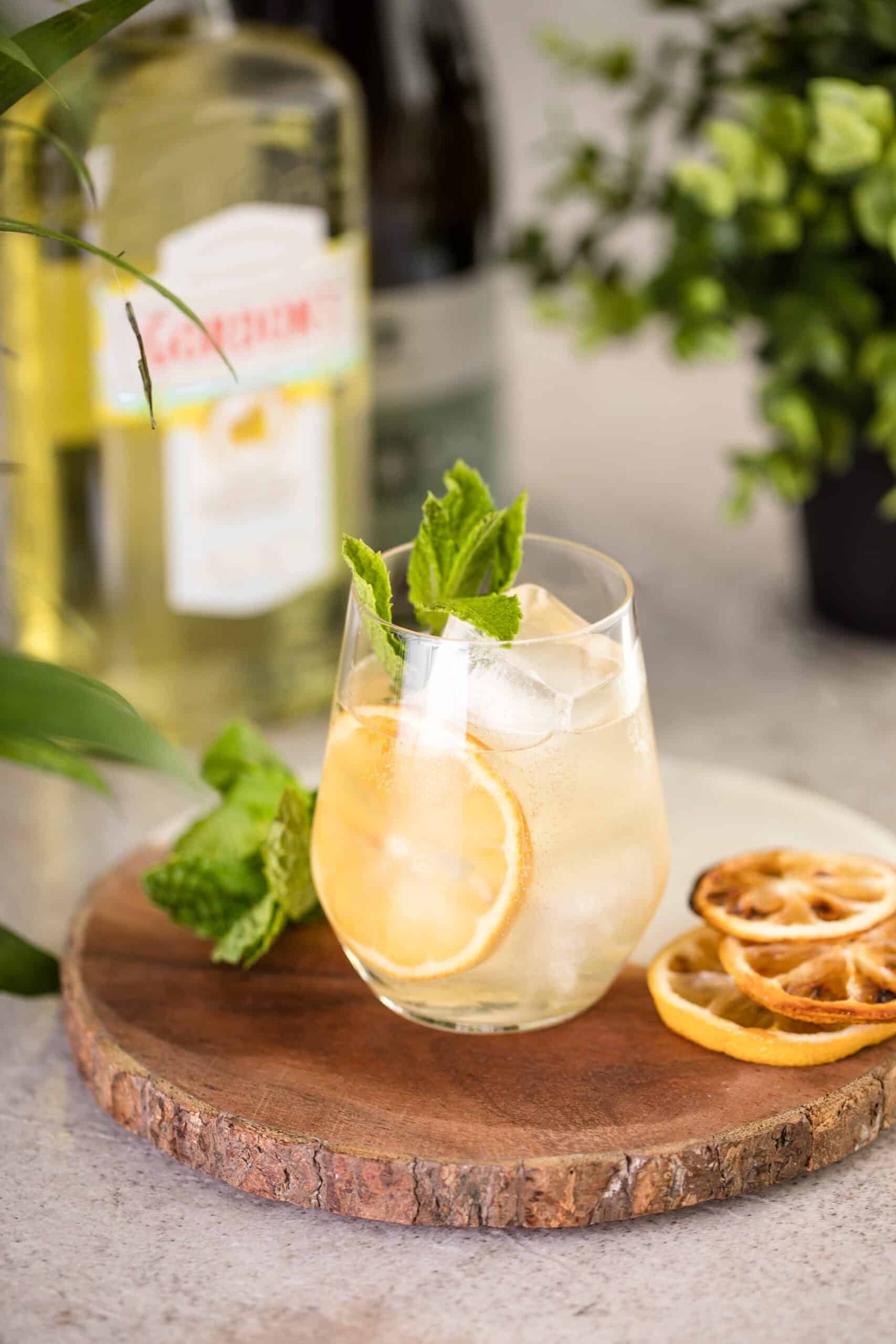 Sicilian Lemon Spritz
We're building a simple Gin Spritz that will be your new cocktail of summer!
– Difficulty: Easy
Ingredients
0.5

oz

Gordon's Sicilian Lemon Gin

1.5

oz

Sparkling Wine

Tawse Spark used here

0.25

oz

Simple Syrup

0.5

oz

Soda

1

Bruleed Lemon

1

sprig

Mint
Instructions
In a wine glass, add your ice and bruleed lemon wheel.

Top with Gordon's Sicilian Lemon Gin, Sparkling Wine, Simple Syrup and Soda.

Add your fresh mint and stir before enjoying responsibly!
Recipe Notes
Simple Syrup is as easy as it says in its name. Add 1 part granulated sugar with 1 part boiled water and stir until combined. Make sure it comes to room temperature before use. Can be stored in the fridge for up to 2 weeks.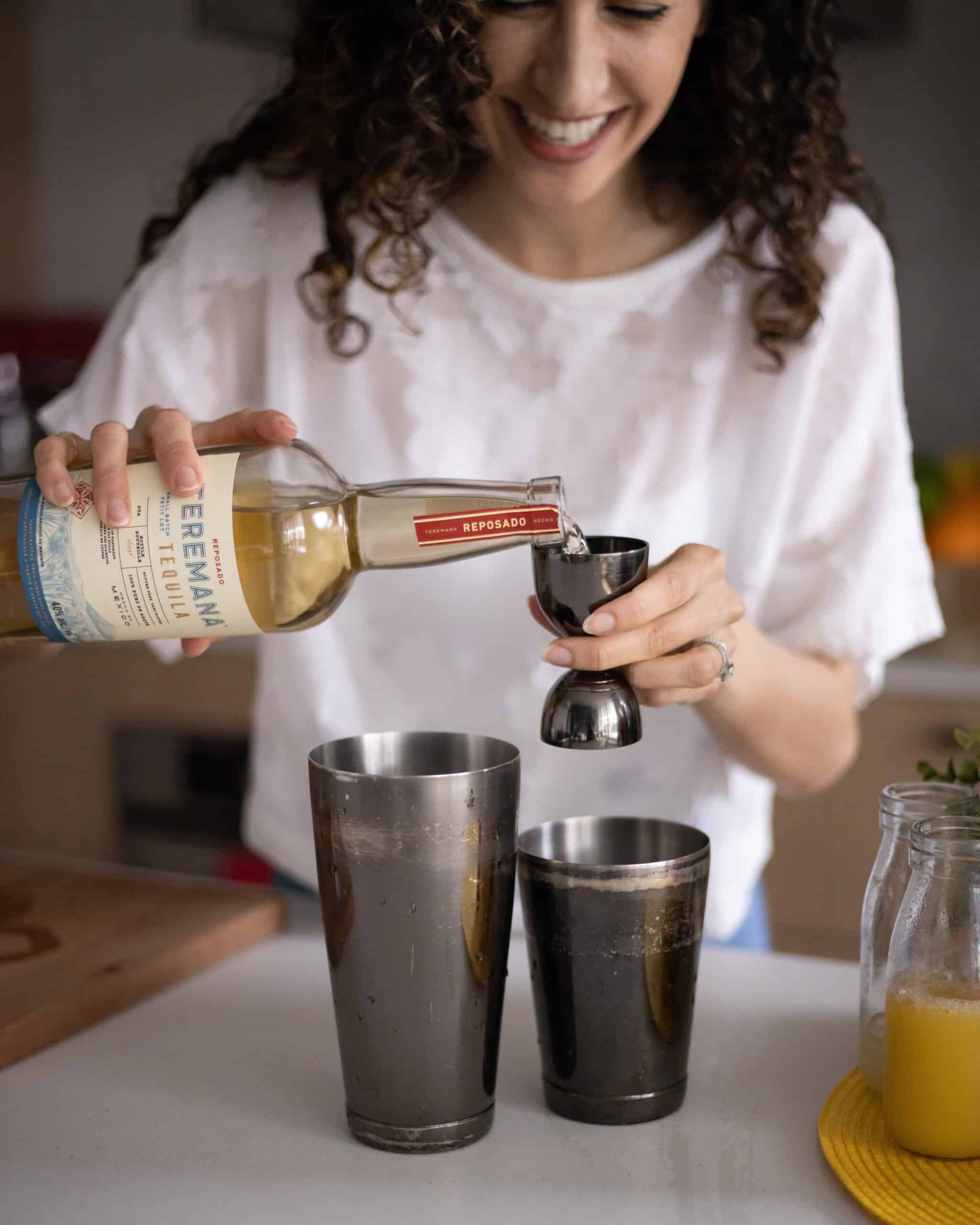 Sascha brings the tropical sun in a glass!
Last, but certainly not least, we are celebrating Sascha who is part of the dynamic team at West of Main. Based out of Ottawa, we got to chatting about all things travel, love for a refreshing cocktail and travels in Bali that got me inspired with this creation here. She's a rock star in the industry, which seemed fitting that we would pair her up with Teremana's Reposado Tequila. Plus with a bit of Campari, Pineapple and hibiscus, you have a vibrant simple cocktail that comes with a punch.
A little goes a long way with this cocktail. They're all easy, accessibly ingredients, but together they showcase just how strong they are together. Much like their business modo, and how they've structure their business. You'll love this tropical serve, that's a guarantee!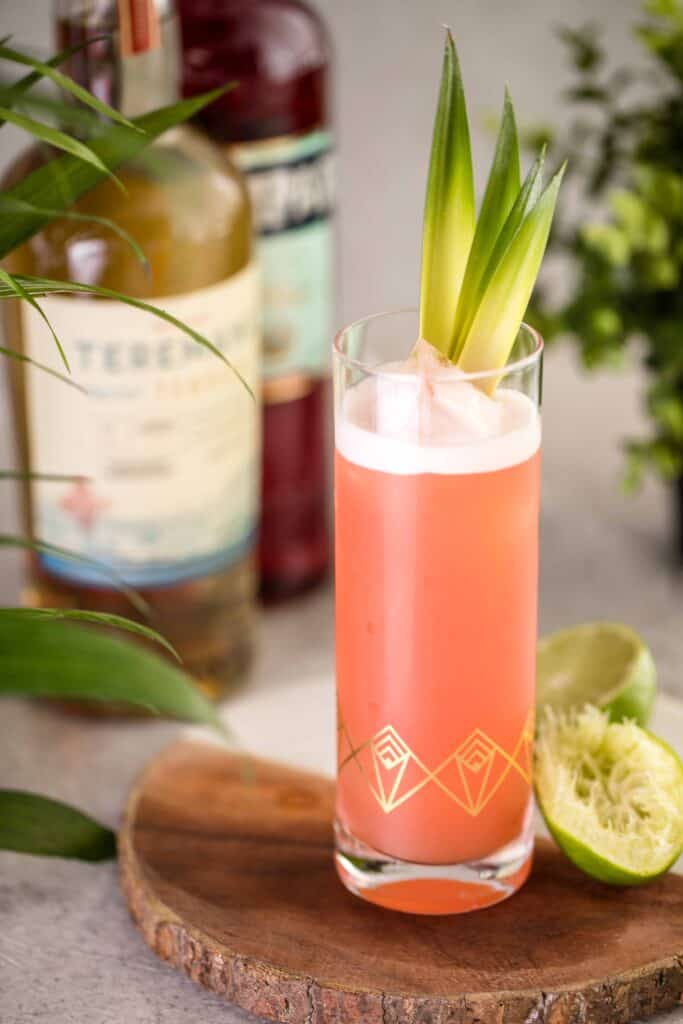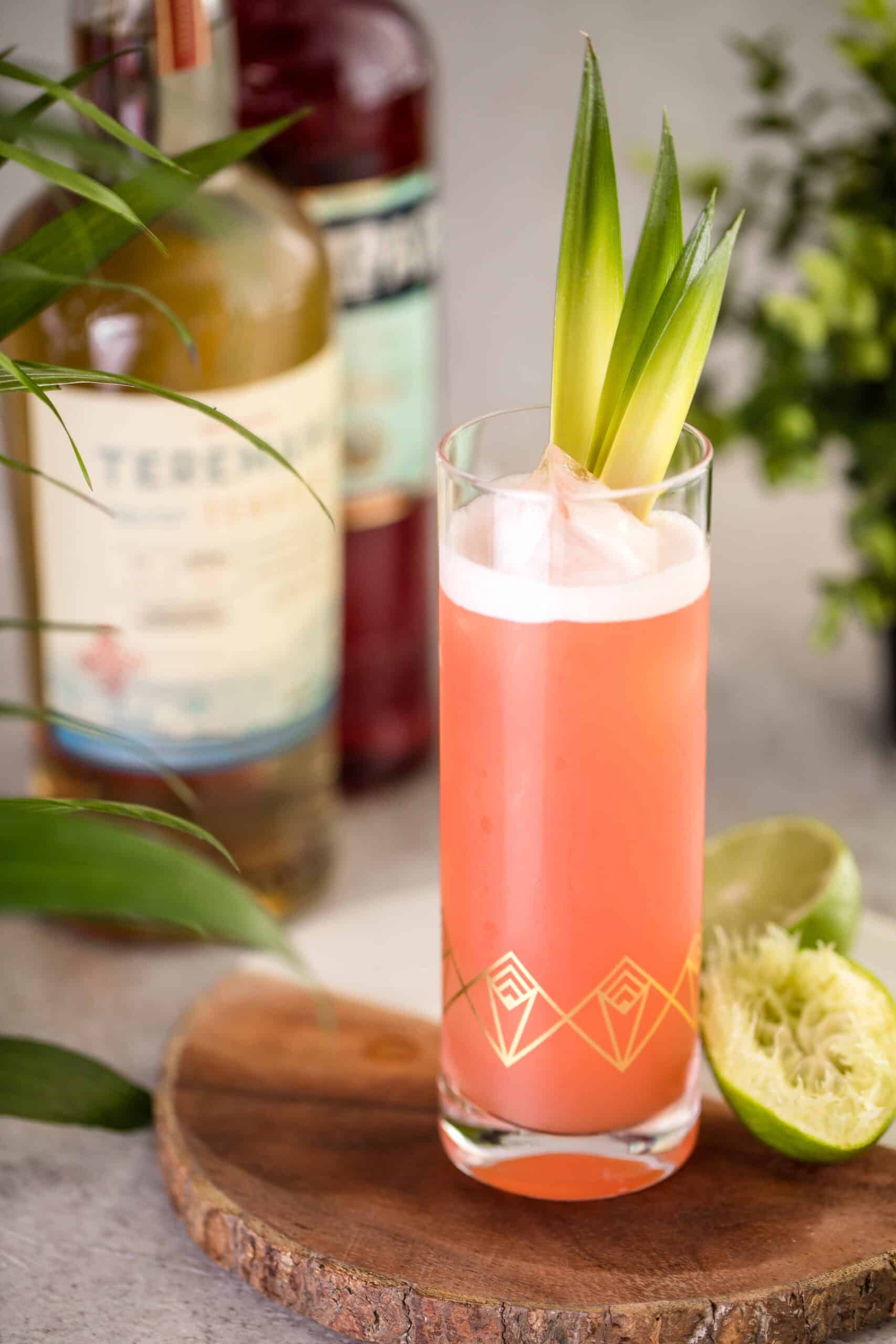 Tropical Hibiscus Oasis
We're combining Tequila, Campari, Pineapple and hibiscus in this tropical serve!
– Difficulty: Intermediate
Ingredients
1.5

oz

Teremana Reposado Tequila

0.5

oz

Campari

1.5

oz

Pineapple Juice

0.5

oz

Lime Juice

0.75

oz

Hibiscus Syrup
Instructions
In a shaker, add all your ingredients, plus ice and shake well.

Strain over fresh ice in a collins glass.
Recipe Notes
To make your Hibiscus Syrup at home, combine 1 cup Granulated Sugar, 1 cup of boiled water and add in 1/4 cup of dried Sorrel or Hibiscus Leaves. Stir until combined and let this come to room temperature before straining out the loose hibiscus. Can be stored in fridge for up to 2 weeks! Feel free to experiment with other cocktails and alcohol free beverages!