In honour of the iconic 1996 Leo and Claire's Romeo + Juliet film, I'm building a Sangria in an unconventional way. Combining Rosé wine, Tequila Blanco, Watermelon and Pimms, this will be your next favourite Sangria of Summer, or Spring or Valentine's Day! Check out all the details below so you can build this at home!
Want to see this TV Segment live in action? Make sure to follow this LINK attached!
Building this Unconventional Rosé Sangria
We all know the ill-fated love story of Romeo and Juliet, but the 1996 film adaption by Baz Luhrmann is truly unconventional. He did such a wonderful and creative job combining the traditional story into this modern take in Verona, California.
This is why I decided to go unconventional with my Sangria by building something with flavours we rarely see. First, we are using a Rosé Wine, layered with a Blanco Tequila, Pimms and Watermelon. It may seem random, but each item was meticulously chosen and I'm here to share why.
Why Rosé and which do I choose?
I'm sure we've all seen our share of White and Red Sangria creations. I've made some iconic ones in the past (pst if you want my go-to guide for all things Sangria, head over to this link here). So naturally, I wanted to go unconventional with a Rosé. PLUS, what's more traditional than a Rose for Valentine's day, which leads me to the brand I chose.
Cote des Roses comes to us from a region in France that's actually called Cote des Roses in Languedoc, France (iconic and known for the best Rosés. Before you think that it's your generic Sweet Rosé, you'll be mistaken. Instead, this blend uses Syrah, Grenache and Cinsault which gives you a very dry style Rosé that will surprise you. I love to build a Sangria on a wine that leans towards a drier style, that way I can control more of the sugar in the overall balance of a cocktail.
The last note, which goes into my point of a Rose, the bottom of the wine bottle is actually shaped like a Rose, offering a unique spin on gifting a Rose to loved ones!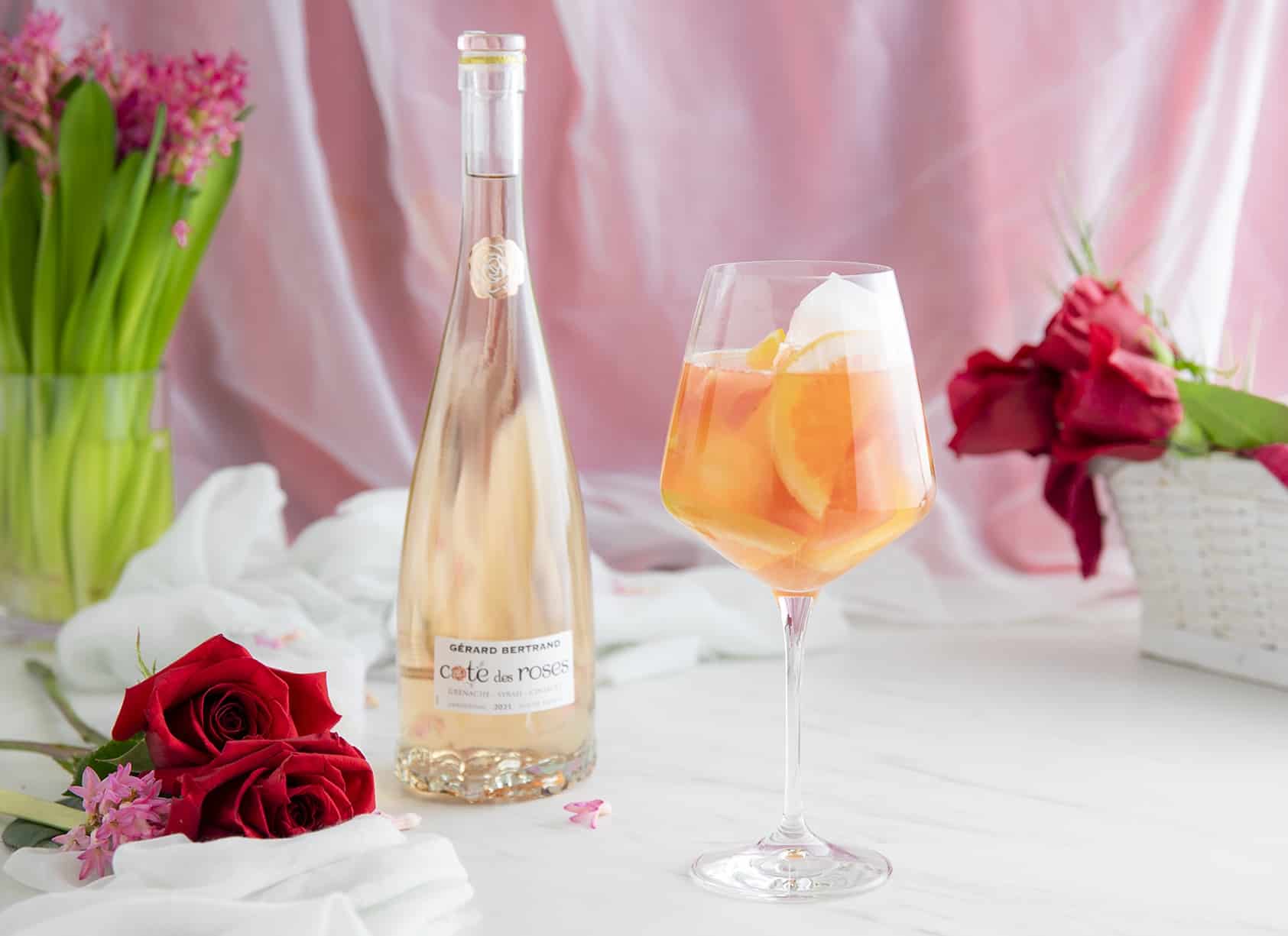 Why Tequila and which should you choose?
The flavours in this Sangria actually leans towards the lighter style, which is exactly what I was hoping for. With the combination of Watermelon, this bright Rosé, and a splash of lemonade, I knew I didn't want to mix with a Brandy. I'll admit, I debated between many clear spirits, from Vodka, Gin, Shochu and more, but in the end, I went with Tequila and not just any Tequila, but the iconic Don Julio Blanco.
You want to go with a Blanco here. One, Reposado's tend to be more pricey and the added notes from the casks won't do much to the overall Sangria. I wanted to keep this Sangria bright and refreshing, hence the use of blanco. There are also many brands I love when it comes to tequila, but Don Julio is definitely a winner on all fronts. You can't go wrong with this iconic blanco, and it will come in handy for your next margarita!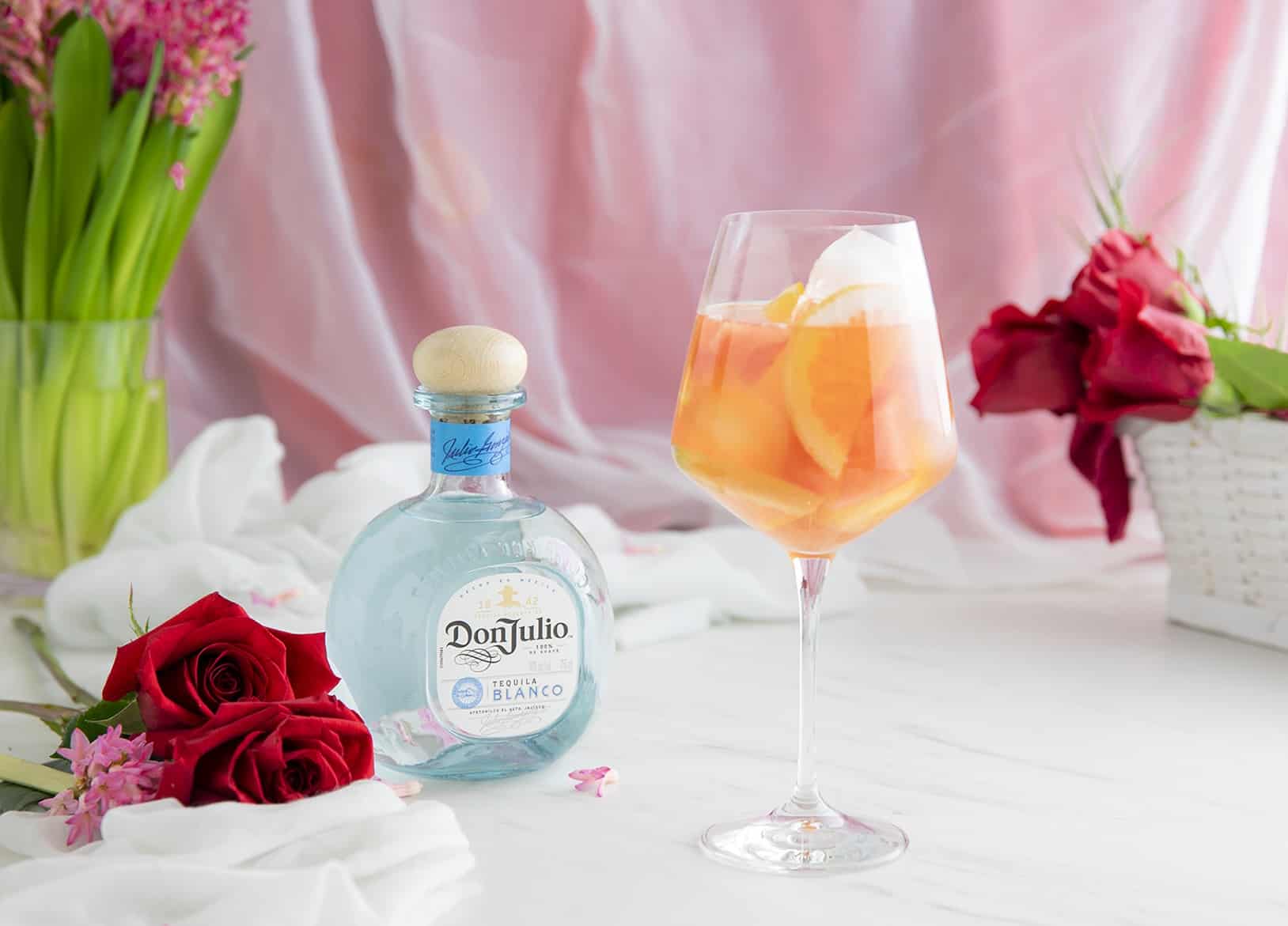 Building the rest of the Sangria
The rest of the Sangria fell into place because I knew I wanted Watermelon to be the main flavour focus, with Rosé and Tequila. So you don't want to add to many conflicting flavour partners and keep it simple. That's why I picked up a simple Lemonade, added a dash of Pimms for that bitter, sweet component (in lieu of a Triple Sec or Simple Syrup for this recipe), plus I love an effervescent part to a Sangria which is why I picked up the Fever-Tree's Sparkling Grapefruit Soda! This Soda is definitely a favourite of mine and worth seeking out. Feel free to experiment here. That's what I love about Sangria's. They are very forgiving. Just ensure you don't have too many loud flavours competing with the main focus of the Watermelon, Rosé and Tequila this Valentine's Day.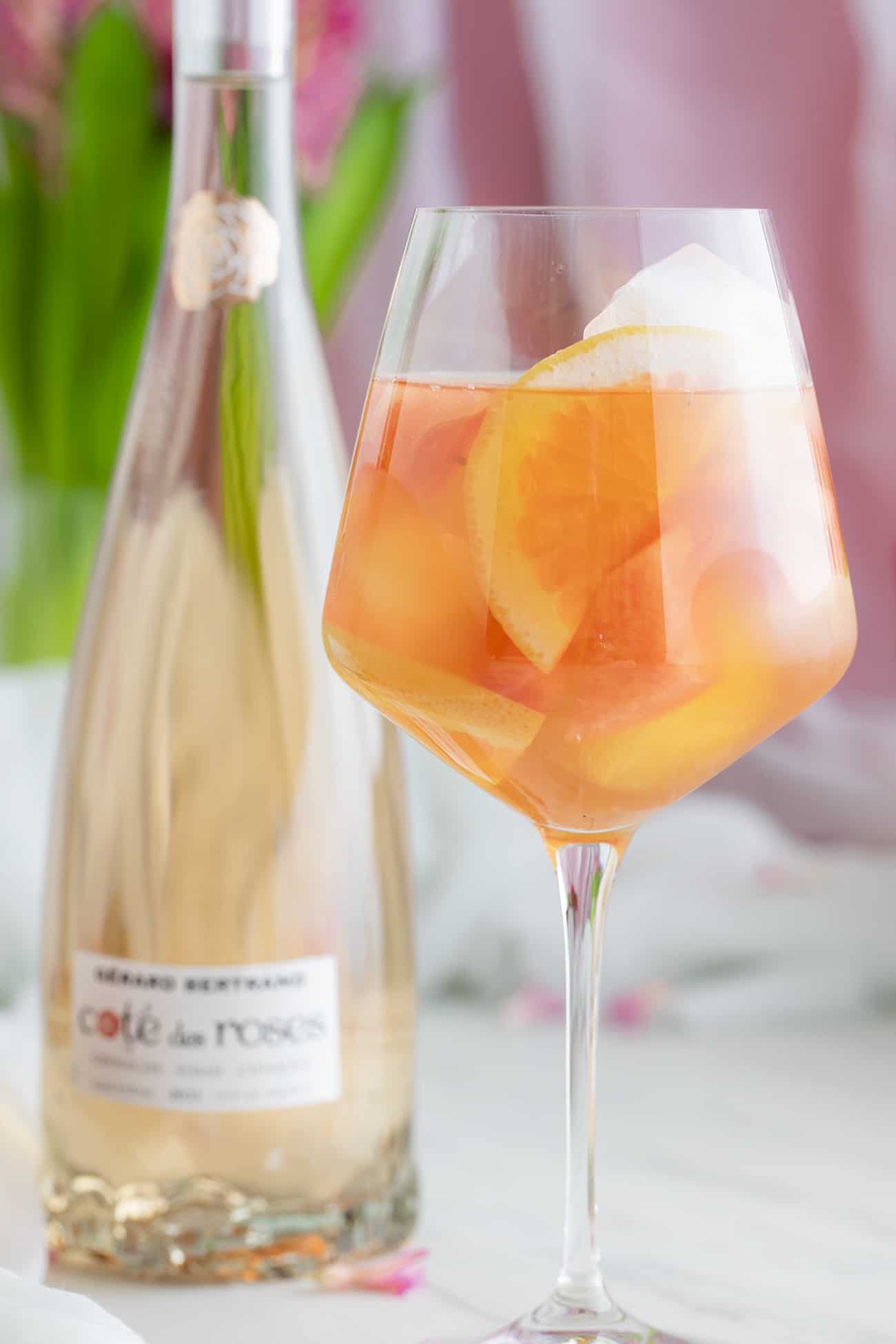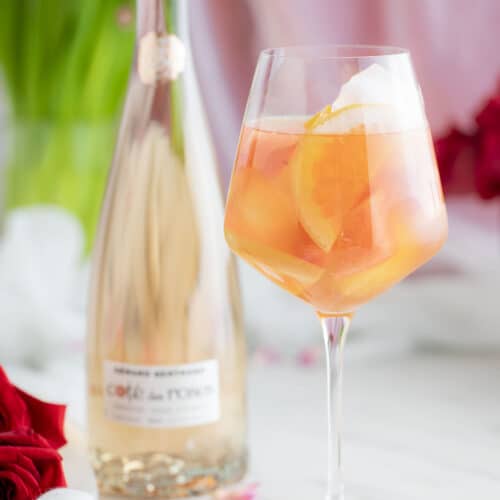 Star-Crossed Lover – Watermelon & Tequila Rosé Sangria
A bright and delicious Watermelon, Tequila Rosé Sangria to enjoy this Valentine's Day.
Ingredients
Single Serving
4

oz

Cote de Roses Wine

0.5

oz

Don Julio Blanco Tequila

0.5

oz

Pimms

2

oz

Lemonade

PC Brand, did you want this labelled?

0.5

oz

Fever-Tree's Sparkling Grapefruit Soda

4

Watermelon Cubes

1

Grapefruit Wheel

½

Orange Wheel
Pitcher Serving
1

Btl Cote de Roses Wine

3

oz

Don Julio Blanco Tequila

3

oz

Pimms

12

oz

1.5 cups Lemonade

1

btl Fever-Tree's Sparkling Grapefruit Soda

20

Small Watermelon Cubes

garnish

6

Grapefruit Wheels

garnish

3

Orange Wheels

Garnish
Instructions
In a pitcher, add in all your ingredients.

If you are serving it immediately, fill with large ice cubes.

If you plan on doing this ahead of time, add in all your ingredients, a few large ice cubes and leave in the fridge until ready to serve.

Ensure to fill your individual Sangria glasses with ice and garnishes before pouring. Having additional garnishes available on the side.