I titled this 'Strawberry and the Shrub' because much like 'Beauty and the Beast', people give that grossed out look on their face when they hear me talk about vinegar in their cocktails. Well I'm blowing minds and changing your perceptive on my love for Vinegar-based infusions called 'Shrubs'.
First off, if you really want to learn more about Shrubs, you need to dive through my in-depth article talking all about Shrubs. I wrote this up a long time ago, and there is a lot to learn about this amazing infusion!
It's one of the 'cocktail hacks' concepts I cover with the ladies on The Social, and if you'd like to check out the video for the segment, just follow the link here.
Now I have to say, if you've never tasted shrubs, it's sometimes best to check out what your local market is providing. For example, I'm a big fan of False Ox from Toronto, and if you need some sort of guidance of what and how Shrubs should taste like, check them out! If you're ready to dive right into the infusion, than you'll want to check out my recipe linked here.
Shrubs are great, because it's a non-alcoholic product, so you can create mocktails, or low ABV cocktails with them. Plus, in my article I dive into the fact that they are VERY good for you!
In addition, creating these infusions means you don't have to let your ripe fruits go to waste. It's a great way of clearing up your fridge and creating a tasty treat for yourself.
I kept this cocktail VERY simple. It was actually a recipe I developed a while back, but I dressed it up with my own infusion. And with the addition of Royal City Brews Saison Beer, you got a very tasty beer cocktail! I know you'll love it. It surprised everyone, so why not try it out to see why!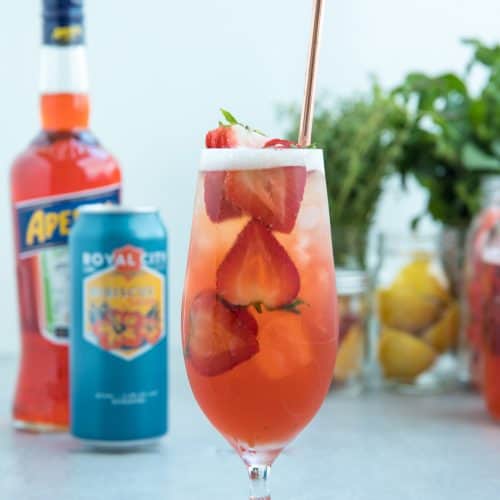 Strawberry and the Shrub
An amazing, easy and LOW in ALCOHOL cocktail solution, made with Aperol, Homemade Strawberry Shrub and Saison Beer

Difficulty: Easy
Ingredients
1

part

Strawberry Shrub

1

part

Aperol

4

parts

Saison Beer

Royal City Brew used here

1

Strawberry Sliced
Instructions
Layer your pilsner glass with ice and your sliced strawberries.

Add the Aperol and Strawberry infused Shrub, and top with the Saison Beer. Give this a stir before imbibing.
Recipe Notes
For access to the homemade Strawberry Shrub recipe, make sure to follow here!