Featuring a special recipe, created with my collaboration with SIP Awards and shaking up with one of their award winning Gins – Eau Claire Parlour Gin. I show you how some of the Rose Water typically used in Mediterranean Cuisine, can be used in your cocktails! This is shaken with Strawberry and Rose Water on this riff of a Ramos Gin Fizz.
Glassware used here can be found at Cocktail Emporium in Toronto!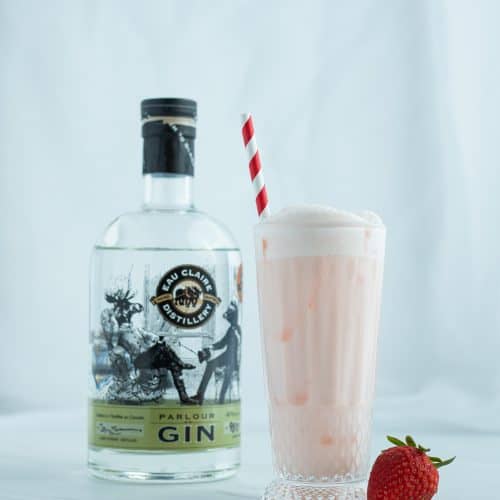 Strawberry Rosewater Gin Fizz
If you love a Ramos Gin Fizz, you'll love this riff I've created with SIP Award Winning Eau Claire Gin with fresh Strawberries and Rose Water.
– Difficulty: Intermediate
Ingredients
2

oz

Eau Claire Parlour Gin

2

Strawberries

halved and de-stemmed

3

drops

Rose Water

1

oz

Freshly Squeezed Lemon Juice

3/4

oz

Honey Syrup

1:1 ratio

1

oz

Heavy Cream

35%

1

Egg White

1

oz

Club Soda
Instructions
In a shaker, add your fresh strawberries and muddle to a pulp. Add the rest of the ingredients (except club soda).

Dry shake your cocktail (without ice) vigorously, and once you have, add ice to your shaker and shake once more for an additional 30 seconds (until your shaker is too cold to hold).

Strain over fresh ice in a collins glass, let it rest for 20 seconds before adding the club soda. Add this in slowly to avoid a mess.
Recipe Notes
For the Honey Syrup, I actually use less honey for the 1:1 ratio. I would say its closer to 2/3 part Honey to 1 part water.