For those who have known me a long time, you know my love for Don Julio. The 1942 is a constant on my bar (not sipping any though, due to the current shortage) and the Don Julio Reposado is one of my go-to's when it comes to mixing PREMIUM cocktails. Want to see what I created for the ladies on CTV's The Social? Head down below for detail, plus a bit of info on all things Don Julio!
If you'd like to catch the clip of my segment at home with CTV's The Social, make sure to follow this link here as I explore Agave spirits, and believe me, there's a lot to share!
Before I dive into the cocktail, I wanted to tell you the story of Don Julio and why I particularly love this brand. It all started in 1942 when Don Julio Gonzalez revolutionized the industry by planting his agave plants further apart to allow proper room to grow and fully mature. Don always chose quality over quantity and that tradition holds true today. He also broke traditions by bottling his tequila in a completely new design. Before, tall bottles would typically house average sipping tequila that would be hidden underneath the table. He knew his product was premium enough to have a seat at the table, which is why he designed a shorter bottle for guests to easily pass around and still be able to see each other across the table.
So why is the Don Julio 1942 different? In addition to it holding its own and always standing out at a bar, Don Julio 1942 actually represents the shape of an Agave leaf! As I mentioned, my love for the Don Julio products will never falter, and I highly recommend experimenting with their line up.
If you want to learn more about Don Julio, I actually did a Branded Feature as we explore a virtual tour and history of Don Julio which you can find on my Instagram page, under the #Branded Highlights. Believe me, you won't want to miss out on this journey.
---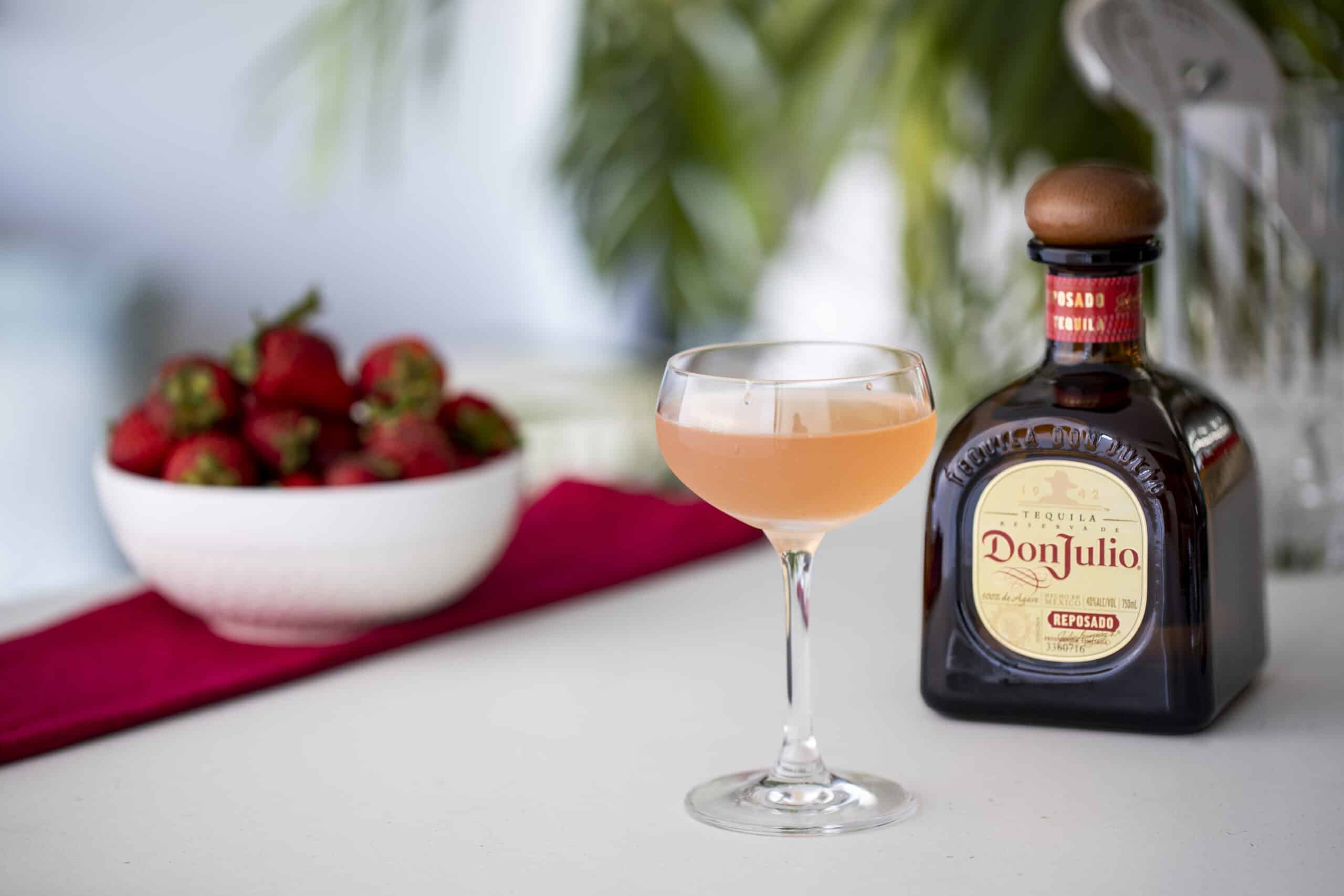 ---
Now on this episode, I chat about how I love using Reposado in classic, spirit forward, whiskey cocktails. That's because when a Reposado Tequila is aged, they take on similar characteristics of a whiskey due to the barrel infusion! So I switch out the whiskey and create something new, yet somewhat familiar so people can get a bit more confident with mixing aged tequilas!
This time around, I decided to make a bright and summery Manhattan, that gets softened with some Dry Vermouth and Drambuie. I also muddle a strawberry in the Mixing Glass, which isn't exactly traditional for a manhattan, but I love the brightness it brings, plus it's the perfect reminder of summer.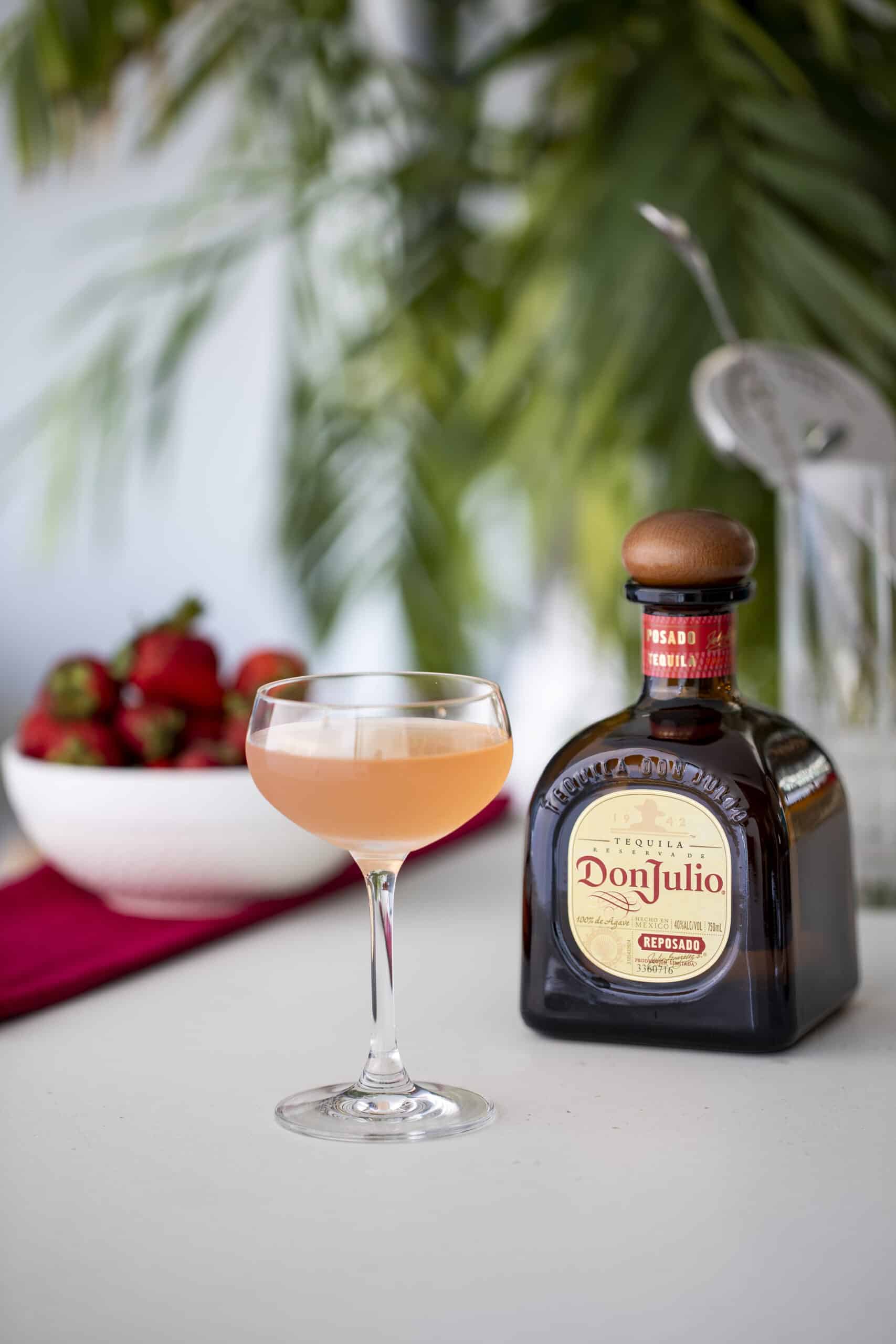 Summer in Manhattan
A bright and summery Agave spin on the classic Manhattan cocktail, using Don Julio's Reposado Tequila
– Difficulty: Intermediate
Ingredients
2

oz

Don Julio Reposado Tequila

1/3

oz

Drambuie

2/3

oz

Dolin's Blanco Vermouth

1

dash

Lavender Bitters

Nickel 9 Bitters used here

1

Strawberry

stem removed
Instructions
Grab a Mixing Glass and muddle Strawberry.

Add the rest of the ingredients, fill the mixing glass with ice and give this a good stir (for approximately 30 seconds).

Double Strain into coupe glass. Optional Lemon Peel for garnish.