I never shy away from a #NoDrinksWasted challenge, and the truth is, I love an excuse to shake up with tomatoes. I've done it a few times on this platform and I'm always blown away at the cocktail results. Today, I'm bringing together Tomato, Cantaloupe and Gin in this Spritzer. I say spritzer, but really there's a slight dash of tonic that goes a long way. You'll definitely want in on this!
Jump to Recipe
What's #NoDrinksWasted?
After a fun year of #DrinkYourGram on my social platforms, I wanted to create cocktails with you in mind. Many of you likely have random bottles or ingredients around the house that you don't want to go to waste, so why not use them in a cocktail? For today's creation, tomatoes was the inspiration and I was quick to jump on it. Wanting to make something different from the typical Margarita that I've done, you'll love this creation here!
Ways to use the Tomato Cantaloupe Juice
For this creation, I decided to use Tomato and Cantaloupe together for this refreshing cocktail. I loved what I created here because it's bright and fresh with that slight hint bubbly component. But the thing is, you can do a lot with this Tomato Cantaloupe Mixture! For this cocktail, I simply blended up equal parts of Tomatoes and Cantaloupe with a little dash of water. Then you just strain the blended mix through a fine mesh strainer to enjoy.
Now there's a ton you can create though with this juice. A margarita would be perfect for this cocktail. I would just add less lime than normal, pour a nice amount of the juice and you're good to go! Also something shaken up like a Bee Knees with this juice would be delicious. OR keep it simple, by pouring Mezcal in a tall glass, with ice, citrus, melon tomato juice, a bit of agave and sprinkle of salt. DELICIOUS.
Building your Tomato Cantaloupe Gin Spritzer
The only complicated thing about this cocktail is making the juice, which you can either blend and strain or use a juicer, depending on what you have at home. The rest just calls for a quick shake and strain into your glassware and topped up with a splash of tonic water.
You don't want to add too much of the tonic water only because it can really dilute and mute the Tomato and Cantaloupe flavour. To keep this bright with a punch of flavour, be sure to be mindful of this.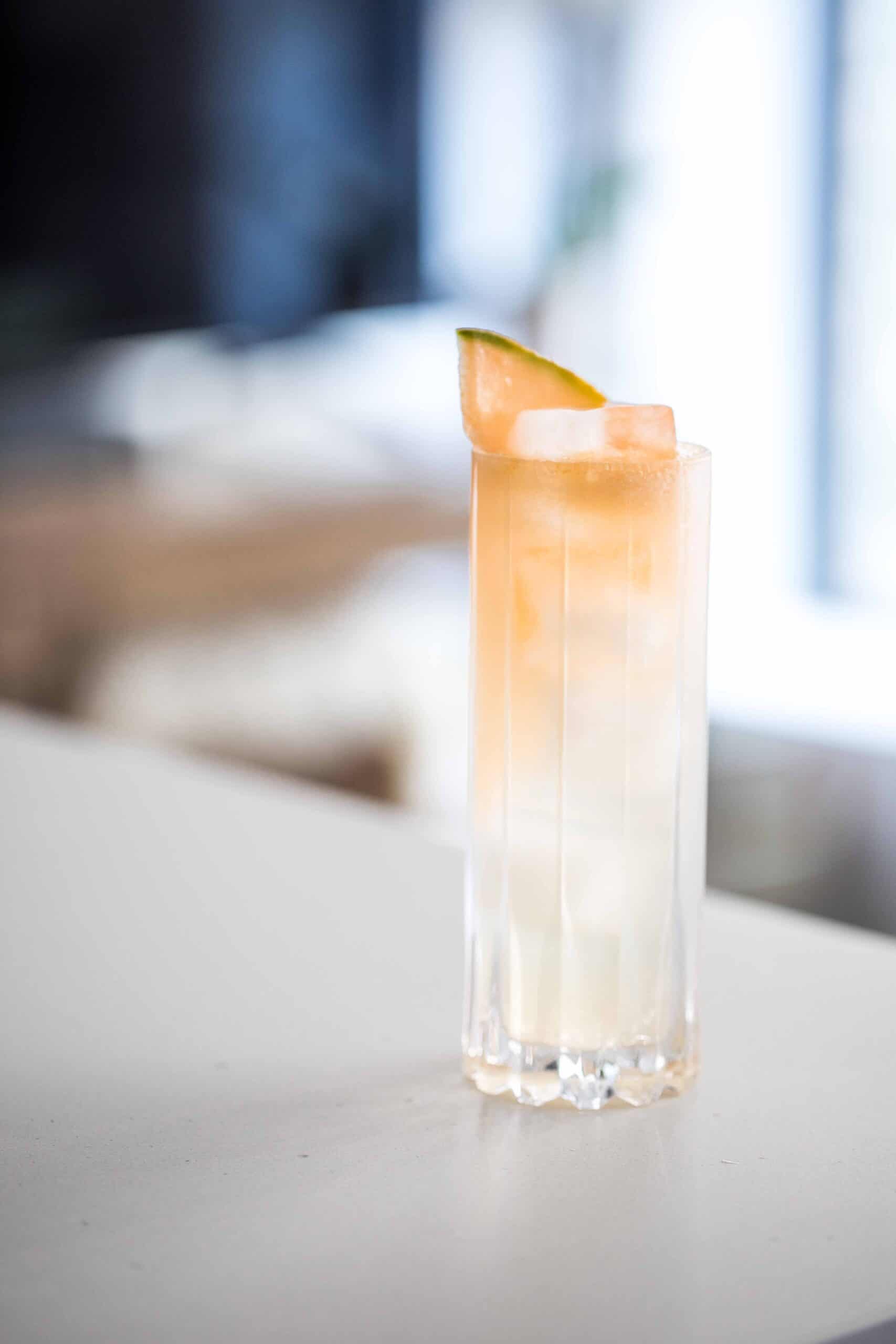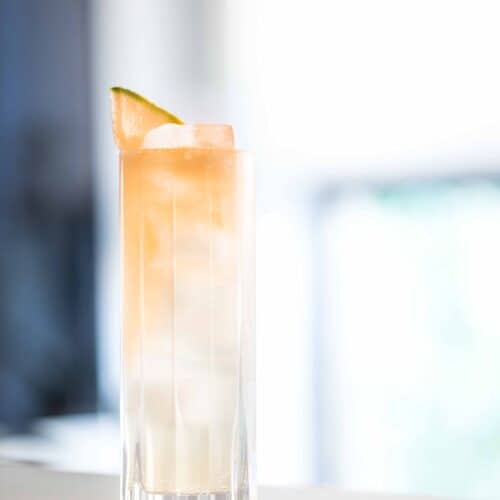 Tomato Cantaloupe Gin Spritzer
Tomato and Cantaloupe get the spotlight with this refreshing Gin cocktail made with a splash of tonic.
Ingredients
1.25

oz

Gin

London Dry Style Gin

1.25

oz

Tomato Cantaloupe Juice

*see below for details.

0.5

oz

Simple Syrup

0.25

oz

Lime Juice

0.25 – 0.5

oz

Tonic Water
Instructions
In a shaker, combine all the ingredients except tonic. Fill with a handful of ice and give this a good shake.

Strain over fresh ice in a Collins Glass and top with tonic water. Optional cantaloupe slice for garnish.
Recipe Notes
To create the Tomato Cantaloupe Juice, I blended 1 cup of chopped tomatoes, 1 cup of roughly chopped Cantaloupe with 1 tbsp of water. Once pureed, strain through a fine mesh strainer. Leave in the fridge for a couple days.
To find more Tomato based cocktails, make sure to check out the link here!