My love for beer and cocktails come together as one, as I create a special imbibe for International Beer Day. If you love a manhattan or a trappist ale, I can almost guarantee you'll love this.
It was very difficult coming up with a cocktail for International Beer Day. There's so much I love, from a hoppy IPA, St Ambroise Oatmeal Stout, a refreshing Saison, and my favourite, the Trappist Ale. 
Now let me tell you a little bit about Trappist Ales. They aren't your easy, light going beer. Trappist Ales are brewed by Trappist monks, which you'll find the majority in Belgium. There's a total of 14 monasteries, which makes this VERY exclusive, very limited, and a fun story to share. What you typically get from this style of beer, is a full bodied, rich brew, with a ton of layers and complexity. It's almost comparable to a stout, but I don't find it as sweet, and it's more refreshing. You also have to be careful with this beer, because it is much higher in ABV. The average Trappist Ale will range between 9%-13%, which means you shouldn't be going around 'chugging' this beer. To be, it's best served as a sipper, in a rounded out snifter glass and slightly chilled, not a Coors Light Blue Mountain cold.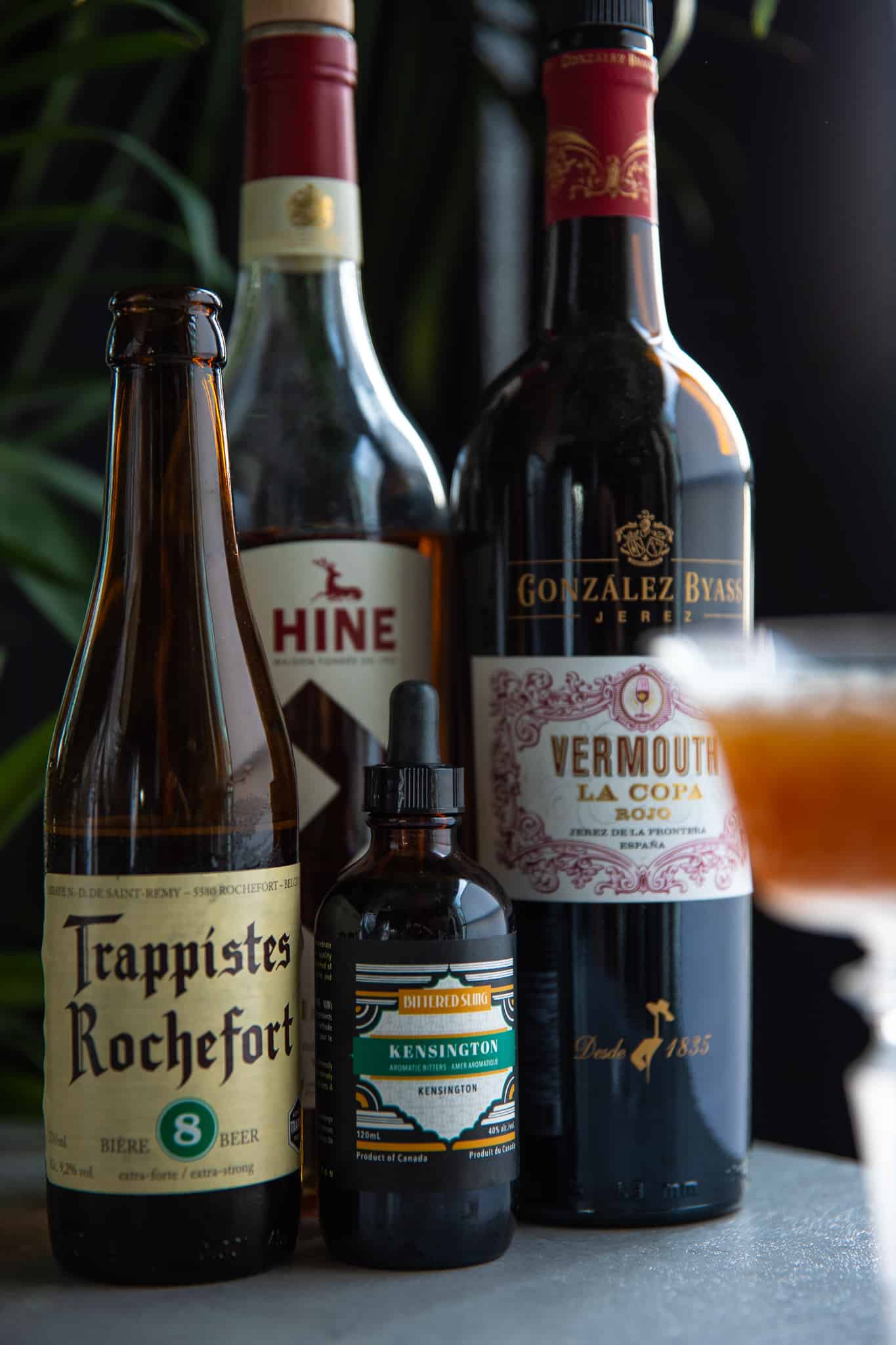 So I wanted to create a cocktail just as sophisticated as this brew. This lead me to mix with H by Hine Cognac, a touch of Gonzales Byass La Copa Vermouth, with a few dashes of bitters, some fresh peaches for acidity and balance, and a dash of simple syrup. I am OFFICIALLY obsessed with this cocktail, and it's the best way I could honour this wonderful Holiday. 
As a side note, there are a ton of Beer cocktail recipes on the site, simply dive through the category here.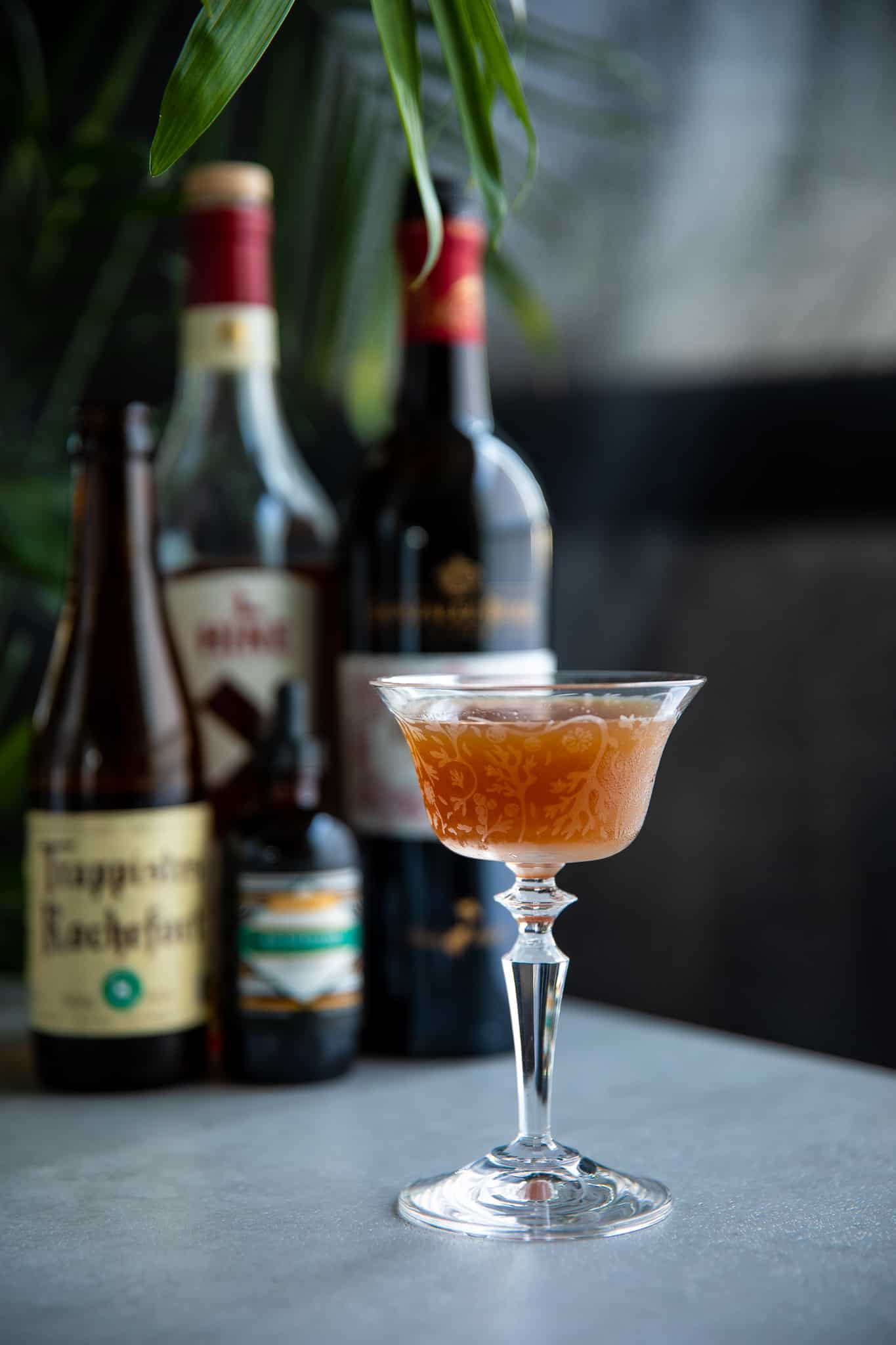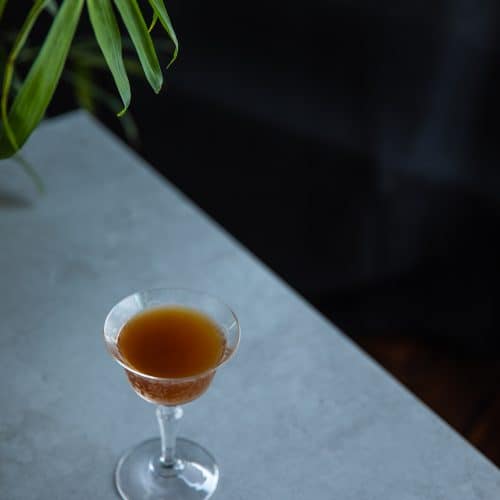 Trappist Manhattan
Showcasing a sophisticated beer cocktail, made with Trappistes Rochefort 8yr, H by Hine Cognac, Vermouth, Simple Syrup and dashes of Bittered Sling Kensington Market Bitters
Difficulty: Intermediate
Ingredients
1/2

Peach

seed removed

1

oz

H by Hine Cognac

1/2

oz

Gonzales Byass La Copa Vermouth

1/4

oz

Simple Syrup

(simply a dash)

3

dashes

Bittered Sling's Kensington Market Bitters

1.5

oz

Trappistes Rochefort 8yr
Instructions
In a mixing glass, add all your ingredients, fill the container full with ice and stir

Once chilled, pour into small coupe vessel.
Recipe Notes
I went simple by not adding a garnish, but you could definitely use an Orange Zest. If you want more of the chocolate and vanilla notes from the Trappist Ale to come through, add a dash of licor 43 instead of simple syrup, and garnish with grated dark chocolate. This cocktail is very easy to maneuver which is why I love it so much.