Although I want to make things super easy and carefree for my people, nothing gets me more excited then finding exotic items on my shopping trips. So if you hate recipes that make you search for obscure, random fruits, then stop reading right now and find another recipe on my site.
If you are still with me, then you are probably a total food nerd and we have a lot of netflixing to do. Getting back on track to this cocktail, a recent trip to Cheese Boutique in Toronto exposed me to some rare cactus fruit, and I couldn't wait to make a juice out of it at home. The best thing about it, is that if you make enough, this can easily be enjoyed be everyone of all ages in the house. That's right, I'm talking about a beverage WITHOUT alcohol.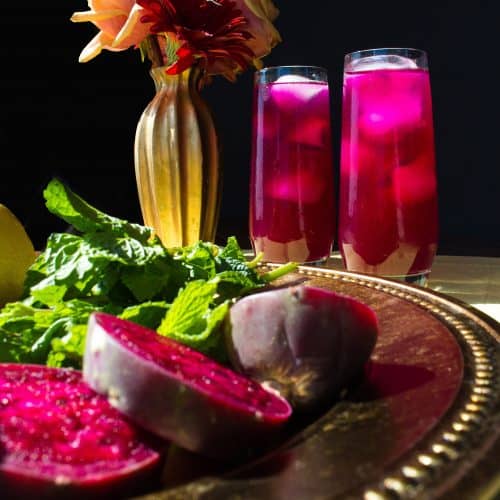 Cactus Fruit Juice Mixture
Without adding alcohol, we have a delicious home made fruit juice
Ingredients
1

Cactus Fruit

10

leaves

Mint

destemmed

1

tbsp

Fresh Lemon Juice

approx. 1 whole lemon

75

mL

Brown Sugar

200

mL

Boiling Water
Instructions
Mix water and sugar until fully dissolved

Peel Cactus Fruit and blend all ingredients, including the sugar water mix

Strain through a fine mesh strainer

Let cool for at least an hour at room temperature before refrigeration. Lasts 1 week in the fridge
So as I mentioned, this is a juice that can be served on its own, or with a splash of soda or sprite. The beauty about this juice is that it is also very flexible with spirits. I could easily use a dark rum, vodka, tequila or even gin to create a delicious cocktail. This would technically join my "3 Series" of easy step cocktails, but the juice itself calls for a bit more work. As long as you have this juice in the fridge, then the possibilities are endless.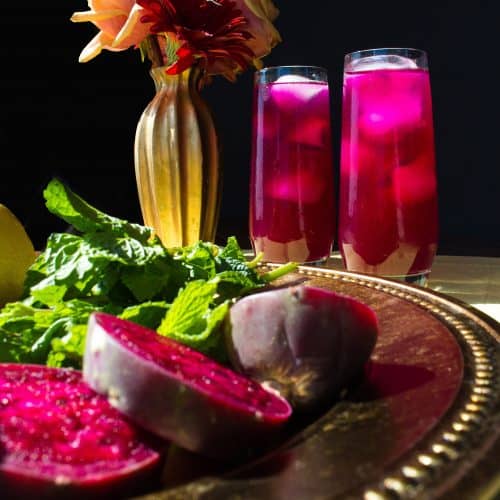 Cactus Fruit Cocktails
A quick and painless beverage blended with the exotic Cactus Fruit
Difficulty: Easy
Ingredients
1.5

oz

Gin

2

oz

Cactus Fruit Juice

2

oz

San Pellegrino Lemon Flavoured Soda
Instructions
Pour all ingredients over ice