September can feel all sorts of strange. Everything about the month ignites change, new habits, new challenges, yet the beginning still has that kiss of summer weather that you desperately want to hold on to. Can you tell I'm a Summer person? With that said, I wanted to embrace the awkward. Celebrating both Summer and Fall flavours in some delicious cocktails made with Collective Arts. Sit tight, because we've got some tasty cocktails lined up for today's Collective Weekend!
What are Collective Weekends All About?
It's an honour to officially be the Spirits Ambassador for Collective Arts. I've long loved this brand well before the Liquid Culture days, so it's a real treat to be working with this local brewer and distiller. So throughout the year, you're going to see me put together what I call "Collective Weekends". Cocktails that I share using a range of Collective Arts distills and brews, showcased in varying styles and techniques. I'm highlighting this love and hate feeling I have with September with some not-so-summer, yet not-so-fall cocktails made with Collective Arts Gin!
For my weekends, I like to vary the skill levels for the cocktails created. Because we all know we're exhausted on Fridays and need something easy to build, while Saturday and Sunday we can have a bit more fun. Whatever mood you're in, you'll find a cocktail for you! So let's begin.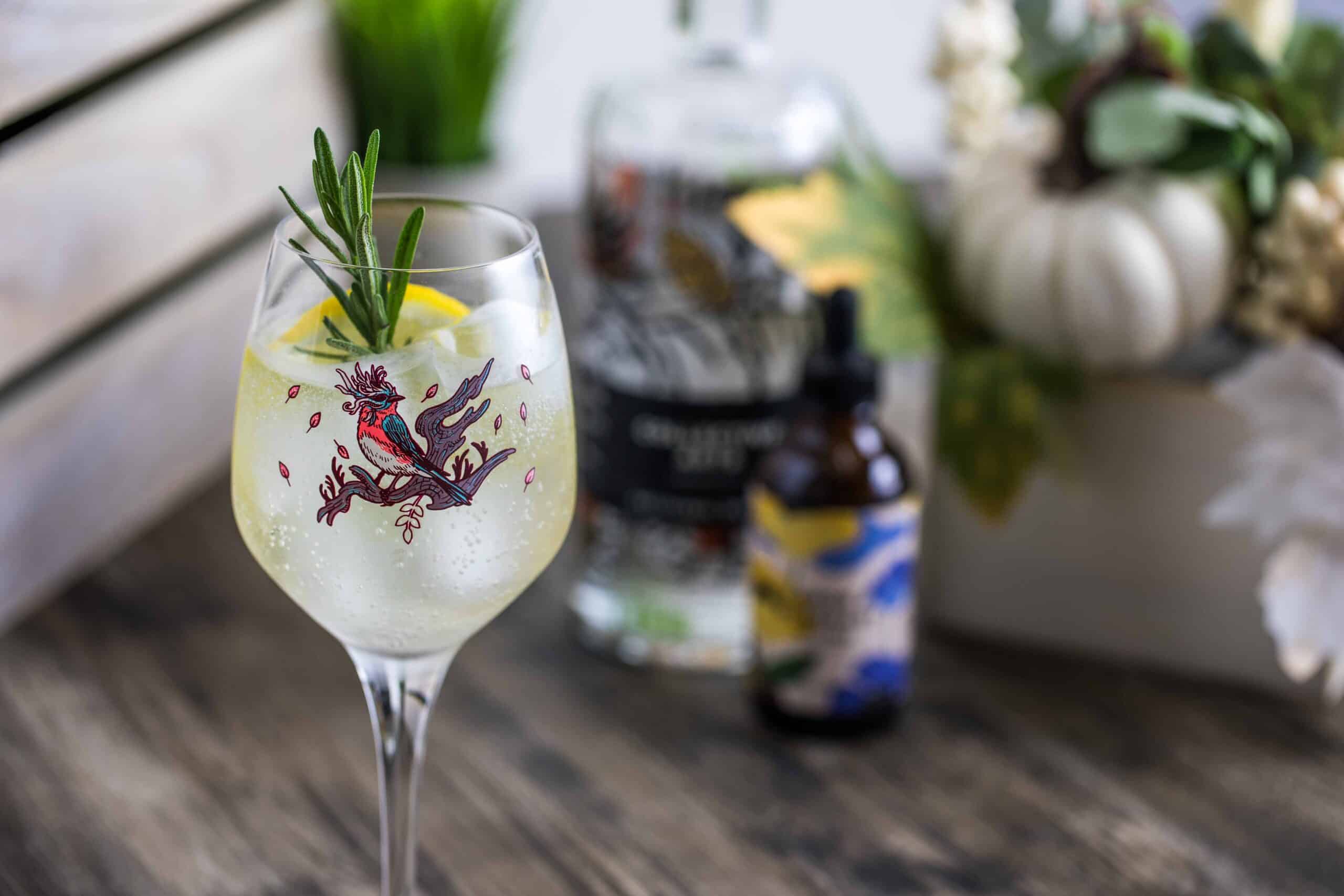 FRIDAY – Breeze and Rays (Low ABV Sparkling Cocktail)
I can't assume everyone knows what Low ABV means, so here it is: a cocktail lower in alcohol. We're approaching this weekend a bit smooth, a bit easy. That's because the rest of the weekend I have some tasty, yet heavy hitters.
If you know me well, you know how much I hate naming a cocktail. But when I was putting this drink together, I kept thinking about how I would enjoy this drink. Well the Sunset was pulling in and there was a beautiful breeze out. So Breeze and Rays just stuck.
So what's in this cocktail you may ask? Well it's simple, as I promise for Fridays. It just calls for a small portion of Gin, layered with a Dry local Vermouth I used, with Soda and Collective Arts Lemon Rosemary Bitters! It's quick, easy and gets you relaxing, yet still here for you early Saturday mornings. Two quick tips before diving into this recipe:
Simple Syrup is your friend. This recipe is simple and clean. The flavours are subtle as I had intended. But if you want the flavours to pop just a touch more, you won't believe what a dash of simple syrup can do (1 part sugar with 1 part water)! Think of it like salt on a steak. It will help enhance the flavours with just a pinch. Same applies here!
Bring your Lighters. Safety is obviously very important, but throwing this out there. If you want to lightly torch your Rosemary leaves (only need to get the tip lightly smoking) and throw it into your drink, you've got an added element that will transform this easy Friday cocktail!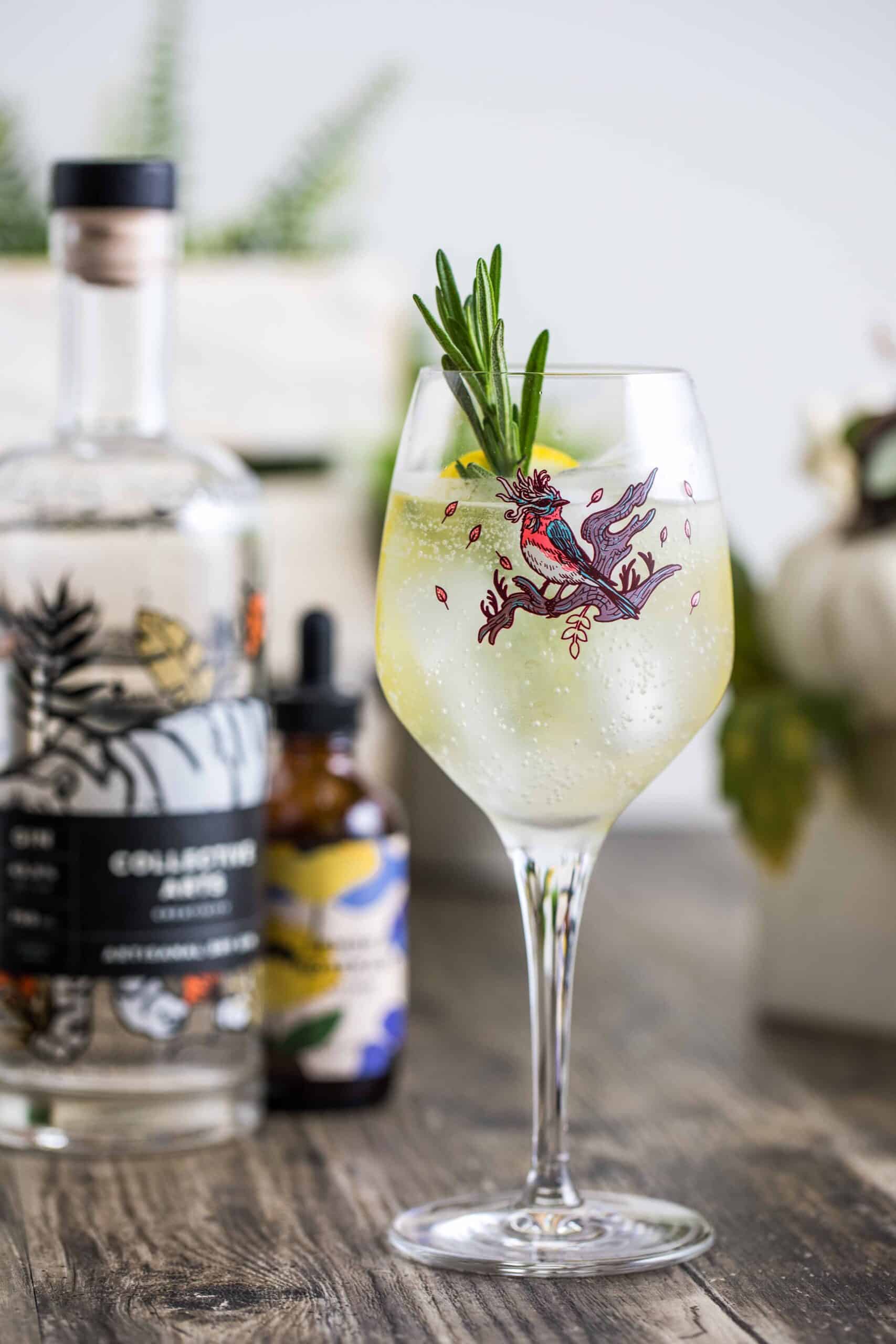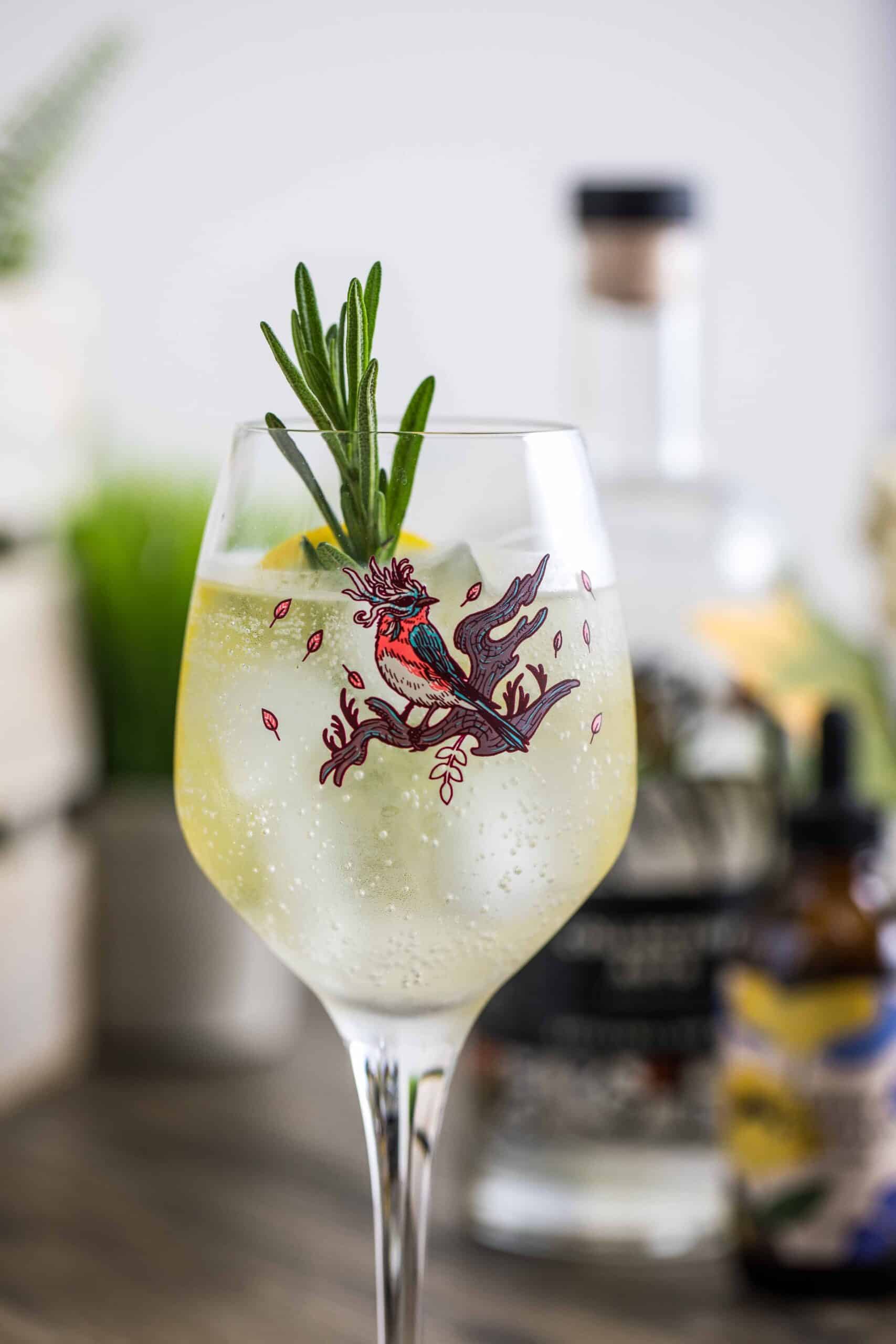 Breeze and Rays
A simple, carbonated beverage to ease into the weekend. Combining a splash of Gin, Dry Vermouth and Bitters!
– Difficulty: Easy
Ingredients
0.5

oz

Collective Arts Artisanal Gin

1

oz

Dry Vermouth

Tawse Dry Vermouth used here

2.5

oz

Soda Water

2

dashes CA Lemon Rosemary Bitters

1

Lemon Wheel + Rosemary Sprig for Garnish

0.5 oz

Simple Syrup

Optional
Instructions
Over ice, add all your ingredients (topping with soda), stir until combine.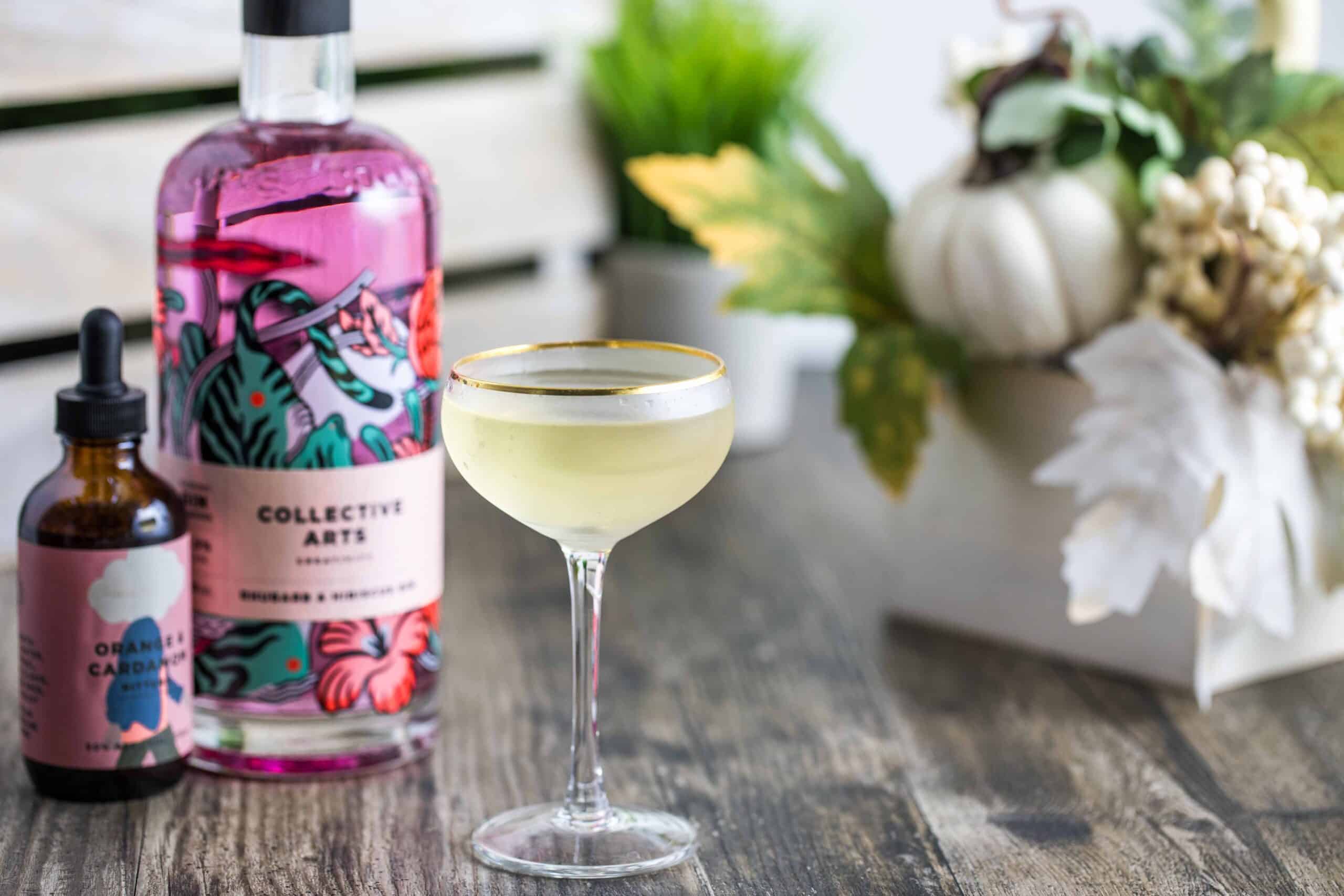 SATURDAY – Summer with Martin
Here's a case where I really couldn't come up with a Cocktail name. But who's Martin? How exciting was this summer? Is he the one that got away? Well, he will always be remembered with this rendition of the classic Martinez Cocktail.
To combine the flavours of Fall and Summer, we're obviously using a Gin (giving us that Summer vibe), but specifically Collective Art's Rhubarb Hibiscus Gin (Fall). Stirred with Apple Brandy (Fall, duh), Dry Vermouth (Summer-ish), with Collective Arts Orange and Cardamom Bitters (Fall all the way). I love a good martini, and it just brings the best of both sultry and bright to fit the theme of this Collective Weekend!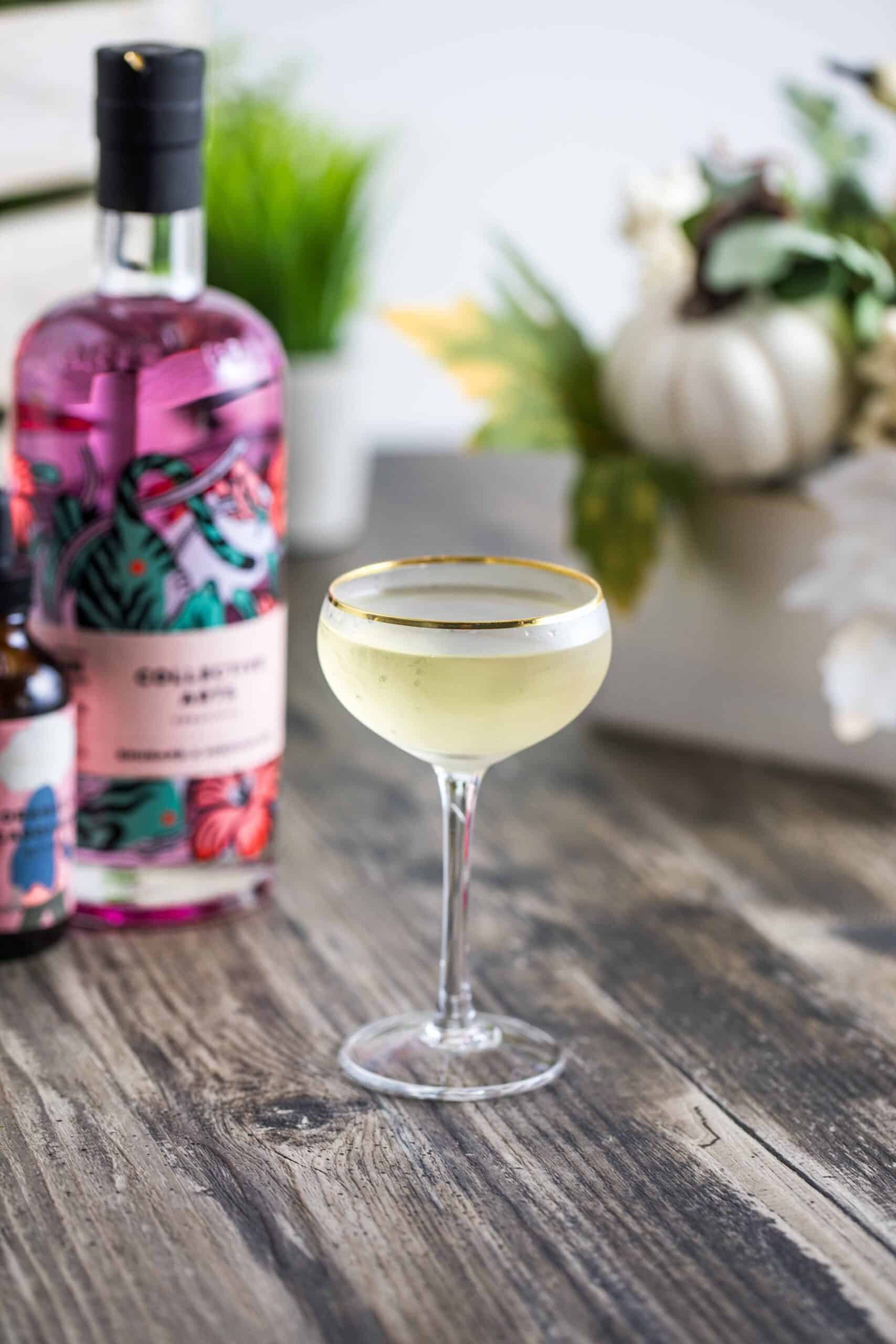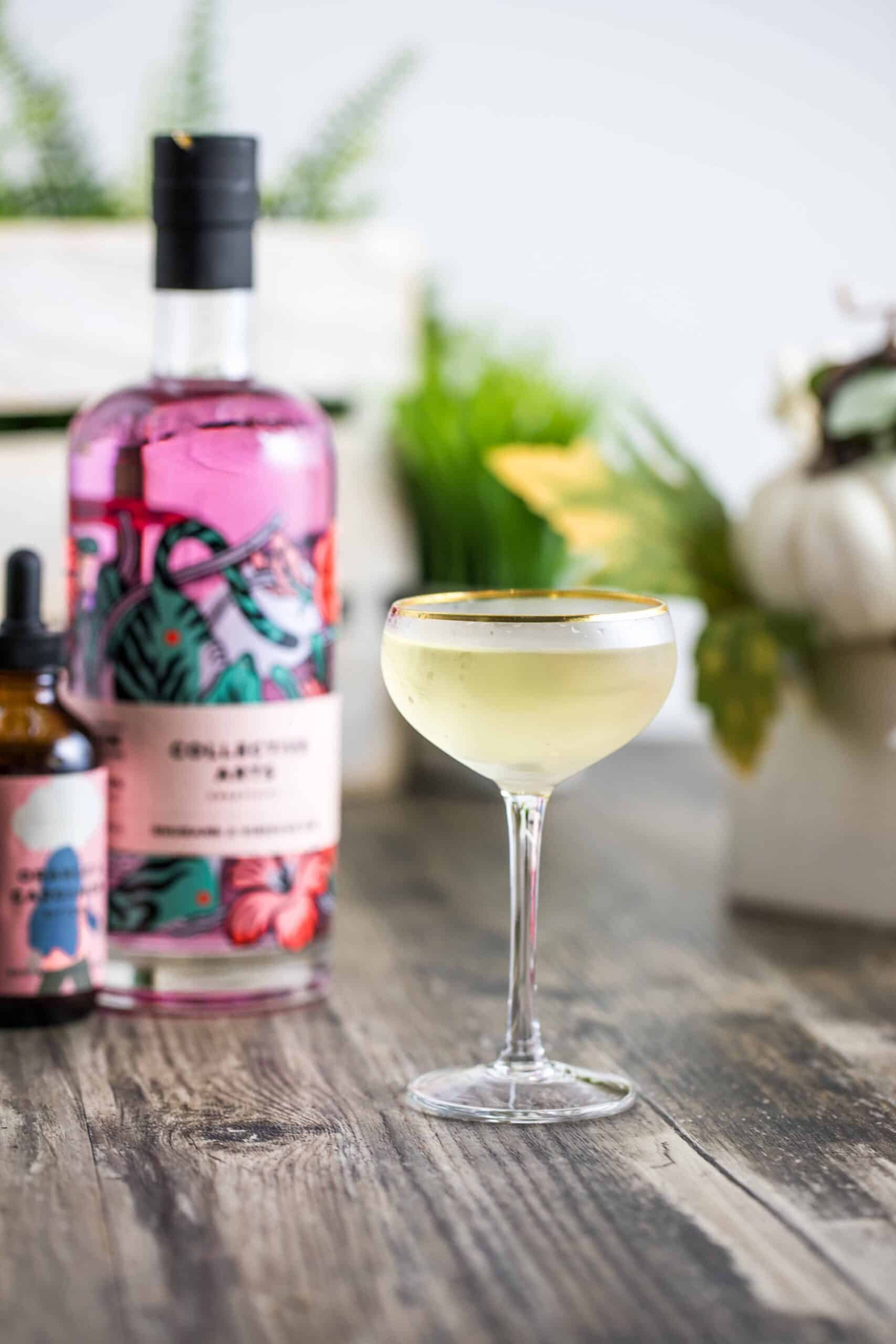 Summer with Martin
A brighter take on the classic Martinez cocktail made with Collective Art's Rhubarb Hibiscus Gin, Apple Brandy and Vermouth!
– Difficulty: Intermediate
Ingredients
1.5

oz

Collective Arts Rhubarb Hibiscus Gin

0.5

oz

Apple Brandy

1

oz

Dry Vermouth

Tawse Dry Vermouth used here

2

dashes CA Orange Cardamom Bitters

1

Orange Peel
Instructions
Stir all your ingredients (except Orange Peel).

Strain into coupe glass.

Express Orange Zest and keep as a garnish or toss.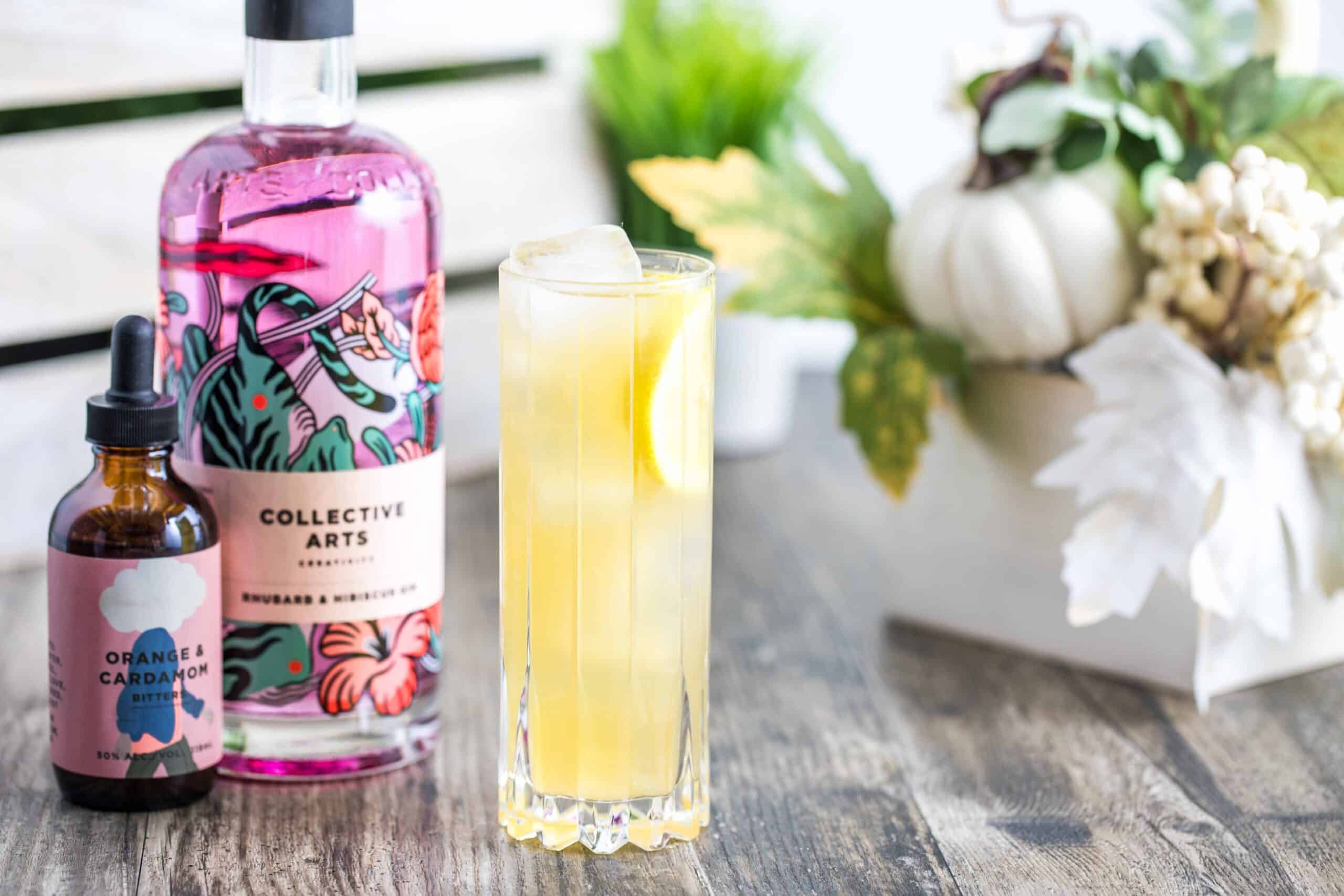 SUNDAY – Iced Mulled Gin Tea
This one is a bit of a tongue twister, but say it slow enough, it's an easy one to understand the concept. Now I will admit, I don't like picking favourites when it comes to cocktails….BUT…man this packs some serious flavours I love. The concept was simple. Make a delicious Mulled Wine recipe, but with Gin and cold instead. If this doesn't scream the crossbreed of what is this entire theme, I don't know what will!
The great thing about this recipe is that I still want you to go through the motions and heat this up on the stove. This way it properly infuses the spices. Believe me when I say that it is worth it! Plus, if you want a warm cocktail, do you! It's right there. Ready to make the Iced Mulled Gin Cocktail of your dreams?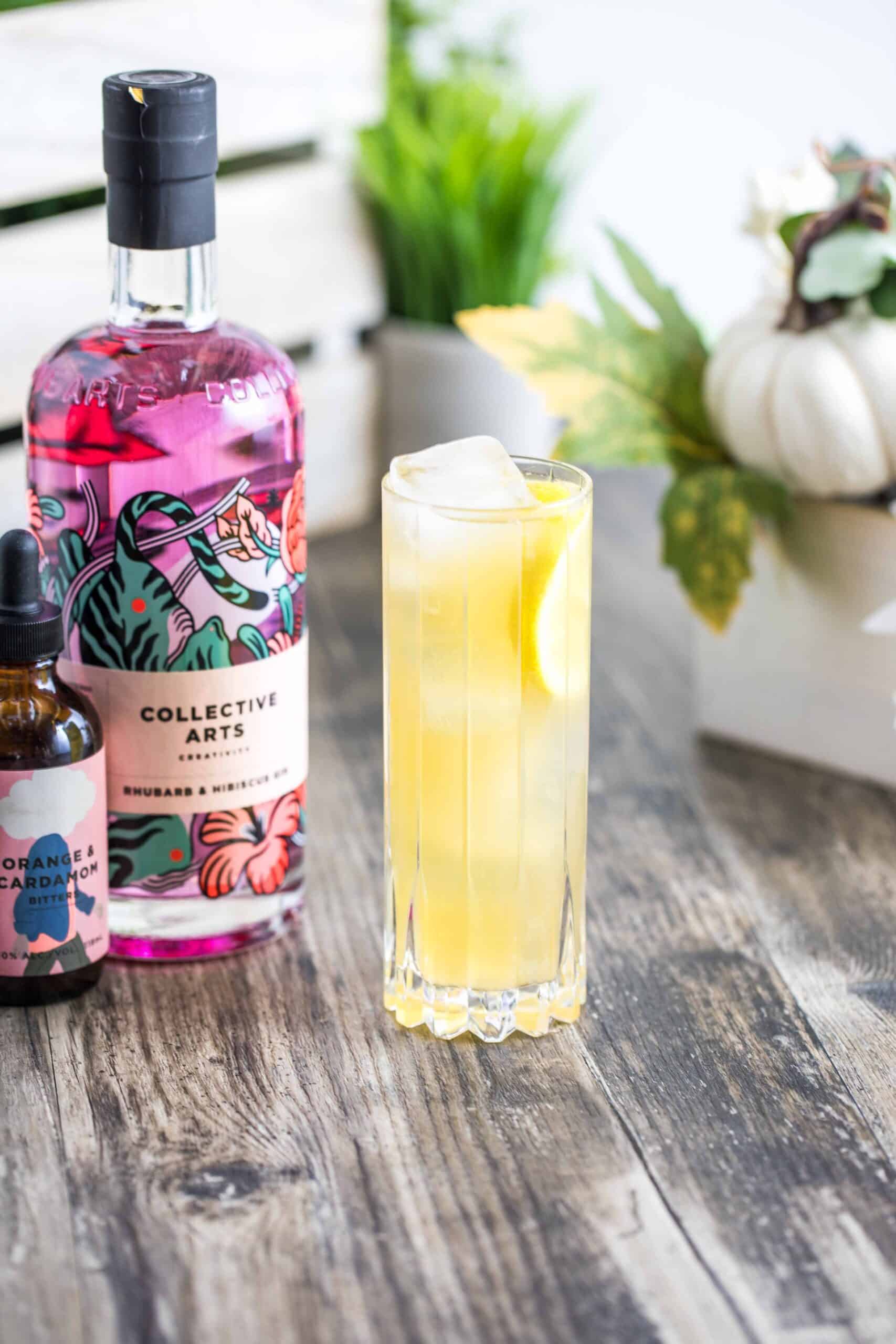 Iced Mulled Gin Tea
Summer meets Fall with this Mulled Gin recipe that's served iced cold (but you can have it warm), with Collective Art's Rhubarb Hibiscus Gin, Wray n Nephew Overproof Rum and more!
– Difficulty: Easy
Ingredients
1/3

cup

Collective Art's Rhubarb Hibiscus Gin

1/4

cup

Wray n Nephew Overproof Rum

1

cup

Apple Cider

1/4

cup

Lemon Juice

freshly squeezed

1

tbsp

Honey

4

Cardamom Pods

1

Cinnamon Stick

6

dashes CA Orange Cardamom Bitters
Instructions
In a small saucepan, heat to med-high and add in your cardamom pods. Let this become fragrant before add in the rest of your ingredients except Gin and Rum (approximately 2 minutes).

Let it come to a simmer and stir in your Gin and Rum. Remove from stove.

Let cool before serving. Pour over ice with lemon wheel.
Want to see some of my other Collective Weekend creations? They're quite fabulous, if I say so myself!
Share with me some of your favourites on my socials!