For the Spring and Summer months, cocktails just SCREAM "I need Gin". Especially when it's deliciously infused with Collective Art's Rhubarb and Hibiscus Gin. It's a personal favourite of mine, and worth seeking out at your local LCBO or visiting the distillery yourself! Today I'm sharing some special seasonal recipes to enjoy for my Collective Weekends with Collective Arts Rhubarb & Hibiscus Gin.
What's the Collective Weekends All About?
It's an honour to officially be the Spirits Ambassador for Collective Arts. I've long loved this brand well before the Liquid Culture days, so it's a real treat to be working with this local brewer and distiller. So throughout the year, you're going to see me put together what I call "Collective Weekends". Moments that I share using one of their spirits, showcased in varying styles and techniques. This time around, I'm highlighting the Rhubarb & Hibiscus infused Gin, just perfect for the weather we have going on right now.
For my weekends, I like to vary the skill levels for the cocktails created. Because we all know we're exhausted on Fridays and need something easy to build, while Saturday and Sunday we can have a bit more fun. Whatever mood you're in, you'll find a cocktail for you! So let's begin.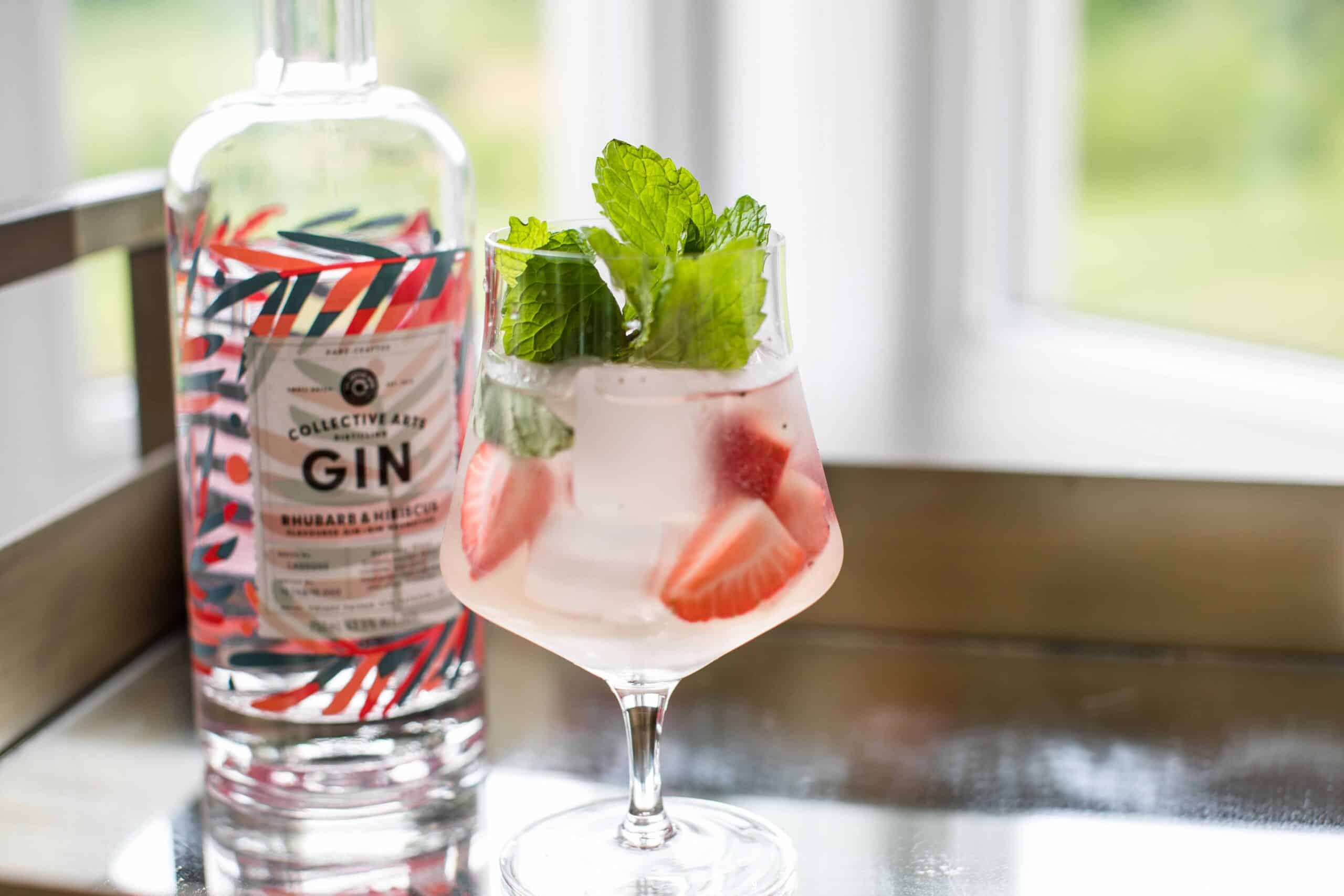 FRIDAY – The Humble Gin + Tonic
Here's the thing about a Gin and Tonic. IT IS VIRTUALLY LIMITLESS. From the type of Gin you use, the ratio of Gin to Tonic, the tonic water, maybe you use tonic syrup instead, maybe you want to add bitters to enhance certain flavours. And don't even get me started on the types of garnishes you can have involved. That's why I encourage you to experiment. Because the possibilities can bring out some amazing creations.
So I'm sharing a personal favourite of mine. One that I would exclusively mix with Collective Art's Rhubarb & Hibiscus Gin. I'll chat about why I use certain ingredients and ratios, and then get to that recipe!
Choosing the Garnishes to Enhancing the Flavours
In this Gin and Tonic recipe, I use Strawberries, Black Pepper and Mint. I'm a huge fan of Strawberry and Black Pepper together. They're an excellent flavour pairing and I find compliments the herbaceous notes to the tonic and juniper. Plus, Rhubarb and Strawberries together are match made in heaven that doesn't need explaining. With it also being summer time, there is plenty of mint to be around and I love a good Mint bouquet in a cocktail. I knew it wouldn't hurt to add it to the mix. Was it needed? Not really. Was it outstanding in the Gin and Tonic? You bet it was!
Also in case you're wondering why I put the strawberries so early in the video online, I wanted to give as much time for the strawberry to infuse before sipping!
Tonic vs Tonic Syrup + Soda
The thing I love about Tonic Syrup is the fact that I can control the bitterness level. PLUS, there's some exciting brands out there with different flavoured tonic syrups, like the one I used here which was an elderflower tonic syrup from Jack Rudy Cocktails Co. With a tonic syrup, you do have control over the sweetness as well! Because folks, tonic water can include quite a bit of sugar. So this is a great way to manage that, and add some sparkling water or soda to help monitor your intake.
To Bitter or Not To Bitter
The ONLY reason I didn't add bitters this time to the cocktail is simply because there were already a lot of flavours going on. With the natural infusion of the gin, the strawberries, the elderflower tonic syrup, the black pepper, not to mention the mint, it would have been a lot. And I hate overcrowding flavours in cocktails. If you can't taste each and every component, what's the point? Had I removed the Mint, I may have added a dash of lavender citrus bitters from Nickel9. Again, a big if.
Moral of the story here, if you've got enough already going on, sometimes less is more.
Strawberry Rhubarb Gin and Tonic
Using Collective Arts Rhubarb and Hibiscus Gin, I build the G+T my way with Strawberries, Black Pepper and some Elderflower Tonic!
– Difficulty: Easy
Ingredients
1.5

oz

Collective Arts Rhubarb Hibiscus Gin

0.5

oz

Jack Rudy's Elderflower Tonic Syrup

2.5

oz

Club Soda

1

Strawberries

Sliced

pinch

Cracked Black Pepper

1

bouquet

Fresh Mint
Instructions
In your Gin and Tonic glass filled with ice, add in your Gin.

Add in your strawberry slices, elderflower tonic syrup, soda and fresh black pepper. Stir.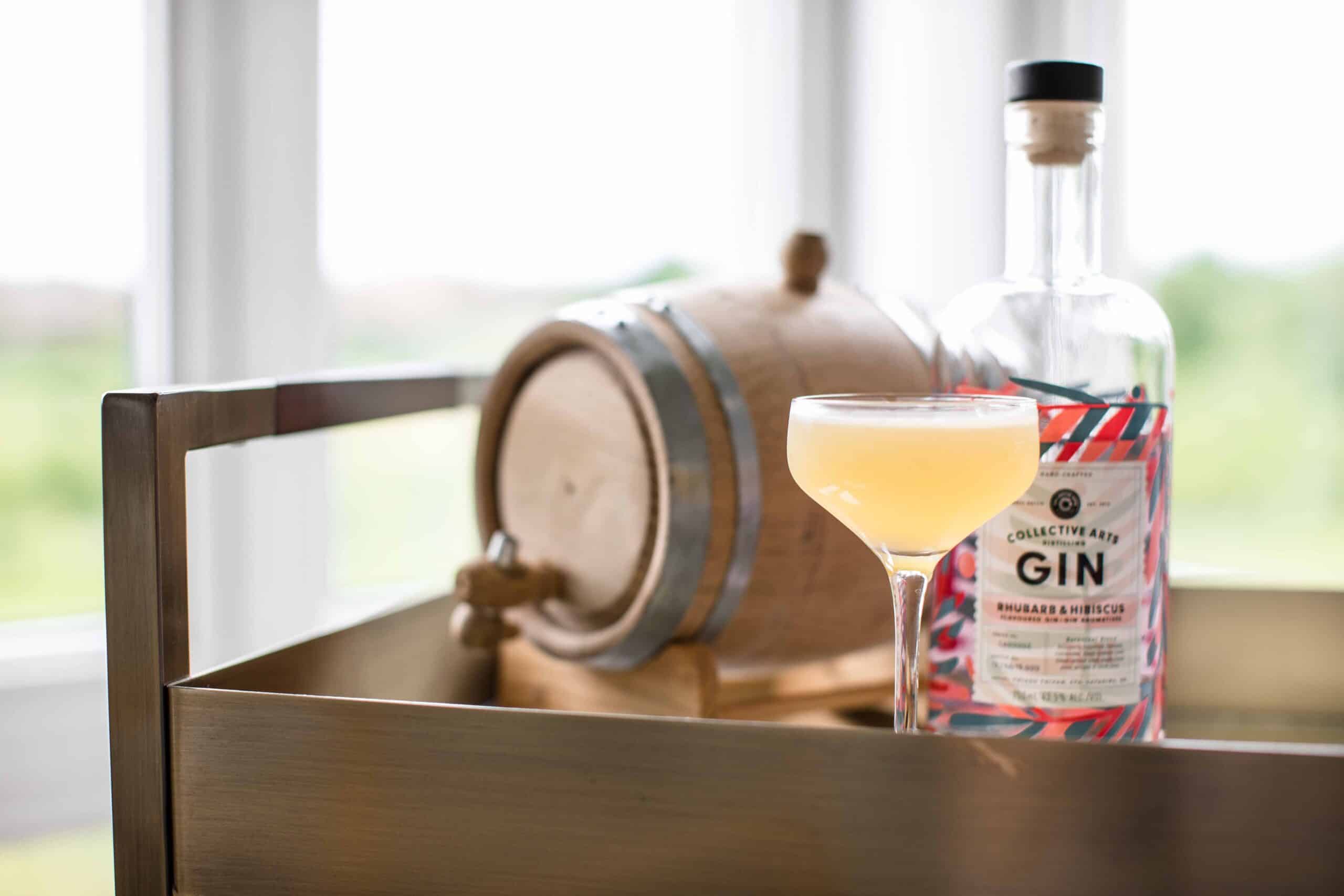 Saturday – Collective & Sons
This is not my typical combination. I don't even know how I took the direction I did with this cocktail, but I went with it, pleasantly surprised with the result. My initial thoughts with the flavours here is the fact that Rhubarb works so well with baking spices, such a nutmeg, cinnamon, etc. So instead of something bright, I did want something more sultry…or at least a mix of both.
So for Saturday's more "advanced" recipe, I decided to combine amaretto (which I know works with gin when carefully matched), brandy (to help complement the amaretto and bring that bit of depth) with some citrus and a touch of sugar to round everything off. Don't ask me how this worked, but it did. If you feel like experimenting, this is definitely one to try!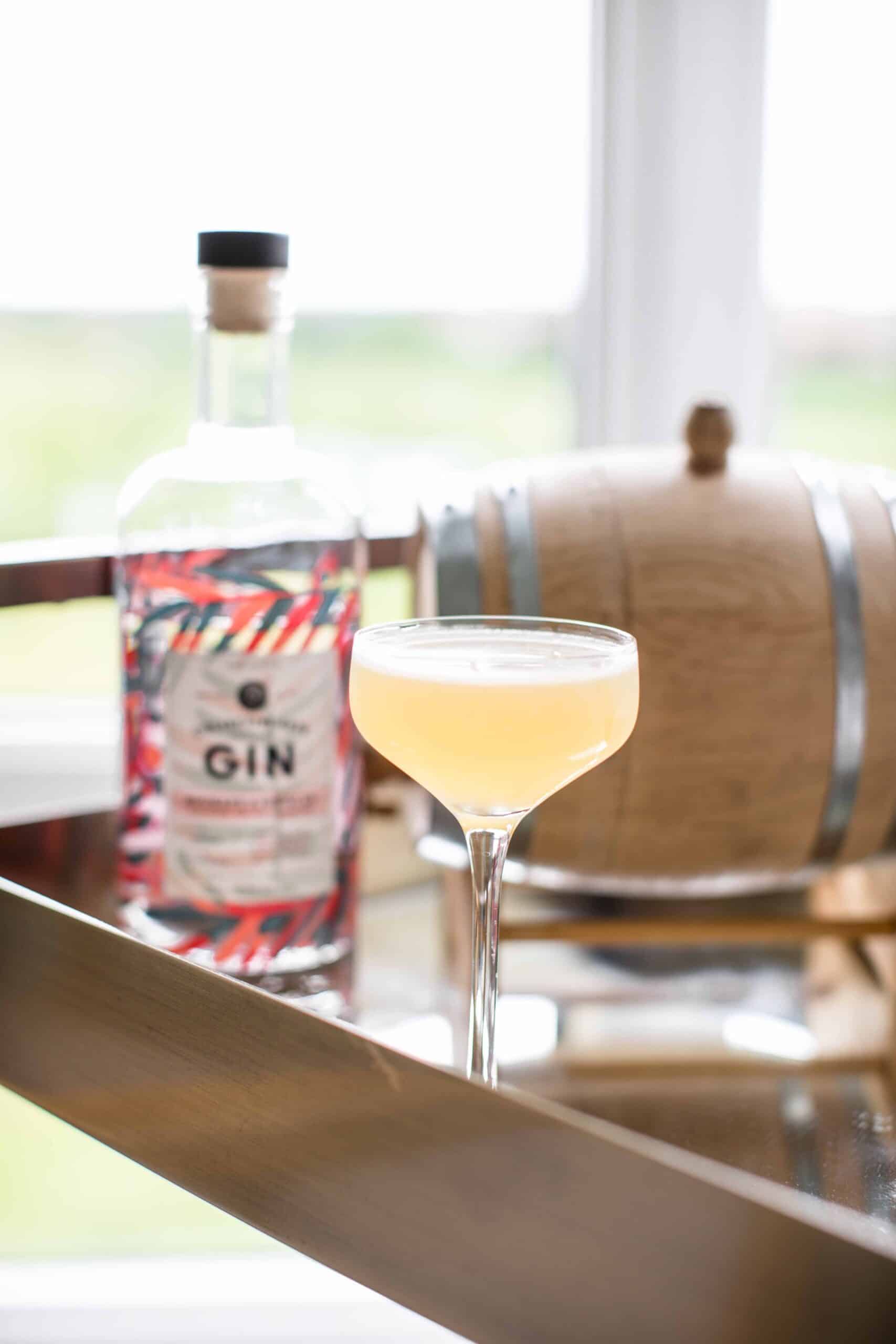 Collective & Sons
A shaken boozy cocktail with the brightness, mood and citrus you want in a quality Gin cocktail for your Saturday.
– Difficulty: Intermediate
Ingredients
1.5

oz

Rhubarb Hibiscus Gin

0.5

oz

Amaretto Liqueur

Disaronno used here

0.5

oz

Brandy

Cognac used here – Hennessy VS

0.75

oz

Lemon Juice

0.5

oz

Simple Syrup

1:1
Instructions
In a shaker, add all your ingredients.

Fill with ice and give this a good shake.

Double Strain into your favourite coupe.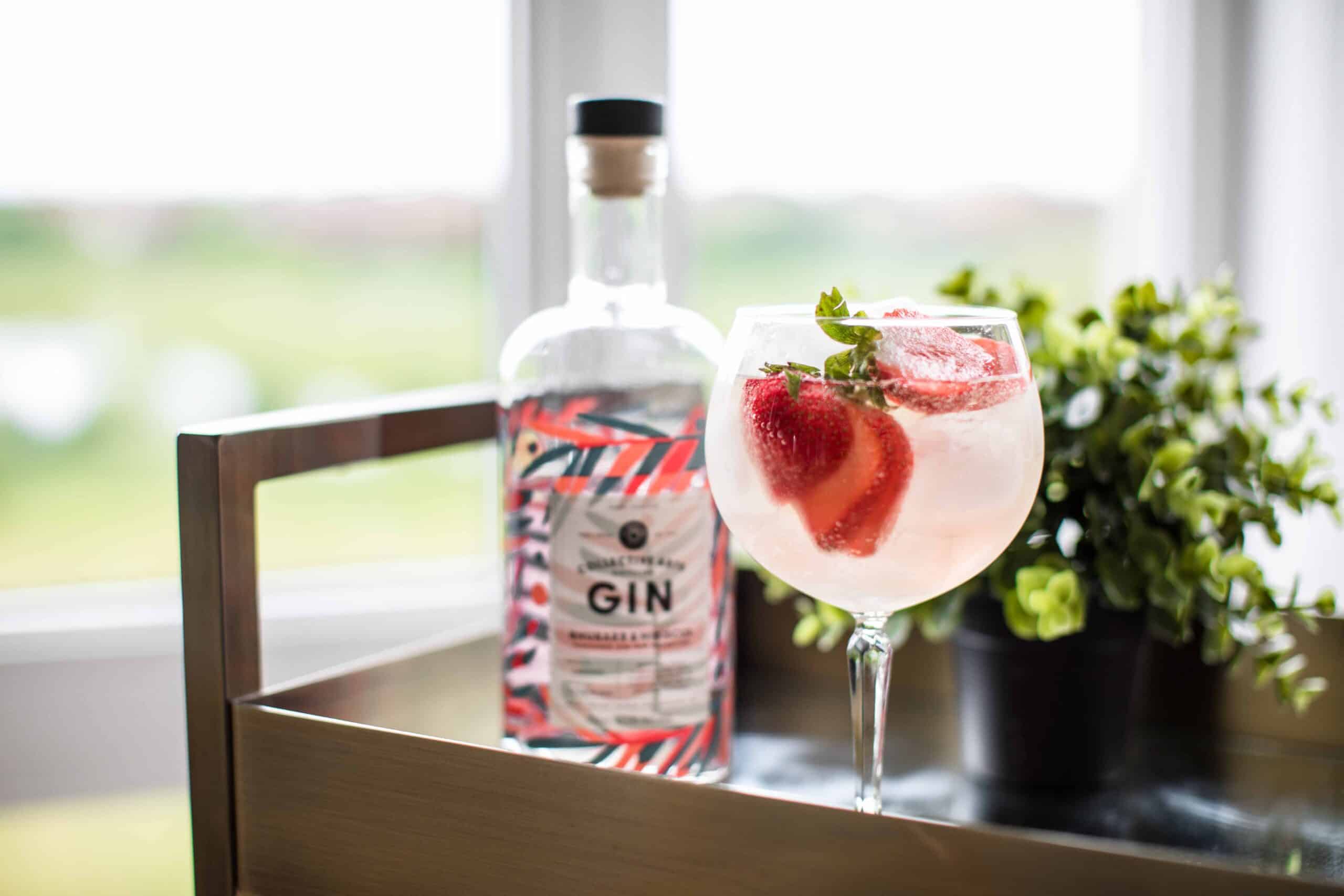 Sunday Funday – Spanish Spritz
It's Sunday, which calls for an easy sipper. Maybe something bright and fresh to compliment that eggs benny for Brunch. I decided to do something a bit different and make a boozier Spritz. It layers Gin, with a Fino Sherry, some Rose Lemonade from Fentiman's and Cava!
Now for my Collective Arts Fanatics, this would be a great opportunity to sub in one of CA's bright ales or Lagers instead of Cava. I decided against it today and just wanted to enjoy the best Spain and Ontario had to offer!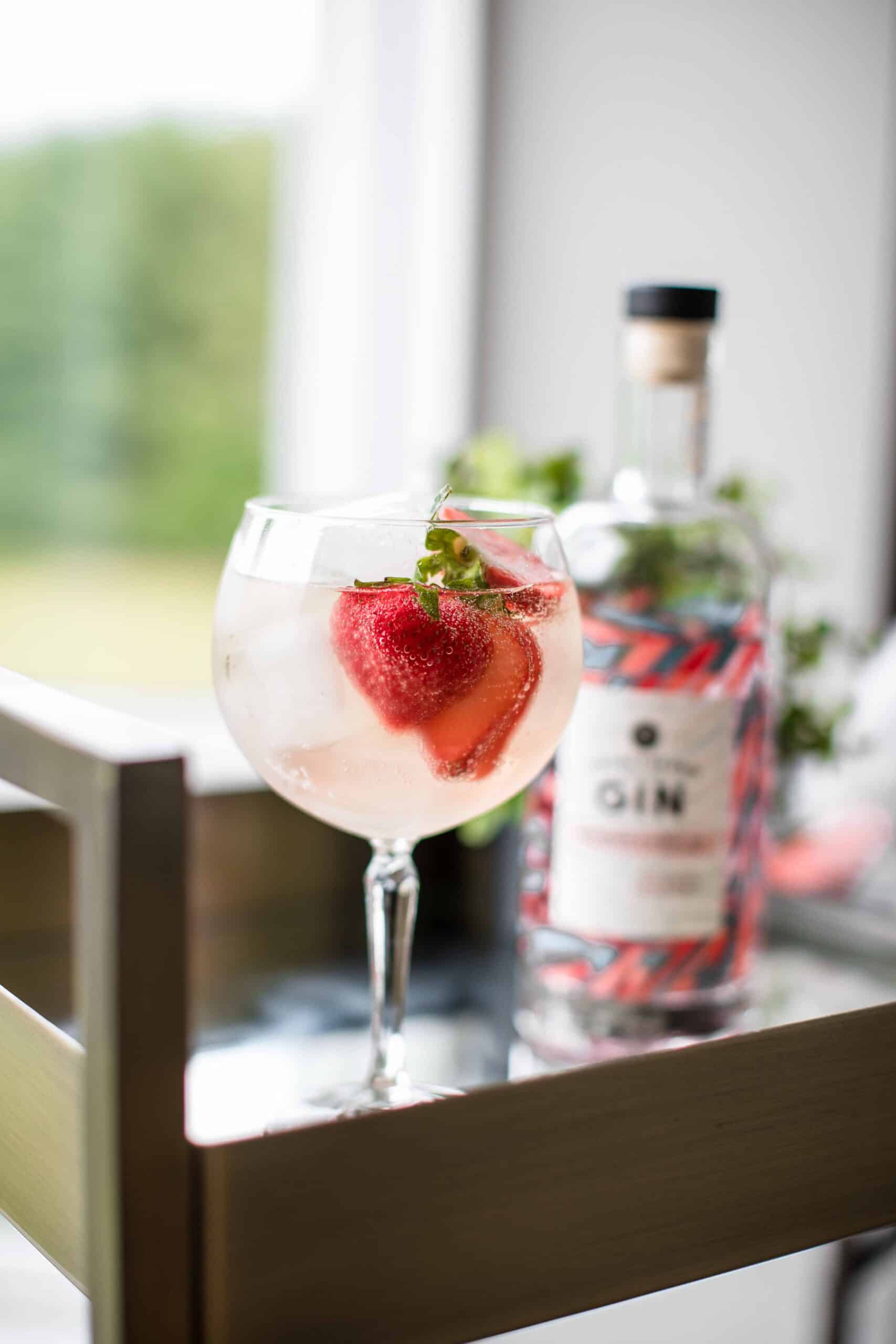 Spanish Gin Spritz
An Easy, Boozier Spritz recipe that combines a touch of Gin, Sherry and Cava!
– Difficulty: Easy
Ingredients
1

oz

Collective Art's Rhubarb Hibiscus Gin

0.5

oz

Simple Syrup

1

oz

Sparkling Rose Lemonade

Fentimans used here

1

oz

Fino Sherry

1

oz

Cava
Instructions
Fill your wine glass with ice cubes and layer in your Strawberries

Add the rest of the ingredients into your glass (topping with cava) and give this a stir.
Looking for more recipes using Collective Arts? Well, I've got a ton of them! Just head over to this link HERE for the inspiration.