There isn't anything I wouldn't do for my Mom. And to celebrate all the mom's out there for Mother's Day in this new normal we now live in, I'm showing her AND YOU how to whip up some delicious easy Vodka Cocktails at home. Of the cocktails we will be shaking up today on IG (head over to this link for details), we're going to make a delicious bubbly cocktail made with Prairie Organic Vodka, Passionfruit Juice and Sparkling. Want to find the recipe, check it out below!
Before we dive into the cocktail recipe, I wanted to give a big shout out and thank you to Prairie Organic Vodka. If it hasn't been clear on my socials, this brand is definitely my go-to when it comes to tasty vodka at an exceptional value. Not only that, they're a community conscious brand and for a few reasons:
Everything is crafted with a mission in mind; doing right by the land. They produce, distill and create everything with the planet, farmers and end consumers in mind. That's why they are a member of the Organic Trade Association, and so much more.
Launched in 2020, Prairie Organic Spirits started the Spirit of Change Fund, to help fund the next generation of Canadian Organic Farmers. 1% of sales is donated, with a mission to help make a better future for the land and farmers. In addition, they support the Canadian Organic Growers association by offering training and resources to raise awareness of the organic industry and to establish sustainable practices.
Offering up spirits that are Gluten Free, Free of chemicals and GMO's.
Almost every process of the manufacturing is calculated and measured so that little to no waste exists, from reusing leftover grain for animal feed and so much more.
With that said, I decided to send my mom some Vodka and whip up a couple cocktails on our IG together, to help show everyone that you can bartend! Curious about the Lemon Lavender Caipiroska we also made? Head over to the link attached for recipe details.
This is a bit of a cross between a Mimosa and your classic French 75 minus the gin. And since my mom loves passionfruit, I knew this flavour would lend well. BUT, if you don't have passionfruit juice at home, don't fret. You can also use Orange, Lemon or really any fruit juice you love. Just be mindful of the ratio between the citrus and sugar.
When choosing a sparkling, I try to go with something that's as Dry as possible. Again, that's because I want to control the sugar component of the cocktail. Not that I'm saying you shouldn't have sugar. On the contrary, sugar is ESSENTIAL in balancing your beverage, but having that control over what sugar is used makes for a better tasting cocktail.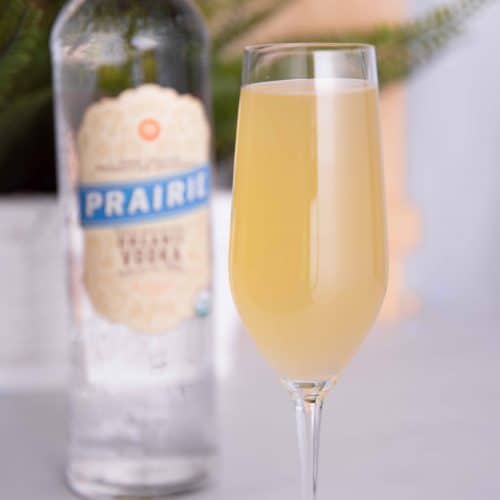 In Passionfruit We Trust
Featuring a Passionfruit, Vodka, Bubbly cocktail made with Prairie Organic Vodka.
– Difficulty: Easy
Ingredients
1/2

oz

Prairie Organic Vodka

1/2

oz

Passionfruit Juice

1/3

oz

Freshly Squeezed Lemon Juice

1/2

oz

Simple Syrup

1:1 ratio

3

oz

Sparkling Wine
Instructions
In a shaker, mix Vodka, Passionfruit juice, lemon and simple syrup. Fill the shaker with a handful of ice and shake.

Strain into Flute glass and top with sparkling wine.