We have another Alcohol Free cocktail for you this week that offers a structure of the classic Ramos Gin Fizz, mixed with your classic Tzatziki flavours. Cucumber, dill, mint and greek yogurt are used to brighten up this imbibe while using a local Canadian Distilled Non-Alcoholic Gin to the mix. This cocktail is insanely tasty, and a great way to get creative for #DryJanuary!
Jump to Recipe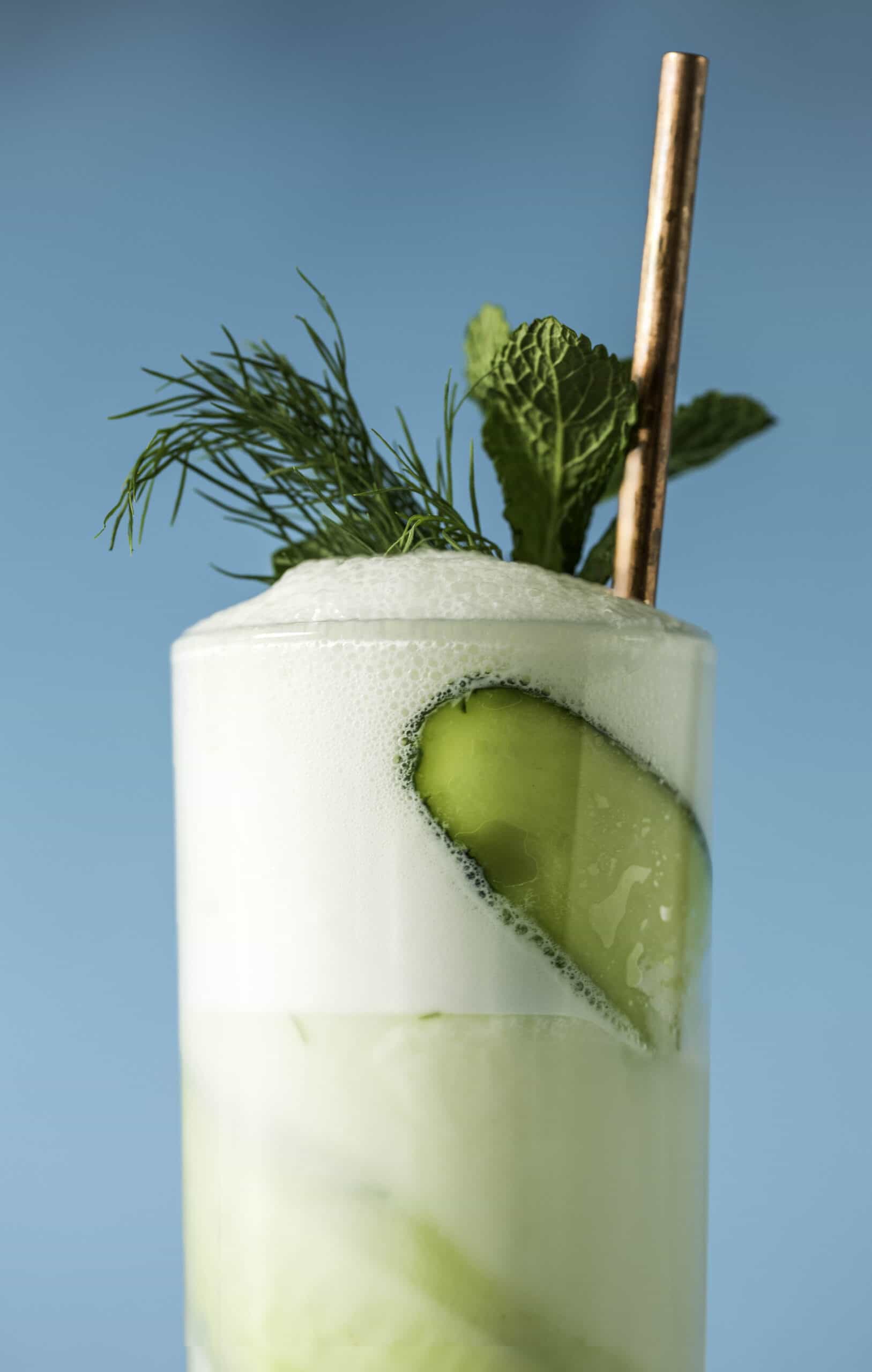 With a classic Ramos Gin Fizz, balance is KEY. You need the citrus, you need the sugar, and of course, cream plays a major role. Instead of going the traditional Heavy Cream route, I decided to only use Greek Yogurt for this Spirit Free Cocktail. I wasn't sure how that would turn out with the foam, but I was quite happy with the result. It ended up being quite airy and light, with a bit more acidity thanks to the properties of the yogurt! If you don't want it to be as acidic, you could go half and half with the ratio of Greek Yogurt and Heavy Cream. This will give you more of that famous Ramos Gin Fizz cream top.
Alcohol Free Cocktail with Gin
The alcohol free world has been taking stride steps to offering more sophisticated options when it comes to creating cocktails at home or at your local bars and/or restaurants. Instead of the typical Cranberry Sodas or Alcohol Free Mojitos, you have so many options from working with Shrubs, Alcohol Free Beers, even products meant to replicate the characteristics and taste profiles of your favourite spirits. I've been working with Sobrii 0-Gin for some time now, and it's still one of the best options for a Gin Alternative spirit, plus it's local!
They ship all across Canada and abroad, but if you can't seem to have access to it, I would test out the Gin recipe in the new Zero book created by the team at Alinea Group. I already dove into their Campari Substitute and Bubble Gum Stock, and trust me, if you want to be creative with an alcohol free bar, you'll be OBSESSED with this book!
Other than that, the recipe is fairly simple! Make sure you have fresh ingredients, plus a muddler on hand for the cucumber. Curious about this Spirit Free cocktail? See the recipe below!
Want to find other Alcohol Free recipes on the website? Click here for more!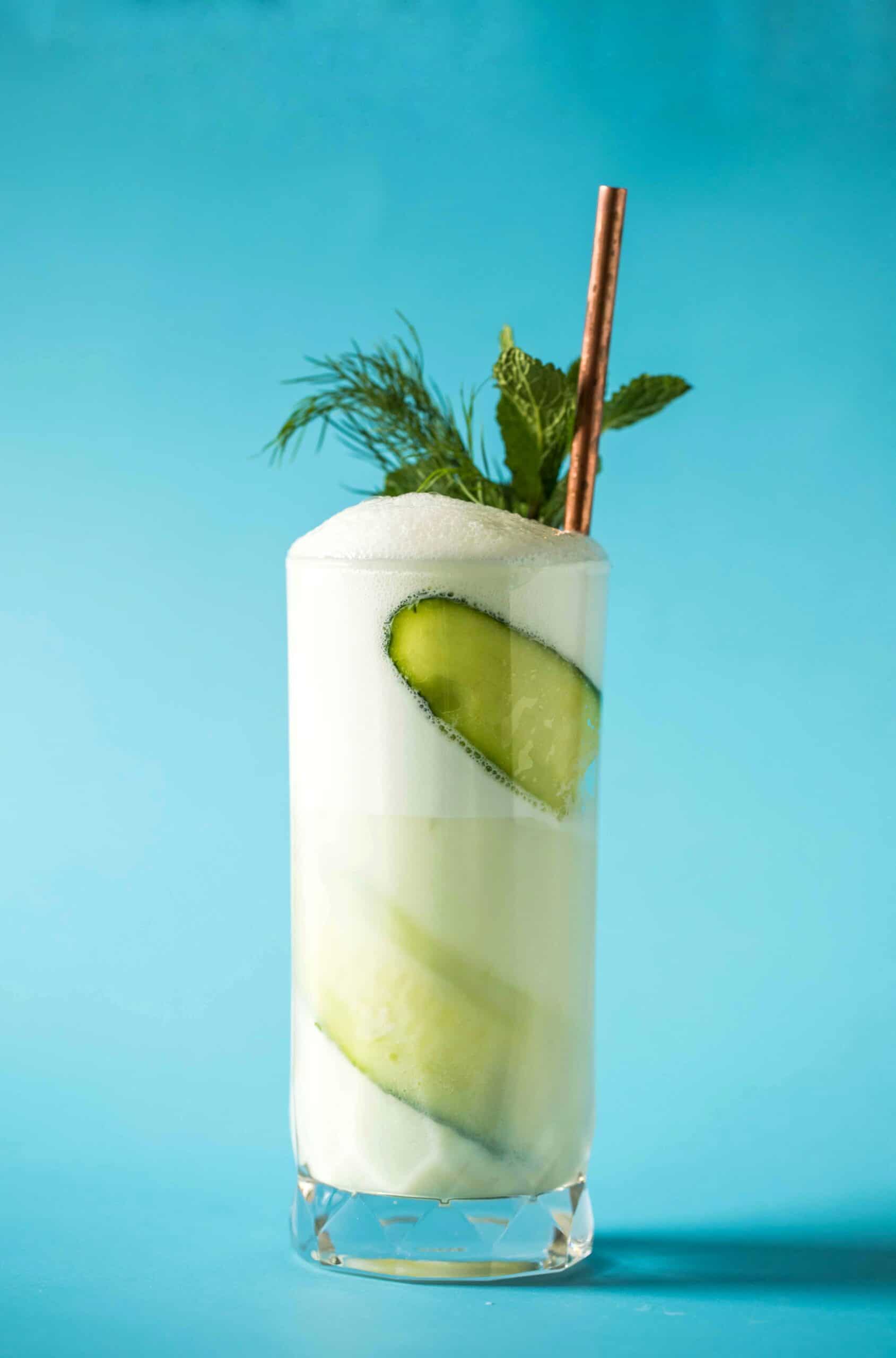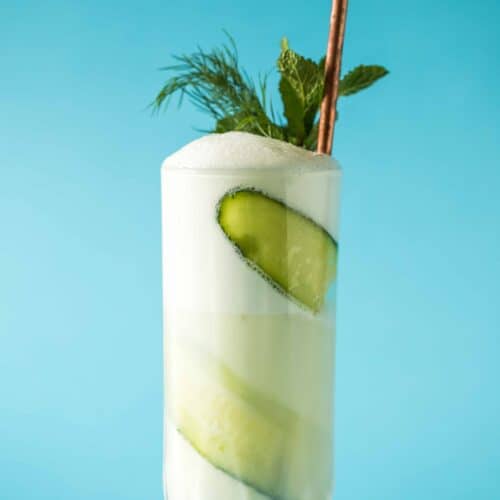 Ramos Tzatziki
The Ramos Gin Fizz gets an alcohol free makeover, with the flavours of Tzatziki all in one delicious glass.
– Difficulty: Intermediate
Ingredients
3

Cucumber Wheels

2

sprigs

Mint

2

sprigs

Dill

1

Pinch of Salt

1/2

oz

Lemon Juice

2

oz

Alcohol Free Gin

Sobrii 0-Gin used here

2/3

oz

Simple Syrup

1

Egg White

1.5

tbsp

Greek Yogurt (Plain Flavour)

2

Cucumber Ribbons

for Garnish

1/2

oz

Club Soda
Instructions
While preparing your cocktail, line inside of glass with cucumber ribbons and place into freezer.

In a shaker, muddle your cucumber well with 1 sprig each of Dill and Mint, and a pinch of salt.

Add your lemon juice, Alcohol Free Gin, Simple Syrup, Greek Yogurt and egg white and give this a vigorous dry shake (without ice).

Add ice to your shaker and shake vigorously again until the shaker is almost too cold to hold.

Grab your glassware from the fridge and add a few cubes of ice. Strain your cocktail.

Let it settle for 1 minute before adding your club soda slowly. Garnish with remaining mint and dill.