I came across the classic Stinger recipe in the Death and Co. Cocktail book, and I have to tell you, I had never heard of it! If you're like me, then you are in for a delicious read, as I go through the classic cocktail and how I've adapted it to incorporate some holiday flavours. If chocolate martini's are your thing, then this may quickly become your new favourite imbibe. Say hello to The Holiday Stinger!
Ask me 3 years ago, and I probably would have run away if you told me the ingredients in this cocktail. I'm still skeptical because I shy away from any drink with a ton of liqueurs, especially with blue curacao or creme de menthe. Well the classic Stinger cocktail comprises of Cognac and White Creme de Menthe. That's it. But what I have learned, especially with my time at Liquid Culture, is that the majority of these cocktails are all about the technique and using the best possible ingredients. I know that must seem like the most obvious statement, but in truth, it is rarely practiced. A lot of the times, it is not our fault. You may be limited because of what's available in your market, the budgets or you just simple don't know. Moral of this story? McGuinness liqueur is probably not the way to go with this imbibe here. Try to pick up any of Giffard's branded liqueurs, or if you have access to the Briottet liqueurs, that's also another great brand to carry.
Okay, enough about liqueurs, and lets get to the cocktail. I had never intended on this being a holiday drink. I just had some raspberries in the fridge that I didn't want to go to waste, and I was missing creme de menthe, so I opted for my white creme de cacao (Giffards). Because of that mix of chocolate and mint, I knew this wasn't no ordinary beverage and I HAD to add it to the holiday collection.
---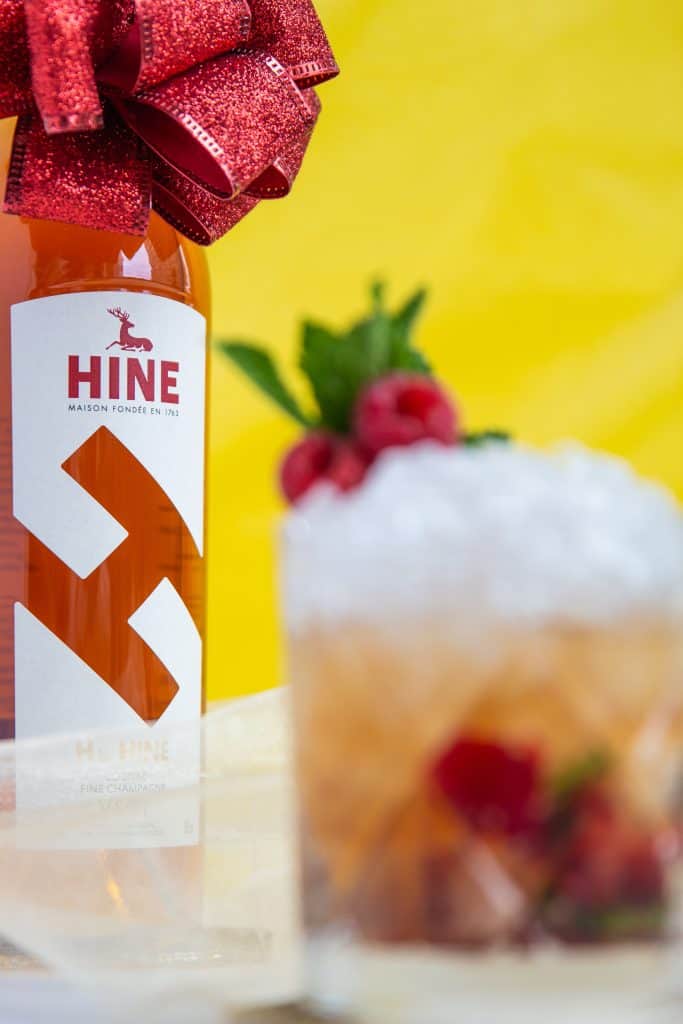 ---
Now onto the STAR of the cocktail which is the COGNAC! It will be very hard for brands to sway me away from the group at Hine. They produce some OUTSTANDING brandies (forget the Henny Champagne Papi), and the H by Hine was specifically curated to mix with cocktails. Sometimes I shy away from Cognacs for the mere fact that I don't want to hurt the integrity of the spirit, but the second I found out it was encouraged, I haven't looked back. As I mentioned, it's all about utilizing quality products to nail those classics and change your perspective, which is EXACTLY what happened with me.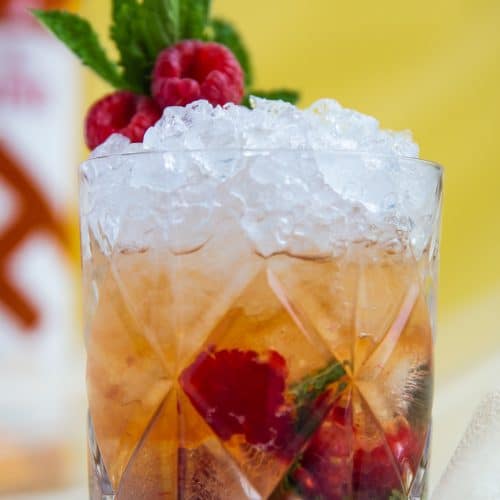 The Holiday Stinger - Cognac, Chocolate and Raspberry Cocktail
A holiday riff on a classic Stinger cocktail containing H by Hine Cognac, White Creme de Cacao with fresh raspberry and mint!
- Difficulty - Intermediate
Ingredients
2

oz

H by Hine Cognac

1/2

oz

Giffard's White Creme de Cacao

5

Raspberries

5

Mint Leaves
Instructions
In a shaker, muddle raspberry and mint. Fill the shaker with 3 ice cubes, cognac and creme de cacao and short shake.

Dump contents in double rocks glass. Fill glass 3/4 of the way with crushed ice. Give this a stir or swizzle until cocktail gets diluted. Top with more crushed ice.

Garnish with mint sprig, raspberries and straw