---
This post has been a long time coming. I had to dig way into the archives for this recipe I put together a few years ago, but I still remember how I felt about it. This cocktail goes way back to my time working behind the bar at Canoe Restaurant. It's an interesting creation I did in collaborations of a Pear Documentary that I'm very excited to share with you today. It's a Tequila based cocktail, with dry vermouth, pear juice, citrus and a melting cinnamon bark ice cube.
So let me explain the premise of what I was creating. The group organizing this event asks local chefs to come together and create a dish and a drink to pair with the food-related production (The documentary was called Portrait of a Garden). Many of them were films or documentaries, and the one we were particularly working on was a documentary on this pear farmer. I'm sad because I never got to watch the whole thing, but I did get a chance to taste and experience this cocktail just as the guests were! The drink developed with every sip, and let me explain how.
The base of the spirit was a Blanco Tequila. As always I try to stick to the local brands and that means some serious Tequila loving with Tromba. That base is paired with a Dry Vermouth, fresh pear juice and lemon. I had to keep this cocktail somewhat dry, because with time, you get the sweet and smokey infusion enhanced as the ice melts.
Now I'm not going to go through the horror stories of making the hundreds of ice cubes, but I will say that I couldn't have done it unless I had a team of friends willing to help me along the way. This cocktail will always be for you guys (you know who you are). The ice cube itself changed in concept, but the final product ended up being a cinnamon and smoked wood birch infused ice cube. The more you drank and allowed the cocktail and ice to infuse, you would get a hit of cinnamon and smoke, marrying all the flavours together. This is why we called it the Perfect Pear. In addition, it felt fitting since my Best Friend was with me the entire time to help, and we now call ourselves the Perfect Pear from this experience.
I had a hard enough time trying to figure out the exact portions of this recipe. But without further delays, I bring out one of my proudest and youngest cocktail moments.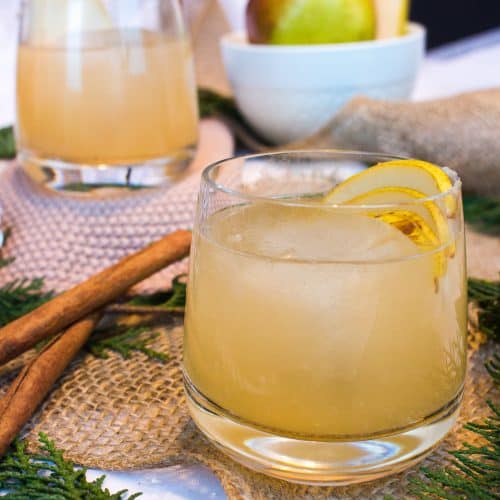 The Perfect Pear
A special TBT that features a Tequila Pear cocktail with a Cinnamon and Smoked Wood Birch Ice Cube.
Difficulty: Intermediate
Ingredients
Cocktail
1.25

oz

Blanco Tequila

1

oz

Dry Vermouth

1

oz

Fresh Pear Juice

½

oz

Freshly Squeezed Lemon
Ice Cube (1 large Ice Cube Mold)
?

Cinnamon and Smoked Birch Wood Syrup*

?

Filtered Water
Cinnamon and Smoked Birch Wood Syrup
½

cup

Wood Chips

Smoked or Heated, whichever you have

1

cup

Water

?

cups

Brown Sugar

2

Cinnamon Sticks
Instructions
To make syrup:
In a medium saucepan, combine water, sugar and cinnamon sticks. Let this come to a boil and simmer for 2 minutes. Pour into sterile jar and add smoked wood chips. Let this sit for a minimum of 12 - 24 hours. Seal once it reaches room temperature and keep in fridge until strained
To make Ice Cube
Grab large ice cube molds and fill 1/3 with syrup, and 2/3 with filtered water. Let it freeze for a minimum of 6 hours before use.
To make cocktail:
Place one infused ice cube into rocks glass.

In a shaker, combine blanco tequila, dry vermouth, pear juice and citrus and short shake. Strain and pour over ice cube and garnish with pear garnish.