A lot of my Halloween cocktail inspiration wasn't necessarily based on ingredients. In this case, I had fallen in love with my tiki mug since I first laid eyes on it.
Being my favourite Tiki joint in Chicago, I always make sure to venture off to Three Dots and a Dash whenever I am in town. These are professionals, that are hustlers and doing their thanggg, while still managing to bang out creative cocktails with an insane amount of volume EVERY SINGLE NIGHT. I have huge respect for those that can create outstanding cocktails with such high volumed stress. So I decided to combine my love for peaches and tiki all in one glass. This is more of a julep styled drink, which although time consuming, it is worth every sip.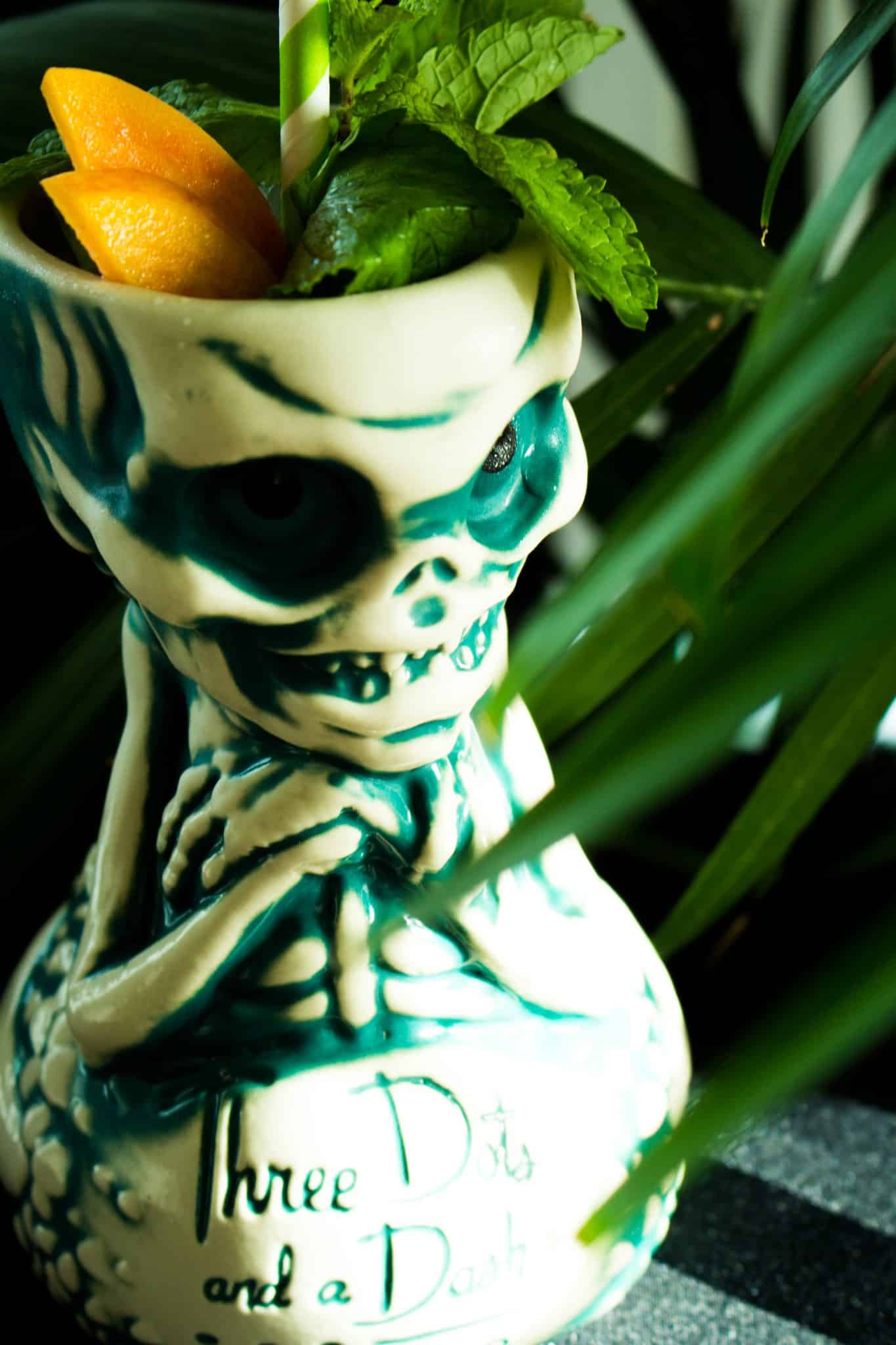 Tiki Peach
A julep-styled beverage with your favourite hump day emoji
Difficulty: Expert
Ingredients
2

oz

Bourbon

2

Brown Sugar Cubes

3

dashes

Angostura Bitters

8

leaves

Mint

1/2

tbsp

Peach Puree

1

oz

Apricot-infused Sherry

1/4

oz

Fresh Lemon Juice
Instructions
Soak sugar cubes with angostura bitters and fresh lemon juice

Lightly press mint with the palms of your hand and place inside the mug

Pour peach puree, bourbon and sherry into tiki mug and give this a quick stir so that everything is mixed well together

Top with crushed ice and using the swizzle technique, allow the beverage to distribute throughout the glass and incorporate.

Garnish with peaches and mint
Recipe Notes
Sometimes I don't mention a garnish because I don't like to limit your creativity. It gives you a chance to think of pairings and ways to tie together the drink. Here I've mentioned Mint and Peaches, but you can even throw some apricots to highlight the sherry in the beverage. Or if you want it a bit more refreshing, why not zest the mug with lemon as well?