If you know me well, you know I'm not always enthusiastic when it comes to Viral Drink Trends. Many compromise on quality, technique and ultimately taste. But for this special Drink Segment on CTV's The Social, I'm excited to share my expertise, and some of the adjustments I do to make it a quality cocktail for home. Now the Aperol Spritz Sangria in a French Press became a huge success, and I can tell you, I love using a French Press! You've seen it on my platform before, but now I'm building this french press cocktail differently from the viral cocktail trend. Ready to start building?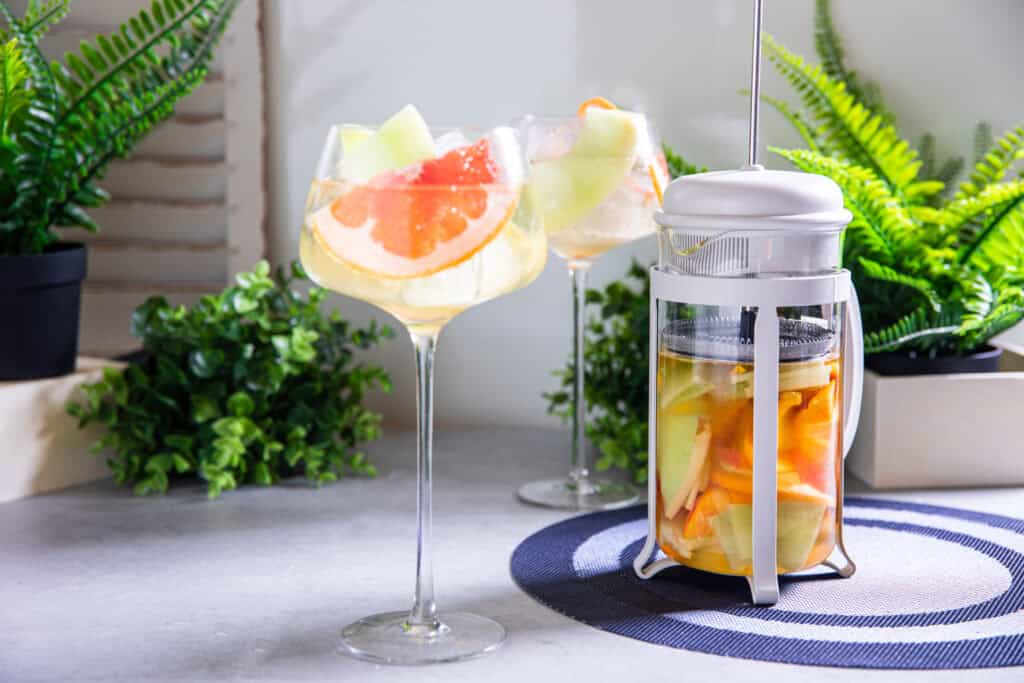 Want to see me LIVE? Click on this link HERE or the photo above to watch my live Drink Segment on CTV's The Social.
When to use a French Press for Cocktails
So why does a French Press work? Well, you're basically doing something that bartenders already do professionally, INFUSE! Even your Sangrias, layering in all the fruits and giving it time to "marinate" only concentrates the flavours. It's a win win.
What I love about a French Press is that it's accessible, easy to use for first time Home Bartenders and it's allows you to be your most creative self. You can find some of the FRENCH PRESS cocktail recipes I've shared on this website for more inspiration.
Some of my favourite ways to use a French Press is in Spirit Forward Cocktails. Think Manhattans or Negronis, and infusing it with interesting seasonal produce, herbs and spices.
Choosing your Base Spirits for your French Press Cocktail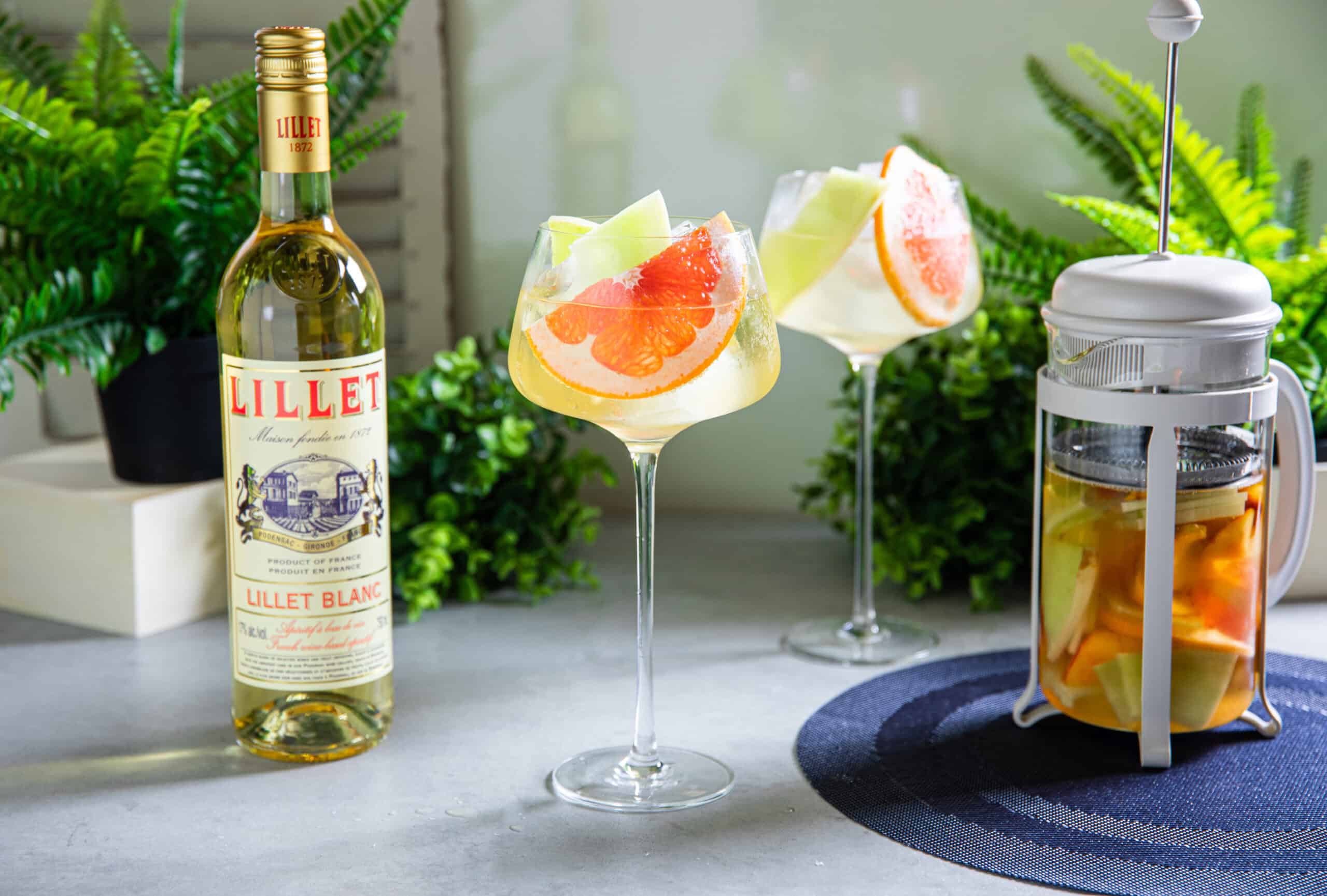 So I love that Aperol put the Spritz on the map for an easy sipping Summer classic, but you have SO much flexibility when it comes to the concept of a Spritz. You can substitute Vermouth, Campari for something more bitter and less sweet, manyyyyy Amaros work, you know my love for Limoncello, plus all the varying Wine Aperitifs out there. For this segment, I decided to use Lillet Blanc. An infamous ingredient in the Vesper Martini, but can often times go bad if not drunk quickly enough (just like Vermouth, it should be stored in the fridge).
What I love about Lillet Blanc is it's wine base and delicate notes that compliment the fruits I wanted to use. I bring out the Honey Dew Melon, Peaches and grapefruit wheel to allow time to "marinate". But feel free to use Grapes, lemon, basil and other herbs, pineapple, whatever you want!
Choosing your Sparkling Component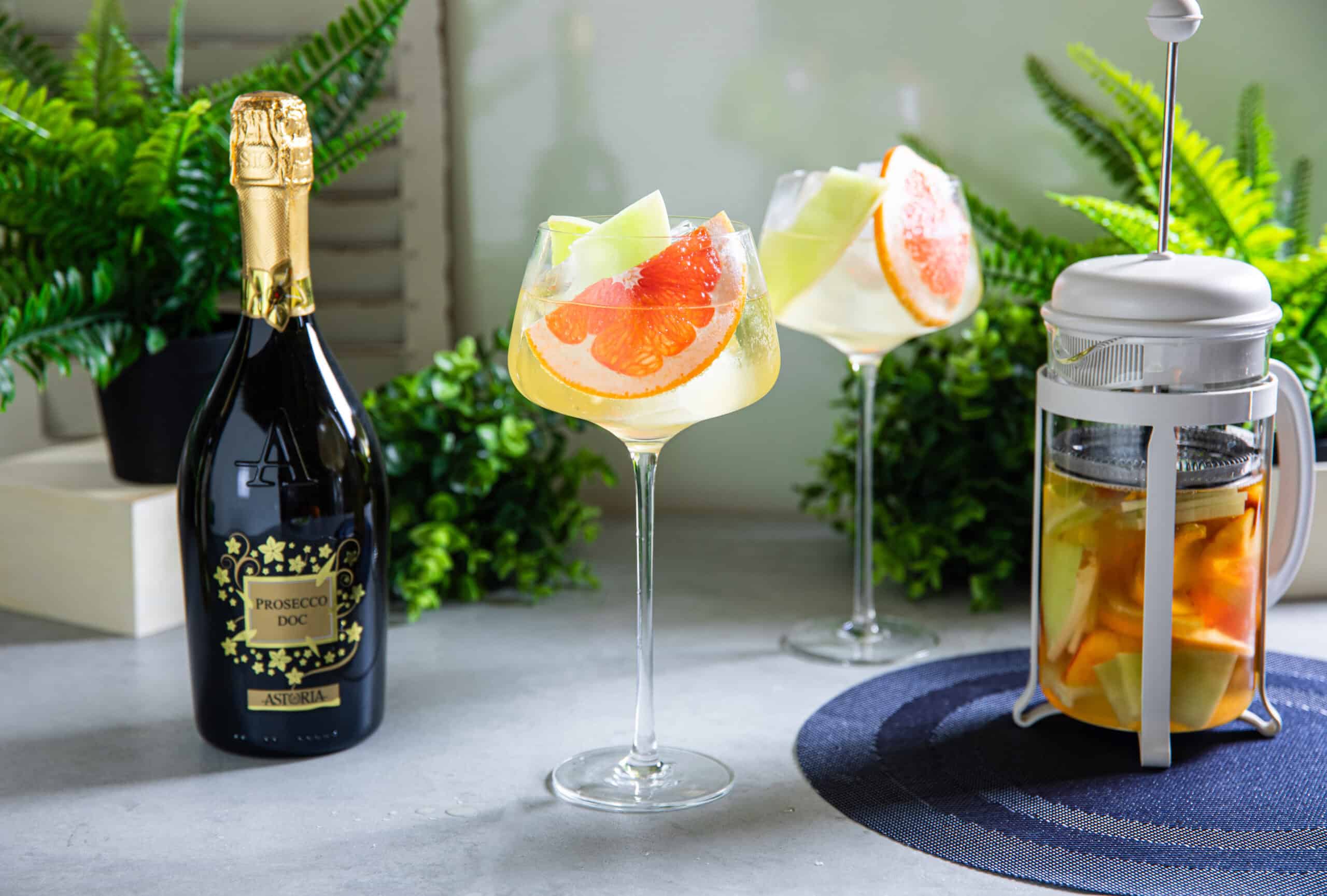 The reason I wasn't fully invested with this trend was the fact that the trend setters were pouring sparkling wine into the French press to just lose its bubbles. Why on earth would you use sparkling wine to lose most of its bubbles as it sits in the fridge? That's why I build this cocktail differently.
With that said, what bottle of sparkling should you be buying? Well, I try to stick to sparkling wines that are dryer in style. That way I can better control the sweetness of the cocktail. I was recently suggested the beautiful Astoria Prosecco for this cocktail and I'm so happy with the choice. Of course, you have all the options out there, but I do love this approachable, affordable Prosecco plus it's so accessible in Ontario! And it compliments the notes of melon in this Spritz.
I'm sure you're not thirsty so let's get to the recipe already!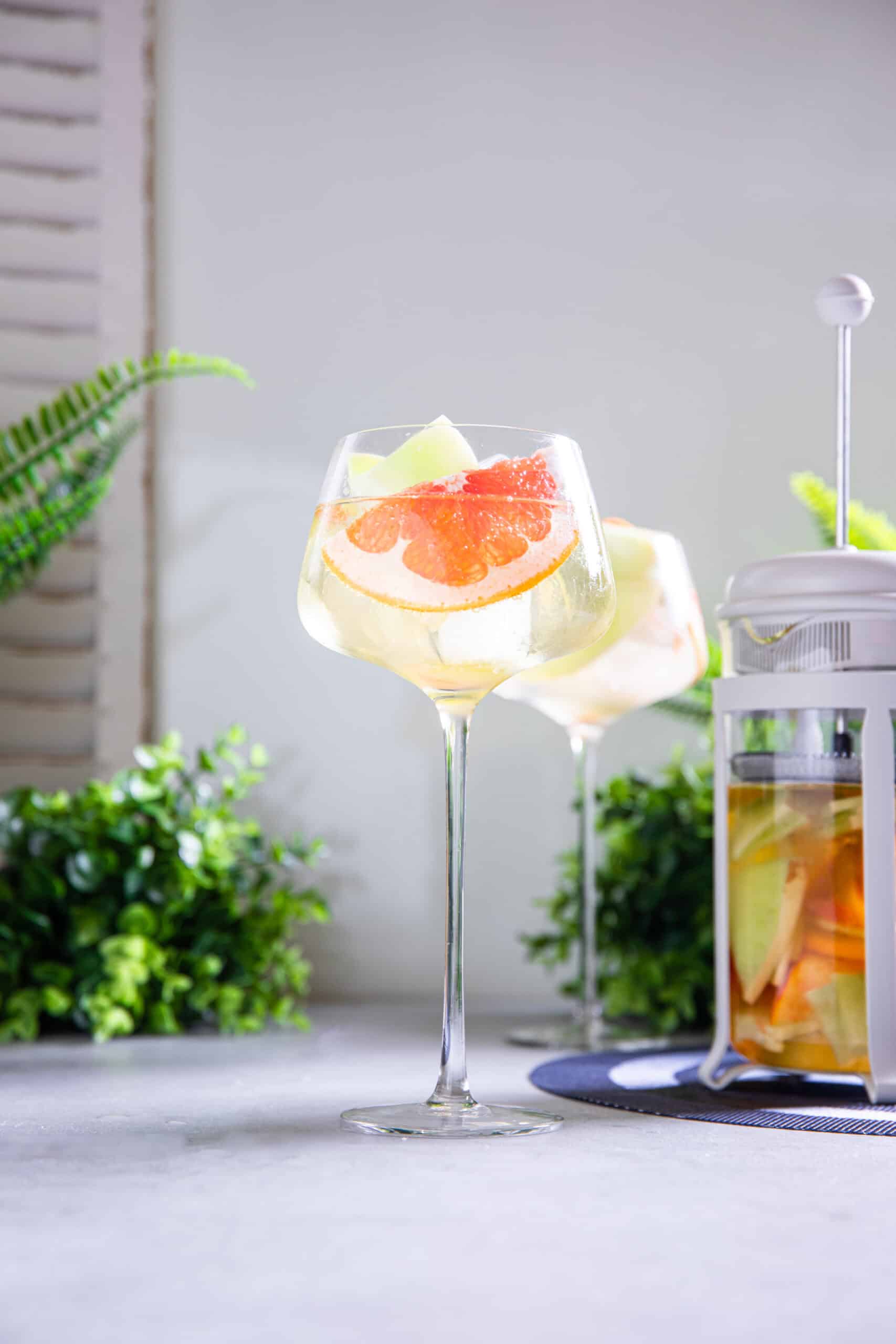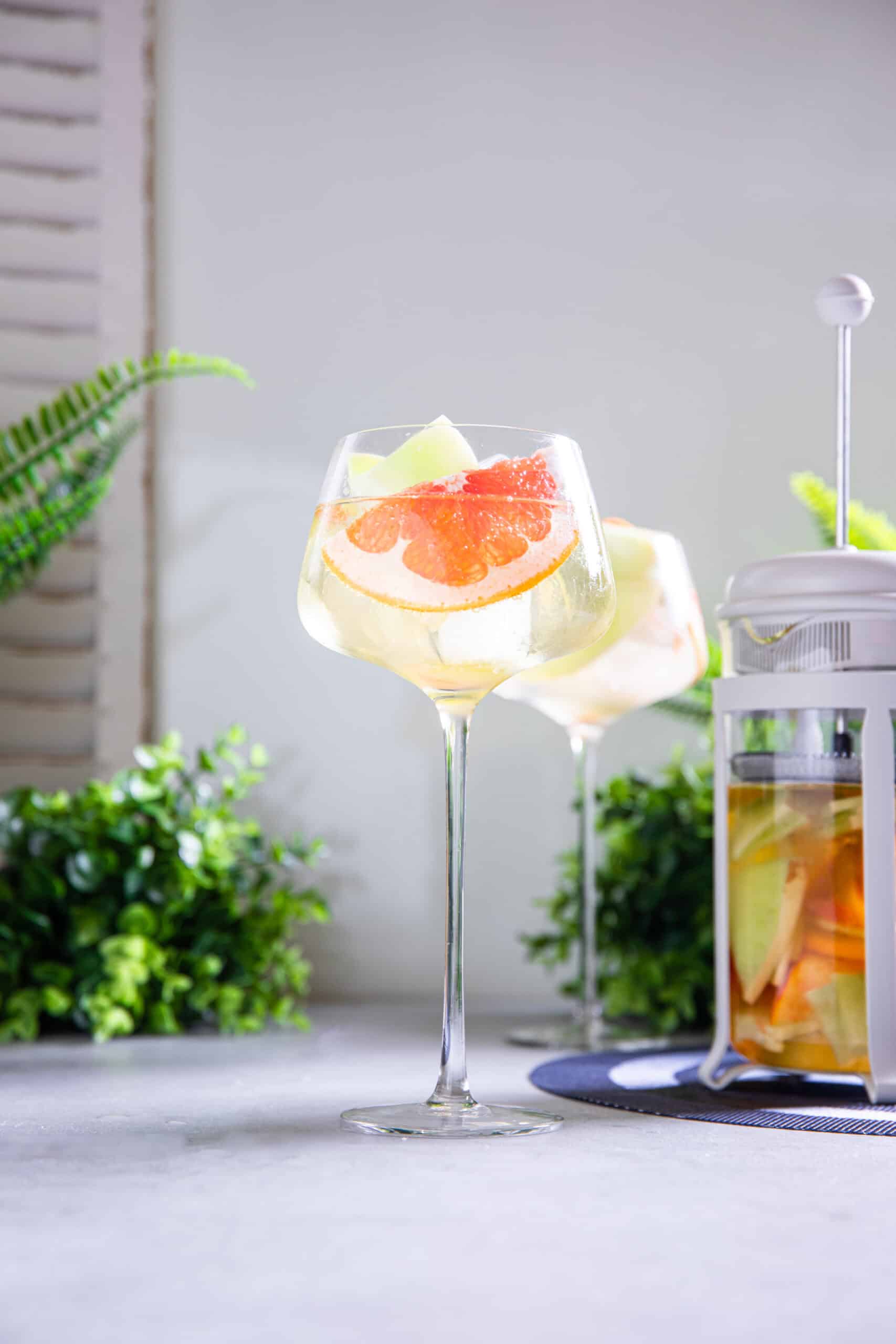 PRESS-To Spritz
Sharing a bright and delicious Melon Lillet Spritz using a French Press for everyone to enjoy this summer!
– Difficulty: Easy
Ingredients
1.5

cups

Lillet Blanc

1

cup

Honey Dew Melon

Roughly chopped

1

Peach

roughly chopped – preferrably well ripe

1

Grapefruit Wheel Slice

3

oz

Grapefruit Juice

freshly Squeezed

1

Btl Sparkling Wine

Extra Fruit for Garnishes
Instructions
In your french press, add in your Honey Dew Melon, Peach and Grapefruit Wheel Slice. Add in your Lillet Blanc and Grapefruit Juice. Cover and place into the fridge for a few hours.

When ready to pour into individual glassware, add ice and add 1 part of the French Press Mix with 1.5 – 2 parts Sparkling Wine (depending on your preference). Garnish individual glasses with additional melon slice and grapefruit wheel.