If you know me well, you know I'm not always enthusiastic when it comes to Viral Drink Trends. Many compromise on quality, technique and ultimately taste. But for this special Drink Segment on CTV's The Social, I'm excited to share my expertise, and some of the adjustments I do to make these viral creations a quality cocktail for home. You may be shocked to hear but the Parmesan Espresso Martini is one of the few that I stand by and won't change a thing, but you have to know the right ingredients! Ready to start shaking?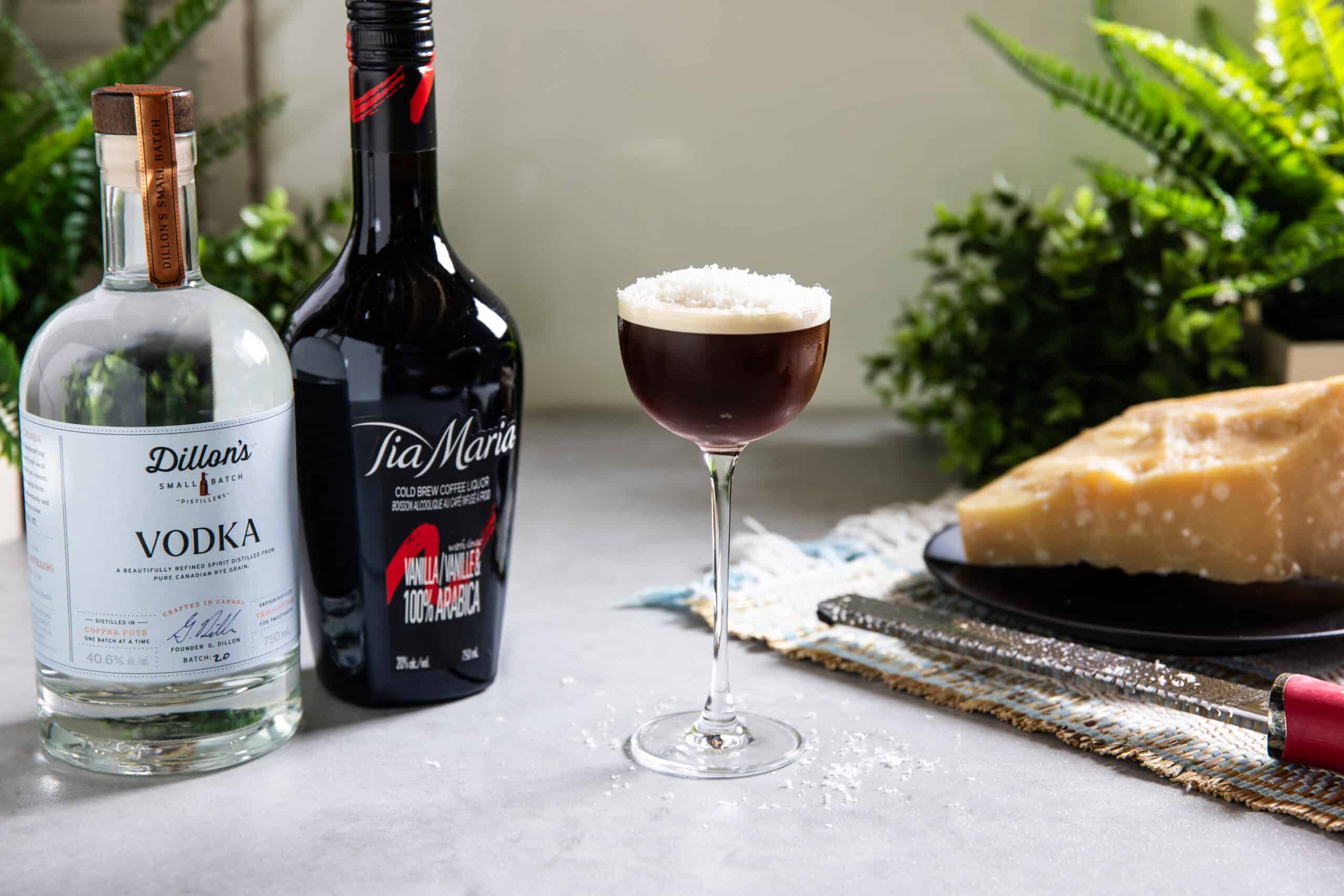 Want to see me LIVE? Click on this link HERE or the photo above to watch my live Drink Segment on CTV's The Social.
Why Parmesan?
I'm never afraid of experimenting with what may seem like odd flavour pairings. And I wasn't opposed to Parmesan and an Espresso Martini can together because I know how well salt and sweet work! Think about bakers, and in particular I'm thinking of a boujee Dark Chocolate loaded Chocolate Chip with Maldon Salt dressed on top. Why is Salt added to something sweet? It has a funny way of balancing and making flavours pop.
Now let's be clear. We are not dressing this martini with that already grated stuff that looks like powder. We are using the real deal, Parmesan Reggiano Cheese, and making sure we use a Microplane Grater. The importance of the grater for me is to provide a really thin grate of cheese that almost melts as soon as it touches your lips. Using a regular cheese grate, won't do the trick and you'll just have a chunky Espresso Martini.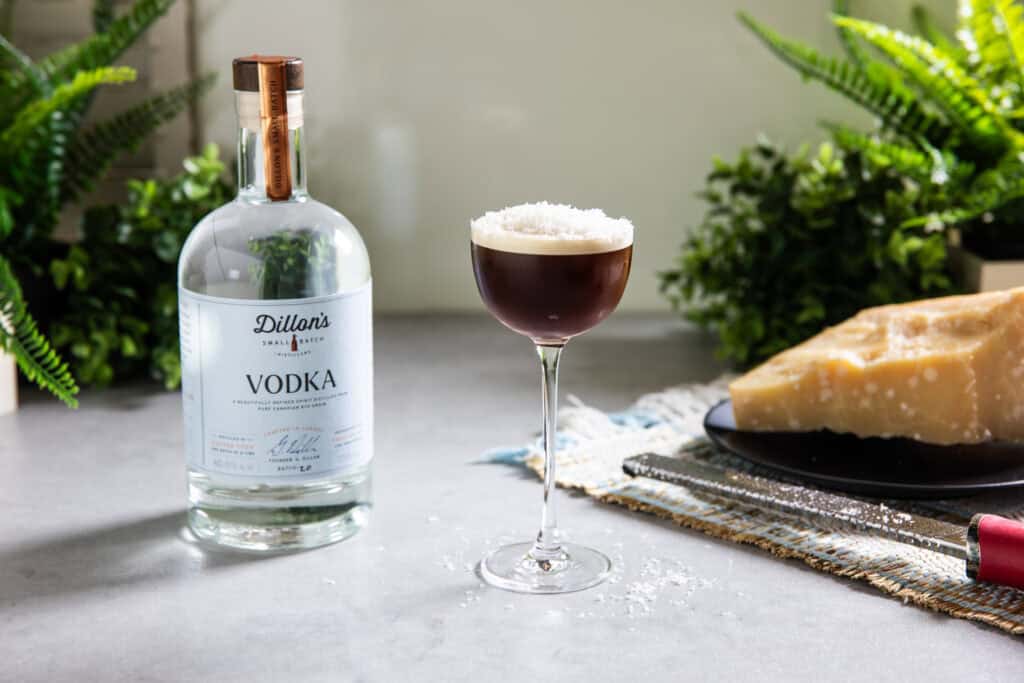 Importance of Ingredients and Technique in this Parmesan Espresso Martini
Your spirits also matter with this cocktail. That Moonshine-like Vodka isn't going to cut it. Grab some quality Vodka here. Now you also don't have to break the bank with this one either. I love a Ketel One or Stoli Vodka, or bringing out the Chopin or Belvedere. But for this segment, I wanted to support a local distiller here that I love which is Dillon's. Dillon's Vodka, as with most of their spirits, I love. There is precision, time and care in their craftmanship and it's worth seeking out, especially for those here in Ontario, Canada!
Last, but certainly not least, the Coffee Liqueur! For this delicious number, I decided to bring out the Tia Maria. There's a ton of great Coffee Liqueur options when it comes to coffee flavour, but the Tia Maria was speaking to me, plus I wanted a product that was delicious, packed with coffee, that's accessible to most of you in Ontario!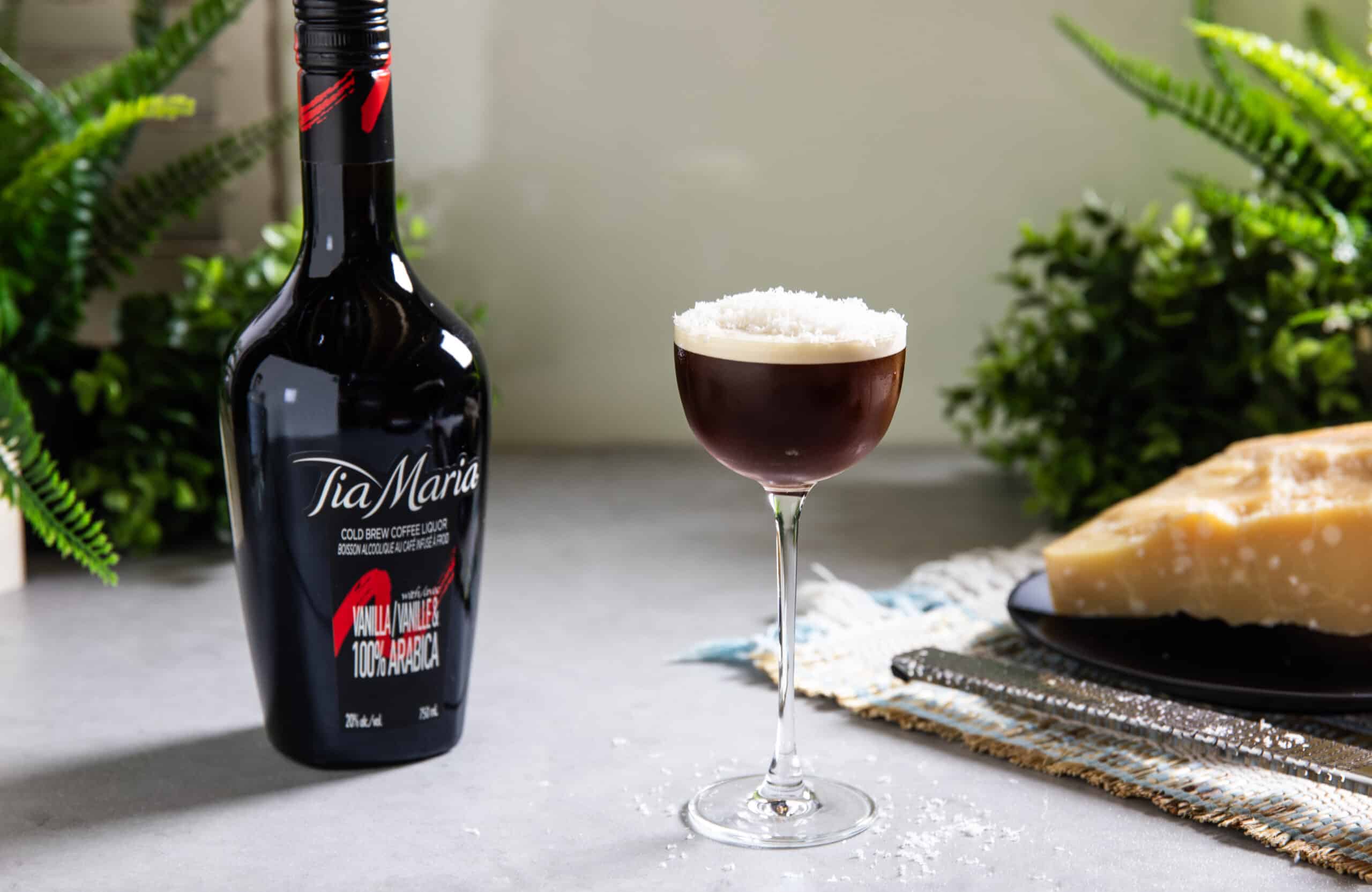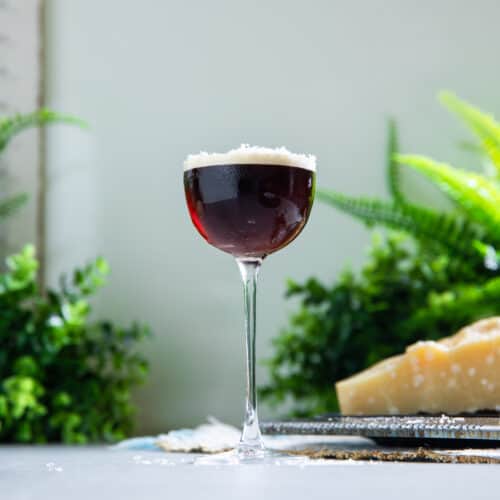 Parmesan Espresso Martini
The classic Espresso Martini gets a little added something, with some Parmesan Reggiano Cheese! Classic Recipe shaken here, reference to Jordan Hughes of @highproofpreacher
Ingredients
1

Single Shot Espresso

2

oz

Dillon's Vodka

1

oz

Tia Maria Coffee Liqueur

Approx. 2 tbsp freshly grated Parmesan Cheese
Instructions
In a shaker, combine all the ingredients (except Cheese), fill with ice and give this a good shake.

Double Strain into your chilled coupe glass and grate fresh Parmesan on top.