If you know me well, you know I'm not always enthusiastic when it comes to Viral Drink Trends. Many compromise on quality, technique and ultimately taste. But for this special Drink Segment on CTV's The Social, I'm excited to share my expertise, and some of the adjustments I do to make it a quality cocktail for home. I'm analyzing the ever popular Shark Attack and completely restructuring the cocktail. This Shark Attack cocktail is re-shaken into a bloody Strawberry Irish Whiskey Lemonade with a Blue Shark Ice Mold for all the drama. Ready to start shaking?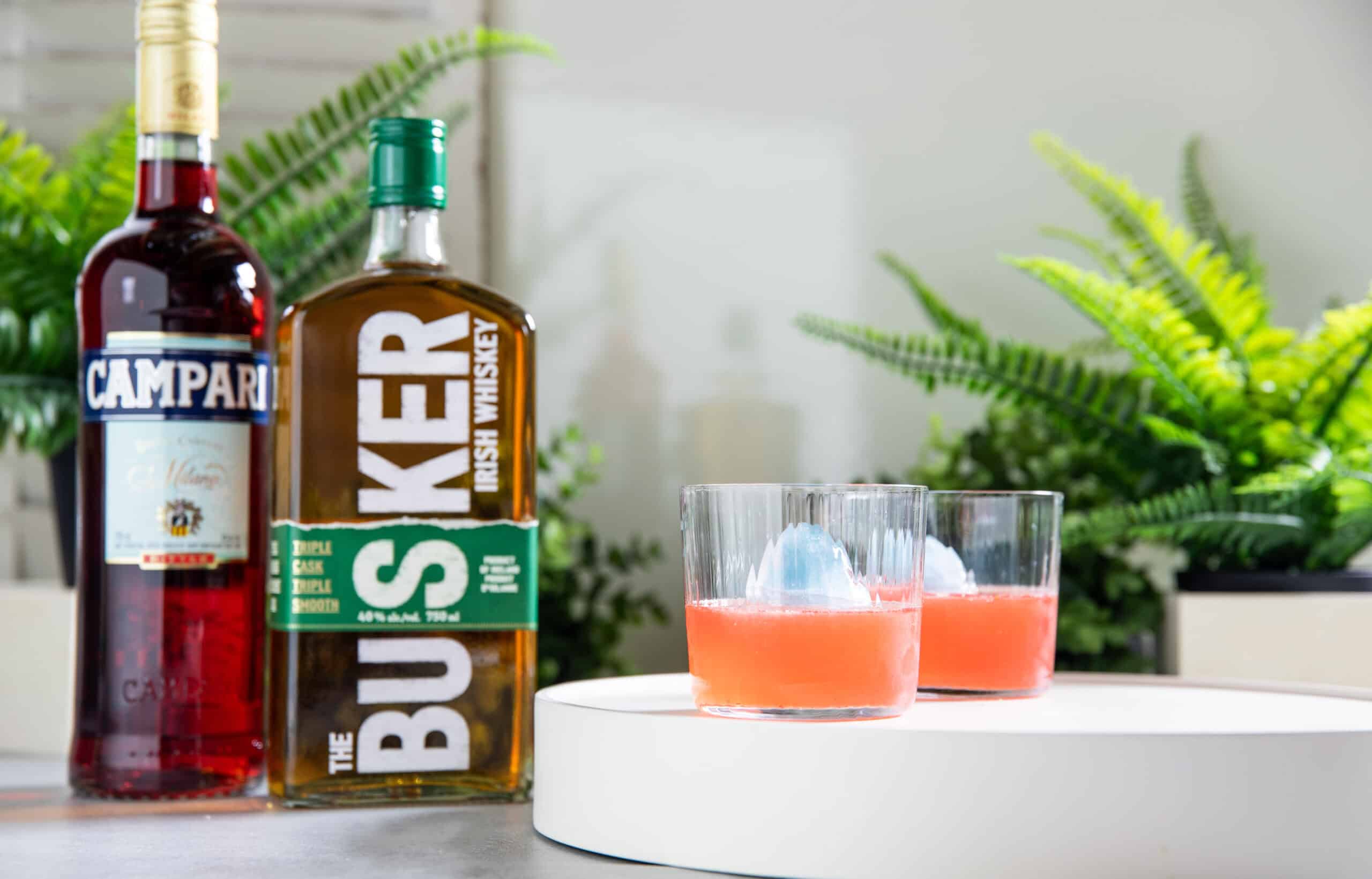 Want to see me LIVE? Click on this link HERE or the photo above to watch my live Drink Segment on CTV's The Social.
Restructuring the Shark Attack
So I only have one real concern when it came to the Shark Attack cocktail – Blue Curacao. Unfortunately in Ontario, accessing some quality Blue Curacao seemed impossible, and with my ethos using more natural ingredients, I hit a wall. Trying to find a liquid ingredient that STAYED BLUE, and didn't get effected by pH levels and turn into a beautiful pink or purple (ruining the purpose of the drink), AND WAS NATURAL, was very difficult. I know there is Blue Spirulina Powder, but I didn't feel like creating a blended cocktail for this segment. I'm sure I could experiment, but again, I knew I wouldn't find myself using this product a ton and wanted to avoid it from sitting on my shelf.
With that said, the Butterfly Pea Flower Tea is something I frequently use at home and I love it for its property of changing colour. Since I couldn't create a cocktail that wouldn't change into some shade of purple, I decided to use this natural tea as the ice to my Shark Mold!
Building your Strawberry Irish Whiskey Lemonade
Having my Shark Ice mold a cool shade of blue, I thought the cocktail needed to be red so it would seem like the shark has already had a snack. So I kept this cocktail super simple in concept, which is a delicious Irish Whiskey Lemonade using Busker Irish Whiskey! If you've been following me over the past year, you KNOW my love for Busker and just Irish Whiskey in general. I find them spicy, delicious and this Busker Irish Whiskey is so approachable for your home bar. That's why I shake it up with a bit of strawberries, lemon and honey, with a dash of Campari to add a bit more of that red colour naturally.
Note that this is one of those cocktails that you can definitely accommodate to yourself. Like more citrus? Add more lemon. Not sweet enough, increase the honey syrup! Too boozy? Not enough Booze? Adjust the ratios a bit until you find your perfect match!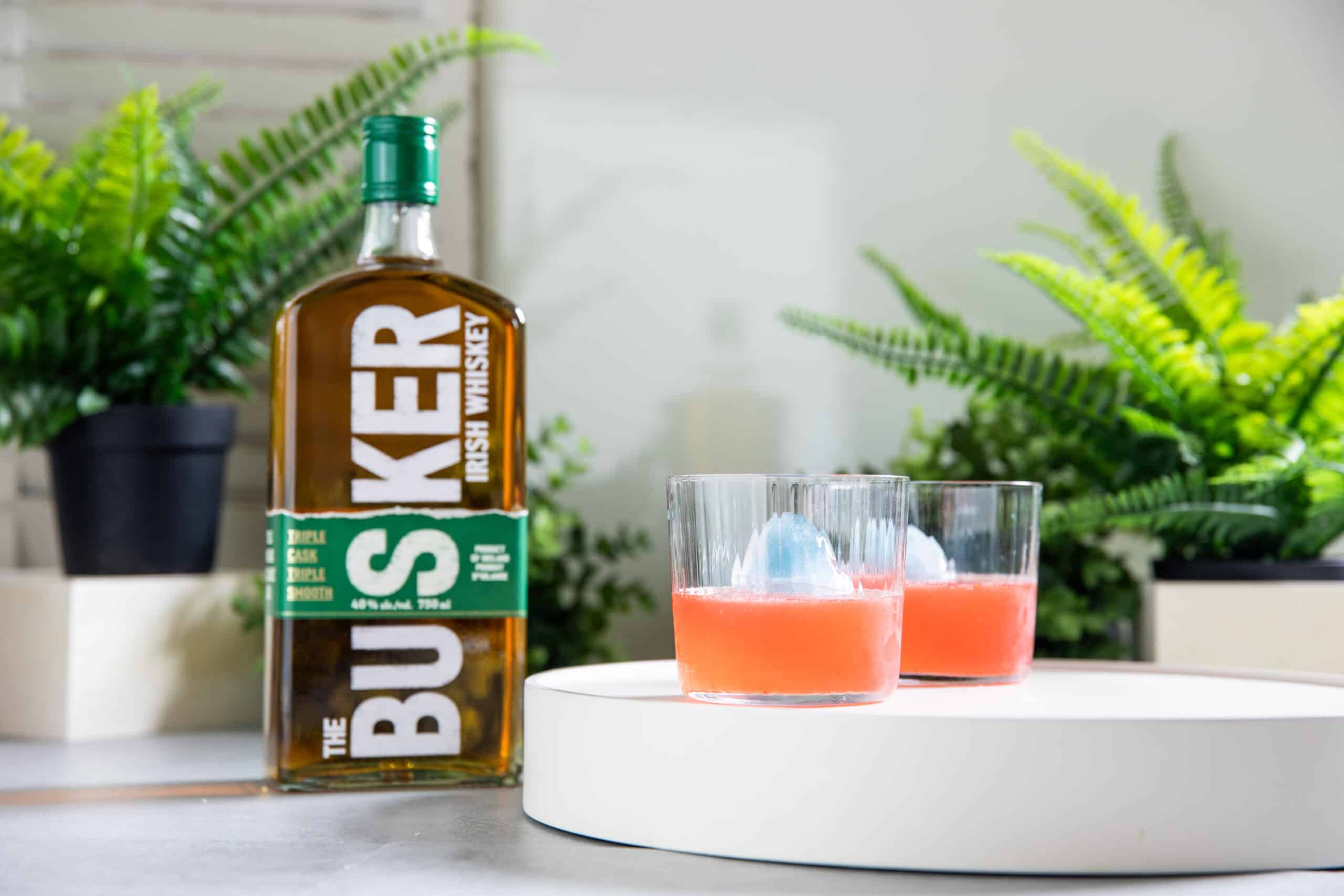 Shark Bite – Strawberry Irish Whiskey Lemonade
Serving an easy and delicious Strawberry Irish Whiskey Lemonade with a splash of bitters for this Shark Attack!
Ingredients
1

oz

Busker Irish Whiskey

0.25

oz

Campari

1

oz

Lemon Juice

1

oz

Honey Syrup

2:1

2

Strawberries

1

Butterfly Pea Flower Tea Bag
Instructions
Before preparing this cocktail, ensure to prep your ice at least 6 hours before. Simply boil 1 litre of water and steep 1 Butterfly Pea Flower Tea Bag. Allow it to steep for only 2 minutes Max. Remove tea bag and pour the mix into your shark molds.

To build the cocktail you need to grab a shaker, muddle 2 strawberries and add in the rest of your ingredients. Strain over your Blue Shark Ice Mold (allow pieces of strawberries to come through) into an Old Fashioned glass.

To make the Honey Syrup, simply stir together 2 parts honey with 1 part boiled water. You want to make the honey more fluid to easily incorporate into your cocktail.