For this week's #DrinkYourGram, I wanted to create a beverage in honour of the NBA season back in COVID full force. Being as I live and breathe the Toronto Raptors, I made sure to keep the ingredients close to home, which a bit of heat like my Spicy P. This combination stems from a cocktail I created behind the bar that I was obsessed with! In this new flavour combo, I may love this creation that much more. It combines Canadian Whisky, Campari, Fresh lime juice, KVAS Ginger Wildflower Syrup and Collective Art's New England Style IPA. Curious about the results and the recipe? Head down below for details!
If you're new to the concept of #DrinkYourGram, I started it as a way to give you cocktail recipes YOU WANT. By voting on my IG stories every Tuesday, you get a chance to shape the cocktail you'd like to create at home. For this week, having wanted to celebrate the NBA restart of the season, I asked you to vote on the following:
I asked you what you like to drink at a Basketball game
or while watching at home:
Beer – 49%
Wine – 3%
Cocktail – 24%
All of the Above – 24%
I asked you what you like to eat while watching a Basketball game:
Steak Dinner – 28%
Nachos – 38%
Popcorn – 14%
Hot Dog – 19%
I asked you who's your favourite team:
Raptors – 71%
Some Other Team… – 29% (I see you non-Toronto people!)
---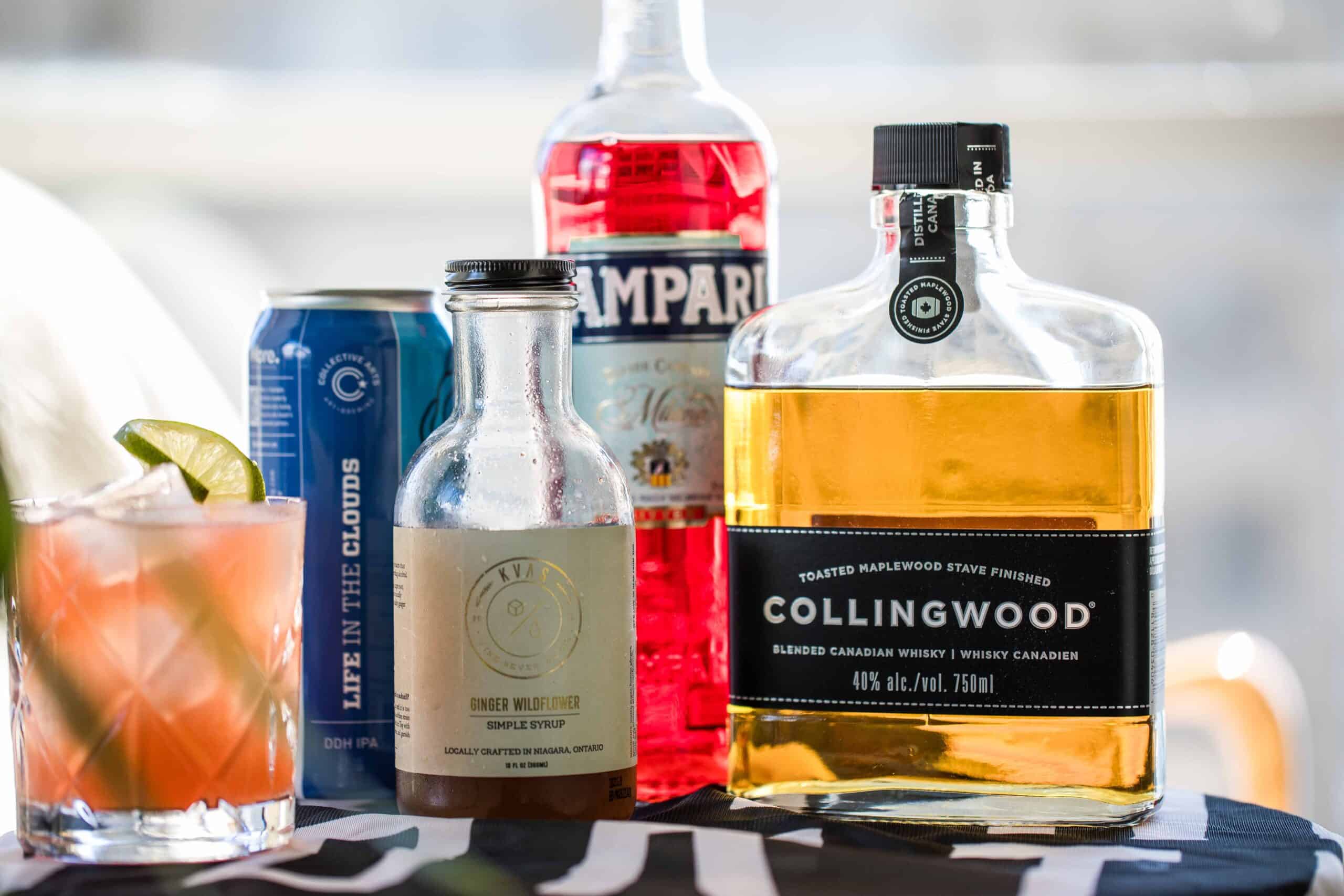 Seeing as this was a big beer crowd, and you'd pair it with Nachos, I thought, why not create a delicious beer tail with (mostly) Canadian ingredients and that's refreshing enough to go with those nachos! Let's start with the base:
Whisky
Having a ton of Collingwood in my house, I decided to grab this local whiskey. It's important to note that just because it's a Canadian Whiskey, doesn't mean it's a rye. It's definitely a blend, and a delicious one at that, but going with this or a spicy Rye Whiskey would work wonders in this cocktail.
Campari
This is the non-Canadian component of this cocktail, but there isn't much that can replace Campari on your bar. Even if you find Campari too bitter, GIVE THIS COCKTAIL A TRY. The balance of the sugar and citrus really harmonize the cocktail. Plus this adds a red component which everyone in Toronto can identify with when it comes to the Raptors.
Ginger Syrup
Wanting to support the folks at KVAS (local Niagara brand), their Ginger Wildflower Syrup is one of my FAVOURITE syrups from their collection. Plus the ginger component marries so well with the rye, and adds that extra level of punch that you'll love. Don't have access to this local syrup? That's okay! I'd recommend a Simple Syrup made with 1 part brown sugar to 1 part boiled water and grate some fresh ginger and let that sit for an hour or two. Strain and I think you'll like this quick result! Note that you can purchase KVAS online as well!
---
Beer
Using Collective Arts was a given for this cocktail, especially with their Life in the Clouds DDH IPA. This New England style IPA is such a winner in my books. If you don't want that aggressive bitter taste from those powerhouse IPA, it's worth giving this a try. Plus it's local to Ontario!
Don't have Collective Arts around? Pick up a decent IPA that doesn't go crazy on the hops. And if it has a bit of stone fruit or a tropical note to it, even BETTER!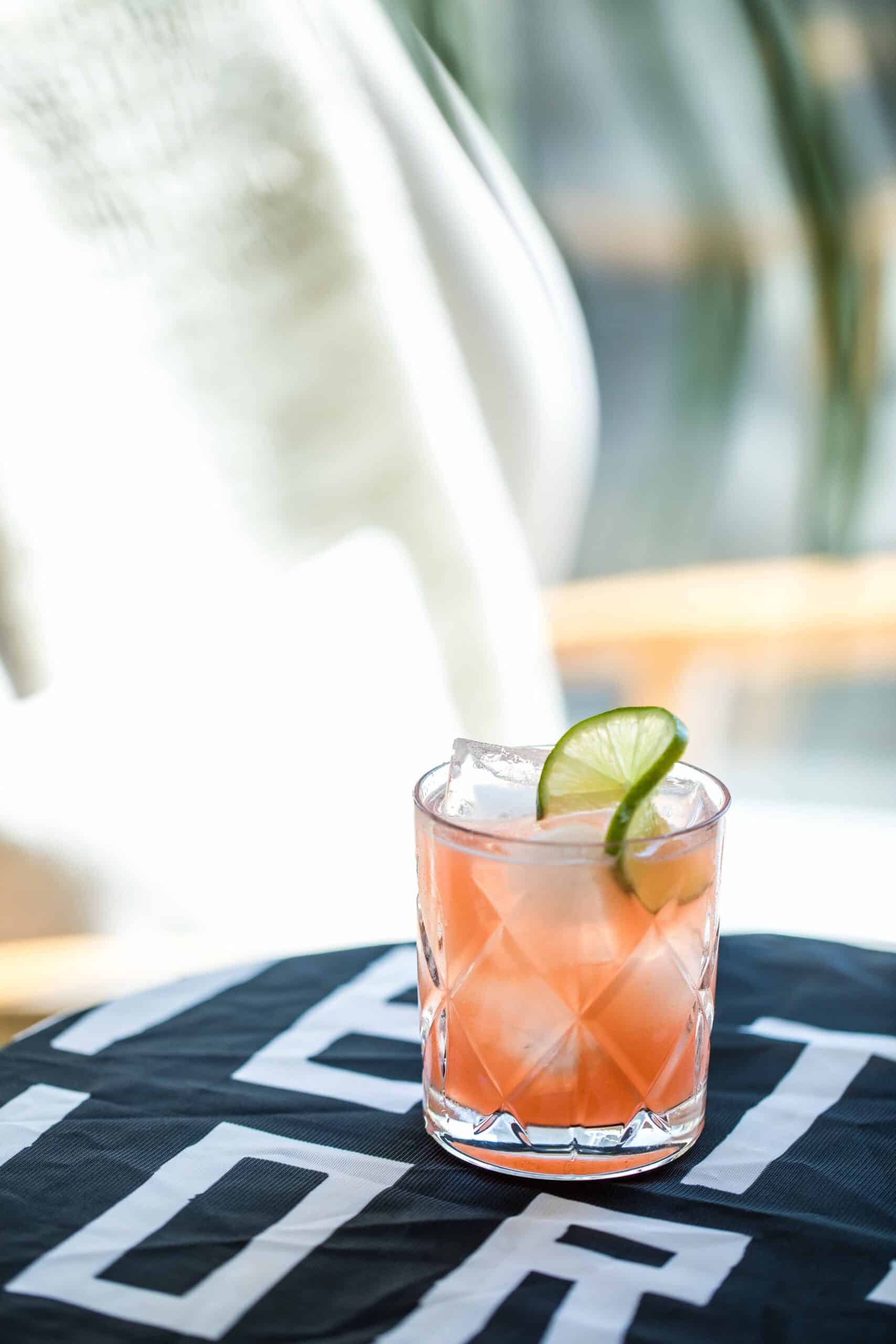 We The North Beer-Tail
Showing you how to whip up a refreshing beer cocktail for your next Raptors Game, combining lime, ginger, Campari, Whiskey and a delicious IPA!
– Difficulty: Easy
Ingredients
1

oz

Collingwood Whiskey

1

oz

Campari

1

oz

Freshly Squeezed Lime Juice

1

oz

Kvas's Ginger Wildflower Syrup

1/2

oz

Collective Art's Life in the Clouds IPA
Instructions
Fill your double rocks glass with ice.

In a shaker, add all your ingredients (except beer), add ice and give this a good shake.

Strain over fresh ice and top with beer. Garnish with Lime Wheel.