We've got another Holiday cocktail to enjoy this season, and this time around I'm celebrating the folks choosing to drink less! Whatever your reason to maybe skip out on the alcohol this season, know that you have plenty of delicious options other than being offered Soda Water or Cranberry Juice. I've long loved incorporating beer in my cocktails, and I've done the same thing here with this Non-Alcoholic Beer called Big Drop! Combined with fresh Apple Cider, fresh mint and citrus, we have an easy Non Alcoholic Punch to create at home.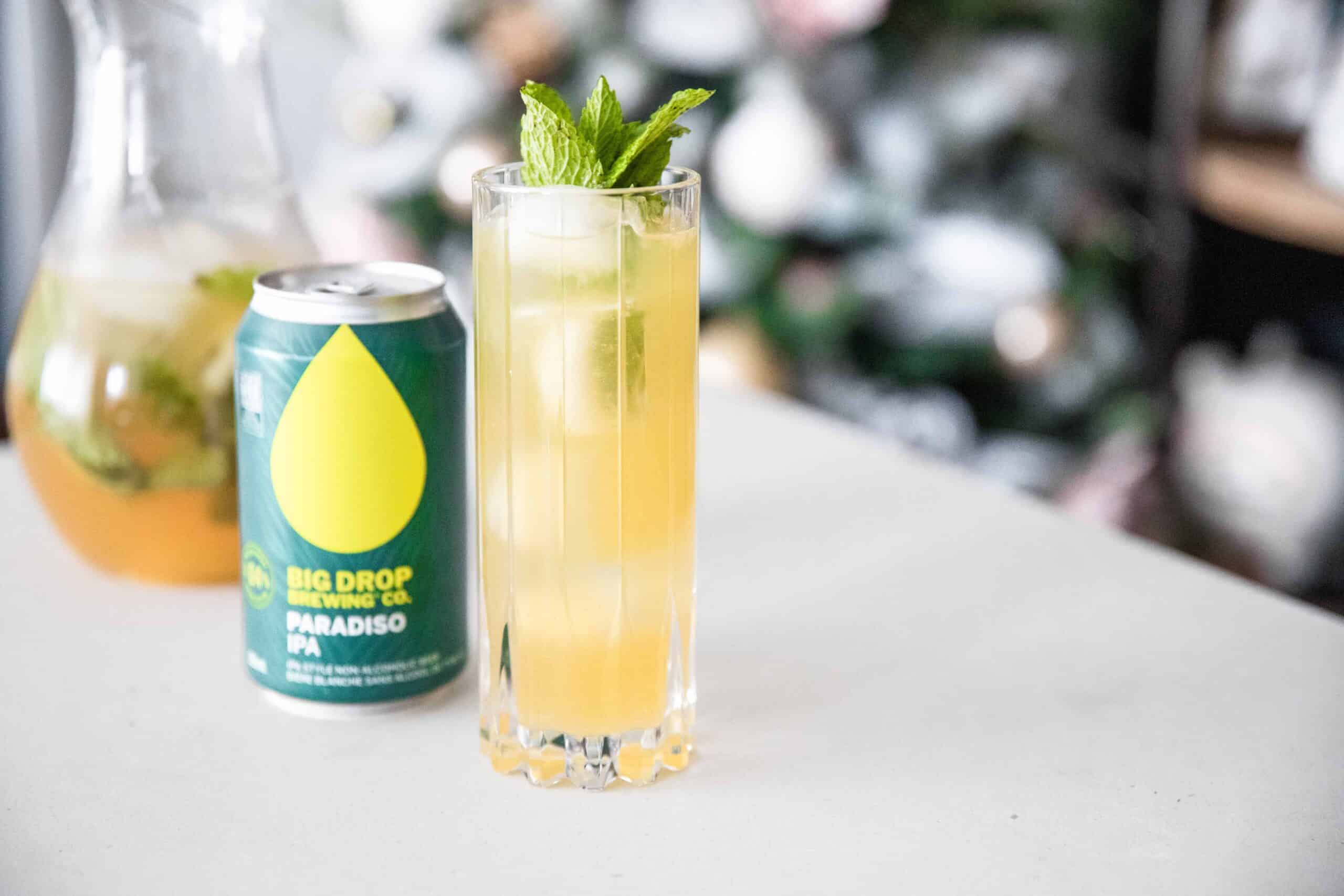 Supporting the Alcohol-Free Choice
It is so important to me that we stop stigmatizing that Alcohol-Free can't be creative or accepted. So many people choose to drink less, or maybe they're the DD or taking a break for a month for their health. Whatever the reason, let's start celebrating their choice instead of judging people for it. That's why I'm always happy to partner up with brands that are getting creative in the Alcohol-Free realm, including Big Drop here!
For all my beer lovers, Big Drop is probably one of the few brands I support. So many Alcohol-Free beers are, well…meh. But the Big Drop lineup has always been a favourite of mine, which is why I'm using it here. I wanted to make sure I could taste the Beer flavour which is why I went for the more robust style of an IPA. Using IPA's in my cocktails is not something new to me, that's why I knew it could work magic here.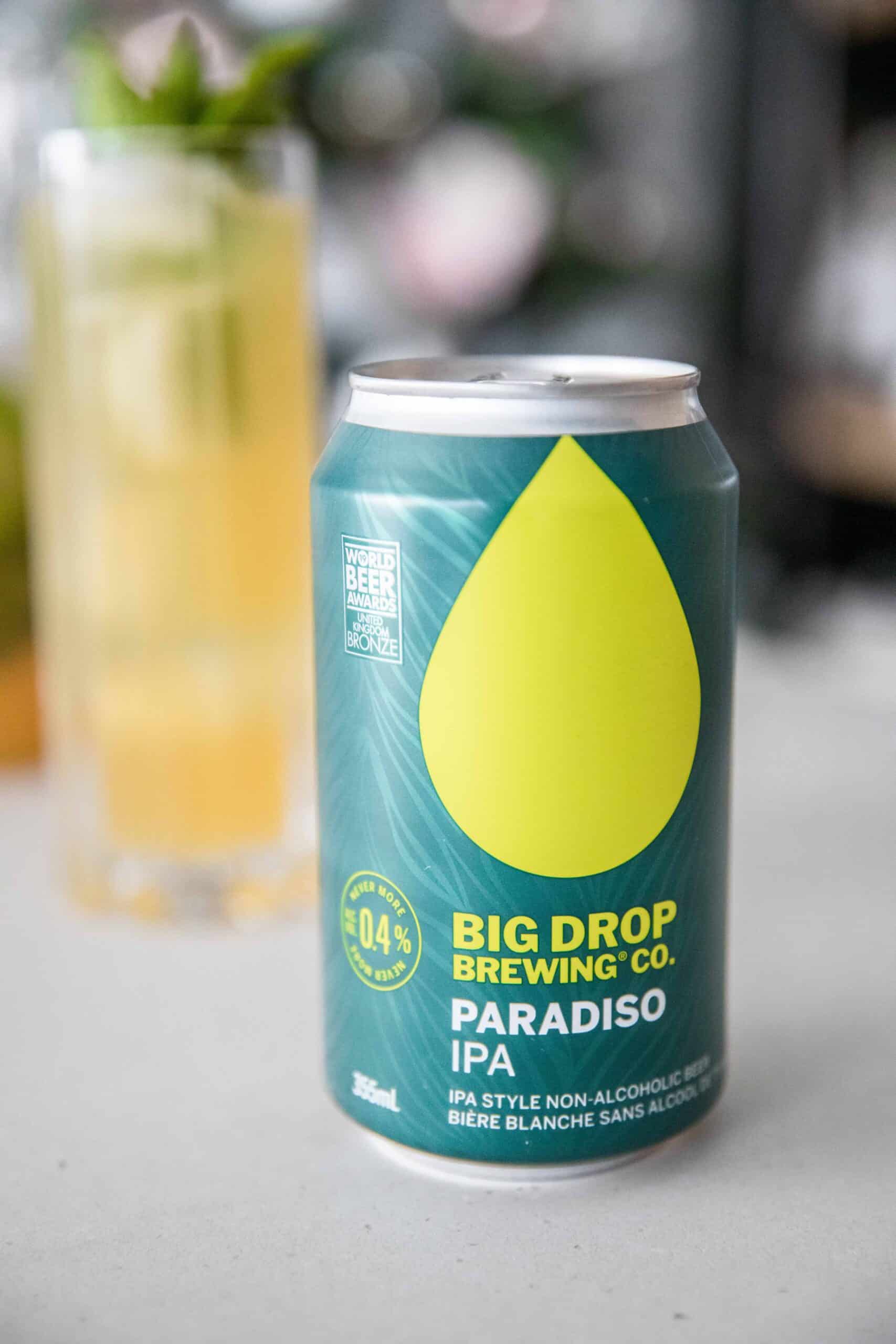 Building your Non-Alcoholic Punch with Apple Cider
This is a beverage that calls for very little complications. You simply stir up some Citrus, Apple Cider, fresh Mint and of course Big Drop's Paradiso IPA. Now the thing to note is that you can easily adjust this to your palate. Apple Cider isn't very sweet? Add some Simple Syrup or Sugar Cubes (when using sugar cubes, have it dissolves with the beer and pour the rest of the ingredients after). Change up the citrus to maybe some Blood Orange if you have that in the house! This Non Alcoholic Punch is meant to be flexible and I'd love to hear your substitutions. The one thing I would stick to is the Mint, because well it's hard to replicate that flavour and overall feel/freshness.
Allowing this to sit, even for 5 minutes, makes a huge difference for the mint to infuse. If you plan on having this out for a couple hours, try not to use a ton of ice, or to use a large ice block instead. What I tend to recommend if you want to batch this ahead of time, allow it to sit in the fridge. Once it comes time to serving, have ice cubes beside the pitcher so guests can pour the ice in their own individual glasses and top up with the beverage! Ensure you have some extra mint on the side for the individual glasses.
Happy Safe Holidaying Everyone!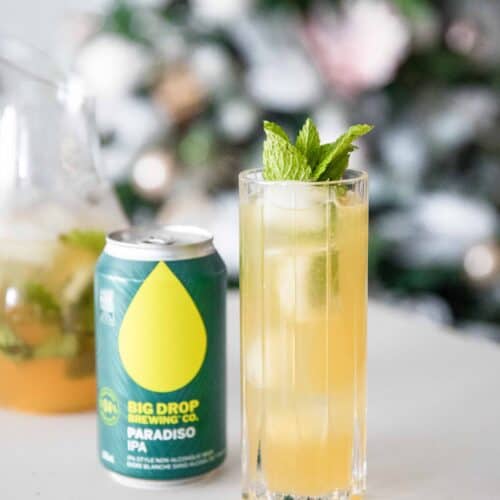 Big Apple Drop
Serving a Punch that is Non Alcoholic made with Big Drop Paradiso IPA (non alcoholic!), Apple Cider, Fresh Citrus and Mint!
– Difficulty: Easy
Ingredients
1

can

Big Drops Paradiso IPA

2

cups

Apple Cider

Fresh Apple Cider preferred

1/4

cup

Lemon Juice

Freshly Squeezed

4

sprigs

Mint

Removed from stem
Instructions
In a pitcher, add all your ingredients. Give this a stir.

For immediate serving add a few large ice cubes, otherwise store in fridge until ready to sip. Serve in individual glasses with fresh ice and mint available.
Recipe Notes
Depending on your sweetness level, you may want to add more sugar. See post for suggestions. 
Curious where you can shop Big Drop? There's a ton of specialty stores carrying it now, check out Soft Crush for your Canadian Distribution here!
Looking for more Alcohol-Free Solutions? We've got a ton here on Liquid Culture, simply check it out HERE!