Another Year, Another Halloween list of inspired cocktails! With 2020 giving us all the scary vibes, I knew I had to share some new and exciting creations for you, seeing as Halloween will likely look a bit different this year. I'll be bringing you more single serves, but still delicious creations you can sip on! I'll be touching on all the major categories, from Rum, Vodka, and Gin to name a few, but to start off this week of Halloween cocktail festivities, I'm serving you an easy Whiskey beverage for you to enjoy! If you love pomegranate, Campari and Whiskey, well you will love this.
I always try to offer a range of spirits to choose from for events and holidays. Not everyone will have your same palate, so it's always good to have a range of options in case someone in your social bubble needs something more meaty than a Vodka cocktail.
I was inspired by a creation I made a while back called the Death Row, that originally combined Tequila, Campari, citrus, sugar and a splash of beer. I omitted the beer this time around, went for a spicy straight rye, and with Pomegranates being a bit more seasonal, it ended up being my citrus component.
The sugar ended up being the component that gave me a hard time, as I was hoping the Orgeat Syrup I had in the fridge would pair well with the pomegranate flavour. It tasted a bit like candy in the end result, which depending on your taste profile, can be a major win and fitting for Halloween. But that's not my style, so I went with a simple Honey Syrup instead (1:1 ratio of boiled water and honey stirred) and was much happier with the result. I always like to mention my thought process throughout because sometimes you have ideas that work or don't. This flavour was FINE, but not my style, and again, I'll never be here telling you that things are completely set in stone. It's good to experiment and to find out just what you love!
Why Rye Whiskey?
I realized that one important element I should have brought up was my choice in whiskey. You can definitely be flexible when it comes to choosing a whisk(e)y, but having wanted to create a more spicy cocktail, I knew a straight Rye would do the trick. That's why I picked up Michter's for this creation, but definitely feel free to look at some local distilleries and see what they've created. I wouldn't object to an Irish Whiskey for this cocktail. as well! Again, it's all about being open minded and creating the cocktail that fits you!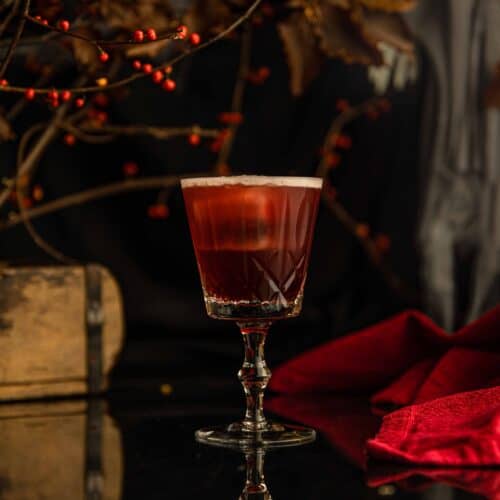 Whisk(ey) me away
A Halloween inspired creation combining Straight Rye Whiskey, Campari, Pomegranate, Honey and a dash of Fuego Bitters.
– Difficulty: Easy
Ingredients
1.5

oz

Straight Rye

Michter's used here

1

oz

Campari

3/4

oz

Pomegranate Juice

1/4

oz

Orange Juice

2/3

oz

Honey Syrup

(1:1)

1

dash

El Guapo's Fuego Bitters
Instructions
In a shaker, fill with ice and add all your ingredients.

Give this a vigorous shake and strain over one large ice cube. No Garnish necessary.
Recipe Notes
To make the Honey Syrup, simply combine 1 part boiled water with 1 part honey. Stir until it's completely dissolved and at room temperature before use.